October 13, 2005
Eager Beavers
By Inside College Hockey Staff
INCH National Notebook
With a limited slate last weekend, Inside College Hockey offers a national notebook this week. Check back next week for conference notebooks.
Bemidji State's weekend sweep at Minnesota Duluth could be termed an historic occasion. It was Beavers' first-ever sweep of a WCHA opponent – in fact, BSU entered the series with an all-time record of 3-42-3 against WCHA foes in six years of Division I hockey.
Everyone seems to be impressed by Bemidji State's accomplishment except for coach Tom Serratore, who is having an arduous time understanding what the hullabaloo is all about.
"It's not bad, [but] we've been at this long enough," he said. "We've played a lot of good hockey teams. Anytime you get a sweep on the road you are happy, I don't care who it is against. We won on the road Friday…you always want to get the one bale of hay, and we got two bales of hay. It's a great bonus for us.
"We've been around a long time now. Our guys have played in a lot of big games and have beaten a lot of good teams. It's bigger for [the media] to talk about than us actually, you know."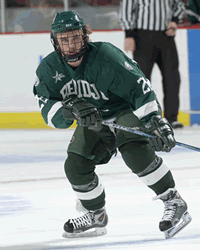 Ryan Huddy had a pair of assists in Bemidji State's sweep at Minnesota Duluth last weekend.
Despite what Serratore says, many are taking note of his team's performance. In Friday's game, BSU jumped out to a surprising 3-0 lead after two periods, but the Beavers knew a storm was coming.
"It was a snowstorm," said Serratore, whose team was outshot 21-4 in the final period but held on for a 3-2 win behind goaltender Matt Climie. "We weathered it and won the game."
The following night, the Beavers broke open a tight game with two goals in the final five minutes of the second period, and added another in the third period en route to a 5-1 win. Layne Sedevie was steady in net, finishing with 24 saves.
"We have some good goaltenders," Serratore said. "It was good to see that they both kind of stood tall this past weekend."
Bemidji State gets a second chance at the WCHA this weekend -- the Beavers host Minnesota State, Mankato. Serratore did not remind his players about the perils of a letdown.
"They know," he said. "I shouldn't have to tell them those type of things. The bottom line is, you follow the same approach every practice and every game – you work your hardest and you work smart. They understand the maturity they have to have and the approach they need for each and every game."
-- Thomas Baldwin
COLORADO GOAL RUSH
Seeing Brett Sterling tied for the WCHA scoring lead after one weekend of play isn't surprising. But to see the Colorado College star tied with sophomore Derek Patrosso, and not Hobey Baker Award-winning linemate Marty Sertich, may be somewhat unexpected.
That is indeed the case after Patrosso, playing on the wing with Sterling and Sertich, notched four goals and an assist (matching Sterling's 2-3-5) in his team's Ice Breaker Tournament wins over Union and Maine in Colorado Springs last weekend. He was named the WCHA's Offensive Player of the Week for his efforts. The two-goals-per-game pace is quite a departure for the winger from suburban Detroit, who put up just two goals in 35 games as a rookie.
The cynic might write Patrosso off as the latest recipient of the David Hukalo Award, named for the Wisconsin forward with the good fortune to be placed on a line with Steve Reinprecht and Dany Heatley in 2000. But Patrosso's senior linemates (both of whom are 5-8) are already benefiting from having the sophomore and his 6-1 frame on the ice with them.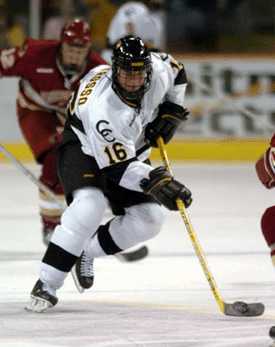 Colorado College forward Derek Patrosso scored four goals in two Ice Breaker Tournament wins, doubling his total from last season (Casey Gibson photo).
"It's definitely nice to have that big body out there to win battles in the corners and kick the puck out to Brett and me," said Sertich, who had one assist in the Tigers' opening weekend. "Derek seems a little thicker overall and may have gained a step over the summer."
After a rookie year that was both exhilarating (winning a share of the WCHA title and making it to the Frozen Four) and frustrating (missing seven games with a concussion and watching all but a few shifts of the Tigers' game at the Frozen from the bench), Patrosso spent the summer at home in Northville, Mich., working on his speed and strength and playing shinny hockey with friends. After two games and a doubling of his freshman year goal production, it's hard to argue with the results.
"I worked a lot on my shot and on my leg strength so I could take more of a pounding in front of the net," Patrosso said. "As fun as last season was, only playing two or three shifts at the Frozen Four makes you definitely motivated to work harder and get more intensity."
He played on a line with Sterling and Sertich for six games as a freshman before the aforementioned concussion kept him out of the lineup for much of January. Patrosso credits the team trainers for getting him back on the ice and denies that the injury messed up his rookie campaign.
"I wasn't exactly on fire before it happened, so in some ways it might have even been good for me," he said.
With a visit by highly touted Ohio State up next for the Tigers and a spate of injuries keeping several key players in street clothed, there will be no letup in the pressure on that top line to keep scoring. Patrosso says the numbers aren't important as long as he knows he's playing the role that's designed for him.
-- Jess Myers
JUSTIN-FICATION
Maybe it was apropos that freshman Justin Abdelkader scored the first goal of Michigan State's season. The rookie's success might signal better times ahead for the Spartans.
After missing the NCAA Tournament in two of Rick Comley's first three seasons as coach, MSU started off Year 4 with an impressive, 3-0 shutout of North Dakota at the Lefty McFadden Invitational last weekend in Dayton, Ohio. Coupled with an event-opening 5-1 win over Wayne State -- which included Abdelkader's pretty backhand tally in the first period – the Spartans are 2-0-0 for the first time since 1997.
Comley has made it a point to tell anyone who will listen that he doesn't expect the freshman class to carry much of the burden right away. He's especially cognizant of Abdelkader's situation. Just two years ago, Abdelkader was playing high school hockey for Muskegon Mona Shores on Michigan's western coast. Since then, he played one season of junior hockey for Cedar Rapids (USHL), was drafted in the second round by his home-state Red Wings and now is the cornerstone of Michigan State's rookie class.
"Everything's a whirlwind for the kid, so I think he has to be careful about expectations," said Comley, who compares Abdelkader to former MSU standout Jim Slater, now in his rookie season with the Atlanta Thrashers. "When I see him around, it's just kind of that shy, meek little smile right now. But he plays with great passion, and he's going to be a really good player."
Abdelkader, for his part, said he doesn't feel any pressure to produce.
"We all have a lot to prove this season," the 6-foot-1, 195-pound power forward said. "The guys said they didn't have as good of a season last year as maybe they should have, so we knew we needed to start good right away. Beating North Dakota might have put us on the map."
-- James Jahnke
BOSTON'S RINK ROUNDUP
His name is synonymous with college hockey in the Northeast, and it is now emblazoned on the ice at Boston University's Agganis Arena forever.
BU held a ceremony for legendary coach Jack Parker last Thursday to unveil the new Jack Parker Rink logo. More than 1,000 people were in attendance, among them former players and a handful of local celebrities. Comedian Denis Leary, the featured speaker, took part in a roast of Parker. So did current Massachusetts coach Don Cahoon, who played for and coached with Parker in the 1970s – he was, in fact, Parker's first assistant coach.
"He was 28 and I was 24," Cahoon said. "Talk about two guys who are wet behind the ears, and we're coaching a program that is legitimately a top-four program and won despite ourselves. It was fun to be able to take a look back 30-some-odd years later and poke fun at each other."
Meanwhile, Boston College, which was 11-1-5 in front of its home fans last year, failed to score against St. Thomas (New Brunswick) in an exhibition match Friday. It wasn't the visitors keeping BC off the scoreboard, however. It was Mother Nature -- she stormed though New England late last week, bringing with her unexpected humidity which caused dense fog to hang over the Conte Forum ice. The game had to be called off, preventing the Eagles from getting a game under their collective belt prior to their regular season opener at Michigan Friday.
-- Jeff Howe

FRIES AT THE BOTTOM OF THE BAG
• One of the question marks facing the Colgate Raiders was how sophomore Mark Dekanich would perform in goal following the graduation of Steve Silverthorn. Dekanich looked very solid in his season debut, especially early in the game. He made his best saves when the game was still scoreless, and Colgate eventually built a big lead.
"I thought he played great in the first period," Colgate coach Don Vaughan said. "You don't have to make all of the saves, you just have to make the right ones and he turned the game in our favor at that point."
Dekanich finished the game with 32 saves.

• Massachusetts-Lowell head coach Blaise MacDonald succinctly summarized his team's effort following their season-opening loss to Colgate.
"We didn't have one guy play well, which is very disappointing given the experience that we have and how many big situations we've been in and been successful in," MacDonald said.
Of the 19 players that saw action in the 6-2 loss, 16 were juniors and seniors. The River Hawks rebounded from that loss with a 5-3 win over Rensselaer on Sunday.
• Unlikely as it may sound, the graduation of the likes of Jamie Holden, Frank Novello, Simon St. Pierre and Bryan Worosz seems to have left no shortage of goaltending talent in Atlantic Hockey. Filling their skates, among others, is a pair of freshmen who accounted for the league's two victories last weekend.
Dan Giffin figures to take over for Worosz at Canisius. He stopped 38 shots, including 19 in the third period, to lead the Griffins to a 6-4 win over Robert Morris in Sunday's opener. Tyler Small, who should compete with incumbent Mike Ella for time at Mercyhurst, made 41 saves in the Lakers' 5-2 win at Michigan Tech.
"I think you've got to give their goaltender a lot of credit," Michigan Tech head coach Jamie Russell told the Daily Mining Gazette. "I think he played a heckuva game. We had a number of grade A scoring chances."
• The sound you heard emanating from Orono over the weekend was that of a deep, satisfying sigh of relief as Maine kicked off the post-Jimmy Howard era. Though the Black Bears split its two games at the Ice Breaker, the positives greatly outweighed the negatives for the goalie tandem of Matt Lundin and Ben Bishop. Lundin stopped 11 shots in Maine's 3-1 victory over Air Force on Friday, and Bishop earned Hockey East rookie of the week honors for making 34 saves in a 3-2 overtime loss in the loss to Colorado College Saturday.
• Much of the reason that the WCHA sports such an impressive overall record versus the other conferences as of late is due to the work of Colorado College. With last weekend's non-conference wins, the Tigers are 15-0-3 in their last 18 games against non-WCHA foes. CC's last loss to a team outside the conference came on March 30, 2003, when they fell to Michigan in the NCAA Midwest Regional final in Ann Arbor.
• Speaking of the Tigers, another morsel on the weekend slate of delicious non-conference matchups is a high-altitude, top-10 showdown between Ohio State and Colorado College. Buckeyes coach John Markell said he's not worried about OSU's mindset going into a season as the CCHA favorite for the first time.
"You want to win something," Markell explained. "What did we win last year? Nothing. Making the (NCAA) Tournament -- hell, all we did was get frustrated there again. We didn't win our Christmas tournament, we didn't win the league championship, we didn't win the playoff championship, we didn't win our first game in the NCAAs. I think that's lingering in the guys' minds. Yeah, we had a great year, but we want to win."
• It's reunion weekend around the CCHA. Boston College bench boss Jerry York takes his Eagles to Bowling Green – where he coached 15 seasons and won the 1984 national title – on Saturday for the first time in nearly a decade. The Eagles also play at Michigan on Friday, while Hockey East's Merrimack plays the same teams in reverse order. It will be "just like the ACC/Big Ten Challenge in basketball," York told the Bowling Green Sentinel-Tribune. Also Saturday, Western Michigan hosts Robert Morris, which is coached by former Broncos defenseman Derek Schooley. Finally, Alaska Fairbanks visits Minnesota for a pair of games against former coach Don Lucia (at UAF from 1987-93).
• Northern Michigan will be without defenseman Zach Tarkir during Friday's series opener against visiting St. Cloud State. Tarkir is suspended after receiving a game disqualification for fighting in an exhibition against York last weekend.
• Prior to beating North Dakota, Michigan State downed Wayne State, 5-1, at the Lefty McFadden Invitational. The game got off to an auspicious start for the Warriors, however, when Jason Baclig scored nine seconds after the opening faceoff. That was the last goal Wayne State scored during the weekend – they were blanked by Miami Sunday – and it'll be a while before the Warriors can attempt to double that total. Though they have a pair of exhibition matches scheduled, Sunday's loss marked the start of a 19-day period before Wayne State next plays for keeps (at Clarkson Oct. 28-28).
• Rochester Insititute of Technology's first Division I action will come in the home of the team the Tigers will replace in Atlantic Hockey – Quinnipiac. The Bobcats host the Q Cup, which also features Air Force and Bentley, at the Northford Ice Pavilion, their home rink during their time in Atlantic Hockey. Now in the ECACHL, Quinnipiac will play its league home games elsewhere this season while a new rink is constructed on campus.
• The Battle for Buffalo isn't between Jim's Steakout and the Anchor Bar over who has the best wings. In college hockey it pits Canisius and Niagara, and the two neighbors – who are in different leagues – will play their only game this season on Friday night at Canisius.
A variety of sources were utilized in the compilation of this report.