October 25, 2005
The Futures Market
By Paul Shaheen
One of Wall Street's most critical occupations is that of the futures trader, the men and women whose job it is to buy commodities based on long-range pricing prospects. Guess right and they hit the jackpot. Guess wrong and they risk swimming in debt.
College hockey has its futures traders as well. They're called assistant coaches. Rarely in the limelight, a typical Division I assistant spends countless hours in a car or in airports, criss-crossing North America (and sometimes Europe) on little sleep – all for the purpose of finding the best players for his program's future.

And a tough job it is, because assessing the future prospects of a teenager and differentiating a first-liner from a frequent scratch can be a crapshoot. Still, the fate of a D-I program hinges on it.

That said, there are a number of recruits out there Research on Ice sees as "sure things", i.e., prospects whose attitudes and attributes on and off the ice will surely make them the type of player any program would love to have.

Here's a look at a few of them:
Cool Hand Luke
If you're looking for glitz and glam, then U.S. National Team Development Program forward Luke Popko's probably not your guy.

But if a dependable two-way center who can kill penalties, back-check and win face-offs is on your wish list, the 17 year-old from Skillman, N.J., is someone worth investigating.

Now in his second season with the Ann Arbor-based NTDP, the 5-10, 200-pound Popko has skated under the radar. While nearly 17 of his teammates have made a college choice, Popko remained uncommitted through mid-October.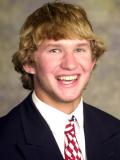 U.S. NTDP forward
Luke Popko
"I think about that once in a while, but it really doesn't bother me too much," said Popko, "I don't really mind waiting it out. I've had some schools talking to me and once I get some of my test scores back, things will pick up, I'm sure."

"He's probably the nucleus of our team," said U.S. Under-18 coach John Hynes, who took Popko under his wing last season with the Under 17's. "He does everything for us. He kills penalties, he plays the power play and he may be our top face-off guy."

Formerly with the New Jersey (Junior B) Rockets, Popko has attended five different schools over the last five years. In 2002-03, while playing for the Rockets, Popko went to Princeton Day School before heading to Taft School (Watertown, Conn.) in 2003-04, which is where he was first "discovered" and invited to Team USA's tryout camp.

"He did very well there," Hynes recalled. "He was one of our leading scorers, [and] he did very well at the [USA Hockey] Select 16 [Festival] that summer. His [Festival] coach told us he was probably the most competitive guy out there. He's been exactly that ever since."

Popko, who finished his junior year with a 3.7 GPA, and scored a 1090 on his SAT, has taken unofficial visits to Boston College, Cornell, Northeastern and Notre Dame and prefers to get an offer from an Eastern school. "Playing out east isn't imperative," he said, "but it would be nice to play there as it's closer to home and my family could see me play more often."

Odd are strong his family would like what they see. Popko is pleased with his growth, but realizes he still has room to improve.

"I've become a better shooter, a better passer and my skating's improved as well," Popko said, "but I want to keep improving my skating, and my strength. I hope those are the things colleges see in me, that I'm hard working, competitive and do the small things well."

The strongest endorsement of Popko's abilities is his Hynes, his current coach.

"He's a true leader out there and there isn't anyone I know who could say a bad thing about him," Hynes said. "His teammates love him and his housing family loves him.
"Put it this way – if I were to ever leave here to start a college program, he'd be the first guy I'd start the program with."
The Road Less Traveled
Sometimes, D-I prospects come in pairs. Case in point: Marcus and Mike Voran are linemates for Stevenson H.S. in Livonia, Mich., a Detroit suburb. Marcus, 17, is a junior while younger brother Mike, 15, is a sophomore.

At 6-0 and 190 pounds, Mike Voran vied for a spot at last summer's USA Hockey's Select 15 Festival. A long shot at best, he advanced through the first tryout and traveled to Sault Ste. Marie, Mich., for phase two of the process. There, he caught the eye of Jon Cooper, the head coach/general manager of the North American Hockey League's Texarkana Bandits. Cooper was so impressed with Voran that he brought him to St. Cloud, Minn., to play for his squad he was coaching at the Select 15's. Cooper's instincts bore fruit when the unheralded right winger finished as the tournament's eighth-leading scorer with three goals and three assists in six games.

"I was very nervous at first," Mike explained, "but my parents [Paola and Mark] sat me down and told me to relax and play my game. That helped. I was much better from that point forward."

"They have a tremendous family and Mike is a great kid," Cooper said. "He needs to work on his skating, but he plays tough, he has a great nose for the net and he can score."

Though his brother enjoyed a breakout summer, Marcus, a 5-10, 170-pound left winger who scored 33 points for Stevenson as a freshman, harbored no ill will toward his brother, who registered 40 points last season.

"I look at it this way – as he gets recognition, we'll both get recognition," Marcus explained. "I'm so proud of what Mike did this summer." Indeed, the pair has advanced to the point where a number of schools are discussing scholarship offers as a package deal, a rarity for prospects from Michigan's high school ranks.
"Marcus really adds speed," said Mike when asked to assess his brother's game. "He knows what to do with the puck and he can use his skating to separate [from] the defense."

"Some people tell me I look like [Detroit Red Wings forward] Henrik Zetterberg out there," laughed Marcus. "I don't know about that, but I do a decent job with foot speed."

Like many hockey parents, Paola and Mark Voran work full-time jobs, spent countless hours driving to games and practices and have made sacrifices – financially and otherwise – for the sake of their sons. Ultimately, the monetary burden became too large.
"The boys have played AA and AAA travel hockey for a number of years and they could be playing there now, but we got to a point where it was becoming financially difficult for us," Paola Voran admitted. "There were some teams willing to try and help sponsor the kids, but it still would have been expensive.
"We've got them playing high school hockey, even though there's been plenty of peer pressure to do otherwise."

Though the Michigan prep ranks aren't considered a fertile breeding ground for collegians, it hasn't diminished interest in the Voran brothers. And, oh, by the way…they're having fun, too.
"High school hockey's a great atmosphere," Marcus says. "We get the band playing, we get good crowds and, in a way, we really get to know each other as teammates because we're on the ice every day."
"They don't play as many games, but they're home more often and they're really enjoying it," Paola said. "To be honest, the midget minor club we were looking at for the boys a year or two ago…wasn't as good as the level of hockey at Stevenson."

The Voran brothers have designs on playing for the U.S. National Team Development Program in the future, but for now, they're content to spend another season with the Spartans. "If we miss each other on the ice, we're both sure to tell each other about it," Mike smirked. "We really do have an advantage. We're both home all the time and it gives us a chance to talk about our play on the ice."

It also gives Mike and Marcus's parents a chance to enjoy the improvement they've witnessed in their sons' games.

"They've really progressed, and I hope they keep it going," said Paola Voran. "It's a great feeling when so many people come up to you and tell you how well your two sons play together. As a parent of teenage boys, you don't hear that too often."
— P.S.
Jay-Walking
Not unlike Popko, Indiana Ice forward Jay Sprague has led a nomadic existence over the last four years. He's found a permanent home for the next four years, however, accepting a scholarship offer from Michigan State, where he'll enroll next fall.

A Georgetown, Ont., product, the '86-born Sprague made his USHL debut in 2003-04, playing 33 games for the Chicago Steel, whose coach at the time was Wil Nichol. Nichol and Sprague had worked together at IMG Academy in Florida the previous season – Nichol was IMG's coach at the time and he'd recruited Sprague to come there to play.

Last season, the 6-2, 205-pound Sprague had great success skating in the Ontario Provincial Junior Hockey League for the hometown Georgetown Raiders. The gritty yet offensively talented Sprague scored 24 goals and 63 points in 45 games during the regular season helped his club to a berth in the Royal Bank Cup, Canada's Tier II junior national championship. The Raiders clinched a trip to the RBC by winning the Dudley-Hewitt Cup, the OPJHL's postseason tournament, during which Sprague led his side with five goals in four games.

Now he's back in the USHL and so far, the move has paid off. Sprague had the opportunity to play college hockey this fall, but he held off in hopes of getting a better offer, namely, from Michigan State.

"It's somewhere I always wanted to play," Sprague explained. "It's close to home and I used to watch Michigan State on TV all the time. And I know some guys who play there. [Sophomore defenseman] Jeff Dunne skated with me in Chicago and I played against [sophomore forward] Peder Skinner back home a few years ago."

Michigan State had its eyes on Sprague, but his performance at the last month's Buc Bowl sealed the deal.
"He's a far better player than he was even two years ago," said one scout. "He skates well, he's physical and strong along the wall and he's also very smart."

"I think I see the ice pretty well and my skating is strong," said Sprague', who has worked extensively over the last few years with noted power skating coach Cindy Bower. "But there's so much more I need to work on to get ready for next year. I need to keep improving my strength, my shot, and my puck protection."
On Eagles' Wings

Late last month, 16-year-old defenseman Nick Petrecki, who currently skates for the USHL's Omaha Lancers, had an options list nearly a mile long with regard to his hockey future. After weighing offers from several schools including Boston University, Michigan and Wisconsin and flirting with the Ontario Hockey League's Plymouth Whalers – the team that picked the Clifton Park, N.Y. native in the first round of this year's OHL draft – Petrecki gave a verbal commitment to Boston College.

"I appreciated every school where I took an unofficial visit," said the 6-3, 205-pound Petrecki, whom we first featured back in June. "All of them have great coaches, but to be honest, Boston College is always where I've wanted to go. I love their campus and their coaching staff, and it feels great to get this decision out of the way."

Petrecki even took the time to phone the Whalers to notify them of his decision.

"I thanked coach [Mike] Velucci for his interest and again told him how flattered I was to have been taken by them in the first round," said Petrecki, a junior in high school. "But I informed him that the college route was the one I really wanted to take."

Fresh off an excellent performance with the EJHL's Capital District Selects last season, Petrecki has done nothing in Omaha to dissuade those who feel his talent could be of NHL quality someday. He remains a top-notch, offensive-minded defenseman who knows when to pinch, when to jump into the play and when to play it safe.

"I don't think I've been out of place speed-wise," Petrecki said of the USHL thus far, "but I know I have to keep working on my defensive play, especially my gap control in the neutral zone."

Petrecki's parents, Mark and Michelle, came to Iowa to watch their son at the Buc Bowl. They preached patience to their son regarding his future plans. Guess who came out on top in that discussion?
"I was sort of itching to make a decision, but my parents all along were telling me to take my time," Petrecki said. "I didn't think it was necessary to wait another year before making my commitment."

Despite their sage advice, Michelle Petrecki – who was born and raised not far from the Heights in West Roxbury – couldn't hide her enthusiasm when her son chose Boston College.

"Nick's dad played hockey at Babson College so we spent many great years in and around Boston," she said. "We have tons of friends and family in the area and are especially excited to think that they can all see Nick play for the Eagles."

Petrecki is the third commitment coach Jerry York and the Eagles have lined up for the fall of 2007, joining Lawrence Academy left winger Joe Whitney ('88/5-6, 155) and Thayer Academy center Brian Gibbons ('88/5-7, 155).
Paul Shaheen is the publisher of Research on Ice and contributes recruiting updates to Inside College Hockey throughout the year. To subscribe to Research on Ice's recruiting e-mail newsletter, contact Paul at puckkeg@comcast.net.