November 29, 2005
Meet Me In St. Louis
By Paul Shaheen
Even though St. Louis's NHL team is off to a dismal start this season, the Gateway City remains a hockey hotbed thanks to a burgeoning crop of talented junior players.
"For some time, the St. Louis area had many fine kids," said Larry Sanderson, operations manager for the St. Louis Amateur Blues, a program that runs seven teams at various age groups. "But they usually had to leave to find the best competition. That's all changed. Our best kids are playing and staying here, and we now have teams that have competed well at the national level and are having success."
The city's professional franchise has been responsible for the success at the amateur level in many ways. For example, the Amateur Blues' bantam majors squad that claimed the organization's first-ever USA Hockey national championship was paced by forward Philip McRae, whose father, long-time NHL tough guy Basil McRae, served as the team's assistant coach.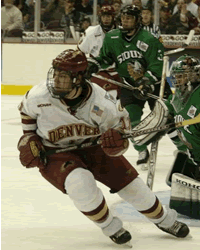 St. Louis product Paul Stastny is the leading scorer for defending national champion Denver.
"Philip is everything that I was not," laughed the elder McRae, who racked up nearly 2,500 penalty minutes in 16 NHL seasons with seven franchises before retiring in 1997. "He has a great knowledge of the game, he has good vision and he's very unselfish."
"I've got fairly good hands, but I really need to improve my speed," said the younger McRae. "That's why the USA program is…so good for me."
McRae shined at last summer's USA Hockey Select 15 Festival, earning an invite to join the U.S. National Team Development Program's Under-17 squad in Ann Arbor by recording 6-4—10 scoring line in six games. In 17 games with the U-17's, he's scored four goals and added two assists.

"I [was] excited, but…also nervous," said McRae about joining the NTDP as a 15-year-old. "Moving away from home and adjusting to a new school worried me a bit, but I'm excited about the great training I'm getting, the level of competition and the ability to play overseas."
St. Louis has yet to approach the level of Boston, Detroit or Minneapolis-St. Paul in terms of developing college talent, but it is, by anyone's objective measure, getting closer to knocking down the door. The greater St. Louis area – the 14th largest metro area in the U.S. with 2.5 million residents – boasts 30 indoor ice facilities and about a dozen youth programs, including the Amateur Blues.
"There [are] two reasons why this area's become more of a hockey hotbed," Basil McRae said. "First was the arrival of Brett Hull. When he got here, there were only about nine pads of ice. Second is the fact that so many Blues alums have stayed here to raise their families and have chosen to get involved. For guys like me who grew up in small Canadian towns, St. Louis is a nice fit. It's as if we're all a big family here."
Three Kings
Forwards Ryan Lasch, Jason Walters and Scott Campbell aren't related. They aren't even from the same town. But the three standouts for the Pembroke Lumber Kings in Ontario's Central Junior Hockey League are as tight as any family.
With one of the most amazing starts in their storied history, Lumber Kings compiled a stunning 22-3-0-1 record through the end of November, outscoring their opponents 144-51 in the process.
The aforementioned trio deserves much of the credit for Pembroke's torrid start. Lasch (30 goals, 30 assists), Walters (18 goals, 27 assists) and Campbell (15 goals, 18 assists) rank first, second and fourth, respectively, in the league's scoring race.

"We do have amazing depth this year," said Walters, a 19-year-old center and the CJHL's reigning MVP after scoring 26 goals and 99 points last season. "We have many guys who can do many different things."
Walters is one of those multi-dimensional talents, but it wasn't always that way. For as much as he scored, Division I coaches often looked the other way.
"I had to learn to play a more complete game," he acknowledged. "When schools came to look at me, they'd tell my coaches how good I was offensively, but they expressed concern for how I played down low in my own end and how I'd lose puck battles along the boards."
"He's really become a complete two-way player, and his offense hasn't suffered," said Lumber Kings coach-general manager Kevin Abrams. "He's become physically stronger and has rounded his game out nicely."
Quinnipiac thought likewise of Walters and offered him an opportunity to join the Bobcats for the fall of 2005. After visiting the Hamden, Conn., campus last winter, however, Walters opted to return for another tour of duty with Pembroke.
"I guess I wasn't sure if I was really ready," he explained. "I'd accomplished much last year and during the playoffs, I didn't disappear as I'd done before. I started thinking maybe I should have taken that offer."
Quinnipiac remains in the hunt for Walters, but schools such as Boston University, Colgate and Vermont have are also in the mix. He'll likely make a decision by Christmas.
Lasch and Campbell are writing their own D-I scripts. At 5-8, 165 pounds, Lasch is set to join St. Cloud State next fall.
"He's always been a playmaker, but now he's developing into a pure goal scorer," said Abrams. "He has great work ethic and instincts, and he's fearless. He knows how to find holes and he's not afraid to go to them."
Campbell, a left winger, lists Rensselaer, Union and UMass Lowell among the teams bidding for his services.
"He may be the most complete two-way player you'll ever see," said Abrams. "He makes traffic wherever he goes, he kills penalties and he goes hard to the net."
Abrams' lofty goals for his charges include winning league and national titles. Helping him achieve that end is Sheldon Keefe, the former Tampa Bay Lightning forward who co-owns the Lumber Kings with Abrams. Injuries and contract issues have forced the 25-year-old Keefe to take a year off from playing.
"Sheldon's brought a lot to our team, including a high degree of professionalism," said Abrams. "He's even helping out as an assistant coach. He's been a huge asset in that regard."
"[Sheldon] told me to never stop working," Walters said. "He said if you compete and take pride in yourself, you'll never fail."
Based on their success thus far, the Lumber Kings are obviously living by those words.
— P.S.
"So many of the Blues alumni have given their time," said Sanderson. "Al MacInnis helped with our '92 club last year. Rob Ramage [whose son, John, is in the program] has assisted and [former Michigan Tech star] Mike Zuke has coached a number of our clubs."
"During the lockout," added the elder McRae, "even Keith Tkachuk was helping out."
The 2005 NHL Entry Draft was perhaps the brightest moment for St. Louis amateur hockey, as four players reared in the metro area's ranks were selected. Denver forward Paul Stastny, son of Hall of Famer Peter Stastny, was taken in the second round by Colorado. Maine freshman goaltender Ben Bishop went to the hometown Blues in round three, Denver freshman defenseman Chris Butler went in the fourth round to Buffalo and Northeastern rookie forward Joe Vitale was tabbed by Pittsburgh in the seventh round.
There are more prospects in the pipeline, including Cornell goaltender Dan DiLeo and '86-born forward Matt Zuke – Mike's son – who is one of three former Amateur Blues suiting up for the NAHL's Texarkana Bandits.
"St. Louis is becoming a force in minor hockey and much of it has to do with the dedication of its coaches," said Texarkana coach-general manager Jon Cooper, who also imported forward Graham Sission and Ferris State-bound defenseman Pat Maroon from The Lou. "Their best kids are no longer leaving…and they are breeding pure hockey players. The atmosphere is so unselfish there. That's why they're breeding such success."
Jeff Brown agrees. Brown, whose 13-year NHL career included four seasons with the Blues, has spent time coaching in the Amateur Blues program.
"A lot of us want to give back to hockey what hockey gave to us," said Brown, who has a seven-year-old son in the program. "St. Louis isn't glamorous. It isn't by the ocean and it isn't in the mountains, but it's simply a very friendly town to raise a family. When people are nice to you, you want to be nice to them and it's great that all of us alums can get together and make this happen."

Feeling Minnesota
It's no surprise Minnesota is enjoying another solid recruiting season, with top talents such as USNTDP defenseman Cade Fairchild and former Academy of Holy Angels (Richfield, Minn.) forward Jay Barriball already committed for the fall of 2007.
Also on the list is Tony Lucia, the son of Gopher head coach Don Lucia's, who opted to join his father in the Twin Cities next fall after considering Colorado College, New Hampshire and Notre Dame, among others.
"Minnesota is close to home, and that was important to me because we have real close-knit family," said the younger Lucia in a prepared statement after opting for the Gophers. "The other deciding factor was education. I'm interested in business and Minnesota is 12th in the nation for their business school."
At 6-0, 175 pounds, Lucia is doing very well in the United States Hockey League for Mike Hastings' Omaha Lancers, a club long known for pumping out top-end Division I talent. Through 21 games, the San Jose Sharks' sixth-round pick in last summer's NHL Entry Draft ranks third on the team in scoring with seven goals and 18 points.
Across the Border
On the topic of familiar names, Wisconsin remains hopeful that defenseman Garrett Suter, the son of 1980 U.S. Olympic hero Bob Suter and younger brother of former Badger and current Nashville Predator Ryan Suter, will come to Madison next year and make an immediate impact.
The 6-0, 195 pound Suter committed to Wisconsin more than a year ago, but has had bumpy ride since making his announcement. After skating for the USHL's Green Bay Gamblers last season, he opted to play for Salmon Arm of the British Columbia Hockey League this year. After 10 games and a concussion with the Silverbacks, Suter reversed field and now skates with the USHL's Waterloo Black Hawks, where he's scored four points and compiled a plus-minus rating +3 in nine games.
"I need to talk to Garrett and find out where he's at," Badger coach Mike Eaves told the Wisconsin State Journal. "Look into his eyes [and] find out what his thinking is."

Paul Shaheen is the publisher of Research on Ice and contributes recruiting updates to Inside College Hockey throughout the year. To subscribe to Research on Ice's recruiting e-mail newsletter, contact Paul at puckkeg@comcast.net.