September 29, 2005
2005-06 WCHA Preview
By Jess Myers

THE SKINNY
It's a complete coincidence that HBO's new dramatic series "Rome" (which chronicles the heights of the ancient Roman Empire) premiered just a month or so before the start of the 2005-06 college hockey season. Or is it?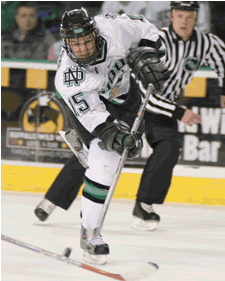 North Dakota, led by Travis Zajac, was one of four WCHA teams to advance to last year's Frozen Four in Columbus.
Some in the college hockey world view the Western Collegiate Hockey Association as the sport's version of the Romans, who ruled their part of the world with unquestioned power for a time. The comparisons to the WCHA are based partly on streaks (four consecutive NCAA titles, four consecutive Hobey winners) and partly on numbers (the league had all four teams in last year's Frozen Four, and eight of the league's 10 teams have made appearances in the NCAA playoffs as recently as 2003). In fact, the league's recent run of domination extends beyond March and April. Since 2002, the WCHA has won every overall season series versus the other conferences.
But the Roman Empire came crashing down after a time, leaving little more than ruins in its wake. And those in the know at the WCHA's league office and among its 10 member schools are aware that the cyclical nature of college hockey means that there is no time to rest on past successes.
"As a league, we don't take anything for granted," said WCHA commissioner Bruce McLeod. "A league can certainly start on a downward trend pretty fast, and it takes even more effort to get it going back in the right direction again."
That sentiment is echoed inside the rink that houses the two-time defending national champions. As he readies his team to try to pull just the second NCAA three-peat in college hockey history (Michigan won three in a row from 1951-53), Denver coach George Gwozdecky scoffs at the notion that recruiting and winning becomes simpler once you have a title or two in the trophy case.
"You look at the teams around the country and around the league, and it just doesn't get any easier," Gwozdecky says, noting that everyone wants to knock off the champs. "If anything, it probably gets more challenging. But we're cognizant that we have a good thing going and we need to work hard to keep it going."
Much like the prophets of Rome saw clouds on the horizon at the height of the empire's power, pessimists (or realists) point out that change could come at any time which could threaten the WCHA's perch atop the college hockey world. A shift in the recruiting talent pool from west to east would mean more top players heading to Michigan and East Coast schools (as was the case in the 1990s, when Hockey East and the CCHA combined to win seven of 10 NCAA titles). Even more ominous is the continued rumblings about the birth of Division I hockey at Big Ten schools like Illinois or Penn State. That would make for six or seven Big Ten schools playing hockey, which could mean Minnesota and Wisconsin leaving the WCHA (as well as Michigan, Michigan State and Ohio State leaving the CCHA).
"The Big Ten thing has lurked ever since I've been around," says McLeod, who played hockey and was the athletic director at Minnesota Duluth prior to becoming the commissioner. "In my own mind, I have Plan B going all of the time."
In the meantime, Plan A for WCHA fans involves gearing up for a season filled with promise as an amazing influx of freshmen is added to the already-impressive mix. Five incoming WCHA freshmen were picked in the first round of the summer's NHL draft, a sixth went in the first round in 2004, and a seventh – Minnesota's Phil Kessel – is projected by some to go first overall in the summer of 2006. Depending on which team you pull for, it's either a time for great excitement or a time for worry. In some cases, it's both.
"You look at some of the players coming into our league and as quickly as you get excited, as an opposing coach you get a little scared," says Minnesota Duluth coach Scott Sandelin.
To be sure, if there are dark clouds on the horizon for the current college hockey empire, they can't been seen from inside arenas that are routinely filled to capacity. When most WCHA fans look heavenward during games, all they notice are banners hanging from the rafters.
BREAKTHROUGH TEAM
Minnesota Duluth. For the record, the Bulldogs were not on the cover of Sports Illustrated late last October. It just seemed that way, what with the jinx-like affliction that seemed to strike the team around that time. Scott Sandelin's club went from the nation's top-ranked team into a funk from which they never really recovered, finishing sixth in the WCHA and going a quiet 0-2 in the playoffs less than a year after a spirited run to the Frozen Four. The coach and players denied reports of personality clashes at the time, but now admit there was trouble behind the locker room door. "By the time the playoffs rolled around, we weren't even really a team anymore," says senior Tim Stapleton. In contrast to last season, where 12 seniors were on the preseason roster, the team will sport a school-record 12 rookies, included highly-touted forward Michael Gergen and NHL first-rounder Matt Niskanen on defense. Sandelin thinks his team will take a step forward, but admits that with the talent they're up against, it still might not be enough to get them into the upper half of the league standings. "It's kind of that exciting mystery," Sandelin says. "There will be a lot of firsts, that's for sure, but those will hopefully make us better as the year goes on."
PRIMED FOR A FALL
St. Cloud State. In late August, after 18 seasons of manning the same team's bench, Craig Dahl abruptly hung up his coaching whistle. Some coaches spend months putting a staff together; new Huskies head man Bob Motzko had roughly 30 days between being named to the job and his first practice with the team. The SCSU alum and former Minnesota assistant inherits a program that has fallen from four straight trips to the NCAAs and a WCHA Final Five title in 2001 to finishing just a point out of the WCHA cellar in last season. Still, the new skipper seems calm in the eye of what most outsiders perceive as a storm raging inside the National Hockey Center. "Things have been very smooth," says Motzko. "I have not felt one bit of turmoil, and a lot of that is due to the way Craig handled things. The players have turned the page." Still, the Huskies are a team that has struggled to score for two seasons and will rely heavily on goaltending (Motzko plans to split the duties between Providence transfer Bobby Goepfert and junior Tim Boron, at least early on) if they are to endure an early season schedule that has them travel to Northern Michigan, host Wisconsin, host Minnesota and visit Colorado College.
PRESSURE TO PERFORM
Minnesota's freshmen. In an ideal world, says Golden Gophers coach Don Lucia, you want the preseason attention to be on your returning players to give the freshmen a chance to transition to college life both on campus and on the ice. Perhaps never in college hockey history has there been so little attention paid to a group of returnees from a Frozen Four team and such a bright spotlight on the rookies as there is in Minneapolis this year. Lucia says that part of the spotlight comes from his team playing in a big-city market, but admits that this group of newcomers will get plenty of ice time right from the start. Much of the hype surrounds forwards Phil Kessel, Blake Wheeler and Ryan Stoa, but Gopher fans who saw their team's goaltending wane in January and February last season are also raving about netminder Jeff Frazee. Lucia admits that then-sophomore Kellen Briggs may have been "overplayed" last winter and says the plan is to rotate Briggs and Frazee right from the start. "We can't bring in someone as highly touted as Jeff and have him sitting on the bench," Lucia said. Welcome to the big city, kids.
TOUGHEST ACT TO FOLLOW
Colorado College's offense. Last April's Frozen Four loss to Denver was goaltender Curtis McElhinney's last appearance in a college hockey sweater. The defensive losses deepened over the summer in Colorado Springs as defensemen Brady Greco and Mark Stuart bolted early. If the possibility of less defense puts more pressure on the offense, the fans who wear black and gold might still be confident in their team's ability to put up numbers. One statistical projection has Colorado College's current senior class of forwards on pace to finish with more than 600 career points. Others, with a less positive outlook on life, say there's no way the Tigers can expect to duplicate what they did in 2004-05 when Marty Sertich and Brett Sterling combined for 127 points in leading the team to a share of the MacNaughton Cup (not to mention Sertich earning the school's second Hobey in three years). "They're going to do it again, no question," says Motzko. "That team has too many veterans and too much firepower to drop off that far. They're going to have a great year."
BEST PLAYER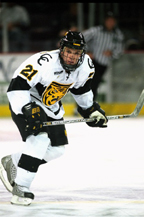 Colorado College's Brett Sterling, a 2005 Hobey Baker Award finalist, led the nation with 34 goals last season.
Brett Sterling, Colorado College. If there are any lingering frustrations in Sterling's mind after watching his linemate Marty Sertich hoist the Hobey last April, he'll probably take them out on opposing goalies this winter. Sterling led the nation with 34 goals last season as the Tigers grabbed a share of the WCHA title and made a trip to the Frozen Four. A day after the Tigers' season ended at the hands of arch-rival Denver, Sterling sat at the podium and smiled politely as Sertich hoisted college hockey's top individual honor. One wonders if that will be inspiration enough to fuel in Sterling a spirited run for the Hobey as a senior. "He's got that dirty, rotten habit of scoring goals and he can do it from anywhere," says Lucia, noting that the team's offense may be enough to overcome the defensive losses of the off-season. "When you look at CC's top line, you automatically pencil them in for 60 goals. That's a nice place to start."
BEST NEWCOMER
Phil Kessel, Minnesota. To hear people talk about the rookie who will wear white sweater number 26 inside Mariucci Arena this season, one starts to wonder if he could even be for real. A friend of INCH who works for USA Hockey calls Kessel the most talented athlete he's seen in nearly 20 years in sports. As a player for Team USA before committing to Minnesota, Kessel re-wrote the international hockey record books and now holds U-18 World Championship scoring standards formerly owned by players like Ilya Kovalchuk and Alexander Ovechkin, both of whom will log significant minutes in the NHL this season. "I loved coaching him," says Sandelin, coach of Team USA at last winter's World Juniors. "People have to remember that he's only 18. With where he's at now and where he could be, wow." When Team USA visited Mariucci last winter (before Kessel had signed on to be a Gopher) fans filled the arena with signs imploring the kid from Badgerland to make Minneapolis his college home. Goldy, the Gopher mascot, even risked the ire of NCAA investigators, dangling a Minnesota sweater over the Team USA bench, imploring Kessel to grab it. A month or so later, he did.
UNSUNG PLAYER
Joe Pavelski, Wisconsin. When you think of Badger forwards, the trained eye naturally settles on flashy playmaker Robbie Earl and the Californian's tendency for eye-popping rushes to the net. So it may come as a surprise for some to see Earl listed second on the team's scoring charts from last year, one point behind a soft-spoken freshman from Plover, Wis. Of course, the team-leading stuff was nothing new for Pavelski, who captained the USHL's Waterloo Black Hawks to a national title just a few months before landing in Madison and earned USA Hockey's Junior Player of the Year for his efforts. The Badgers' captain, defenseman Tom Gilbert, admits that unlike Earl, Pavelski doesn't have a shot that makes fans say, "Wow," but he leads the Wisconsin offense by other means. "Joe is a finesse guy who is always around the net, making good passes," says Gilbert. "He's excellent with the puck and has great vision. You might not think much of his shot, but he's very accurate, and when he gets the puck in deep, it's going to find the net."
THREE BURNING QUESTIONS
1. Will there be enough pucks to go around at Mariucci? The Golden Gophers already had a quartet of top-notch forwards in the likes of Gino Guyer, Tyler Hirsch, Danny Irmen and Ryan Potulny. Add Blake Wheeler, Ryan Stoa and Phil Kessel to the mix, and some are saying the only thing standing between Minnesota and the NCAA title is the potential for personality clashes. Ron Rolston has coached plenty of top-shelf talents (with egos to match) as a college assistant and with the U.S. National Team Development Program. He says that at some point, a coaches' job can become more people management than Xs and Os, "making sure everybody's happy and getting a piece of the pie." Motzko, who had a hand in recruiting all of Minnesota's forwards before becoming St. Cloud State's head coach, says that he can't fathom any player, no matter how talented, putting their own stats ahead of the chance at team glory. "That team needs to stay focused on one goal," Motzko says. "Not many players would sacrifice a championship to get a few more points."
2. Will the big names on their roster vault Michigan Tech into home-ice contention? The last time the Huskies wore home sweaters for a WCHA playoff series, Bill Clinton had been in office for fewer than 100 days. With big names like Nolan, St. Louis, Foote, and Gagne added to the Tech roster, there's renewed hope in Houghton. Of course, we're referring to Rob Nolan (freshman goalie), Justin St. Louis (freshman forward), Jordan Foote (sophomore winger) and Alex Gagne (freshman winger), but what's in a name, anyway? If that quartet doesn't do the trick, Jamie Russell and company can always seek help from the Lord. Of course, we mean freshman forward Alex Lord.
3. Have we seen the last of the goaltender rotation at Denver? George Gwozdecky won a MacNaughton Cup in 2002 by rotating goalies Wade Dubielewicz and Adam Berkhoel and won a share of another one last winter by rotating Glenn Fisher and Peter Mannino. But Denver's back-to-back national titles have come after Coach Gwoz has settled on one guy (Berkhoel in '04 and Mannino last season). With that in mind, will the Pioneers be a one-goalie team this winter, or will the pre-playoff rotation continue as the Pioneers seek an extremely rare three-peat?
MARK IT DOWN
Five things you can take to the bank in the WCHA this season

1. For once, there will be more red than green on display in the stands of Lambeau Field when crimson-clad opponents Wisconsin and Ohio State face off on February 11. A month or so before Green Bay hosts the NCAA Midwest Regional (inside the warm and toasty confines of the Resch Center), Titletown will host the first modern-day outdoor game involving a WCHA team. Dubbed the "Frozen Tundra Hockey Classic" the game will be played on a temporary ice sheet set up within the home of the Green Bay Packers. While it won't come anywhere close to the attendance mark set when Michigan and Michigan State played outdoors at Spartan Stadium in the 2001 "Cold War" (Lambeau will be configured for roughly 40,000 seats, tops), the event has fans in Dairyland buzzing. Of course, with the Packers' early-season woes, some are joking that it'll be the best chance to see a team from Wisconsin get a win at Lambeau this winter.
2. Minnesota State-Mankato forward David Backes will see an opponent's checking line sent out to face him a few times this winter. Perhaps not since Dany Heatley's final season at Wisconsin have we seen such potential for a one-man show than what the Mavericks will put on the ice this winter. We're not saying that coach Troy Jutting has nobody capable of complimenting the massive talent that Backes has proven himself to be in his first two seasons of college hockey – it's just that nobody's stepped to the forefront just yet. If Jutting finds a line capable of balancing Backes' crew and a solution between the pipes (the Mavs gave up a league-worst 140 goals last season), there may be good times to be had inside the Midwest Wireless Civic Center. If not, Jutting's name might be the next one you see on the coaching hot seat.
3. There is plenty more legal action forthcoming before you see "North Dakota Flickertails" sweaters for sale inside Ralph Englestad Arena. When the Peace Garden State's favorite casino owner generously plunked down $100 million for marble floors, etched glass Indian heads and a hot tub the size of Devils Lake, he would have been wise to set aside a few bucks for a nickname legal defense fund. Not since General Custer had a post in the territory has the Sioux name been as threatened as the NCAA makes an all-out effort to rid college sports of nicknames it deems "hostile and abusive." The school's bid to host the 2006 NCAA West Regional got a reprieve from the original thought that they'd be forced to cover up the roughly 4,000 Indian head logos inside the building. After March, the future of the nickname is sure to be settled in a courtroom somewhere. Some advocate proactively reverting to Flickertails, which was the school's athletic nickname in the early 1900s. A dictionary defines flickertail as another name for a prairie ground squirrel, similar to a gopher, but smaller. That nickname sounds like more than most Golden Gopher-hating North Dakotans could stomach.
4. Alaska Anchorage's new coach knows a thing or two about leading teams that wear green and gold to championships. As a co-captain at Northern Michigan in 1991, Dave Shyiak was a member of the last team to win the MacNaughton Cup outright and win the NCAA title in the same season. He comes to his first college head coaching job after a decade as an assistant at his alma mater. Shyiak was a finalist for the UAA head coaching gig in 2001, when the school hired John Hill. In four seasons, Hill never managed to get home ice for the his club but did orchestrate a memorable upset of Wisconsin in the 2004 playoffs, earning the school's first and only trip to the WCHA Final Five. The Seawolves overcame a mess of internal strife early last season and rebounded to give the Badgers another playoff scare. With sophomore goalie Nathan Lawson (the team's MVP as a rookie) to build around, Shyiak could once again make Anchorage a road trip that teams dread for more reasons than the long flight and the unpredictable weather.
5. After the first-ever "conference members only" Frozen Four last April, WCHA fans will be let down if they see fewer than three conference teams make it to Milwaukee. Some fans were giddy to see four WCHA teams descend on Columbus; others called it an uncomfortable situation and bad for the sport. Hockey East commissioner Joe Bertagna said some of his contacts even called for NCAA meetings to address the future of the game. While we're not expecting anything that drastic to come if two or three WCHA teams get to Milwaukee, another all-WCHA Frozen will certainly lead to increased scrutiny of the NCAA playoff set-up. With a world-class infusion of talent being added to four or five already-solid rosters, expectations are high. But the coaches know that talent alone doesn't earn trips to the Frozen. "The bottom line is you've got to be lucky," says Gwozdecky, whose team survived an overtime scare from Bemidji State and rallied to beat New Hampshire en route to Columbus last season. "Sometimes your shot hits the pipe and bounces in instead of bouncing out. That's all it takes when it's a 60-minute (playoff) series."
Predicted Finish

No.

School
Of Note

1.

Minnesota
In this freshman class alone, Golden Gopher fans are seeing more hockey talent (and hype) than some college hockey programs see in a decade.

2.

North Dakota
Coach Dave Hakstol's encore to the NCAA title game run: Add a trio of freshmen who were picked in the first round of this year's NHL draft.

3.

Denver
Matt Carle and Gabe Gauthier give Coach Gwoz a great chance to soon have a Hobey on display next to his matching set of NCAA title trophies.

4.

Wisconsin
An influx of young talent has Badger fans dreaming of two short trips in the NCAA playoffs (one to Green Bay, and another to Milwaukee).

5.

Colorado College
Marty Sertich has one nice trophy. A repeat of his junior year numbers and Brett Sterling may give the Tigers two Hobey winners on the same line.

6.

Minnesota Duluth
The "win with a dozen seniors" plan was a colossal failure last winter. This time the Bulldogs will try the "win with a dozen freshmen" approach.

7.

Minnesota State, Mankato
Mavericks fans know that in David Backes they've got a star, and a leader. Now, if they just knew what to expect in goal...

8.

Michigan Tech
Jamie Russell's crew played near-.500 hockey during the second half last season. That confidence boost will finally lift them out of the WCHA cellar.

9.

Alaska Anchorage
Dave Shyiak's mission in year one will be to continue the recent trend of the Seawolves being the team nobody wants to host in the league playoffs.

10.

St. Cloud State
Even with a hot new goalie in Goepfert, there are enough questions and concerns in the Huskies' lineup to make for a busy winter in new coach Bob Motzko's office.