November 30, 2005
MTU's Full-Sized Addition
By Jess Myers
WCHA Notebook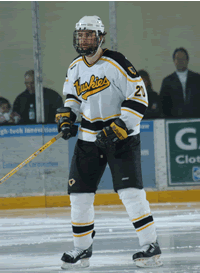 John Scott has been suspended for Michigan Tech's first 14 games. (Photo by Joe Pyykkonen)

If anyone has a good reason to have the pre-holiday blues, it would be Michigan Tech coach Jamie Russell. His team is 2-11-1 heading into this weekend's home series with North Dakota, and the Huskies haven't won – or even scored a goal – since Veterans Day.
So maybe one can credit the fluky warm spell that melted all of the snow in Houghton this week for Russell's optimistic mood (no snow in the Copper Country in late November – but remember that global warming is just a myth). Or maybe the fact that he'll add a key senior blueliner to the lineup for this weekend has Russell feeling better.
After missing the season's first 14 games, gargantuan defenseman John Scott will be back on the rink this weekend to face the Sioux, giving much-needed assistance to a young defense corps that Russell admits may have seen excessive ice time as he assesses the progress of his many rookies thus far in the 2005-06 campaign.
"Our young defensemen have probably been playing too many minutes," Russell said. "That's one reason why we're excited to have John Scott back this weekend."
Scott, who's 6-7 and has a reach that Russell has jokingly claimed stretches from Houghton to the Mackinac Bridge, missed the first two months of the Huskies season while serving a school-mandated suspension for legal troubles he encountered last March.
According to a report in the MTU Lode, the school's student newspaper, Scott got into a minor traffic accident with a car carrying three other Tech students on March 26. After words were exchanged, Scott allegedly pursued the students' sedan with his SUV, and the incident ended with Scott ramming his vehicle into the other car.
In April, Scott was arraigned in Houghton County District Court on three charges (malicious destruction of property, assault with a dangerous weapon and operating while intoxicated). In addition to the 14-game suspension, Scott was ordered by the school to make a presentation to high school hockey teams in the Houghton-Hancock area about his experience, its effects and what he learned. The final element of his school-mandated punishment was to make a presentation to his own team about the dangers of drinking and driving.
While school officials can't and won't talk about the crime and punishment elements of Scott's case, Russell speaks freely about what having Scott's size and reach on the blue line will mean for his team, especially while killing penalties. The Huskies' special teams rank last in the WCHA statistically thus far, with opponents scoring on more than one-fourth of their power play opportunities.
Still, Russell points to potential breaks in the dark clouds, raving about the offense that Chris Conner has provided thus far and noting some similarities between his youthful club and the freshman-laden Sioux. He likes the play of his freshman goalies thus far and says they've done a nice job of transitioning from juniors to college hockey. Some would be overly down about getting shut out three games in a row, then having a weekend off to think about it. Not Russell.
"The time off was good for us physically," he said. "We were pretty banged up after the series at Colorado College, so the break was probably a good thing."
Nobody would argue that Scott's unplanned break was a good thing, but with the hulking veteran back in uniform, there may just be a few brighter days – and more snow – in the forecast.
SEEN AND HEARD IN THE WCHA
Sizing up the showdown – Lost in all of the "Phil Kessel versus his hometown team" hype this weekend when top-ranked Wisconsin visits Minnesota is the fact that the Gophers chances versus Bucky's smothering defense have gotten a lot better recently. And the potential difference-maker isn't even from Minnesota or Wisconsin.
North Dakota native Danny Irmen actually returned to the Gopher roster two weeks ago for their win and tie at Denver, after missing nine games. Irmen broke a finger in the Gophers' season-opening home loss to Alaska Fairbanks, but has averaged a point per game since returning to the lineup. In last weekend's 2-2 tie at Michigan State, Irmen scored both Gopher goals in the first period, his first two of the season.
"He's such a good two-way player," said Gopher coach Don Lucia, who added that he doesn't think Irmen will be fully recovered from the injury until after Christmas.
Irmen is still skating with a cast for a few more weeks and says that he still isn't close to being able to make a fist, but finding the net in East Lansing was a good, and fortunate, thing.
"Those goals were pretty lucky, I'm not going to kid myself," Irmen said. "But it was definitely nice to get the first one out of the way, and to have that second one come so quickly after was even better."
Irmen's potential for offense is likely to be critical for Minnesota this weekend, versus a Wisconsin team that has climbed to the top of the national heap via opportunistic offense and smothering defense.
"I don't even have to look at the tape," said Lucia of scouting the Badgers. "They have a veteran team and they do a terrific job of taking away the middle of the rink and blocking shots. They didn't lose any significant skaters off of last year's team, and they were good then."
Lucia says that Mariucci Arena's Olympic-size ice sheet may open up some spots for his team to make plays versus Wisconsin's defenders, but is wary of the extra room to skate that it will give the likes of Joe Pavelski and Robbie Earl.
"If you're going to give up three or four goals in a game with Wisconsin, your chances of winning aren't going to be very good," Lucia said.
As for how to treat prized rookie and Madison native Kessel this weekend as the freshman faces the Badgers for the first time, Lucia says it's barely on his radar.
"People make a lot more of that than it is," he said, noting Wisconsin's captain grew up 15 minutes from Mariucci Arena. "Tom Gilbert is a great player, and he's from Minnesota. There are connections on both sides."
Great Weekend Getaway

Wisconsin at Minnesota (Fri.-Sat.)
Mike Eaves' head coaching record at Mariucci Arena stands at 0-6 as his top-ranked Badgers prepare for another visit to the House that Woog Built. Maybe that's why the team is changing things up a bit, staying in downtown St. Paul instead of nearer to the rink in Minneapolis. Perhaps that extra few minutes on the bus between the hotel and the arena will give Eaves more time for pep talks, strategy, inspiration or whatever means he uses to motivate his club. The Badgers come to Minnesota unbeaten in their last dozen games, so whatever Eaves has done thus far, it's working.

While You're There: One of the lesser-known gems on the University of Minnesota's Minneapolis campus is only a few blocks from Mariucci Arena. The Bell Museum of Natural History, at 10 Church Street, is a great place to spend an hour our two immersed in the dioramas and wildlife displays showing much of Minnesota's natural wonders. As a special treat for friends visiting from Wisconsin, look closely and you'll find a taxidermist's depiction of a vicious badger attacking a tiny gopher – an infraction that should probably merit a 10-minute misconduct, minimum.

Stick Salute

Former Minnesota State, Mankato star Grant Stevenson made his long-awaited NHL debut a memorable one. Called up by the San Jose Sharks for their game at Calgary on Nov. 23, the Alberta native scored his first NHL goal in his big league debut. Through his first three NHL games, Stevenson was averaging a point per game for the woeful Sharks, who have lost nine in a row at last count.

Bench Minor

WCHA referee Derek Shepherd spent part of last Friday night at a Duluth hospital getting treated for the broken nose he suffered as a result of a puck taking a crazy bounce off the DECC's glass. But when asked about the idea of on-ice officials being mandated to wear NHL-style eye shields, WCHA supervisor of officials Greg Shepherd (Derek's father) said there not much call for it. "The coaches think (the refs) can't see now," he exclaimed. All jokes aside, it's time to make things safer for the guys in the stripes before we're hearing about something more serious than a broken nose. Eye shields would be a good start.
FRIES AT THE BOTTOM OF THE BAG

• Despite the fact that Alaska Anchorage has been outshot in 11 consecutive games, the Seawolves are clicking when down a man lately. Entering this weekend's home series with St. Cloud State, the Seawolves have not allowed a power-play goal in their last three games. They held Minnesota 0-7 on the power play in a Nov. 12 loss, and killed all eight of the Bulldogs' man advantages during a split with Minnesota Duluth in their most recent series.
• Last Saturday's hat trick by Colorado College forward Brett Sterling at Boston University was the third of his career and his second of the season. The three goals moved him into seventh place on the school's all-time goal scoring chart with 93 in three-plus seasons. Sterling needs 20 more to move him ahead of Ron Hartwell and into first place. Hartwell scored 112 times for the Tigers between 1949-52.
• After Saturday's 4-0 win at Massachusetts, Denver is now 3-0-0 all-time at the Mullins Center in Amherst. The building holds many good memories for the Pioneers, who beat Bemidji State and New Hampshire there last March en route to the Frozen Four. Denver coach George Gwozdecky's lone beef with the return trip involved having to use the visitors' locker room, as opposed to the Minutemen's plush accommodations that the Pioneers had access to last spring, when they were the Northeast Regional's top seed.
"The only disappointment was when we got off the bus and came into the building, we started to head down to the locker room that we had last year," Gwozdecky said. "Unfortunately, (UMass coach) Donny (Cahoon) wouldn't give it to us." Denver sophomore goaltender Peter Mannino notched his sixth career shutout, and his first of the season, in the win.
• Minnesota Duluth's convincing 9-1 and 5-1 wins over Yale during the Thanksgiving weekend marked the Bulldogs' first sweep of a home series since a pair of wins versus Minnesota State, Mankato on Oct. 22-23, 2004. With five players suspended for the first Yale game due to team rules violations, 12 of the 16 skaters dressed for the home team recorded at least one point in the rout. The Bulldogs will look to extend their winning ways over the Mavericks this weekend in Mankato. In the last nine games between the two schools, UMD is 7-1-1, with the Mavs' lone win coming in overtime in the opening game of the 2004 WCHA playoffs.
• This Friday, Michigan Tech will be looking for its first home win over North Dakota since Jan. 7, 1995. The Huskies may have picked a bad time to try to break that string, as the Fighting Sioux are well rested, having not played on Thanksgiving weekend. The last seven times that North Dakota has had an idle weekend, the Sioux have returned to action by posting a 6-0-1 mark in their next game.
• Friday's Minnesota Duluth win over Yale briefly featured a two-referee system, thanks to an errant puck. Five minutes into the game, referee Derek Shepherd was struck in the nose by a puck and had to leave the ice, bleeding profusely. His brother, Brad, was watching from the stands, having officiated the UMD women's team's 6-1 win over Harvard earlier in the day. With the approval of the Shepherd boys' father, Greg, who is the WCHA's supervisor of officials and who was also in attendance, the game's two assistant referees worked a two-official system for a few minutes, giving Brad time to strap the blades back on and finish the game.
• St. Cloud State forwards Konrad Reeder and Andrew Gordon both recorded their first collegiate short-handed goals in the Huskies' 4-4 tie with Brown last Saturday. It was the first time the Huskies had scored two shorties in one game since a 6-2 win at Maine on Oct. 13, 2001.
A variety of sources were utilized in the compilation of this report.