December 7, 2005
When You Say Wisconsin...
By Jess Myers
WCHA Notebook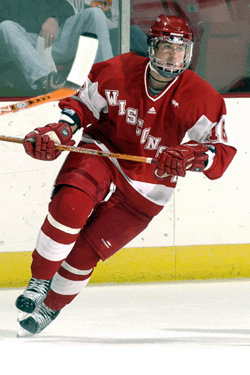 Senior Adam Burish set the tone for Wisconsin's sweep of Minnesota during the series' first shift.

In Wisconsin's series-opening 4-3 win at Minnesota last Friday, Badgers goaltender Brian Elliott had his worst game of the season from a goals-against standpoint. Wisconsin held a comfortable 4-1 lead with 10 minutes to play before a pair of late Gopher goals and a few timely penalties made the final minutes interesting. It was the first time this season that Elliott had surrendered more than two goals in a game, but earned his team two points anyway.
"That's a fair trade," Elliott said afterward. "I'm more worried about the undefeated streak we've got going than about individual numbers."
One night later Elliott put up the fifth shutout of his career (and his second this season) in a 4-0 win as Wisconsin blanked Minnesota on the Gophers' home rink for the first time since 1970. That left the Badgers' unbeaten streak at 14 games (12-0-2) heading into this weekend's home games with Michigan Tech. With snow falling and frigid temperatures outside Mariucci Arena, leave it to Badgers coach Mike Eaves to make a surfing reference about his team's current hot streak.
"It's a little bit like riding a big wave," Eaves said. "We're trying to stay on top of this wave as long as we can. And if it ends, we'll try to find another wave."
For Minnesota, which lost a pair of home games to archrival Wisconsin for the first time since Jeff Sauer's Badgers clinched the MacNaughton Cup at Mariucci Arena in 2000, things went badly from the opening seconds. On the first shift of the series, Wisconsin forward Adam Burish blocked a shot by Minnesota defenseman Chris Harrington. When Harrington stumbled, Burish picked up the loose puck and keyed a 2-on-1 break that ended with Burish feeding Robbie Earl for a tap-in goal just 27 seconds into the game.
"I don't know if he recovered tonight from that," said Minnesota coach Don Lucia about Harrington, a senior defenseman who has struggled at times for the past two seasons. "You've got to be able to put that behind you and move on."
The wins were especially sweet for Badgers like Burish (from Madison) and Joe Pavelski (from Plover) who grew up playing hockey in America's Dairyland. Much of the talk leading up to the series centered on Madison native Phil Kessel and his decision to play at Minnesota. Lucia started Kessel at center for the series opener – a move that might have invigorated a few Badgers as much as it did the sellout crowd.
"They decided to spotlight (Kessel) in the starting lineups, and it's not always easy to be in the spotlight," said Pavelski. "When they said 'from Madison, Wisconsin' and the place erupted, Burish and I were over there smiling, saying, 'Don't forget about us, OK.'"
By the time the game was over and Pavelski had notched his team-leading ninth and tenth goals, we're sure there was an army of red-clad fans dreaming of a WCHA title and NCAA tournament trips to Green Bay and Milwaukee who won't forget about the local kid who stayed at home.
SEEN AND HEARD IN THE WCHA
Great Weekend Getaway

Minnesota at North Dakota (Fri-Sat)
According to Sports Illustrated, NHL scouts can't wait for the USA-Canada game at the World Junior Championships (Dec. 31 in Vancouver) to see Phil Kessel go head-to-head against Jonathan Toews. Well, they can see the same match-up 22 days earlier, in a nicer rink, this weekend when Minnesota visits North Dakota to renew the "other" Border Battle. And the hot rumor has it that the sports book at the Imperial Palace in Las Vegas has set the over/under number on "total deceased gophers cleaned off the ice" at seven. Place your bets.

While You're There: With barely two weeks left until the wrapping paper flies, there are fun shopping options to be had on both sides of the Red River of the North where it runs between downtown Grand Forks and the Minnesota neighbors in East Grand Forks. On the east/Gopher side, the 60,000-square foot Cabela's store (210 DeMers Ave. NW) is an attraction in its own right, with huge aquariums and trophy animals in realistic re-creations of nature. Over on the west/Sioux side of the Red is the famed Widman's Candy Company (106 South Third Street) which specializes in chocolate covered potato chips. Don't worry about the calories – you'll shiver them off..

Stick Salute

As everyone knows, sometimes being home for the holidays is more trouble than it's worth. So after a weekend when WCHA road teams went 7-2-1, congratulations are due to Alaska Anchorage and Denver (who will meet this weekend at Magness Arena) as the only WCHA teams to win on home ice last weekend. The Pioneers continued a trend, beating archrival Colorado College 5-1, while new Seawolves coach Dave Shyiak got his second league win, 2-1 over St. Cloud State, behind 34 Nathan Lawson saves.

Bench Minor

Last week, after a WCHA referee had his nose broken by an errant puck, the idea of referees wearing eye shields was floated, and promptly dismissed by the powers that be with the league. Just a few days later, in the waning minutes of Wisconsin's 4-0 shutout of Minnesota last Saturday, referee Scott Zelkin collapsed to the ice with a bloodied face after being struck inadvertently by Gopher Kris Chucko's stick. What's it going to take before officials take some measures to protect themselves?
A year removed from his stint as coach of Team USA at the World Junior Championships, Minnesota Duluth coach Scott Sandelin admits paying more attention to the player selection process this year. With that attention comes optimism about the fate of the Americans not only at this season's tournament in Vancouver, but in future years as well.
"They're going to be very good," says Sandelin of the squad picked by Northern Michigan coach Walt Kyle. "They've clearly got opportunities to win gold medals not only this year but in the next few years."
As for Sandelin's current team, there are opportunities to be had as well as the Bulldogs travel to Colorado College. After mustering just two wins in their first 10 games, UMD is on a 4-1-1 run heading to the home of the Tigers, where they're 3-0-1 in their last two visits. Despite an overtime win and tie last weekend at Minnesota State, Mankato, Sandelin says a better effort will be needed in Colorado Springs.
"We didn't play very well defensively last weekend and if we try to do that against Colorado College we'll get hammered," Sandelin said. "We're not going to be in the lead very often playing that way. We've got to get better away from the puck."
After being plagued by inconsistency in goal much of last season, Sandelin is liking what he sees in the rotation of senior Issac Reichmuth and junior Josh Johnson.
"Both of them played last weekend and both played very well," Sandelin said, noting Reichmuth's 15 first period saves on Saturday in Mankato. "He kept us in it in a period when we were just pathetic. It's been healthy for us to have some competition at that position."
FRIES AT THE BOTTOM OF THE BAG
• After a blazing 9-1-0 start which had the Tigers ranked No. 1 in the nation for a time, Colorado College is a pedestrian 3-4-1 in its last eight games. But with his next two victories, Tigers coach Scott Owens will make a permanent mark in the school's record books. Since taking over the CC program at the start of the 1999-2000 season, Owens has 165 wins, and with one more will tie Don Lucia and Jeff Sauer as the all-time leader in coaching victories for the Tigers. Lucia won 166 games in six seasons at CC, while Sauer won 166 games in his 11 seasons behind the Tigers' bench.
• The notion that more shots on goal is the way to get more shots in goal isn't working out for Michigan Tech lately. In Saturday's 8-2 home loss to North Dakota, the Huskies fired a season-high 44 shots at Jordan Parise. It was their highest shot total since they had 52 last February at Alaska Anchorage – in a game that ended in a 2-2 tie. Apparently there's something to that "quality vs. quantity" debate.
• Tuesday night's 3-2 home loss to Notre Dame extended a run of frustration that Minnesota State, Mankato has had versus the Irish. Notre Dame is now 5-1-0 all-time against MSU and 3-0-0 in Mankato, with the Mavs' lone win coming in the 1996-97 season at the Joyce Center. Die-hard MSU fans will recall a pair of shorthanded goals by Tyler Deis lifted the Mavs to a 4-3 road win over the Irish that night.
• Konrad Reeder's natural hat trick in the first period of St. Cloud State's 5-0 win at Alaska Anchorage last Friday was the biggest 20-minute outburst by a Husky in nearly four years. On Feb. 15, 2002, Mark Hartigan scored four of his team's seven second period goals in a 7-4 Husky win over the Seawolves in St. Cloud.
A variety of sources were utilized in the compilation of this report.