January 5, 2006
Doom's Day for Denver
By Jess Myers
WCHA Notebook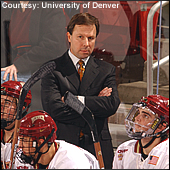 George Gwozdecky

We can think of a few recent Saturdays in April that will go down in Denver hockey history as memorable dates. By contrast, Friday, December 30, 2005, is a day that Pioneers coach George Gwozdecky and company should seek to have stricken from all future school media guides.
The trouble started at Magness Arena, where the Denver Cup began with everyone anticipating a Denver-Boston College showdown in the tournament finale. Instead, the Pioneers fell victim to one of the bigger upsets of the season, as Princeton rallied with four unanswered goals to upend the host school, 4-1.
"Princeton completely out-played us in many facets of the game," said Gwozdecky of the upset. "That was as disappointing an effort and an outcome as I've been involved with in a very long time with this team."
As that was happening in Colorado, there was further trouble for the Pioneers brewing on the other side of the Rockies in Vancouver. During Team USA's game that evening at the World Junior Championship – a 2-2 tie with Switzerland – USA/Denver defenseman Chris Butler was ridden hard into the boards and suffered a shoulder injury. Gwozdecky says Butler might be out of the lineup for all of January.
Butler's injury is the latest in a growing list of ailments that have the Pioneers bringing a third goaltender on the road with them just to fill out a full traveling roster. With rookie forward Brock Trotter out for the year and junior forward Adrian Veideman still not at full strength, Gwozdecky says he's thankful the Pioneers have the coming weekend off before St. Cloud State comes to visit for a pair on Jan. 13-14.
The good news to come out of Vancouver for Pioneer fans was Geoff Paukovich, who scored his first goal of 2005-06 in the Switzerland game. After scoring a dozen times as a freshman, the sophomore jinx has hit Paukovich hard, as he has just three assists in his first 20 games for Denver. Still, Gwozdecky says Paukovich is making an important contribution to the team even if he's not putting pucks in the net, and they look forward to his return from Vancouver.
"We really miss him for other things he brings to our lineup," Gwozdecky said. "He's tough, physical, really good on draws and so strong defensively. Teams aren't as good in our zone when he's on the ice."
SEEN AND HEARD IN THE WCHA
Great Weekend Getaway

North Dakota at Alaska Anchorage (Fri-Sat)
North Dakota visits Alaska Anchorage this weekend in the first WCHA series of 2006 (and the only WCHA series of the weekend). Picking the more desperate team is tough, as the Seawolves have gone winless in four games since their surprise 3-0 victory at Denver in December, while the Sioux head to Alaska on a two-game WCHA losing streak after dropping a pair at home to arch-rival Minnesota.

While You're There: The previous generation of Seawolves will assist kids who they hope are the future generation of Seawolves this Saturday when the UAA Hockey Alumni Association will host its annual Seawolf Youth Skills Competition at Sullivan Arena. The event is open to boys mites, squirts and peewees, and girls U8, U10 and U12 age groups. Trophies will be awarded in each division, including a goalie category, and each player will receive a t-shirt and a ticket to that evening's Sioux-Seawolf game. The competition runs from 1-3
p.m. AST. The entry fee is $10 and full hockey gear is required. For more information call 907-244-5540 or visit http://hockeyalumni.uaa.alaska.edu.

Stick Salute

If it's true that character is defined not by how many times you fall, but by how you pick yourself back up, then there's plenty of character in uniform at Wisconsin this season. After suffering their first WCHA setback of the season a few weeks back (an inexplicable 4-2 home loss to Michigan Tech), the Badgers have won their next three games by a combined score of 16-2, and cruised to the title in the Badger Showdown. We've seen nothing out of Madison to make us believe that the MacNaughton Cup won't be in residence there in the coming weeks.

Bench Minor

While Minnesota was clearly the superior team in its Dec. 29 game with Union (even with Blake Wheeler and Phil Kessel skating in Vancouver), the officiating left us somewhat bewildered. WCHA referees have been criticized for years for allegedly "evening things up" and making sure that each team gets the same number of power play chances. Apparently, that unwritten rule is out the window in non-conference games. In the Gophers 8-0 win, the Dutchmen were whistled for 49 minutes in penalties and Minnesota scored on five of their 12 power plays. By contrast, Minnesota had 10 minutes in penalties and killed two Union power plays in the game. We never thought we'd miss the coincidental minor so much.
If any powerful North Dakota alumni have connections with the airlines, they might want to pull some strings to ensure on-time arrivals in Anchorage on Friday. While WCHA teams normally take 22 players on the road, the Fighting Sioux left for Alaska Anchorage with just 18 skaters, hopeful that four more will be joining them from Vancouver sometime on Friday.
Freshman forward Jonathan Toews won gold with Team Canada at the World Junior Championship in Vancouver, while a trio of Sioux freshmen (T.J. Oshie, Brian Lee and Taylor Chorney) wore the red, white and blue for Team USA in the tournament. All four are planning on flying to Anchorage via Seattle on Friday. While airline schedules (especially to Alaska in January) can be in flux due to the weather and other factors, the Sioux bench boss has confidence that he'll have a full squad by game time on Friday.
"They'll get up there," said North Dakota coach Dave Hakstol with confidence before the rest of his team left Grand Forks. "Whether or not they'll play right away, we'll see. We have to be prepared for anything, especially when players are traveling on game day."
As for what shape the four will be in upon arrival in Anchorage, Hakstol fully anticipates some physical and mental fatigue to be a factor not only this weekend but for his team's series at Minnesota on Jan. 13-14. Oshie suffered a rib injury in the bronze medal game on Thursday and didn't play in the latter stages of the Americans' 4-2 loss to Finland. His status for the series with the Seawolves is unknown.
"Excitement and adrenaline will probably get the guys through this weekend, but we're unfortunately not in a situation where I can give them five or six days off to recover," Hakstol said. "With the World Junior and WCHA schedules the way they are, these guys could end up playing something like seven games in a 10-day period."
With three players on the American team and another skating for the Canadians, Hakstol – who lives in North Dakota but is originally from Alberta – admitted that he's had to be very careful with his loyalties while watching the games in Vancouver play out.
"I'm proud of what all of them have done, and it's been fun watching them all do so well," he said. "But I've probably still got my Team Canada logo stamped on somewhere."
FRIES AT THE BOTTOM OF THE BAG
• Minnesota State Mankato (university higher-ups have officially dropped the comma in the school's name – apparently as a New Year's resolution) kicked off 2006 in a good way on-ice, rallying from a 2-0 deficit to beat Nebraska-Omaha 5-2 on Tuesday. The Mavericks are on a 4-1-1 streak and have this weekend off before resuming WCHA play by hosting Alaska Anchorage on Jan. 13-14.
• The season of perfect inconsistency continued for Minnesota Duluth over the holidays. After going winless in their previous four WCHA home games (versus North Dakota and Denver) the Bulldogs made their first appearance in the Florida College Classic, where they beat nationally ranked Maine and tied nationally ranked Cornell. The Big Red won the ensuing shootout, 3-2, to take the tournament title. Having been inconsistent and unpredictable in just about everything they've done this season, the stage is set for the Bulldogs to finish seventh in the WCHA, then win the NCAA title.
• It was a good news-bad news trip to Detroit for Michigan Tech in this year's Great Lakes Invitational. The Huskies lost a pair at Joe Louis Arena, and have now gone 25 years without winning the tournament that they helped start way back in 1965. The tournament-opening 3-2 overtime loss to Michigan State came despite the efforts of freshman goalie Michael-Lee Teslak, who stopped 57 of the Spartans' 60 shots in the game and was named the WCHA's rookie of the week for the effort. Tech's last GLI title came in 1980 when Mike Lauen's overtime goal sparked the Huskies 3-2 win over Michigan for the title. The all-tournament team that year included future Tech coaches Newell Brown and Tim Watters.
• While St. Cloud State students were away on holiday break, some good news for Husky hockey fans happened at the polling place. In a special election held on Dec. 27, Tarryl Clark won a seat in the Minnesota State Senate, replacing Republican Dave Kleis, who was recently elected mayor of St. Cloud. Clark, a Democrat, is expected to wield more power in the Democrat-controlled Senate and has SCSU officials more hopeful of getting roughly $5 million in state funds approved for improvements to the National Hockey Center. Coach Bob Motzko and others at the school have expressed a need for expanded team offices, a new lobby and a larger ticket office in the facility, which opened in 1989.
• After their team's massacres in Motown, Colorado College fans are hoping it's not another 40 years before they get invited back. The Tigers scored a dozen goals versus Michigan and Michigan State to win the GLI in their first trip to the event since the inaugural tournament in 1965 at Detroit's Olympia. Then-Tigers coach Bob Johnson's club lost 6-2 to the University of Toronto and 10-3 to Boston University.
A variety of sources were utilized in the compilation of this report.