January 11, 2006
Showdown at the CC Corral
By Jess Myers
WCHA Notebook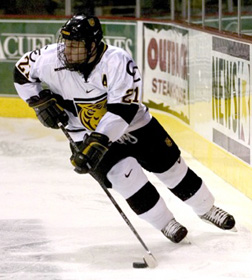 Hopes for a WCHA title for Brett Sterling and his CC teammates likely rest on a sweep of visiting Wisconsin this weekend. (Casey Gibson photo)

When he coached Wisconsin, Jeff Sauer used to say that certain WCHA series later in the season were chances for his team to "permanently put them (meaning that weekend's opponent) in our rear-view mirror" with a sweep.
Mike Eaves' fourth edition of the Badgers heads to Colorado Springs this weekend with a five point lead over second place Colorado College. While top-ranked Wisconsin may be thinking about putting the Tigers in their rear-view mirror with a sweep, the high-scoring Tigers are sending a different message. It goes something like, "objects in mirror may be closer than they appear."
"We're only five points back, and we'd be one point back with a sweep," said Brett Sterling, the WCHA's leading scorer with 37 points thus far. "I don't think anything has been won by anybody in the first half."
On the Badger side, sizzling first halves have given way to "barely above .500" second halves the last two years running. Last season the Badgers were 13-5-0 when carolers were serenading Madison, and just 10-9-4 after the holiday break.
"Last year was a lesson about how teams get better in the second half," said Wisconsin captain Tom Gilbert. "Teams are definitely going to be gunning for us again this year."
Both teams had last weekend off, and Wisconsin starts a stretch in Colorado Springs that could potentially have them playing 11 consecutive weekends without a break. Regardless of the what the schedule says, the Badgers' surprising one first half WCHA loss has them steeped in the knowledge that there are no breaks in the season.
"No matter how good one team is playing, if your opponent comes to play and plays hard, it's a coin flip," Gilbert said. "We learned that against Michigan Tech. Points are all that matter, regardless of who you're playing."
Wisconsin beat and tied CC in Madison in November, but Sterling feels the Tigers are playing better hockey now than they were before Thanksgiving. Their 12-goal weekend at the Great Lakes Invitational may be a testament to that. This time, the prospect of facing the Tigers' seemingly endless offense in a hostile environment has the Badgers thinking that getting into a track meet with CC is not a good idea.
"They're so creative and quick, we've got to be physical and take the body," Gilbert said. "We're going to come out and try to slow them down by hitting."
Sterling warns that it's not wise to discount the Tigers' ability to play a physical game as well.
"People always say we've got a small team, but I think we can play a physical game if we need to," Sterling said, noting that this series is the first of a six-game stretch that has them facing Wisconsin at home, traveling to Minnesota and hosting North Dakota. "This is definitely a huge start to the second half of the year and the start of a huge stretch for us."
SEEN AND HEARD IN THE WCHA
Great Weekend Getaway

Wisconsin at Colorado College
(Fri-Sat)
January in Colorado means all 28 lifts running and a 71 inch base of packed powder at Breckenridge. Of course, the real fun is to be had 110 miles down the road from Summit County at Colorado Springs World Arena, where Colorado College hosts Wisconsin and the last real drama in the race for the MacNaughton Cup may be happening. "They might be the one team that can catch Wisconsin," said Don Lucia of his former employer. "But they have to win both games this weekend."

While You're There: We polled our friends at USA Hockey about where they go in Colorado Springs during their brief hiatus back in the states between the time they spent in Vancouver for the World Junior Championships and the time they'll spend in Torino for the Olympics. They steered us downtown, to the century-old Cheyenne Building and Phantom Canyon Brewing Company. When the folks who brought us the Miracle on Ice recommend a place, who are we to argue?

Stick Salute

Smart move by the higher-ups at St. Cloud State, removing the "interim" tag from head coach Bob Motzko's title. Picked by some (including us) to finish last in the WCHA after he took over the Huskies with just weeks to go before their first game, Motzko has instead coached the team to an above-.500 mark in his four months at the helm of his alma mater.

Bench Minor

WCHA coaches have expressed concern in the past about getting their players' heads back into the college game upon returning from playing in the World Junior Championships. No such trouble for North Dakota's Jonathan Toews, a Team Canada gold medalist. Just 44 seconds into Friday's game at Alaska Anchorage (and just hours after Toews and three teammates had gotten off the plane from Vancouver), Toews took a tripping minor.
Wild About Harry: It would be easy to joke that because Chris Harrington's played so well recently for Minnesota, the league office decided to give him a day off. In reality, Harrington was named the WCHA's defensive player of the week roughly 24 hours after being given a game disqualification for a scrap with Niagara's Jason Williamson late in the Gophers' 7-1 win on Saturday.
There was initially talk that the officials might downgrade the penalty to a game misconduct before signing the score sheet, as neither Harrington or Williamson appeared to throw punches in their otherwise impressive tussle. But referee Pete Friesema let the original call stand, meaning Harrington will miss Friday's home game with North Dakota.
The player of the week honor capped a comeback of sorts for Harrington, a senior, who had five assists in the sweep of Niagara and has played better defensively in the past month after considerable struggles as a junior and earlier this season. When Wisconsin won twice at Mariucci Arena in early December, observers watched the Badger forwards repeatedly get the puck a center ice and veer toward Harrington's side of the rink, hoping to capitalize on his perceived defensive weaknesses. A month later, Harrington's coach says the struggles versus Wisconsin were an exception to the better play he's seen recently.
"There's been a really strong turnaround in the last couple of months, especially on the road," said Don Lucia, whose team is on a six-game winning streak. "Chris has really played well defensively and he's got close to 20 points now as a defenseman."
Taking Harrington's family history into account (his father, John, won a gold medal for Team USA in 1980) and his solid play as a freshman and sophomore, 18 months ago it was easy to view Harrington as the heir apparent to Jordan Leopold, Paul Martin and Keith Ballard as the next great Minnesota defenseman. Lucia feels those comparisons aren't fair, and may have put undue pressure to do spectacular things on Harrington.
"Chris is not at that level," Lucia said. "He's a good college hockey player, but comparing him to those guys who are all going to play 15 years or more in the NHL, it's probably unfair to put that on anybody."
So instead of trying to make the highlight reel every night, Harrington has reverted to a simpler game that has him doing what his coaches expect defensively, and stepping up for the occasional offensive gem. In last Friday's 5-2 win over Niagara, the Gophers led 1-0 and were killing a penalty when Harrington picked off a Purple Eagles pass, keying a 2-on-1 shorthanded breakaway. He carried the puck deep into the Niagara zone before firing a cross-ice pass to Ryan Stoa for an easy tap-in goal.
Lucia figures it was plays like that helping earn Harrington the player of the week honor.
"I know he wasn't named that for being the best fighter," said Lucia, still smarting from the Saturday night call. "Maybe they thought he was an impressive wrestler."
FRIES AT THE BOTTOM OF THE BAG
• When Alaska Anchorage forward Shea Hamilton scored a power play goal just 1:22 into the Seawolves' 5-3 win over North Dakota last Friday, it snapped an 0-for-19 man-advantage streak. Heading into this weekend's series at Minnesota State Mankato, the Seawolves are 1-for-27 on the power play in their last five games.
• In losing to Princeton and Ferris State in the Denver Cup, the Pioneers finished 3-5-0 in non-conference play this season. That would normally be a bad sign for a team looking to win its third consecutive NCAA title. Of course, that would be forgetting that the team's 8-0 mark in the past two NCAA tournaments includes a 4-0 mark versus WCHA teams.
• It's looking like a potential turning point weekend for both teams as Michigan Tech visits Minnesota Duluth. Last season, the Huskies solidified their surprising second half in Duluth by sweeping the Bulldogs, and simultaneously ended UMD's hopes of a return to the NCAAs. The Bulldogs are currently two games under .500 and just one win out of the last WCHA home playoff spot with the Huskies coming back to the DECC. For a pair of teams currently in the lower half of the league standings, there are four pretty big points on the line.
• MSU Mankato junior David Backes will play in his 100th game on Friday when the Mavs host Alaska Anchoarge, and has already topped the century mark on the score sheet with 102 career points.
A variety of sources were utilized in the compilation of this report.