January 19, 2006
Finding Clouds in the Silver Lining
By Jess Myers
WCHA Notebook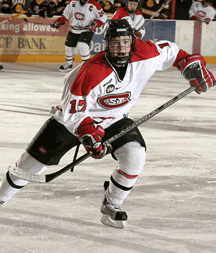 Andrew Gordon is St. Cloud State's leading scorer with 24 points in 22 games.

Typical of his low-key nature, first-year St. Cloud State coach Bob Motzko may be the only person in central Minnesota who's not hyped up about the Huskies' recent resurgence. Since a Nov. 11 overtime loss at Michigan Tech, St. Cloud State is on an 8-3-2 run heading into this weekend's home series with Minnesota Duluth.
The Huskies were most impressive last Friday at Denver, jumping all over the two-time defending national champs and winning 5-1. But Motzko, disappointed by his team's 5-2 loss in the series finale, says consistent inconsistency still spells trouble.
"We've kind of stayed very, very consistent in that we take one game per weekend and struggle to get the second one," he said. "We can't roll it just yet."
Sitting five points back of fifth-place North Dakota with two games in hand, Huskies fans are suddenly talking about the possibility of catching the Sioux for the final home playoff spot. The teams split a series in St. Cloud in November, and play in Grand Forks Jan. 27-28. Motzko recognizes that last weekend's series and the two upcoming will go a long way toward determining where the Huskies will be playing during the second weekend of March.
"This six-game stretch will probably determine where we're going to go and we're feeling a lot better about ourselves," he said. "But we haven't set any team goals, and that's on purpose."
While goaltender Bobby Goepfert has been a key player in the Husky renaissance (he's currently second in the WCHA statistically to Wisconsin's Brian Elliott), an improved offense has helped as well.
"Bobby has given us a chance to be a pretty good hockey team, but he's not the only reason for the success," Motzko said, praising the trio of Joe Jensen, Andrew Gordon and Billy Hengen. "We've won a lot of close games and have had some timely offense from Jensen's line."
Jensen, who may miss this weekend's series after getting banged up in Denver, leads the team in goals with 13 while Gordon is the Huskies' leading scorer with 24 points.
"Those guys were the ones we expected to step up and score goals and that's become a nice line for us," said Huskies captain Casey Borer. "We're kind of coming on and it's a lot of fun. We're just about there."
The Huskies early struggles may have been schedule related too, with Wisconsin, Minnesota and North Dakota all visiting the National Hockey Center in the first half. The January and February home slate includes visits by Minnesota Duluth, Alaska Anchorage and Michigan Tech, which may be opportunities for the Huskies to make up some ground.
"Now we're playing the teams that are around us, and we'll see what we are," Motzko said.
SEEN AND HEARD IN THE WCHA
Great Weekend Getaway

MSU-Mankato at North Dakota
(Fri-Sat)
There are plenty of interesting series to be had around the WCHA this weekend, with perhaps the most at stake in the Red River Valley where North Dakota hosts a hot Minnesota State Mankato club. The talented but inconsistent Sioux are coming off perhaps their biggest win of the season last weekend in Minneapolis, while the Mavericks are looking to prove they're for real, heading to Grand Forks on a 6-1-1 streak. Mavs rookie goalie Dan Tormey has been impressive thus far, but we're interested to see how he'll fare against the many offensive weapons in green and white.

While You're There: Some would argue that the stars of tomorrow are already skating for the Sioux, but scores of future D-I players will descend on Grand Forks this weekend for the third annual Midget Hockey Classic, to be played at rinks throughout the city. A dozen of North America's top high school-age teams will be in town, including squads from Chicago, Boston, Thunder Bay, Kenora, Pittsburgh, Colorado, Dallas, Winnipeg and Shattuck-St. Mary's. The best part for bargain-minded hockey fans is that $20 bucks will buy you a pass good for admission to every tournament game.

Stick Salute

Nobody is making a stronger case for building a new arena in Duluth than Michigan Tech coach Jamie Russell. Despite struggling in nearly every other WCHA arena (including their own), the Huskies are now 4-0-0 in the DECC over the past two seasons after last weekend's sweep there, which was sparked by a three-point weekend from rookie forward Justin St. Louis. It was the first time Tech had swept a WCHA series since last season's trip to the DECC on Feb. 4-5, 2005.

Bench Minor

While we know it's unfair to target an entire group for the actions of a few morons, class was certainly in short supply among some members of the Minnesota student section during the Gophers' series with North Dakota last weekend. From the hand-lettered sign mocking an injured Sioux player for being handicapped to the shower of drink cups and other garbage that rained down on the visitors after the final horn blew Saturday, it was a weekend that sportsmanship forgot.
Father's Day: After last weekend's impressive wins by top-ranked Wisconsin in Colorado Springs, Badgers coach Mike Eaves took the long way home and got an even bigger thrill en route. Eaves was one of dozens of friends and family in attendance at the Xcel Energy Center in St. Paul Monday to see his son, Patrick, skate for the Ottawa Senators.
It was the first time Mike had seen his son skate in a NHL game in person, and the younger Eaves didn't disappoint. Patrick scored twice and added an assist in the Sens' 6-1 win, which was his first multi-point game in the show. Afterwards, Patrick admitted being nervous prior to his first NHL game in his home state.
"I had a lot of friends and family in the crowd, but once you get out there and start hitting, the butterflies go away," he said.
The elder Eaves was positively beaming after the game and, despite watching several of Patrick's NHL games on TV, noted how much more enjoyable it was to be there in person.
"You don't get the emotion or the feeling of the building that way," Mike said. "And here you get to notice a lot more stuff going on away from the play. It was a lot of fun."
With his dad's team currently ranked number one in the nation and Boston College, his former college team, currently ranked second, Patrick said the prospect of a Badgers-Eagles NCAA final would present him with a big challenge, cheering-wise.
"I'd definitely have to root on my boys, but I have to support my dad too," said Patrick. "That'd be tough."
FRIES AT THE BOTTOM OF THE BAG
• With his team spending a few days in Minneapolis between series in Mankato and Houghton, Alaska Anchorage coach Dave Shyiak became a big NHL fan this week. On Monday, Shyiak watched the Wild and the Senators in St. Paul, and on Wednesday, he brought his team to the rink to watch the Wild beat the Maple Leafs. We'll have to wait to see whether all of that time in the home of the WCHA Final Five will inspire the Seawolves to make a late-season run and earn their second trip to St. Paul in the past three seasons.
• As mentioned on this week's INCH Podcast, Minnesota Gov. Tim Pawlenty may have been showing his loyalty to his alma mater (Minnesota) this week when he recommended no state funding in 2006 for the new DECC project in Duluth. Pawlenty generally praised the proposal, which calls for a contribution of more than $30 million in state dollars to help build a new home for Bulldog hockey, but said he could not support it financially until after the results of a city-wide local tax referendum on Feb. 28 are known, and until the city of Duluth gets its financial house in order. UMD officials in attendance at the meeting where the governor unveiled his funding priorities were understandably displeased by the news. Minnesota Attorney General Mike Hatch, who is running against Pawlenty in this year's gubernatorial race, is a UMD grad.
• With a banged-up Denver team traveling to face the top-ranked Badgers in Madison this weekend, one might think that Gabe Gauthier's birthday might be the only thing the Pioneers will have to celebrate Friday. But Wisconsin alum George Gwozdecky has always been mighty comfortable in his old team's new home. Since the Kohl Center opened in 1998, the Pioneers are 7-1-2 all-time there.
• The last time Colorado College experienced a defeat as lopsided as the 9-1 loss it suffered at home to Wisconsin Saturday, Brad Buetow was behind the Tigers' bench. On Jan. 30, 1993, Northern Michigan put up a dozen on the old Broadmoor World Arena scoreboard in a 12-3 win. That was Buetow's final season at CC. The next year a young guy named Don Lucia took over the program and led the Tigers from worst to first in the WCHA.
A variety of sources were utilized in the compilation of this report.