September 29, 2006
2006-07 Atlantic Hockey Preview
By Ken McMillan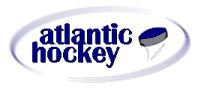 THE SKINNY
Atlantic Hockey has rolled out the welcome mat for Air Force and Rochester Institute of Technology, its first two additions since the league took over control from the Metro Atlantic Athletic Conference. It's awfully strange to have a Colorado-based school referred to as an "Atlantic" squad, but what the heck.
The power structure of the league does not change. Holy Cross, Mercyhurst and Sacred Heart finished 1-2-3 last season and figure to grab the top three spots once again. Holy Cross played the most steady hockey down the stretch, and its reward was the regular-season crown. Taking full measure of home-ice advantage, the Crusaders swept three games at the Hart Center to claim the playoff title but they weren't done quite yet. Holy Cross dismissed Minnesota in the opening round of the NCAA tournament before losing to North Dakota.
Six of the top 11 point producers in the league are back in the fold, and the scoring championship figures to come down to the final weekend once again. The biggest change comes in goal with Holy Cross, Army, Canisius and Connecticut looking for new starting netminders.
BREAKTHROUGH TEAM
The new year was not kind to Connecticut. On Dec. 29, the Huskies were a .500 team. What followed was an exercise in futility as UConn went on a record-setting 12-game losing streak, surrendering an average of more than five goals per game. The Huskies dropped to sixth place, just two points out of the cellar.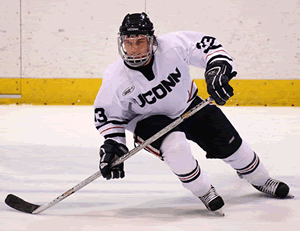 Connecticut forward Chris Myhro was one of four Huskies skaters to break double digits in goals last season, potting 13 in 35 games.
Jump ahead to a magical March. With little to play for but pride, Connecticut played the role of unfriendly neighbor with in-state rival Sacred Heart. First, the Huskies denied the Pioneers a shot at the regular-season title by posting a 4-3 win. Then the Huskies ousted Shaun Hannah's team in the opening round of the tournament, 4-1, before succumbing to eventual champion Holy Cross in the semifinals.
Yes, the Huskies did lose goalie Brad Smith to the pro ranks but the rest of the pieces are in place for a climb in the standings. As one UConn assistant said, "This is the year we have been building toward.'' The senior-ladened Huskies return 11 of their top 12 scorers, four of whom scored in double-digits: Matt Scherer (15 goals), Chris Myhro (13), Cole Koidahl (12) and Scott McDougall (10). Senior goalie Scott Tomes has performed in the past, and he just might be able to make up for Smith's departure.
PRIMED FOR A FALL
When Army jumped from College Hockey America to the Metro Atlantic Athletic Conference Hockey League in 2000, the MAAC coaches picked the Black Knights to finish fourth but the team never approached the top-half of league play. That all changed last year as goaltender Brad Roberts returned to his all-star form and Army's power play rose from the ashes of dormancy of a season earlier. Only a crushing season-ending loss to American International kept Army out of fourth place and a home playoff berth. Did one win make a difference? A week later Army dropped the postseason matchup of fourth and fifth seeds in double overtime at Bentley.
Army lost just four seniors from that squad, but one of them was Roberts, who saw 97.2 percent of time. His replacements, sophomores A.J. Drago and Josh Kassell, played 2 ½ periods out of the entire season. Say what you want about "rookies" stepping to the fore, but little is known about the cadet pair and they will be hard-pressed to live up to Roberts' .906 career save percentage and 2.75 goals against average. For an Army team which has struggled to score goals, that is a dangerous proposition.
PRESSURE TO PERFORM
It was quite an honor to have junior defenseman Jamie Hunt plucked early from the Mercyhurst program by the NHL's Washington Capitals, said coach Rick Gotkin, but it is a void he wasn't planning on filling for another year. Gotkin already lost seniors Conrad Martin and Preston Briggs to graduation so there's a lot of repair work to be done. That's where Jamie Coghlan, Denis Kirstein and Pat Henk come into play as blue liners who will be expected to pick up their ice time and their production. Coghlan is coming off injuries which sidelined him all season. The Lakers seem to enjoy shootouts, so a 3.3 goals allowed average never seemed to bother them much last season. Having lost 62 goals to graduation, though, Mercyhurst may have to shore up the defense a bit.
TOUGHEST ACT TO FOLLOW
With Holy Cross' NCAA playoff win over Minnesota, the glass ceiling has finally been broken for the league. While Mercyhurst almost performed the trick a year earlier with its overtime loss to Boston College, it was Holy Cross which finally gave Atlantic Hockey its first NCAA tourney win. Thanks to the Crusaders and Lakers, Atlantic Hockey's champs should no longer be taken lightly.
BEST PLAYER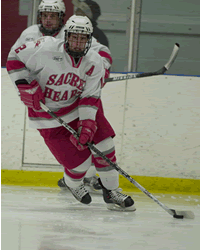 Pierre-Luc O'Brien led Sacred Heart in scoring last season with 19 goals, 31 assists and 50 points.
Senior Pierre-Luc O'Brien of Sacred Heart has improved his scoring output each season he has played. Nearly half of his 51 career goals have come on the special teams. He has a very accurate shot and is dangerous as a playmaker and on the breakaway.
BEST NEWCOMERS
Army junior Ken Rowe is new to Atlantic Hockey but is no stranger to college hockey, having started his career at Wisconsin. The transfer posted 37 points with the Bozeman (Mont.) Ice Dogs last season and figures to be a top-unit center. Rowe played with one of the league's top freshmen, Canisius forward Josh Heidinger. The first-team all-star in the North American Hockey League posted 33 goals and 56 assists (89 points) for Bozeman. Freshman Cody Collins of Mercyhurst ranked 14th in scoring in the British Columbia Hockey League, posting 31 goals and 45 assists for the Penticton Vees. RIT freshman defenseman Alan Mazur was the top blue-line scorer in the BCHL, posting 15 goals and 55 assists for the Merritt Centennials.
UNSUNG PLAYER
James "Bubba" Sixsmith of Holy Cross has played three fine seasons but in the shadows of the likes of Jeff Dams, Andrew McKay, last year's scoring champ Tyler McGregor and Pierre Napert-Frenette. Sixsmith is a fine playmaker who made his mark in the post-season tournament, earning tourney MVP honors with three goals and four assists in three games. He also had a crucial assist in Holy Cross' NCAA tourney win over Minnesota.
THREE BURNING QUESTIONS
1. How will Holy Cross replace goalies Tony Quesada and Ben Conway? Holy Cross coach Paul Pearl is in a worse goalie state than Army's Brian Riley. Quesada and Conway saw every minute of action in net and the lone returnee, Charlie Lockwood, is on the disabled list to start his sophomore season. That leaves the Crusaders in the hands of freshmen Tyler Chestnut and Ian Dams, each of whom won the Central Junior Hockey League's top goaltender award in the past three years.
2. How will Air Force and Rochester Institute of Technology fare? Air Force is a well-established program which welcomes its new affiliation, especially for ease in travel. The Falcons have regularly played schools from Atlantic Hockey, posting a 7-3-1 mark in 2003-04, a 6-1-2 record in 2004-05 and a 2-4-1 ledger last season (against current league members), so the transition should not be as tough. RIT is in its second season of Division I play, and still needs another year or so for a full recruiting cycle. RIT has a rich hockey tradition, and may continue that in the future.
3. Will Atlantic Hockey receive any TV time? Likely not. Regional sports networks in New England and Midwest have jumped at televising the likes of Hockey East, the CCHA and WCHA. Atlantic Hockey might as well be located in the Caribbean, given the lack of interest from national and regional networks – so much for being in the shadow of New York city, the world's media center. It's a huge shame.
MARK IT DOWN
Five things you can take to the bank in Atlantic Hockey this season
1. Some coach will grouse about the travel. Atlantic Hockey has been a bus league since its inception (as the MAACHL) but there are no short bus trips to the Air Force Academy. Seven league members are flying to Colorado – only Holy Cross and Connecticut are spared this season – and you can be sure that someone will gripe about having to cross two time zones, especially if the Falcons post the Western weekend sweep. Mind you, no one is complaining about having Air Force make seven trips to the east for league action – I mean, they are training to be pilots, after all.
2. Sacred Heart coach Shaun Hannah will keep the Quebec pipeline alive. Maybe Hannah enjoys the winter Ice Carnivals in Quebec, or he enjoys trying out his French. Either way, Sacred Heart has benefited from his Quebec recruitment, bringing in the likes of Jason Smith, Pierre-Luc O'Brien and Alexandre Parent. His newest Quebec native is forward Erik Boisvert.
3. Atlantic Hockey will surpass its non-conference win total. Last season Atlantic Hockey members posted 15 wins outside of league play, five of those wins thanks to Holy Cross, which capped the record total with its upset win of Minnesota in the first round of the NCAA tournament. Atlantic Hockey is making strides and closing the talent gap on the four long-established leagues, and the addition of two new members should help inch the league forward.
4. RIT fans will be the rowdiest. Fans of NCAA Division III hockey have known about RIT's rowdy fans for some time now, and now the rest of Atlantic Hockey will learn the same. The fans at Ritter Arena are jacked up every time the Tigers play.
5. Atlantic Hockey will still fail to grab a 13 or 14 seed in the NCAA tournament field of 16. There was much enthusiasm over Holy Cross' run into the second round of the NCAA tournament, prompting some league supporters into the belief that moving up from the 15th or 16th seeds in the NCAA field is possible. Maybe one of the brainy types from RIT can tell us otherwise, but the mathematics of the ratings index used by the NCAA and the current non-conference schedule just won't allow for any significant move upward.
Predicted Finish

No.

School
Of Note

1.

Sacred Heart
The Pioneers should have won the regular-season title last year before catching a case of the yips down the stretch, and a first-round tourney ouster still burns. Sacred Heart returns its top three scorers, seven of nine defensemen and Devils draftee Jason Smith in net.

2.

Mercyhurst
The Lakers have to replace almost half of its blueline unit and 62 goals, but when you have snipers in Ben Cottreau and Scott Champagne it makes the job easier.

3.

Holy Cross
No returning goalie, no problem. The Crusaders have signed two top junior netminders, and return seven of eight defensemen. Holy Cross has managed to reload the past five seasons, and this season should be no different.

4.

Connecticut
The Huskies got a taste of league Final Four action last season, a great lead-in for a team loaded with plenty of experience with 12 seniors. UConn will have to step up its defense if it intends to challenge for a championship.

5.

Bentley
The Falcons finally finished in the first division last season, and figure to do so again. Bentley's top three scorers were all freshmen, and a year of experience can only serve as a good thing. A strong season by Ray Jean in the nets could make all the difference.

6.

Army
The Black Knights may sport more experience than any team in the league, save for the goal position. If Army gets decent play from its sophomore netminders, it may be just enough to have this club challenge for a home-ice playoff berth once again.

7.

Air Force
The Falcons are certainly no stranger to Atlantic Hockey, having played numerous non-conference contests in recent years (15-8-4 mark in last three seasons versus current members). The Falcons return their top eight scorers, and have a veteran lineup with eight seniors and seven juniors. The question is whether the emigrant from CHA will underachieve once again.

8.

RIT
No longer an independent, the Tigers still must find their way in new surroundings. RIT lost a host of close games last season and need to turn those around.

9.

Canisius
The Golden Griffins lost four of their top eight scorers and top goalie Dan Giffin. The team is breaking in eight freshmen this season.

10.

American International
The Yellow Jackets have a promising netminder in Tom Fenton and six returning defensemen. AIC is a young squad with just five seniors.