October 27, 2006
Undefeated Army Taking Success in Stride
By Ken McMillan
Brian Riley knew his Army hockey team was not as bad as its 0-7-1 start to last season indicated. That's why he remains cautiously optimistic about the Black Knights' 5-0-1 start to this campaign.
Atlantic Hockey Notebook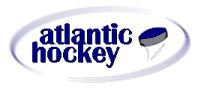 "We try not to get too far ahead of ourselves," Riley said, now in his third season at the helm. "Every year we talk about trying to create special memories during the course of a year. I mean, we like to think that this year that we still have the ability to do a lot of special things out there. There are certainly plenty of games left to do something."
Army's season has been pretty special already. It is the program's best start to a season since the 1976-77 team opened with 13 consecutive wins under Hall of Fame coach Jack Riley, Brian's father. Army is riding its longest unbeaten string since going 8-0-1 during a stretch in Jan.-Feb. 1998. The Black Knights sit atop Atlantic Hockey for the first time with a 3-0-1 mark, following a weekend sweep at Connecticut — the last time Army won two league road contests on the same weekend was February 1988.
The power play came alive at Connecticut, producing seven goals on 23 man-up tries, not bad considering Army was 1-for-15 against Ryerson. The Black Knight power play is ranked eighth nationally (25.6 percent) and tops in Atlantic Hockey. Army is the lone team in the nation with three players each scoring three power-play goals: Robb Ross, Luke Flicek and Will Ryan.
Army's overall offense is ranked ninth at four goals per game. Combine that with Army's 10th-ranked defense (2.25 per game) and it's no wonder the Black Knights have an early three-point lead in the league.
"We felt confident that we had a great nucleus of guys returning, forwards and back on defense," Riley said. "Our question mark was just in goal from an experience standpoint. We felt it was important to give them the opportunity to gain some confidence and certainly that has happened for Josh (Kassel)."
Army is gaining a little national attention – the team received seven votes in the NCAA Division I poll, good for 28th place. The unbeaten run could be in peril this weekend as Army competes in the Lightning College Hockey Classic in Tampa, Fla. The Black Knights open with Notre Dame, the CCHA team which made a lot of news last week with its road wins over No. 1 Boston College and Providence.
Riley said don't count his team out just yet.
"I always say a bigger underdog cadets are the more they rise to the occasion, so I am sure our guys will go down there, play hard and compete."
FRIES AT THE BOTTOM OF THE BAG
Great Weekend Getaway

Lighting College Hockey Classic; Tampa, Fla. (Fri.-Sat.)
Buffalo has been snowed in. Cold air grips the northern states. What
better place is there to watch four college hockey games than sunny Florida?

There's no need to wait until next month to watch Army and Notre Dame clash — the unbeaten Black Knights and Fighting Irish highlight the Friday night doubleheader with an 8 p.m. contest. New Atlantic Hockey member Air Force
takes on former College Hockey America foe Alabama-Huntsville in the 5 p.m. opener.

While you're there: Fans of Halloween can celebrate the season with the Guavaween festivities in
Ybor City, the historic Latin district of Tampa. A Family Fun Fest
takes place from 10 a.m. to 3 p.m., and adult revelers can enjoy costume and cooking contests from 3 o'clock into the night. What's hockey without a little golf thrown in? The PGA's Chrysler Classic
takes place at the Westin Innisbrook Golf Resort.

Stick Salute

Rochester Institute of Technology had an offensive explosion against American International, scoring eight goals in both weekend contests.

Bench Minor

Canisius' (not-so) special teams. As long as the Golden Griffins are going to lead the nation with the most penalty minutes (33.5 per game), Canisius had better take advantage on its power play to keep up. The blue and gold hardly did that on Tuesday night as Canisius went 0-for-16 in its 9-0 loss at Colgate.
• Numero uno: Eric Ehn of Air Force has posted eight goals and 12 points, leading the nation in both categories. … Army's Tim Manthey is averaging two points per game, tops among all defensemen and tied for the national lead with New Hampshire's Matt Fornatano. … Rochester Institute of Technology has the best combined special team score in the nation. The Tigers rank fourth on the power play (28.6 percent) and tied for 11th on the penalty kill (90.0 percent). … Dale Reinhardt of Holy Cross is one of three players in the nation to score two short-handed goals. … Canisius is tops in penalty minutes (33.5 per game).
• Not going to be held down: Mercyhurst's Ben Cottreau bounced back from his oh-fer on Friday (no goals on eight shots) to produce three goals on 11 shots in the Saturday victory over Holy Cross. Twice he pulled Mercyhurst into a third-period tie before Matt Pierce and Kyle Gourgon put the Lakers on top for good. Cottreau is only eight points from 100 in his career.
• Stem the fall: A 12-game winless streak in non-conference games came to an end as Holy Cross nipped Merrimack, 2-1, on Tuesday night. The league is 2-16-1 in non cons this season, the other win coming on Oct. 8 as Air Force knocked off former CHA foe Alabama-Huntsville.
• Down but not out: Bentley had already lost the opener to Air Force and was down 5-2 midway through the second meeting when the Falcons exploded for four goals for a 6-5 victory. It should stir memories of a similar feat against Iona in February 2003.
• Flying high: Air Force's top line of Andrew Ramsey (1-3—4), Eric Ehn (3-2—5) and Mike Phillipich (2-4—6) totaled 15 points against Bentley.
• Spreading the wealth: RIT has 12 different goal scorers this season, eight with two or more. Steve Pinizzotto, Ricky Walton and Matt Smith each have three goals apiece. In RIT's first-ever Division I weekend sweep of American International, the Tigers had seven different goal scorers on Friday and eight different scorers on Saturday.
• Hitting the road: Maybe coach Gary Wright feels about traveling the way John Madden does but his American International College squad does not hit the road very often for lengthy trips, outside of league visits to Buffalo and Erie, Pa. The Yellow Jackets visited Air Force for two games in October 2003 and took a trek to Minnesota State for a series in December 2002. This weekend the Yellow Jackets are buzzing out to Lake Superior State for a twinbill. The Lakers have split series with Ohio State and Clarkson thus far. AIC has struggled mightily, being shut out twice and outscored 18-3 in three games.
• Blankety-blank: Atlantic Hockey squads have been on the short end of four of five shutouts over the first two weeks. AIC was blanked by Army and RIT, Alaska whitewashed Air Force and Canisius didn't tickle the twine against Colgate on Tuesday night. Army shut out Ryerson University, which is still zero when you factor in the Canadian exchange rate.
• An act of neutrality: When Bentley takes on Princeton in a weekend series, the Friday game will be played at Richard Codey Arena in West Orange, N.J. The Saturday contest will be played at Princeton's Hobey Baker Rink.
• Home-and-home: Canisius does not have an on-campus ice rink for its own use but the Golden Griffins utilize two sheets of ice for their home games. Most contests are played at the Buffalo State Arena, but a handful — including Friday's Atlantic Hockey contest with Rochester Institute of Technology — will be played at the Amherst Pepsi Center, located on the campus of the State University of New York at Buffalo. For you RIT fans needing to scrounge up some spare change from the backseat, the Thruway toll is $1.65 each way for the 42-mile drive along the Thruway.
• Time change: RIT's game at Cornell on Saturday has been moved from a 7 p.m. start to 8 p.m.
• Looking ahead: Mercyhurst travels to Sacred Heart next weekend in a showdown of Atlantic Hockey powers; Army will look to extend its lead atop the league standings with a home-and-home with AIC; and, first-year league members RIT and Air Force square off in Colorado Springs for newcomer bragging rights.
A variety of sources were utilized in the compilation of this report