January 12, 2007
RIT and Sacred Heart Bring Momentum Into Weekend
By Ken McMillan
As long as Rochester Institute of Technology is ineligible for the Atlantic Hockey tournament, the Tigers are looking toward this weekend's clash with league-leader Sacred Heart as their playoffs.
Atlantic Hockey Notebook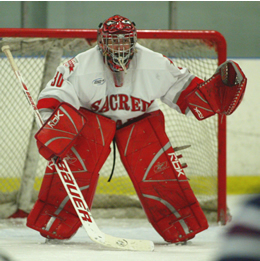 Sacred Heart goalie Jason Smith helped the Crusaders score one of the biggest non-league wins of the year for Atlantic Hockey, by making 28 saves in a 2-1 win at Cornell. Sacred Heart hosts RIT this weekend in a matchup of the top two teams in Atlantic Hockey.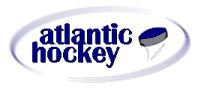 "Whenever you are playing a first-place team it's a challenge," said RIT coach Wayne Wilson.
Sacred Heart (10-2-4) has 24 points and RIT (10-3-1) has 21 points, with two games at hand. RIT is in its second season of Division I play and first in Atlantic Hockey so it cannot play in the post-season, so the regular-season championship is all it can play for.
"That is a goal of ours, to win the league championship," Wilson said. "I guess some of these games down the stretch are our playoff games. Maybe we approach it as a best-of-three series — it's important we don't get swept."
Both teams are coming off impressive non-conference victories. RIT won 3-2 at Quinnipiac on Jan. 4.
"That was good for our league and good for us," Wilson said of RIT's win. "We don't want to go up (to Quinnipiac) and play them for the sake of playing them; we want to win them."
Two nights later, Sacred Heart posted the league's top upset win of the season, a 2-1 decision at No. 14 Cornell.
"This is a huge win for the Sacred Heart program," said Shaun Hannah, who played for Cornell (1990-94). "We've been playing well and this will just give us more confidence."
Sacred Heart is one of the hottest teams in the nation, posting an 11-1-3 record since the start of November. The Pioneers have won their last four games and are unbeaten in seven. The Pioneers are proving themselves in the clutch, having headed into the final period tied with their opponent in six consecutive contests.
SEEN AND HEARD IN ATLANTIC HOCKEY
Well-rested and getting better: Jocelyn Guimond's performance in goal for RIT is a testament to what a little rest can do. The junior has dropped his goals against from 3.32 to 2.46 and raised his save percentage from 90.7 to 92.5. Roster depth in goal has allowed Guimond to sit out some games, keeping him sharp.
"I know goalies want to play every game," said RIT coach Wayne Wilson, who has spelled Guimond with freshman Louis Menard (9 games, 2.66, .909). "Maybe he is not running on empty at this time of the year. He is certainly fresh and maybe that's part of it as well."
Guimond posted 33 saves in RIT's upset win at Quinnipiac. "He honestly gives us a chance to win any and every game," Wilson said. "That's what you look for in any goalie."
A class of his own: Sacred Heart senior Pierre-Luc O'Brien, 24, has established school records for career assists and points. His two helpers in Tuesday's 3-1 win over American International College gave O'Brien 81 assists and 144 points. O'Brien needs three tallies to break the goals mark. Martin Paquet (1999-2003) has the goals mark (65) and held the assists (77) and points (142) records. The MAAC/Atlantic Hockey career goals leaders are Tyler McGregor (2002-06) of Holy Cross with 70, Dave Borrelli (2002-06) of Mercyhurst with 68 and Paquet. The all-time points mark is held by Louis Goulet (1998-2002) of Mercyhurst with 61 goals, 96 assists and 157 points. O'Brien needs to average exactly one assist per game to set the league standard.
FRIES AT THE BOTTOM OF THE BAG
Great Weekend Getaway

RIT at Sacred Heart (Fri.-Sat.)
There will be three Hobey Baker candidates on the ice as the top two teams in Atlantic Hockey square off for the only time this season. Candidates Pierre-Luc O'Brien and Bear Trapp and linemate Alexandre Parent form
one of the best scoring lines in the nation. They will have to find a way
to beat RIT netminder Jocelyn Guimond. Sacred Heart has been nearly unbeatable at home for the past year, and RIT is proving itself a formidable road team.

While You're There: The Maritime Aquarium at Norwalk is a short drive from Milford. The state's only zoo – the Beardsley Zoo – is located in Bridgeport. The Peabody
Museum of Natural History in nearby New Haven features a 67-foot brontosaurus.


Stick Salute

Sacred Heart goalie Jason Smith made 28 saves, 13 coming in the final period, as the Pioneers escaped Lynah Rink with a 2-1 win over No. 14 Cornell.

Bench Minor

A parade to the penalty box is not going to help Mercyhurst. The
Lakers were whistled for 16 penalties in the series finale with Air Force, giving up two power-play goals and playing short-handed for 8 1/2 minutes in the final period.

• Hobey Baker candidates: Atlantic Hockey had five of its players nominated for the Vote For Hobey portion of the Hobey Baker Award balloting: Eric Ehn of Air Force, Jocelyn Guimond of RIT, Pierre-Luc O'Brien of Sacred Heart, James Sixsmith of Holy Cross, and Bear Trapp of Sacred Heart.
• An Erie flyover: Air Force swept a series at Mercyhurst, winning 5-3 and 3-1. It was the Falcons' first road sweep in Atlantic Hockey and its first since sweeping Wayne State on the final weekend of College Hockey America play last March. It marked the second time Mercyhurst has been swept at home this season, the first coming Dec. 8-9 against RIT.
• An order of Buffalo win(gs): Army gained a split with host Canisius in their only series of the season, winning the opener 5-1 and losing the rematch 4-3. It was Army's first win in Buffalo since Nov. 8, 2003 (3-2 win),
snapping an 0-3-1 skid. The Black Knights squandered a 3-1 second-period lead in the second meeting as Jason Weeks of Canisius produced a short-handed tally to start the comeback and the game-winning goal with 7:53 to play. Weeks now has seven goals. Also, Wisconsin transfer Ken Rowe finally scored his first Army goal in the team's 21st game.
• Crusading: Holy Cross extended its recent dominance over in-state rival Bentley with a 7-4 victory on Friday, the seventh win in a row
posted by the Crusaders. It was the highest goal total of the season for Holy Cross. Bentley prevailed 3-2 on Saturday for its first victory over Holy Cross since posting a 5-3 win in Worcester on Nov. 6, 2004.
• Scoring touch: Bentley's Jeff Gumaer had a goal and two assists in both weekend games with Holy Cross, and helped set up the winning goal on Saturday. Gumaer was named the Atlantic Hockey player of the week.
• This Army can travel: Army's win at Canisius pushed the Black Knights' road record to 5-7-1. It is the team's most road wins since capturing six in 2002-03, and a far cry from its woeful 1-15-1 mark just two seasons ago. Army has four more road contests: two at Air Force and single games with AIC and Sacred Heart.
• Not so easy anymore: One factor in Holy Cross' success in recent seasons has been the Crusaders' ability to win on the road. Last season Holy Cross had one of the finest road marks in the nation at 15-6-1, and it's been four seasons since posting a losing road record. That streak is in danger as Holy Cross is off to a 2-9-2 start with at least seven road contests remaining.
• National leaders: Air Force junior Eric Ehn continues to lead in point scoring (1.82 per game, 19-21—40), James Sixsmith of Holy Cross ranks fourth (1.57) and Pierre-Luc O'Brien of Sacred Heart ranks ninth (1.52). Ehn is second in goals per game (0.86) and eighth in assists per game (0.95). Sixsmith is second in assists (1.10) and O'Brien is ninth (0.95). Jon Landry of Holy Cross ranks second among defensemen for points (1.19 per game), Brent Patry of RIT ranks third (1.00), Tim Manthey of Army ranks seventh (0.95) and Al Mazur of RIT ranks ninth (0.87). Josh Heidinger of Canisius ranks sixth in rookie scoring (1.19 points per game). For the first time in a long time, no Atlantic Hockey player ranks in the top 20 in goals against average: Jocelyn Guimond of RIT is 21st (2.46) and Army's Josh Kassel is 27th (2.56). Mercyhurst netminder Jordan Wakefield ranks eighth in save percentage (.921).
• Nine is not fine: With six non-conference games remaining in the regular season, Atlantic Hockey owns a 9-38-4 record against the other five leagues. Sacred Heart (3-2) has one more game at Dartmouth. Air Force finished at 3-5. RIT (1-4-1) secured an impressive win at Quinnipiac last week. Holy Cross (1-3) and Bentley (1-3-1) each play at Quinnipiac. Army (0-3), Connecticut (0-6) and Mercyhurst (0-4-2) finished winless, with Canisius (0-5) and AIC (0-3) each having one more chance to produce a win.
• Looking ahead: Mercyhurst skates into West Point, mindful that it lost three of four meetings with Army last season. … Bentley and American International play a home-and-home starting Friday in Springfield, the first of four meetings inside of 23 days. … Air Force and Holy Cross meet for the only time, with the Falcons making their second trip to the Northeast in as many weeks. … Canisius travels to Connecticut riding a three-game win streak over the Huskies, including two wins in Storrs last season (5-0 and 5-2). However, the Golden Griffins are winless in their last 13 road games (0-10-1 this season). … Mercyhurst swept five games from Canisius last season. So far this season, the Golden Griffins hold a 1-0-1 edge with game three on Tuesday in Buffalo. … On Tuesday, Holy Cross heads back to
Dartmouth, where the Crusaders upended the Big Green, 3-2, on Jan. 21, 2006. Holy Cross is 1-4 in non-conference tilts; the Crusaders were 8-3 last season.
A variety of sources were utilized in the compilation of this report. Ken McMillan can be reached at ken64@insidecollegehockey.com.