January 19, 2007
Different Feel This Year for Air Force and Army
By Ken McMillan
You would think a series pitting service academy rivals Air Force and Army, with home-ice playoff implications at stake and a national television audience on Saturday, would ramp up the pressure but Air Force coach Frank Serratore doesn't feel that way.
Atlantic Hockey Notebook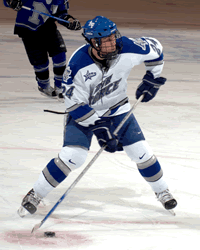 Air Force's Eric Ehn, the nation's leading scorer, will be featured on CSTV on Saturday, as the cable network airs a contest between Air Force and Army.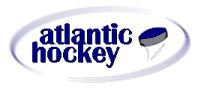 As far as he's concerned, it's easier to focus on the team immediately ahead of his own.
"The focus has been readjusted because of the league, the points and the standings," said Serratore, whose Air Force team joined Atlantic Hockey this season after years in College Hockey America. "You still have all that other (rivalry) stuff, but above all else right now we are playing a team above us in the standings and we have a chance to gain ground on them."
Army and Air Force have played a weekend series every season since 1989-90, alternating home sites, and this marks only the second time the games have impacted league play – Army was a member of CHA in 1999-2000.
Frankly, Serratore says, the non-conference meetings had much more at stake.
"A lot of years it's been two teams that haven't had winning records, and everything stemmed on winning the service academy series," Serratore said. "To be honest, I feel pressure every weekend but I don't feel quite the pressure when it was just the two non-conference games."
Army and Air Force are two of the most surprising story lines in Atlantic Hockey this season. Army (10-8-3, 10-5-3) sits in third place with 23 points, two points behind RIT and one behind Sacred Heart. Air Force (11-8-5, 8-3-5) is in fourth place, with two games at hand on Army. The recent past has not been kind for either program – Army has had just one winning season (2002-03) in the past six; Air Force has just one winning season (1999-2000) since Serratore took over in 1997-98.
The home teams have held serve the past two seasons, but Army won three of the previous four at Colorado Springs.
"They are great games," Serratore said of the rivalry. "The teams play hard against each other. The games are extremely competitive, and yet when it's all over there is, somewhat, a feeling of camaraderie. After the alma maters and we shake hands, the teams salute the fans together, a little show of unity."
SEEN AND HEARD IN ATLANTIC HOCKEY
Rough seas for the Lakers: Mercyhurst coach Rick Gotkin has lost a bit of his zip as his team meanders through a 10-game winless streak but he continues to put forth a brave face and looks forward to pulling off a couple upsets in the league tournament.
Mercyhurst (4-16-4) has suffered some huge personnel losses. Leading scorer, center Ben Cottreau (11-12–23), has missed seven games with a concussion suffered in the Dec. 16 game at Maine. "It was a clean hit," Gotkin said, "and Benny was knocked out even before he hit the ice."
His status is still game to game. Winger Scott Champagne (8-9–17) was shelved for the second time this season, having missed the last five games with a groin pull.
Sophomore goalie Tyler Small left the team last month, stating the game was no longer fun. Small played 14 games this season (3-8-3, 4.04, .896) and 36 in his career (17-14-4, 3.25, .911). His last outing was Dec. 8 as he gave up four goals on 20 shots in a 5-2 loss to RIT. Gotkin started the freshman Small in the final 12 games of last season, leading Mercyhurst to an 8-3-1 finish and a berth in the Atlantic Hockey semifinals, where Small made 53 saves in 81 minutes in a 3-2 double-overtime loss to Bentley.
Most clubs would be in serious trouble with a prominent defection in net, but the Lakers have seniors Mike Ella (28 games, 16-9-1, .901, 3.53) and Jordan Wakefield (30 games, 8-16-2, .910, 3.34) in relief.
Atlantic ascension: Air Force is enjoying its first season in Atlantic Hockey, sitting in fourth place – the Falcons were picked for fifth in the preseason poll. "It's a battle every night, for everybody," said Air Force coach Frank Serratore. "There is a lot of parity in our league. You don't see many blowouts. The teams that execute … generally win."
There is longer travel for Air Force, with frequent trips to the East coast but it's not so bad.
"We're not the Bus Force; we're the Air Force," Serratore says. "We get on an airplane, flight attendants give us sodas and we watch movies for three and a half hours. I'd rather do that than drive from West Point to Buffalo."
The Falcons have fared well on the road. On a recent six-game roadstand, Air Force went 3-1-2.
"To be honest, I think (going on the road) is relaxing," Serratore said. "For service academy teams, I know our guys love to get on the road and get away from the grind here (on campus). They get a bit more rest, and it's more pure hockey."
FRIES AT THE BOTTOM OF THE BAG
Great Weekend Getaway

Army at Air Force (Fri.-Sat.)
College hockey's only service academy rivalry pits two teams battling for home-ice playoff position within Atlantic Hockey. A flu bug is going through the Air Force locker room, adding troubles to a team making regular visits to the training room for injury rehab. Air Force leads the all-time series 23-15-2, but Army has scratched out three wins in the last six games at Cadet Ice Arena.

While You're There: Dress warmly because the weather forecast calls for a slight chance of snow and temperatures hovering around 15 degrees. There's a writers' conference in town and a Japanese New Year "Mochitsuki" (rice cake pounding) on Saturday morning at Colorado College, but who are we kidding? Bring the skis.


Stick Salute

Thank you, CSTV, for finally providing Atlantic Hockey coverage. The all-college network will air Saturday's Army-Air Force game at 8 p.m. EST. Sure, the top-rated schools hail from the Big Four conferences and monopolize the national TV avails but it's only fair that the league with the largest population swath in the land receives a little air time. A reminder: take a minute during the broadcast and give thanks to the brave young men on both sides of the ice who are serving their country and protecting our freedom.

Bench Minor

First-place was at stake, so emotions were high, but 30 penalties were whistled in Saturday's matchup between Rochester Institute of Technology and Sacred Heart. Ten infractions were coincidental calls, but the rest just made for halting hockey. Some people call it rugged hockey; others call it just boorish behavior.
• A first for first: RIT junior goalie Jocelyn Guimond posted his first collegiate shutout as the Tigers upended Sacred Heart, 4-0, on Friday. He stopped 30 shots on Friday and added 32 saves on Saturday in a 6-3 triumph. The weekend sweep, RIT's fourth of the season, propelled the Tigers into first place by one point.
• With margin to spare: AIC's 6-1 win over Bentley on Friday was the Yellow Jackets' third win of the season and its largest margin of victory since storming Connecticut, 8-3, on Feb. 16, 2003, when the teams were playing in the Metro Atlantic Athletic Conference Hockey League, a span of 122 games.
• Toss a hat: AIC's Jereme Tendler posted his first career hat trick (and added an assist) in the 6-1 win over Bentley. It was the 76th collegiate outing for Tendler. It was the first hat trick of the season for any AIC player, and the first since C.J. McConnell notched three against Army in a 2005 playoff win.
• Six is enough: Army had six different players score in its 6-3 win over Mercyhurst on Friday. The last time the Black Knights achieved that feat was a 7-3 win at Connecticut on Oct. 21, 2006.
• Swinging the broom: Army's weekend sweep, over Mercyhurst, was its third in Atlantic Hockey action. The Black Knights also dispatched Connecticut twice (Oct. 20-21) and AIC (Nov. 3-4), in addition to the exhibition openers with Ryerson (Oct. 6-7).
• Close is not enough: With its 2-1 loss at Army on Saturday, Mercyhurst fell to 1-5 in 1-goal decisions and is 1-6 in 2-goal games.
• Smart, on and off the ice: Connecticut senior Matt Scherer earned $25,000 with his recent appearance on the television show, "Who Wants To Be A Millionaire." Scherer answered correctly on 10 questions before
answering incorrectly on the $50,000 question. The question which stumped Schrerer was: The Guinness Book of World
Records measures the world's fastest talkers based on how quickly they recite what? A) Twas the Night Before Christmas, B) "To be or not to be" soliloquy, C) The Gettysburg Address, D) The House That Jack Built. Scherer guessed C but the answer was B.
• Looking ahead: Bentley and Mercyhurst play a two-game set in Erie. The last
time Bentley faced Mercyhurst the clubs engaged in an 81-minute playoff game, with Jaye Judd's goal at 20:58 sending Bentley to the Atlantic Hockey championship game. Bentley had lost the previous five meetings. The Falcons are 0-5-1 in their last six games in Erie, their last win coming Feb. 1, 2003. ... Connecticut and host RIT renew their rivalry for the first time since 1994-95. RIT owns a 5-2 series lead. The Tigers have won three in a row, five of six and 10 of their last 12. The Huskies have alternated wins and losses for the past eight contests. ... Separated by just 53 miles, AIC travels to Worcester to face Holy Cross for the only time this season. Holy Cross has won three in a row in the series and is 13-0-2 in the last 15 meetings. AIC's last win over the Crusaders was Jan. 4, 2002, 4-3 in Worcester. ... Host Dartmouth is coming off a 4-0 win over Holy Cross as it entertains Canisius on Friday and Sacred Heart on Saturday. The Big Green disposed of Sacred Heart, 4-2, last season.
A variety of sources were utilized in the compilation of this report. Ken McMillan can be reached at ken64@insidecollegehockey.com.