January 26, 2007
Shed No Tears For Holy Cross
By Ken McMillan
The Holy Cross Crusaders, Atlantic Hockey's representative in the 2006 NCAA tournament, are struggling through their worst season in six years but coach Paul Pearl says it's no time to cry about his team.
Atlantic Hockey Notebook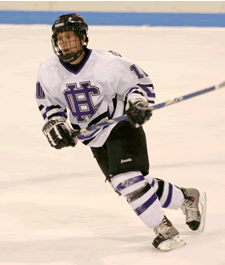 James Sixsmith (pictured) has linemates Dale Reinhardt and Sean Nappo back, and they've been productive for Holy Cross.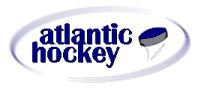 "We're getting better every week," he said, "and hopefully that will result in more wins down the stretch."
Holy Cross (9-13-4) is coming off a weekend split with American International College. The Yellow Jackets earned a 4-2 win on Friday, and the Crusaders responded with a 4-3 win on Saturday in what Pearl described as one of his team's best outings of the season. It was Holy Cross' first home win at the Hart Center since Nov. 21, snapping a three-game winless string.
A lack of consistency and below-average even-strength play have been the biggest issues. Pearl said his team played well in five of six periods in recent sets with Bentley (1-1) and Air Force (two ties), only to be doomed by one poor stanza.
Pearl has tinkered often with his offensive lines, but none more substantial than breaking up his front-line unit of James Sixsmith, Dale Reinhardt and Sean Nappo. The trio accounted for 52 total points through the first 15 games. On Dec. 2, Pearl moved Nappo to another line (mostly with Ryan Driscoll and Kai Magnussen). Over the next nine games, Holy Cross went 1-5-3 and averaged 2.1 goals per game.
Pearl reunited Nappo with Sixsmith and Reinhardt last weekend and the trio produced seven points and took 16 shots. "It was right back together and doing well," Pearl said.
Overall, the line changing experiment was not a huge success. "It was ability issues," Pearl said. "Either guys were moving into roles weren't good enough to take those roles, or guys we want to move into those roles aren't experienced enough or strong enough for those roles."
Holy Cross suffered significant graduation losses, and the only thing that was going to make up for that was time. "Some freshmen and sophomores who didn't play a lot last year are starting to catch on to what it takes to win at this level," Pearl said.
Three freshmen Pearl is particularly high on are Ryan Driscoll (fourth on team in scoring with 17 points), Rob Forshner (ninth with 9 points) and Brodie Sheahan (six points). "Those guys, as they get bigger and stronger and used to playing college hockey, they become more effective, and they are ascending to the top lines now."
Pearl disputes the notion that Holy Cross struggled under the expectations following their two-game run in the NCAA tournament. "I don't think it weighs on us at all," he said. "We lost a lot of god players who did great things for us. ... We're a good program and we will continue to be a good program. We're not Minnesota or B.U. (Boston University) – we don't feel the top spot is owed to us. We know we had to work hard to get what we got last year."
Even with the struggles, Holy Cross is 8-9-4 in Atlantic Hockey play, good for fifth place (and the fourth playoff seed), and Pearl likes his team.
"We're fast and we have a skilled bunch of guys who have gotten better over the year," Pearl said. "I really like this team and I think it's a good team going down the stretch. I still think we will be a pretty dangerous team come playoff time."
SEEN AND HEARD IN ATLANTIC HOCKEY
A little good news: Since American International College opened the season with 12 losses, it's only fair the Yellow Jackets finally get a taste of the good life. AIC has won four of its last 10 games to improve to 4-18.
"It's been a big turnaround," said AIC coach Gary Wright. "We have been more potent offensively. Our specialty teams have been stronger. Our penalty minutes have been down. Fortunately, through the difficulties, our kids hung in there pretty strong and they are feeling a lot better about themselves. It's been encouraging."
AIC has split its last two weekends, starting with Bentley and then Holy Cross. A 4-2 win on Friday was AIC's first over Holy Cross since Jan. 4, 2002, and snapped a 15-game winless streak against the Crusaders.
"They (Holy Cross) have been a very strong program," Wright said. "I thought that (win) was particularly satisfying."
Sophomore goalie Tom Fenton has started the last 10 games, surrendering four-or-fewer goals in seven of those contests. In October and November Fenton missed seven games with a groin injury. "It's helped a little bit getting Tom Fenton back," said Wright, who was quick to praise sophomore Coby Robinson for his relief duty. In fact, Robinson and Fenton share identical 3.91 goals against averages.
The goals are finally coming for AIC – the Yellow Jackets are averaging 3.5 goals is six games this month, after being held to two goals-or-fewer in 11 of their first 16 games. The most remarkable turnaround has taken place on special teams with AIC killing off its last 20 short-handed situations and 27 of its last 28.
FRIES AT THE BOTTOM OF THE BAG
Great Weekend Getaway

Air Force at Bentley (Fri.-Sat.)
If the Atlantic Hockey playoffs were to start today, Bentley would be headed to Colorado Springs for a quarterfinal contest. Of course, the playoffs are still a month away so we have a matchup of one team (Air Force) trying to sustain its momentum and another (Bentley) trying to find any traction. Air Force has gained points in 11 of its last 14 games. Bentley has lost eight of its last 10 games, surrendering at least five goals in six of those contests. Air Force has never lost at the John A. Ryan Skating Arena (3-0).


Stick Salute

American International College has cut down on its penalties and has killed off its last 20 short-handed situations. It's no wonder the Yellow Jackets have finally found the ticket for success.

Bench Minor

Coaches in Atlantic Hockey were puffing their chests a year ago with a record number of non-conference wins. No one is talking loud anymore, now that Atlantic Hockey has managed to post a losing record against each of the other five conferences.
• Welcome back, Benny: Mercyhurst junior Ben Cottreau returned from a long layoff due to a concussion to post a six-point weekend, leading the Lakers to a pair of wins over Bentley, 7-4 and 5-2. Cottreau had two goals and four assists, raising his team-leading totals to 13 goals, 16 assists and 29 points. Cottreau was named the Atlantic Hockey player of the week. It marked only the second time this season that Mercyhurst has won consecutive games.
• Knights tough on top: A sweep by Air Force would have dropped visiting Army into fourth place but the Black Knights came up big with a 2-0 shutout win on Saturday, holding on to second place (and the top playoff seed). It was Army's first win in Colorado Springs since Jan. 19, 2003. Sophomore Josh Kassel posted his second shutout with a 36-save effort. He also made 24 stops in a 4-1 loss on Friday, and was named the Atlantic Hockey goalie of the week. Army's Luke Flicek extended his point-scoring streak to eight games.
• Home cooking: Army has won two in a row and three of its last four at home, securing points in all but one of eight home contests this season (plus two exhibition wins). Why is this good for the top-seeded Black Knights? Because Army plays six of its final eight games at Tate Rink, starting with this weekend's set with Connecticut. Army swept the Huskies, 5-4 and 7-3, in Storrs in October.
• A win in Roch: Connecticut rallied from a 3-0 deficit to beat RIT, 4-3 in overtime, on Matt Scherer's 13th goal at the 39-second mark. The Huskies had lost their previous four games in Rochester.
• Christmas has come late: Canisius freshman Jason Weeks produced three goals last week, raising his January total to eight – that ties the school record for most goals in any month. Weeks leads the Golden Griffins with 12 goals and is second with 20 points.
• Pioneers in search of a victory: Coming off a 4-3 non-conference loss to Dartmouth, Sacred Heart is riding its first three-game losing streak since Dec. 2005. The Pioneers have not tasted four consecutive defeats since a six-game skid to close the 2004-05 season. Next up: a home series with Canisius – the clubs split a pair in Buffalo in October.
• Magic number is three: Holy Cross is 8-3-1 when it scores three-or-more goals; the Crusaders are 1-5-4 when it scores two goals.
• Record-setting: Holy Cross senior James Sixsmith picked up three points against AIC, giving him the school record with 144 career points. Sixsmith passed current San Jose Shark Patrick Rissmiller, and becomes just the sixth Crusader to amass 100 career assists since the program turned varsity in 1966-67.
• Nearing record: Bentley sophomore Jeff Gumaer scored one goal in each loss to Mercyhurst, giving him 31 career goals, one off the school's Division I mark.
• Looking ahead: It's a battle of abbreviations as AIC hosts RIT for a pair. The visiting Tigers had their way with the Yellow Jackets in October, posting two dominating wins, 8-3 and 8-0. Should AIC squeeze out one victory, it would mark the first time since Feb. 2003 that the Yellow Jackets have managed a win on three consecutive weekends.
• Record watch: RIT junior Jocelyn Guimond is nearing two MAAC/Atlantic Hockey single-season records. He ranks fifth in save percentage (.925) and 12th in goals against (2.44). Jamie Holden of Quinnipiac (.932) and Scott Simpson of Holy Cross (2.21) hold those marks. On the scoring front, Eric Ehn of Air Force ranks 16th in points (45) and goals (19), closing in on the marks of Quinnipiac's Shawn Mansoff (56 points, 29 goals). With 26 assists apiece, Ehn and James Sixsmith of Holy Cross rank 33rd all-time. Freshman Josh Heidinger of Canisius has 29 points (ranks 16th), not even close to Quinnipiac's Brian Herbert record of 54. Matt Smith's nine power play goals ranks ninth, still five behind the mark set last season by Dave Borrelli of Mercyhurst. Borrelli's mark of five short-handed goals is just two ahead of Chris Myhro of Connecticut and Jason Weeks of Canisius. With four game-winning goals, Andrew Ramsey of Air Force ranks ninth and trails Chris Cerrella of Quinnipiac by just three.
A variety of sources were utilized in the compilation of this report. Ken McMillan can be reached at ken64@insidecollegehockey.com.