February 2, 2007
The Veteran Player at Canisius
By Ken McMillan
Canisius hockey player Jaymie Harrington remembers a time, not too long ago, when he was full of pop and ready to go all the time.
Atlantic Hockey Notebook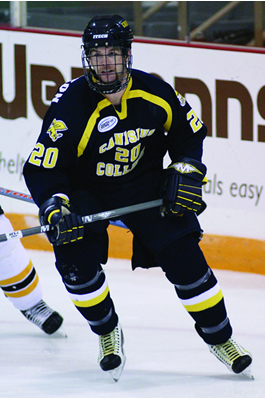 Jaymie Harrington is the second oldest player in Division I men's college hockey.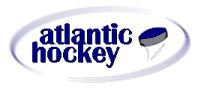 "I can see it with the new guys who come in," Harrington says a bit wistfully.
Hard practices on Tuesday nights are not a problem for Harrington. But then Wednesday arrives and it's not so easy to get his 25-year-old body moving again for a morning workout.
"It gets tough sometimes but you laugh it off," said Harrington, the second-oldest player in Division I college hockey and the oldest in Atlantic Hockey. In fact, there are 202 players in the NHL who are younger than Harrington.
"For a while I thought I was the oldest," Harrington said, "and then I found out that Michel Léveillé from Maine was born (eight) days ahead of me. It's funny. At least I am second in the nation in something."
Harrington is not old enough to remember the six-team NHL or the era when goaltenders weren't required to wear facemasks, but his teammates give him a hard time just the same.
He's called Uncle Harry, or Old Man, or simply Grandpa – hockey humor has a cruel edge at times. There are even referees who skate up to him and ask Harrington if he's on the "college 12-year plan."
If you believe in the saying, "Respect your elders," then Harrington has the entire Canisius team at his attention, and he uses the forum to impart sage advice.
"I just try to explain things that I've experienced," he said. "I try to pass along some tidbits here and there."
It's been a long, strange trip for Harrington, whose hockey travels have taken him from his hometown of West Boylston, Mass., to junior hockey stops in Iowa, Oklahoma and Illinois, to his first college home in New Rochelle, N.Y., and finally to his second college home in Buffalo.
Harrington played two seasons in the United States Hockey League. In the 2000-01 season, he produced 25 points with the Dubuque Fighting Saints, living up to the nickname with 136 penalty minutes. The following season he played 10 games with the Tulsa Crude before being sent to the Chicago Steel, combining for 26 points and 114 penalty minutes.
Harrington said he enjoyed playing for Jason Fairman in Dubuque so he followed the assistant coach to Iona College and Frank Bretti's team. Harrington played 28 games with the Gaels in 2002-03. Just as the playoffs were set to begin, Iona announced it was dropping its program, leaving 21 underclassmen in shock.
"It was devastating," Harrington said. "I still think about it every day."
"The guys were pretty fired up," he added. "We just wanted answers and the administration really wasn't willing to answer any questions that we had. We got handed our fate and we had to swallow it."
Bretti and his staff worked diligently to find new hockey homes for the players, and Harrington found a home at Canisius. He saw action in 26 games as a sophomore and then suffered a pulled lower abdominal muscle during preseason and missed the entire 2004-05 season. There was upheaval again, only this time it was coach Brian Cavanaugh being shown the door during a tumultuous season, and Dave Smith was hired to restore stability to the program.
"I came in here under coach Cavanaugh – we call that the old regime," Harrington said. "It's like a new life here for the program, almost like a rebirth. From when I got here to now, it's black and white. This program has a promising future."
Smith is impressed with what he's seen in two seasons from Harrington, the epitome of a checking-line player.
"He's a role player for us," Smith said. "He's physical. He's good in and around the net and in the corners. He's not going to get outside of his role. He does whatever we ask him to do. He never complains and he's a very good teammate.
"In the coaching staff's eyes, Jaymie is a significantly more mature person than when we first arrived," Smith added. "I give him a lot of credit for that."
The end of a long hockey career is perhaps a month away, and Harrington says he can see the light at the end of the tunnel. He changed majors when he transferred schools, switching from business to education. "That was a bit of a left turn," admits Harrington, who figures he'll be staying in school to pursue his masters degree.
"I think I am going to petition the NCAA for another year," Harrington said with a laugh.
SEEN AND HEARD IN ATLANTIC HOCKEY
Thanks for the nod: Holy Cross senior James Sixsmith was honored to be nominated for the Walter Brown Award, which goes to the best American-born college hockey player in New England, but he prefers to keep his eye on the team prize: winning the Atlantic Hockey title once again.
"Anytime you get nominated for something like that, it's pretty exciting," Sixsmith said Thursday. "It's definitely an honor to be included in those (elite) names … it's pretty good company.
"At the same time it's just another thing. I will try not to think about it and just keep playing."
Sixsmith leads the Crusaders in goals (13), assists (26) and points (39). His 0.96 assists per game ranks third in the nation and his 1.44 points per contest ranks seventh. He has 44 goals and 100 assists in his career.
"He's having a great year," said Holy Cross coach Paul Pearl. "Obviously his numbers are great but the thing people realize about him is as good a scorer he is, he is that good of a defensive player, that good of a captain and that good of a leader."
Senior forward Matt Scherer of Connecticut was the second nominee from Atlantic Hockey. He is second on the Huskies in goals (14), fourth in assists (10) and tied for the team lead with 24 points. He has 54 goals and 39 assists in his career.
Making his own mark: Army sophomore Josh Kassel posted his third NCAA shutout, stopping 16 shots in a 3-0 win over Connecticut on Saturday. A week earlier, Kassel stopped 36 shots in a 2-0 win at Air Force. He blanked AIC 2-0 with 21 saves on Oct. 13. Kassel also blanked Ryerson, 5-0, on Oct. 6 in an exhibition game. Last season Brad Roberts had five shutouts in his senior campaign, raising his career total to eight.
"Certainly they are two different style goalies," said Army coach Brian Riley. "Brad came in here and did a fantastic job for us. Now Josh has put himself in a position to kind of make his mark with Army hockey.
"We've been very fortunate to have very strong goaltenders here. It will be interesting to follow Josh's path through this program the next couple years. I think he has sent everybody a message that he has the ability to be one of the best Army goalies."
Promising future: Dave Smith did not promise a quick turnaround at Canisius College and things have certainly not been easy during his first two seasons as the Golden Griffins have compiled a 16-42-4 overall record. However, there are promising signs for the future.
The top three scorers for the Griffs are freshmen (Josh Heidinger, 29 points; Jason Weeks, 21 points; Carl Hudson, 17 points) and 96 of 175 team points have come from the rookie class.
"Our goal has been to get better every day," Smith said. "I believe the foundation that is being laid by the seniors and juniors is setting us up for a brighter tomorrow."
Heidinger is a solid candidate for rookie of the year. Freshman blue liners Chris Forsman and Hudson have combined for 33 points. Andrew Loewen is 6-8-2 in his rookie season with a respectable 3.11 goals against average and .904 save percentage.
Canisius has just 12 healthy forwards for the remaining schedule. Senior Chris Angelo left school. Freshman Alec Wright played just 15 games before injuring his shoulder. Senior goalie Max Buetow and freshman forward Ryan Klusendorf have both missed the entire season with shoulder injuries.
FRIES AT THE BOTTOM OF THE BAG
Great Weekend Getaway

Connecticut at Sacred Heart (Fri.)
Sacred Heart at Connecticut (Sat.)
The Nutmeg State battle resumes following a November series split, each team winning at home. Sacred Heart is hoping it regained momentum with a sweep of Canisius. Connecticut's season has been marked by on-again, off-again success. The Huskies could move into home-ice playoff position should Holy Cross falter at Army. The Pioneers remember vividly that it was UConn which knocked them from the Atlantic Hockey quarterfinals last year.


Stick Salute

West Point will be saluting a legend in hockey on Saturday as a banner commemorating Hall of Fame coach Jack Riley will be raised to the rafters of Tate Rink. Riley coached the Cadets from 1951-86, and retired as the second-winningest coach in NCAA history (542). Of course, Riley is best known for leading Team USA to the 1960 Olympic gold medal in Squaw Valley, Calif. The honor is long overdue.

Bench Minor

Bentley's trouble on the power play was in full focus with an 0-for-11 effort against Air Force. Bentley has dropped to ninth in the league in man-up efficiency.
• Unlucky seven: Holy Cross surrendered seven goals for the third time this season, dropping a 7-0 decision on Sunday as Quinnipiac debuted its new arena. Mercyhurst prevailed 7-5 on Oct. 21 and Northeastern triumphed 7-2 on Dec. 30.
"It was probably the worst game we've had since I've been coaching," said coach Paul Pearl. "We played a very good first period and then I don't know what happened. We didn't make a hit, we didn't make a pass, we didn't make a save.
"I have to review what I said between periods," Pearl said with a laugh.
It was the second time the Crusaders have been blanked this season, the first coming Jan. 16 as Dartmouth won 4-0. Holy Cross was blanked just once last season. It was the worst loss by the Purple and White since Maine won 7-0 on Oct. 18, 2003.
• Pioneer pair: Sacred Heart's sweep of Canisius was its fourth weekend sweep of the season (Mercyhurst, Holy Cross, Bentley). Stefan Drew made 30 stops in the Pioneers' 4-0 win on Saturday. It was the first shutout for Drew and the Pioneers' since he made 27 stops in a 3-0 win over Army on Feb. 4, 2006, a span of 33 games.
• Three bagels: Senior Ben Worker made 26 saves for Air Force in its 2-0 win over Bentley on Saturday, becoming the third netminder on the staff to post a shutout this season. Junior Ian Harper made 24 stops in a 3-0 win over RIT on Nov. 3. Freshman Andrew Volkening made 19 stops in a 3-0 win over AIC on Nov. 19. Senior Peter Foster has yet to shut out an opponent in 13 appearances this season but has seven in his career.
• An easy ticket: Canisius will utilize the Pepsi Amherst Center for the fourth time on Saturday when RIT visits in the back end of a home-and-"home." The Golden Griffins have drawn 427, 413 and 628 fans for the last three Amherst outings. You don't think that sounds great? Well, 10 "home" contests at the Buffalo State Arena have yet to draw more than 387 fans.
"Amherst is a hockey hotbed," said Canisius coach Dave Smith. "In the Western New York hockey community there is a pleasant buzz that really likes what we are doing and they like the product they see on the ice."
• Road warriors: Rochester Institute of Technology has won six consecutive games on the road – Army was the last team to hold serve at home against the Tigers, 2-1 on Dec. 29. RIT plays Canisius in Amherst on Saturday. The Tigers swept two earlier meetings with the Golden Griffins.
A variety of sources were utilized in the compilation of this report. Ken McMillan can be reached at ken64@insidecollegehockey.com.