February 9, 2007
Mercyhurst Goalie Takes Advantage of Opportunities
By Ken McMillan
There was a time not too long ago when Mercyhurst goaltender Jordan Wakefield wondered if he would ever play again.
Atlantic Hockey Notebook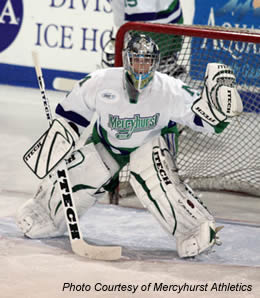 Mercyhurst senior Jordan Wakefield has overcome a back injury that cost him his sophomore season and is now the Lakers' number-one goalie.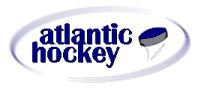 Wakefield lost his sophomore season to back surgery, the same kind which sidelined NHL standout Ed Belfour. Following an arduous physical rehabilitation, he lost his bid to be the Lakers' No. 1 goalie last season when freshman Tyler Small emerged as the new backstop.
Small got the nod once again this season but he decided to quit hockey altogether in December, and Mercyhurst coach Rick Gotkin once again turned to Wakefield, a red-shirt senior who won a playoff game in relief as a freshman.
Gotkin's faith in Wakefield is starting to pay off. The veteran coach saw something in Wakefield in a pair of relief outings against Rochester Institute of Technology, and he has started ever since. Wakefield has played the last 12 games, posting a .920 save percentage and 2.95 goals against average (lowering his season GAA to 3.16).
Wakefield had a stellar weekend at Air Force, stopping 50 shots in a 7-5 shootout win and making 40 stops in a 3-2 overtime victory. "If Jordy didn't play as well as he did, we probably don't win either one of those games" Gotkin said.
"He is playing well," Gotkin added. "He is a real cool customer, he doesn't get rattled too much."
The post-holiday blues are over for the Lakers, who are unbeaten in five games and winners of four in a row. Mercyhurst (8-16-5, 8-12-3 AHA) has built a tiny cushion from the dreaded play-in spots, and is just four points out of a home playoff berth with five games to play.
Even though Wakefield still has a year of eligibility remaining, coach and player agreed before the season that Wakefield would graduate with his class and pursue other options. Gotkin said Wakefield may pursue professional hockey opportunities, or finish off his masters studies in Canada, where he would have two years of college eligibility remaining – the universities of Ottawa and Alberta have inquired about his services, Gotkin said.
Gotkin will also lose red-shirt senior Mike Ella, who may also go the Canadian University route. Gotkin will bring in two freshman netminders – reports have Ryan Zapolski of Mahoning Valley from the North American League and Ian O'Brien of the Pittsburgh Junior Penguins (Empire League) joining the squad.
SEEN AND HEARD IN ATLANTIC HOCKEY
Soderquist shuffles lineups: Bentley coach Ryan Soderquist has provided a boost to his top two lines, promoting Marc Menzione (5G, 11A)and Boston University transfer Pat Percella (8G, 6A). Menzione is paired with Anthony Canzoneri and Dain Prewitt and Percella, who has four goals in his last six games, is teamed with Jeff Gumaer and Marc Zwicky.
Soderquist has shuffled up net duties as well. Senior Ray Jean has not been sharp in the second half of the season, Soderquist said, and has been benched for the past six games. Jean was expected to start Tuesday's game at Quinnipiac but suffered a bad bruise in Monday's practice. Instead, Jason Kearney earned his fifth consecutive start. Jean is expected to start at least once this weekend against Connecticut.
Bentley has not gained any traction in the new year, splitting four series and dropping a pair to Mercyhurst.
"Things are not exactly where we planned to be at this time," Soderquist said. The graduation of nine seniors left the Falcons as one of the league's youngest teams. "That's why we have had some ups and downs and not had the ability to win back-to-back games."
Soderquist was unsatisfied with last weekend's split with American International. "We played well enough on Friday night to win and didn't come back focused on Saturday night's game," he said.
"We're working on that, but we're about to run out of time," he added. "It's focus. There's no doubt that when you have young guys you get the attitude that there is always tomorrow, and with only two seniors in the lineup it's hard to combat that. They have to realize that every night has to count. This league is so close you can't take any nights off."
Bentley owns an 8-3 mark at home but is just 3-12 on the road, dropping nine in a row since winning at RIT, 3-2 in overtime, on Nov. 17.
FRIES AT THE BOTTOM OF THE BAG
Great Weekend Getaway

Air Force at RIT (Fri.-Sat.)
The last time Atlantic Hockey's newest members faced one another, neither school had made a huge impact in the league. Three months later, RIT is ever so close to a championship and Air Force is closing in on a coveted home-ice playoff game. Air Force is 3-0-2 in its last five games at RIT, including a 3-2 overtime win on Feb. 13, 2006. RIT's last series win was 5-2 on Oct. 15, 2005, in the Quinnipiac tournament.

While You're There: Sure, Oswego has been buried with lake-effect snows and now it's Rochester's turn to shovel the white stuff. Five-to-seven inches of snow are expected this weekend, and the wind chill will be downright frigid. If you like action on the hardwood, RIT is hosting Hartwick in a basketball doubleheader on Friday night right next door. When the games are over, head over to the Ritz Sports Zone for a late-night band jamboree (10 p.m.-1 a.m.). The RIT women's hockey team plays Manhattanville on Saturday afternoon. Later that night, the Student Alumni Union is hosting a post-fashion show party at 10 p.m. and Ingle Auditorium is hosting a two-hour comedy fest at 11 p.m.


Stick Salute

Beau Erickson is the new kid on the block but he's not playing like any rookie. The Connecticut netminder held Sacred Heart to back-to-back one-goal efforts, stopping 66 shots in a pair of Husky wins, the first UConn weekend sweep since December of 2005.

Bench Minor

Sacred Heart may ultimately gain the top seed in the Atlantic Hockey tournament but it looks like it will come from the No. 2 position. Sacred Heart has fallen five points behind playoff-ineligible RIT thanks to a pair of losses to Connecticut. The Pioneers can't afford any more slip-ups down the stretch.
• Magic numbers: Rookie member RIT inched closer to winning the regular-season championship with a road win over Canisius. The bottom four clubs – Bentley, Mercyhurst, Canisius and AIC – have been mathematically eliminated from title contention. The remaining magic number of points for elimination are: Holy Cross (1), Connecticut (3), Air Force (5), Army (5) and Sacred Heart (8). RIT is not eligible for the post-season.
• At streak's end: The Rangers' derision chant "19-94" has not caught on with Islander fans yet, but that is also the last year Mercyhurst suffered through its last losing season (12-13). Only a sweep of five regular-season games, three playoff games and one NCAA contest would extend the streak to 13 seasons.
• Getting into the action: A total of 178 Atlantic Hockey players have scored goals this season. A total of 206 players have set up goals, including four goaltenders: Scott Tomes (Connecticut), Ian Dams (Holy Cross), Ray Jean (Bentley) and Jason Smith (Sacred Heart).
• Beat 'em early: RIT leads the league with 43 first-period goals. The Tigers have scored 38 in the second period and 27 in the third.
• Strong bookends: RIT has allowed the fewest first-period goals (14) and fewest third-period goals (20).
• Kissing your sister? No way: American International, Michigan and Wayne State are the only teams which have not forged a tie this season. All 59 Division I teams registered at least one tie last season, and all 58 the season previous. In 2003-04, Yale and Ohio State were the last teams to go an entire season without one draw.
AIC has not played an overtime session in 30 games, including 27 this season. When the Yellow Jackets play extra time, you might as well sign the scoresheet ahead of time – AIC's last 10 OT contests have finished in ties (six last season, four in the season previous). The last OT loss took place Dec. 4, 2004, a 3-2 home setback to Mercyhurst. AIC has played 81 games without losing an overtime game.
Wayne State has beaten Ferris State and the USA Under-18 team in overtime this season while Michigan has beaten the USA Under-18 team and Northeastern in extra time.
• Broken Heart: In Sacred Heart's pair of losses to Connecticut, the Pioneers went 1-for-12 on the power play. The 4-1 loss on Saturday featured a minus-four for Pierre-Luc O'Brien and minus-three for Bear Trapp. It was the second time Sacred Heart was swept this season (RIT).
• Road Warriors: Canisius and RIT traded road wins, Canisius winning the opener, 4-1, and RIT prevailing in the nightcap, 4-2. The teams also swapped road wins on Oct. 21-22, 2005. It was the fourth time RIT has dropped a Friday game only to respond with a win on Saturday (Bentley, Army, Connecticut). Canisius snapped a five-game winless streak (0-4-1) and four-game road losing streak. Canisius netminder Andrew Loewen stopped 61 of 66 shots he faced.
• Defending the house: Bentley and AIC earned home wins, Bentley taking the opener, 4-2, and AIC capturing the nightcap, 5-2. The five AIC goals on Saturday marked only the second time the Yellow Jackets have scored that many (six vs. Bentley in 6-1 win on Jan. 12). Bentley surrendered five goals for the 12th time this season (1-11 record). AIC was whistled for 17 penalties and Bentley was called for 24 fouls.
• Hard work, no points: Air Force fired 97 shots but still lost twice to Mercyhurst. The vaunted line of Andrew Ramsey, Eric Ehn and Mike Phillipich scored once on 15 shots in the 7-5 loss on Friday and managed just one goal on 18 shots in Saturday's 3-2 overtime loss. Air Force has dropped three in a row at home, its longest drought since dropping five in Feb.-March 2005. Alaska was the only other team to sweep Air Force this season (Oct. 13-14).
• This one is for Jack: Owen Meyer tied the game with 37 seconds to play to lift Army into a 3-3 tie with Holy Cross on Jack Riley Night. A breakaway attempt by Holy Cross in the closing seconds was foiled when the puck rolled off a stick. Army failed to score on six overtime shots. The draw was Army's fifth of the season, one shy of the six posted in 2005-06 and 2001-02. Holy Cross also has five draws, one shy of the six posted in 2004-05. Holy Cross won the season series, 2-0-2.
• Looking ahead: Sacred Heart has won the last four meetings with Mercyhurst, including 6-4 and 5-4 decisions in Milford in November. The Lakers last prevailed on Nov. 19, 2005 (3-1). Sacred Heart is 7-6-3 on the road; Mercyhurst is 4-5-3 at home. … Holy Cross has won five of its last six meetings with Canisius and is 12-1-4 in the last 17 contests. Holy Cross swept the Griffins, 5-4 and 6-3, on Nov. 3-4 in Worcester. The Crusaders are just 2-10-3 in road action; Canisius is 5-6-1 at home.
A variety of sources were utilized in the compilation of this report. Ken McMillan can be reached at ken64@insidecollegehockey.com.