February 15, 2007
Nothing's Sacred ... Yet
By Ken McMillan
No matter what Sacred Heart does over the final two weekends of Atlantic Hockey play, a regular-season title may be just out of reach for the Pioneers.
That's disappointing, says coach Shaun Hannah, but that's not the banner the Pioneers want to hang in the Milford Ice Pavilion. Sacred Heart has its eyes on the Atlantic Hockey tournament championship and the automatic NCAA bid that goes with it.

Atlantic Hockey Notebook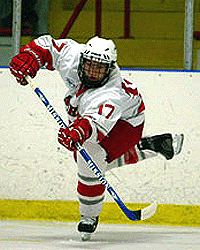 Alexandre Parent and Sacred Heart have their sights set on winning the Atlantic Hockey playoff championship.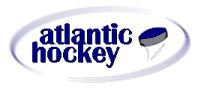 "We're not in the driver's seat as far as finishing first in the regular season,'' Hannah said, "but we are in terms of being the top seed in the playoffs. Our focus is on finishing the season strong."
This was supposed to be the weekend that would decide the Atlantic Hockey title, when the INCH preseason favorite Pioneers locked horns with defending champion Holy Cross in a home-and-home set. There is a lot at stake with Holy Cross two points out of a home-ice playoff berth and Sacred Heart on the verge of clinching the top playoff seed, but it appears the regular-season title runs through Rochester.
The Rochester Institute of Technology – a rookie member which is ineligible for the league playoffs – owns a commanding five-point lead with four games to play, with the Tigers set to play a pair of series against eighth-place Mercyhurst and seventh-place Bentley. Hannah is not ready to wave the white flag of surrender, but his secretary is probably looking up the phone number for RIT coach Wayne Wilson for a congratulatory phone call.
"I think (the regular-season title is) something we were striving for, definitely," Hannah said. "To miss out on that opportunity, yes, it is disappointing, but you have to put that behind you at this point and really focus on the situation we are in now … where we can finish as the No. 1 seed going into the playoffs."
Sacred Heart is only 4-5 since the second weekend of January, hardly the momentum Hannah would like to carry into the post-season.
"We were inconsistent through January, when we got away from doing the things our hockey team has to do to be successful," Hannah said. "In the RIT series, we didn't play our game at all two nights in a row. Then we got back at it against Canisius. Then against Connecticut we got away from executing the way we need to."
Hannah was thrilled with his team's sweep of Mercyhurst last weekend. The Pioneers opened with a 5-2 win and followed with a 4-2 triumph, improving to 7-1 in two-goal decisions and 13-4-4 in games decided by two goals or less. Capitalizing on scoring opportunities was crucial in both games, Hannah said.
"I think we are at a point as a team where we understand what we have to do, and you have to do it every night," Hannah said.
SEEN AND HEARD IN ATLANTIC HOCKEY
Pioneer depth: When you think of the Sacred Heart offense, the names that immediately come to mind are Pierre-Luc O'Brien, Bear Trapp, and Alexandre Parent.
The Pioneers are proving they have additional resources on offense to keep opponents honest. Sacred Heart tallied nine goals against Mercyhurst, but O'Brien, Trapp and Parent accounted for just one tally (plus six assists). Defenseman Paul Ferraro scored twice on Friday, and Eric Giosa had six points on the weekend, scoring the game-winner on Friday and setting up the winner on Saturday. Freshman Dave Jarman scored twice on Saturday.
"One of the things we've had throughout the season is balance in scoring, and we have guys who stepped up when we need them to," said Hannah.
Bragging rights: Just about every hockey player will say the right thing and put team pursuits ahead of individual glory, but we all know that each locker room has its own scoring chase. Seven scoring leaders have a bit of breathing room heading into the final two weeks, but three races could go down to the wire.
Connecticut senior Matt Scherer (19 goals) has a one-goal edge on sophomore Chris Myhro. Holy Cross junior Dale Reinhardt (15) leads senior and fellow James Sixsmith by two. Sacred Heart senior Pierre-Luc O'Brien (15) has to hold off sophomore Bear Trapp (13) and junior Alexandre Parent (12).
By the way, Scherer and O'Brien are the only seniors leading their teams. Air Force junior Eric Ehn has 21 goals to lead the league and owns a six-goal margin over his teammates. You can practically etch the names of Jereme Tender from American International (eight-goal margin) and Bentley's Jeff Gumaer (seven) on their respective scoring trophies. Jason Weeks of Canisius (four) will likely be the only freshman scoring leader. Three-goal margins are held by Luke Flicek of Army, Ben Cottreau of Mercyhurst and Matt Smith of RIT.
O'Brien, Scherer and Tendler are gunning for their third scoring titles (Tendler shared as a freshman), while Ehn and Gumaer are vying for their second crowns. Gumaer's 33 career tallies is a Bentley Division I record.
FRIES AT THE BOTTOM OF THE BAG
Great Weekend Getaway

Mercyhurst at RIT (Fri.-Sat.)
Hats off to RIT for a highly successful first season in Atlantic Hockey. With this being the final weekend of home action for RIT, it would only be fitting to have the Tigers clinch the regular-season title in front of a rabid home crowd at Frank Ritter Ice Arena. All it will take is four points either gained by RIT or lost by Sacred Heart to get the party started. RIT has already swept Mercyhurst this season.

While You're There: The Ritz Sports Zone in the Student Alumni Union will host an open-mic night on Friday – let's just call it Rochester Idol! The basketball teams host Elmira in a Saturday afternoon doubleheader, but if you'd rather get slammed, gather a team of five for a charity dodgeball tournament at the Hale-Andrews Student Life Center. For a buck, you can attend a sketch comedy show in the SAU's 1829 room, but I think things will be a bit more festive at the Ritz Sports Zone with a possible title celebration.

Stick Salute

Louis Menard would be a pitching coach's dream. The RIT freshman earned one win in relief and another with a start over Air Force. Menard, INCH's mid-season goalie of the year, is 11-0 in Atlantic Hockey play.

Bench Minor

A scheduling error by the Royal Military College of Canada put a stop to the longest international college hockey rivalry with Army, leaving West Point's Tate Rink dark last Saturday. Let's hope the military leaders from both proud schools can revive the series and the pomp and circumstance that goes with the international exchange.
• If the playoffs began now (season series): Play-in game – American International at Canisius (tied 1-1); Quarterfinals – AIC/Canisius winner at Sacred Heart (SH over AIC 2-0; SH over Canisius 3-1); Mercyhurst at Army (Army 2-0); Bentley at Connecticut (U.Conn 3-1); Holy Cross at Air Force (two ties).
• Magic numbers: RIT can clinch its first Atlantic Hockey title as early as Friday night. Army will be eliminated with RIT's next point, and Sacred Heart's magic number is four.
Sacred Heart has already clinched a home-ice playoff berth. Army's magic number to clinch its quarterfinal home-berth is three, Connecticut's magic number is five and Air Force's number is seven (all over sixth-place Holy Cross).
A loss of three points will earmark AIC for a road game in the play-in playoff on March 3.
• National leaders: Air Force junior Eric Ehn is second in points per game (50 pts., 1.56 ppg), just one behind Avalanche draft pick T.J. Hensick of Michigan, and Holy Cross senior James Sixsmith is seventh (41, 1.37 ppg). Ehn ranks 10th in goals per game (21 goals, 0.66 gpg), ahead of Connecticut teammates Matt Scherer (11th, 19 G, 0.66 gpg) and Chris Myhro (12th, 18 G, 0.64 gpg). Sixsmith ranks fourth in assists per game (28 A, 0.93 apg), Ehn is fifth (29 A, 0.91 apg) and RIT sophomore Steve Pinizzotto is sixth (27 A, 0.90 apg). RIT junior Matt Smith is fourth in power play goals (10). Holy Cross senior Jon Landry ranks second in points for defensemen (27 pts., 1.00 ppg) and RIT freshman Al Mazur ranks fourth (24 pts, 0.96 ppg).
• Milestones: Canisius senior Michael Cohen reached 100 career points (42 goals) with a power play goal in Friday's 5-2 win over Holy Cross. It was his 130th game. … Air Force senior Andrew Ramsey has 99 points (41 goals) in 130 career games. … Connecticut senior Cole Koidahl has 102 points (39 goals) in 125 games. His 100th point came on a short-handed goal against Sacred Heart on Feb. 3. Classmate Matt Scherer has 98 points (59 goals) in 132 games.
• And then there were two: When Michigan played to a 3-3 tie with Michigan State on Saturday, that left American International College and Wayne State of College Hockey American as the only Division I teams not to post a draw this season. AIC's tie-less streak is 31 games, 28 this season. Wayne State's streak is 36 games, 28 this season. In 2003-04, Yale and Ohio State were the last teams to go an entire season without one draw.
• Close quarters: Last week's action featured five one-goal games: RIT downed Air Force, 5-4 and 2-1; Connecticut beat Bentley, 4-3 and 2-1; and, Holy Cross edged Canisius, 2-1. The last time RIT won consecutive games by one goal was Jan. 3-4, 1998, as the Tigers beat Bowdoin (2-1) and Concordia (3-2). Connecticut performed the feat earlier this season: 4-3 over Canisius and 4-3 over RIT.
• Grounded pilots: Air Force has dropped four games in a row, its longest losing streak since dropping five in a row – all in College Hockey America play – from Jan. 14-Feb. 4, 2006. The Falcons have dropped their last three games by one goal, the first time that has happened since Jan. 2003 when Air Force lost to Niagara (3-2) and Army (2-1, 2-1). Air Force is 2-6 in one-goal decisions.
• Broom facts: Sacred Heart posted a weekend sweep of Mercyhurst, its fifth of the season (Mercyhurst again, Holy Cross, Bentley, Canisius). Mercyhurst was swept for the sixth time (Ferris State, Sacred Heart again, RIT, Air Force, Army). RIT's sweep of Air Force was its sixth of the season (AIC twice, Holy Cross, Mercyhurst, Sacred Heart). Air Force was swept for the third time (Alaska, Mercyhurst). Connecticut has posted back-to-back sweeps of Sacred Heart and Bentley. Bentley was swept for the fourth time (Nebraska-Omaha, Sacred Heart, Mercyhurst).
• Five is fine: Sacred Heart improved to 7-1 when it scores five goals in a game. … RIT is 5-4 in one-goal decisions. … Holy Cross improves to 5-7 in one-goal decisions.
• Goal drought: Connecticut has held foes to three goals or fewer in its last six games. The Huskies are 4-1-1 during the stretch. … Bentley was held to one goal-or-fewer for the ninth time (0-9, one shutout). The Falcons are following last season's trend when they were 1-8-2.
• Eight is not great: AIC surrendered eight goals for the fourth time this season in an 8-1 non-conference loss at Quinnipiac. Air Force and Connecticut have each given up eight goals once this season. Canisius gave up a nine-spot to Colgate (9-0 on Oct. 24). AIC was held to one goal-or-less for the ninth time (0-9 record, four shutouts).
• Non-cons are no good: AIC's loss to Quinnipiac on Tuesday was its 16th straight non-conference setback. The last non-conference win for AIC was a playoff victory over Army in March 2004. The last non-conference win in the regular season came Dec. 12, 2003, against Wayne State.
• Expatriate success: ECAC Hockey League member Quinnipiac has posted a 6-1 record against Atlantic Hockey foes in the two seasons since departing the league. The Bobcats also beat RIT three times in 2005-06 before the Tigers joined Atlantic Hockey.
• Looking ahead: RIT hosts Mercyhurst for a pair after sweeping the Lakers 5-2 and 6-4 in December. … Army brings a 6-1-4 home record into the weekend set with Bentley. The teams split a pair at Bentley in November. Bentley is winless in its last four games at Tate Rink (two ties last season, two losses the season previous). … Canisius heads to Air Force for a set. The teams split a pair in Buffalo in November. … Sacred Heart and Holy Cross conduct a home-and-home. Sacred Heart swept the last home-and-home in November, 4-2 in Milford and 5-4 in Worcester. The Pioneers won the last four meetings in Milford, and won last season's series, 3-1. … Connecticut has a pair of one-goal wins over AIC, at home and on the road. The teams went 1-1 in each building last season.
A variety of sources were utilized in the compilation of this report. Ken McMillan can be reached at ken64@insidecollegehockey.com.