February 23, 2007
Proving the Pundits Wrong
By Ken McMillan
The Atlantic Hockey preseason media outing in Rochester was coming to a close when Army coach Brian Riley was queried about his team being picked for ninth place in the coaches' poll. Riley looked like someone had stepped on his favorite Boston Red Sox cap, and he chose his words carefully.
Atlantic Hockey Notebook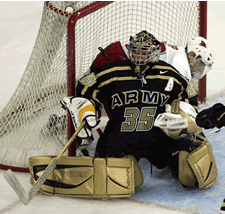 Remember this guy? The coaches in Atlantic Hockey sure did, and factored Brad Roberts' graduation into a projection that Army would finish ninth in the league.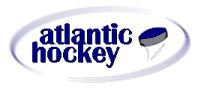 "I think probably what some of the coaches are saying, just by looking at that poll, is maybe they felt we were in that position last year because of one player, Brad Roberts," Riley said.
Roberts graduated following last season and has posted solid numbers in goal for the Youngstown Steelhounds of the Central Hockey League. "I think our players back home will certainly look at this and ... be motivated by trying to prove some of these guys wrong."
If you put any stock in preseason polls, then Army is one of the biggest surprises of college hockey. The Black Knights have already clinched at least third place in Atlantic Hockey, and a sweep of Sacred Heart this weekend would propel Army into second place and the coveted top seed in the playoffs.
League-leading Rochester Institute of Technology is two points away from clinching the regular season title, but the Tigers – a second-year NCAA Division I member – are ineligible for the post-season until next season.
"This is a team that was picked for ninth place," Riley said. "The fact we are in the position that we are in is a credit to the players and how they prepared during the offseason and how well they performed during the season. I am proud of these guys."
Army (16-10-5) is enjoying its best season in seven years due to a host of reasons.
First off, sophomore Josh Kassel stepped into the void left by the all-star Roberts and has posted numbers better than his predecessor ever did – Kassell leads the league in goals-against (2.27) and ranks 16th in the nation. He has held opponents to two goals-or-less in 13 games. Last weekend he made 43 stops as Army swept Bentley.
Army has not been an offensive power since returning to Division I league play, but the Black Knights are tickling the twine a bit more of late. Army's goal production has improved from 1.94 in 2004-05 to 2.22 last season and 2.66 this season. Six players have scored at least six goals and eight have produced double-figure points. Luke Flicek's 30 points is the best since Mike Fairman posted 32 and Tim Fisher had 30 in 2000-01.
"I definitely think we have more depth up front," Riley said. "Guys have accepted roles on the team, whether it's guys who were perceived as being the goal scorers or guys who understand they are supposed to be more of a defensive, checking type of line. I think everybody has bought into their role on the team."
Army's special teams have been improving. The power play has improved 52 percentage points and the penalty kill has improved 43 points since the 2004-05 season. The Black Knights are staying out of the penalty box, ranking fourth-best in the nation at 12.9 minutes.
The road has been kind to Army this season – the Black Knights have secured points in seven road contests (6-9-1), their best effort in the past eight seasons. At home, Army is one of the more formidable foes in the the nation, posting a 10-1-4 record.
Army has never advanced past the quarterfinal round in Atlantic Hockey and the Metro Atlantic Athletic Conference Hockey League. "Hopefully we're ready to take that next step," Riley said.
This weekend's series with Sacred Heart could be the ideal playoff primer.
"If you are going to have success in the playoffs, you have to beat a Sacred Heart," Riley said. "I think this is a great opportunity for our guys."
FRIES AT THE BOTTOM OF THE BAG
Great Weekend Getaway

Sacred Heart at Army (Fri.)
Army at Sacred Heart (Sat.)
The top seed in the upcoming Atlantic Hockey tournament is still at stake. Army must win both games to secure the No. 1 seed and second place in the standings. One stumble, be it a tie or loss, and the top billing goes to Sacred Heart, which still has an outside chance of leap-frogging Rochester Institute of Technology and claiming its first regular-season title. There's not much separating Army and Sacred Heart this season: they played a 2-2 tie in October and a 3-3 draw in November. Sacred Heart brings a four-game win streak into the matchup; Army brings a 10-1-4 home record into the Friday opener.


Stick Salute

Air Force's Andrew Ramsey waited until Senior Weekend to finally top 100 career points. He had two helpers in Friday's loss and then posted two goals and two assists for a career-high four points in a win over Canisius. Ramsey now has 104 points.

Bench Minor

Mercyhurst staked itself to a 4-1 lead at RIT, only to have penalties become its undoing. The Lakers gave up four power play goals, including the game-winner with two seconds on the clock as RIT prevailed 6-5.
• If the playoffs began now (season series): Play-in game – American International at Canisius (1-1); Quarterfinals – Sacred Heart vs. AIC (SH 2-0) or Canisius (SH 3-1); Bentley at Army (Army 3-1); Mercyhurst at Connecticut (1-1); Holy Cross at Air Force (two ties).
• Potential playoff tie-breakers: Connecticut over Air Force (more conference wins); Air Force over Holy Cross (goal differential); Mercyhurst over Holy Cross (2-1-1 series); Bentley over Holy Cross (wins); Holy Cross over Canisius (3-1 series); Mercyhurst over Bentley (2-0 series); Bentley over Canisius (2-0 series).
• No go on clincher: Rochester Institute of Technology posted a stirring 6-5 victory over Mercyhurst last Friday for its 20th win of the season, bouncing back from deficits of 4-1 and 5-4. The game-winner came with 1.5 seconds left on the clock as Dan Ringwald scored on the power play. All RIT needed to clinch the regular-season title was another win on Saturday, but Mercyhurst spoiled the party with a 3-2 triumph, snapping a four-game win streak by the Tigers. RIT needs two points at Bentley this weekend, but the Tigers are facing a Falcon team which is desperately trying to avoid the play-in game. Bentley and RIT split two November meetings.
• Give the guy a start: Mercyhurst coach Rick Gotkin turned to senior Mike Ella on Saturday. Ella, making his second start of the season, made 27 stops in the 3-2 win at RIT. It was his first win since beating Canisius, 4-3, on Dec. 10, 2005. It was the Lakers' first win at RIT in eight tries, dating back to Dec. 4, 1992, when both teams played ECAC Division III.
• Are you kidding?: When Mercyhurst out-shot RIT, 32-29, on Saturday, it marked only the fourth time this season the Lakers have out-shot an opponent.
• Please help: Holy Cross senior James Sixsmith has 29 assists and needs just one helper to tie current San Jose Shark Patrick Rissmiller for the Division I school mark. Matt Scherer of Connecticut needs just one point for 100 in his career. Holy Cross and Connecticut duel this weekend.
• Mile-high club: Canisius made its first-ever foray into the state of Colorado, splitting a pair of games at Air Force.
• Flying first class: The Air Force class of 2007 has posted 53 Division I victories, more than any other in school history. The 14 wins ties the school record at the Division I level.
• Going out together: American International College and Wayne State from College Hockey America were the last two teams in the nation not to produce a tie this season. That came to an end on Saturday as AIC battled Connecticut to a 2-2 draw. Four minutes later, Wayne State completed a 4-4 draw with Niagara.
• OT addendum: American International College and Connecticut played an overtime contest on Friday as well. Jereme Tendler scored 30 second into the extra session to lift AIC to a 3-2 win. AIC's previous nine overtime contests finished in ties, and its previous OT win came on Jan. 28, 2005, against Connecticut.
• Flying home for the playoffs: Air Force clinched a home-ice quarterfinal berth with its 5-0 win over Canisius on Saturday. It also snapped a five-game losing streak. Senior Ben Worker made 21 saves for his second career shutout, and the Falcons' top line of Andrew Ramsey (two goals), Eric Ehn (one goal) and Jeff Hajner (one goal) each had four points. Holy Cross could catch Air Force in points but would lose on the goal-differential tie-breaker. Air Force trails Connecticut by one point and could finish in fourth place overall.
• A Pioneering effort: Sacred Heart dispatched Holy Cross, 5-4 and 4-1, extending its win streak over the Crusaders to six dating back to last season. Goaltender Jason Smith posted his 36th career victory on Saturday, tying him with Alexis Jutras-Binet (1997-01) and Eddy Ferhi (1999-03) for the school record. The Pioneers have posted six consecutive seasons of top-four league finishes, bested only by Mercyhurst's seven, a string broken this season. Holy Cross (2002-06) and Quinnipiac (2001-05) each had five, and Canisius (1999-2001) had three.
• Engineering success: RIT ranks third in the nation in scoring (3.84 goals per game), second in power play (24.2 percent) and seventh in penalty killing (87.2 percent).
• Unfamiliar territory: Holy Cross sits in sixth place and could drop as low as eighth. This will be the Crusaders' worst finish in league play since placing tenth in 2000-01. Mercyhurst could move up one spot to sixth or finish ninth – the Lakers had finished first or second in every season since joining the MAACHL in 1999-2000.
• Stuck in the cellar: AIC has finished last in the four seasons since Fairfield disbanded its program.
A variety of sources were utilized in the compilation of this report. Ken McMillan can be reached at ken64@insidecollegehockey.com.