March 2, 2007
The Crusade's Not Over
By Ken McMillan
Holy Cross has been the face of playoff hockey in the Atlantic Hockey for three seasons, and the defending champion Crusaders aren't prepared to go quietly into the offseason.
Atlantic Hockey Notebook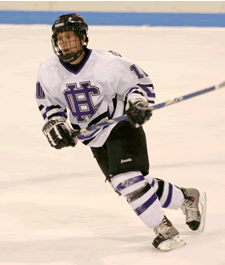 Until forward James Sixsmith and defending Atlantic Hockey champion Holy Cross is eliminated, coach Paul Pearl says, "I think we have a shot."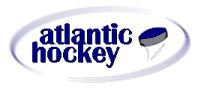 "Until we can't play any more games, I think we have a shot," said coach Paul Pearl.
Holy Cross has dropped to fifth place and finds itself in the unusual position of playing a road game in the quarterfinals, a matchup with fourth-seeded Air Force next week.
"It's a new feel," Pearl said.
It is Holy Cross' first road playoff contest since a March 2000 game at Mercyhurst — the Crusaders are 3-2 in neutral-site games since then.
Despite the loss of defenseman Jon Landry to a broken ankle four weeks ago, the Crusaders have cause for optimism. Holy Cross tied both meetings with Air Force this season, and owns a 7-1 record in the Atlantic Hockey playoffs the past three seasons.
"We have a large amount of kids that have a lot of playoff success, and not just last year," Pearl said. "Our seniors have won two league championships and went to the semifinals the other year. Our guys have certainly played in this situation, and we are looking forward to it."
SEEN AND HEARD IN ATLANTIC HOCKEY
Wrapping up a title: Rochester Institute of Technology would have preferred winning the Atlantic Hockey title on its home sheet, but the Tigers needed one extra weekend to clinch the crown. Jocelyn Guimond pitched his second shutout of the season, and Tristan Fairbarn, Stephen Burns and Anthon Kharin provided the tallies as RIT downed Bentley, 3-0, last Friday night.
"It's great," sophomore Steve Pinizzotto told the Rochester Democrat and Chronicle. "It's good for our program."
"We made steady progress all year long," RIT coach Wayne Wilson said. "I'm very proud of our efforts."
Bentley showed a lot of class by allowing the Tigers to celebrate freely in their home rink.
Atlantic representation: Air Force winger Andrew Ramsey and Sacred Heart goalie Jason Smith have been selected to play for the East Team in the Frozen Four Skills Challenge on April 6 as part of the weekend festivities.
Ramsey has 20 goals and 24 assists, ranking second on the Falcons in scoring. With Eric Ehn (60 points), the Falcon duo is the first to each top 40 points since 1993-94, and the 100 combined points is the most since Mark Manney (53) and Tom Richards (48) had 101 in 1981-82.
Smith, a New Jersey Devils draft pick, is 15-8-3 with a 2.82 goals against and .906 save percentage. For his career, Smith is 37-28-4 with a 2.75 GAA and .912 save percentage.
The competitions will be a puck control relay, the hardest shot, rapid fire shooting, accuracy shooting, the fastest skater and penalty shot.
FRIES AT THE BOTTOM OF THE BAG
Atlantic Hockey
Play-in Game
No. 9 American International at No. 8 Canisius
AIC: 7-20-1 (7-24-1 overall)
Canisius: 9-16-3 (9-22-3 overall)
Season series: Tied, 1-1
Yellow Jacket fact: AIC has picked up momentum in the second half, posting a 5-8-1 mark since Jan. 12. The Jackets own just one playoff win, that coming three years ago
Golden Griffins fact: Of Canisius's nine wins this season, six of them have come at home.
How AIC wins: The Yellow Jackets tend to play better in the playoffs, and have proven they can win in Buffalo. AIC has to play disciplined defense and excel in the special teams. Putting pressure on Canisius freshman netminder Andrew Loewen is a must.
How Canisius wins: The Griffs' blue line needs to continue to get involved in the offense. Canisius must stay out of the penalty box. The Griffs sport one of the youngest lineups in the league, but that may work to their favor since they don't carry the baggage of consecutive losses in playoff openers.

Stick Salute
Hail to the Tigers. Rochester Institute of Technology won the Atlantic Hockey title in its inaugural season. Even more impressive was RIT's improvement from 6-22-2 in its first season of Division I play to 21-11-2 in its sophomore season.
Bench Minor
Atlantic Hockey needs to shift its championship weekend to a Saturday-Sunday format — more fans would be able to attend weekend action, and maybe ESPN would consider airing the final on one of its networks. Selection committees in every sport are accustomed to making last-minute changes based on Sunday games, and the NCAA hockey selection show could certainly be moved to late afternoon
• Saving the best for last: Since RIT wrapped up the league title Friday, coach Wayne Wilson turned to freshman netminder Jared DeMichiel in Saturday's finale. DeMichiel gave up four goals over the first two periods but was in a position to win when RIT opened the third period with three goals for a 5-4 lead. Undaunted, Bentley produced three goals from Paul Scalici, Pat Percella and Dain Prewitt in the last half of the period for a 7-5 lead. Brad Harris scored with 66 seconds left but that's as close as RIT would get as Bentley prevailed, 7-6, to escape the play-in game.
• One, followed by two: Army's only chance at securing the top playoff seed was beating Sacred Heart twice on the final weekend. The Pioneers did away with that notion, scoring three third-period goals and handing Army only its second home loss of the season, 5-3, on Friday. Alexandre Parent tallied twice in the rally, including an empty netter with 32 seconds left. Army gained a measure of revenge the next night, posting its first win in Milford since 1999, a 4-2 decision. Goal-leader Luke Flicek broke the 2-2 tie late in the second period and added his 14th of the season early in the third. The Black Knights had lost 10 in a row in Milford before posting a 3-3 tie on Nov. 21.
• All-out effort: Canisius needed a victory to escape the play-in game but managed just a 2-2 draw with Mercyhurst in its finale. Kyle Bushee scored the game-tying goal with 27 seconds remaining after Canisius pulled goaltender Andrew Loewen. Coach Dave Smith pulled Loewen again with 40 seconds left in overtime but the Griffs could not produce the game-winner.
• Flying high: Air Force produced 11 goals in its season-ending sweep of host American International. Andrew Ramsey, Eric Ehn and Jeff Hajner accounted for eight points in a 6-2 win on Friday. Ehn scored his 23rd and 24th goals in Saturday's 5-1 victory. Air Force is now 12-0 all-time against AIC. The Friday win clinched a home playoff spot for Air Force, which will host Holy Cross next weekend. The 16 Division I wins by Air Force is a school record.
• Seeing double: Army has drawn Bentley in the quarterfinals again. The same clubs met last year with Bentley posting a 4-3 victory in double overtime. Dain Prewitt netted a short-handed goal with 1:22 left in regulation, and Brett Murphy tallied at 34:30 of extra time. Army claimed the season series, 3-1, including a home sweep on Feb. 16-17.
• It's been a while: Mercyhurst and Connecticut have not met since Oct. 27-28 when the teams split in Erie. The clubs have met three times in the playoffs, with Mercyhurst winning the last two meetings in 2002 and 2005.
• All tied up in knots: Air Force and Holy Cross battled to a pair of 2-2 draws on Jan. 12-13 in Worcester. The playoff meeting will be Holy Cross' first visit to Colorado Springs since Feb. 13-14, 2004, when the clubs split a pair of non-league games.
• MAAC/AHA playoff history: American International is 1-3, its lone win a play-in victory over Army in 2004 … Army is 1-6, its lone win a play-in victory over AIC in 2005. … Bentley is 4-5. The Falcons were a finalist last year and have lost twice in the semifinals. Bentley beat Army last season in their only playoff meeting … Connecticut is 6-6. The Huskies won the 2000 championship and reached the semifinals three other times … Canisius is 4-8. The Golden Griffins were the 1999 finalist and reached the semifinals two other times. Canisius has lost is last two playoff openers, and is 1-0 in playoff action with AIC … Holy Cross is 11-4, and the 2004 and 2006 playoff champs. The Crusaders have won their playoff opener four years in a row, and have lost in the semifinals twice … Mercyhurst is 14-4, having claimed the title in 2001, 2003 and 2005. The Lakers have never lost a playoff opener, and have bowed in the semifinals three times and in the finals once … Sacred Heart is 3-7. The Pioneers have lost their opener five times, including the last two years. Sacred Heart was a finalist in 2004 and a semifinal loser in 2002.
A variety of sources were utilized in the compilation of this report. Ken McMillan can be reached at ken64@insidecollegehockey.com.