March 9, 2007
New Season Means New No. 1
By Ken McMillan
ATLANTIC HOCKEY
REGULAR-SEASON RECAP
TOURNAMENT PREVIEW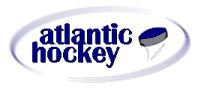 The 2006-07 Atlantic Hockey season produced much upheaval, dropping usual title contenders Holy Cross and Mercyhurst into the second division and promoting the rise of a new power.
Rochester Institute of Technology rolled to its first regular-season title, and has to be considered the early favorite for next season as the Tigers return all but three players. However, RIT was ineligible for the playoffs as a second-year member of NCAA Division I.
Sacred Heart held its own as a league contender and heads into the playoffs as the the top seed. Once Army found a solution to its goaltending void, the Black Knights successfully built off last season's surge in the standings and grabbed the second playoff seed.
Connecticut has the most experienced lineup in the league and used the senior leadership to move into the top half of the league for the first time since 2000. Like RIT, Air Force made a good showing in its inaugural season in Atlantic Hockey and will host a playoff game this weekend.
There promises to be more changes next season with the graduation of nine of the top 25 scorers in the league, notably James Sixsmith of Holy Cross, Andrew Ramsey of Air Force, Pierre-Luc O'Brien of Sacred Heart and Matt Scherer of Connecticut. Sacred Heart, Mercyhurst and Bentley will be looking for new netminders in 2007-08.
THE FAVORITE
This is the season coach Shaun Hannah has been building toward. Sacred Heart has the scoring depth — five double-digit goal scorers and 13 players with at least 10 points — and a solid goaltender in New Jersey Devils draft choice Jason Smith.
Of the remaining playoff teams, the Pioneers rank first in offense (3.24 goals per game), third in defense (2.76 goals per game), third in power play success rate (16.5 percent), fifth in penalty killing (81.2 percent), and tops in combined special teams. Sacred Heart is the best third-period team in the league. The playoff brackets shape up nicely with Sacred Heart avoiding troublesome Army and Connecticut until the final round. With RIT becoming playoff-eligible next season and Pierre-Luc O'Brien headed for the pros, this is the year the Pioneers have to make their run to the NCAA tournament.
THE GATE CRASHER
Atlantic Hockey Quarterfinal Matchups
No. 9 American International at No. 1 Sacred Heart
AIC: 7-20-1 (8-24-1 overall)
SHU: 17-7-4 (20-10-4 overall)
Season Series: SHU leads series, 2-0.
Yellow Jacket Fact: AIC earned its second playoff win, beating Canisius last Saturday. AIC has won the play-in game twice in the past four years.
Pioneer Facts: Sacred Heart has lost its season finale three years in a row, and followed with first-round playoff ousters in 2005 and 2006.
How AIC Wins: The Yellow Jackets tend to play better in the playoffs. Jereme Tendler is the top scoring threat. AIC has to play disciplined defense and excel in the special teams.
How Sacred Heart Wins: Forget about past failures and don't look ahead. The Pioneers have a formidable offense, averaging 4.6 goals during a recent five-game win streak. However, they have to do a better job on the penalty kill.

No. 7 Bentley at No. 2 Army
BENT: 11-17-0 (12-21-1 overall)
Army: 15-8-5 (15-11-5 overall)
Season Series: Army leads, 3-1
Falcon Facts: Bentley is the only Atlantic Hockey team with two quarterfinal upsets to its credit, winning as a five seed in 2003 and a seven seed in 2005.
Black Knight Facts: The only other time Army has played as a No. 2 seed was 1964 when the Cadets lost to St. Lawrence in the ECAC playoffs.
How Bentley Wins: By not looking for the perfect play and just put pucks on the net — the offense struggled more often than not, scoring two or fewer goals 17 times. Coach Ryan Soderquist expects struggling goalie Ray Jean to "play like a senior.''
How Army Wins: With puck control and keeping Bentley's swift skaters from getting out in transition. The Knights' special teams are playing well of late: the team has scored two power play goals in each of its last three games, and the penalty kill is has been successful in 17 of its last 21 shorthanded situations.

No. 6 Mercyhurst at No. 3 Connecticut
MC: 9-15-4 (9-19-6 overall)
UConn: 15-11-2 (15-17-2 overall
Season Series: Teams split two games.
Laker Facts: Mercyhurst has never lost its playoff opener in seven seasons in the MAAC and Atlantic Hockey
Husky Facts: UConn is the hottest team in league, posting a 6-1-1 mark since Feb. 2.
How Mercyhurst Wins: The Lakers travel well, with road points in four of its last five away contests. Mercyhurst is averaging four goals per game in its last nine games, despite usual snipers Ben Cottreau and Scott Champagne slumping.
How UConn Wins: Hot goalies at playoff time are a godsend. Beau Erickson won five February games with a goals against of less than 2.00. It would help if Matt Scherer can maintain his pace — he had seven goals in February.

No. 5 Holy Cross at No. 4 Air Force
HC: 9-14-5 (10-19-5 overall)
AFA: 13-10-5 (16-15-5 overall)
Season Series: Teams tied twice.
Crusader Facts: Holy Cross has won its playoff opener for four consecutive years.
Falcon Facts: The Falcons squandered a 3-0 lead and lost to Robert Morris, 4-3, in the CHA quarterfinals last year
How Holy Cross Wins: Rely on a bevy of playoff experience. The team's seniors have eight playoff wins to their credit over three seasons.
How Air Force Wins: The Falcons are probably the best team in the league in getting the puck to the net. That is vital against a Crusader defense which has been shaky of late.

Army may have the league's best goaltender in Josh Kassel, and has been the league's most consistent team, not dropping two in a row since mid-November. The impressive thing about Army is the team responded to just about every position challenge in the standings, holding on to the league lead for 59 days at the start of the season and succumbing only to RIT and Sacred Heart. The Black Knights have split season series with top playoff seeds Sacred Heart (1-1-2) and Air Force (1-1) and was unbeaten against Connecticut (3-0-1).
INCH'S ALL-CONFERENCE TEAM
G – Josh Kassel, Army: The league's busiest netminder was also its stingiest. Kassel played 350 minutes more than any goaltender in the conference, posting a league-leading 2.32 goals against average, three shutouts, and a .913 save percentage. He allowed more than three goals just seven times..
D - Jon Landry, Holy Cross: Landry was a stalwart on the Crusaders until an injury sidelined him for the final month of the season. When Landry went down he was leading the league's blueliners in scoring (9-18—27) and he still ranks second in the nation among defensemen in points per game (1.0). Landry's worth may be best illustrated in his absence, as Holy Cross limped to the finish with a 1-5-1 mark.
D - Tim Manthey, Army: Manthey was a catalyst on the league's top defensive unit. The rugged blueliner produced seven goals and 17 assists, ranking second on the Black Knights in scoring. Directing the power play, Manthey scored four man-up goals.
F - Eric Ehn, Air Force: Ehn developed his pedigree in College Hockey America and got even better in Atlantic Hockey. The junior set a league record with 60 points, ranks fifth in goals (24), and is tied for the league mark in assists (36). In the national rankings, Ehn leads the country in points, is tied for sixth in goals, and second in assists.
F - Pierre-Luc O'Brien, Sacred Heart: O'Brien was a marked man this season and still ranks fifth in the conference with 16-27—43, just seven points off his junior season numbers. His 155 career points is the best among the conference's active players, and he established new scoring marks for the Pioneers.
F - James Sixsmith, Holy Cross: The senior is second in league scoring (17-30—47) and will go down as one of the top playmakers in conference history. He has 152 career points, second among active players, and he broke a handful of Division I scoring marks for the Crusaders.
COACH OF THE YEAR
Wayne Wilson, RIT. No team in the nation fashioned a better turnaround than Wilson's Tigers. He has taken RIT from the Division III ranks in 2004-05 to a 6-22-2 start as a Division I independent to a 21-11-2 mark in its first season of play in Atlantic Hockey.
Wilson replaced six seniors, broke in nine freshmen and still won the regular-season title — he loses just three players for next season. The emergence of RIT and its strong Canadian recruiting pipeline surely has the rest of the league worried. The Tigers have 12 players from Ontario, four from British Columbia, three from Quebec, and one each from Alberta and Manitoba.
PLAYER OF THE YEAR
Eric Ehn, Air Force. O'Brien may be the most skilled player, and Kassel's worth to Army cannot be underestimated, but it is hard to ignore the top scorer in the land. Ehn leads the nation with 60 points and he has done his damage outside of league play, producing eight goals and seven assists in eight non-conference games. Ehn also owns a plus-minus ratings of plus-26.
FRESHMAN OF THE YEAR
Al Mazur, RIT: The British Columbia native made a huge impact in his rookie season, helping the Tigers to the regular-season title. Mazur leads all defensemen with 29 points, thanks to 23 helpers. Three of his six goals came on the power play, and his plus-18 rating ranked tops among blue-liners and third overall.
BREAKTHROUGH PLAYER
Josh Kassel, Army. Kassel played just one period — one — during his freshman season, so it's no wonder there was much trepidation heading into this season, what with the graduation of all-star Brad Roberts.
Kassel, a sophomore, not only won the starting job right away, but went on to post better statistics than Roberts ever did. He has not dropped consecutive games since mid-November, and led Army to its highest league finish since 1964. Kassel ranks 20th in the nation in goals against and 25th in save percentage.
A variety of sources were utilized in the compilation of this report. Ken McMillan can be reached at ken64@insidecollegehockey.com