March 15, 2007
Pioneers' O'Brien Hopes to Blaze Trail to NCAAs
By Ken McMillan
ATLANTIC HOCKEY
CHAMPIONSHIP WEEKEND
PREVIEW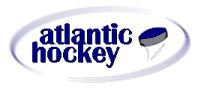 Sacred Heart senior Pierre-Luc O'Brien is going to leave Atlantic Hockey as the league's all-time leading point scorer. What he really wants is the playoff championship and the NCAA Tournament bid that goes with it.
O'Brien captured our attention as a freshman, garnering rookie of the year honors with a 14-goal, 27-point season. His production steadily improved, and so did Sacred Heart's fortunes … at least during the regular season.
The Pioneers were ousted in the first round of playoffs in 2005 and 2006. Sacred Heart cleared that hurdle last Saturday with a 4-0 win over American International and advanced to the playoff semifinals, where the No. 1 seed will face Air Force Friday in Rochester, N.Y.
O'Brien has already graduated from Sacred Heart and is in the process of studying for his Masters in Business Administration. The corporate world can wait, though, as the Quebec native is hopeful of being offered a professional contract once his collegiate playing days are over. What his next team gets is a forward who has produced 67 goals, 90 assists and 157 points during his college career.
As one of the players to keep an eye on this weekend, we spoke with O'Brien about his career, the upcoming playoffs and what kind of movies and desserts he likes.
Inside College Hockey: Your team managed to secure the top playoff seed, but I am sure there was some disappointment with not winning the regular season title.
Pierre-Luc O'Brien: (Rochester Institute of Technology) had a great season. Coming out from Division III, they had something to prove and they did prove it. They played well throughout the season and were consistent. As far as we are concerned, obviously, we are disappointed not to get the league championship but all we cared about was having the first seed in the post-season.
INCH: Sacred Heart had come up short the past two years in the first round of the playoffs — how did you cope with that? And how did it feel to finally escape the quarterfinals with the win over American International?
O'Brien: It felt really good to get through that first game. Last year we dominated Connecticut and we did everything we could in order for us to win and we didn't. It was really, really disappointing. This year we came in with a winning attitude. We said, "This is not going to happen again." We came in as the top dog, we have to do it and we did it. We have two more games to go and we are looking to go into the game with the same attitude.
Atlantic Hockey
Semifinal Capsules
No. 1 Sacred Heart
Record: 21-10-4 (18-7-4 AHA)
Pioneer note: Sacred Heart has won six of its last seven games. The
Pioneers won in their last semifinal appearance (vs. Mercyhurst in 2004) but lost to Quinnipiac in the 2002 MAAC semifinals.
How SHU wins: The Pioneers did a great job last Saturday in holding American International to just 16 shots on goal in the quarterfinals. They need to do the same here, especially against Eric Ehn and the Falcons. And it's asking a lot, but Sacred Heart has won its last 14 games when scoring four or more goals.
No. 2 Army
Record: 16-11-5 (16-8-5 AHA)
Black Knight note: Army was 0-8 in quarterfinal playoff games since 1962 before beating Bentley last Saturday.
How Army wins: They'll needs to take space away from the speedy forwards they'll face in playing UConn and, if they win, Air Force or Sacred Heart. Special teams will also be a key — the Black Knights have scored two power play goals in each of the last four games, and the penalty kill has been successful in 24 of its last 28 chances.

No. 3 Connecticut
Record: 16-17-2 (16-11-2 AHA)
Husky note: Connecticut is 7-1-1 since Feb. 2. The Huskies lost the last two times they advanced to the semifinals games — in 2002 against Mercyhurst and last season vs. Holy Cross.
How UConn wins: Beau Erickson was dinged for four goals in the
quarterfinal win over Mercyhurst but, with six wins since the start of February, he still qualifies as the hot hand. The Huskies are most dangerous when they get balanced scoring from more than one line.
No. 4 Air Force
Record: 17-15-5 (14-10-5 AHA)
Falcon note: Air Force won its last neutral-site meeting with Sacred Heart at the 2004 Rensselaer Holiday Tournament. The semifinals haven't been kind to Air Force, which lost to each of its four trips to the College Hockey America semis to four different teams — Niagara (2000), Alabama-Huntsville (2001), Wayne State (2002), and Bemidji State (2005).
How AFA wins: The Falcons led the league in shots on goal, and those shots must be plentiful , especially against stingy Sacred Heart netminder Jason Smith. Air Force's power play, which has produced goals in each of the last five games, must also produce.

INCH: How did you feel about your senior season? Did you play to the level of your expectations?
O'Brien: For myself yeah, I will always give my 100 percent every game, that's for sure, but it gets tough. At times a season has ups and downs. I can't say I am disappointed. Coming in with a 'C' (captain's title) on my jersey had a little different responsibility. Guys were looking up to the senior class and captains for assistance. It was a great season. To put the cherry on the sundae would be unbelievable.
INCH: As long as we are talking desserts, what belongs on your sundae?
O'Brien: Caramel. I am from Quebec, so it has to be Quebon (milk). We need nuts, the whole nine yards.
INCH: You were a marked man most of this season, to the point where your numbers were kept a shade below last season.
O'Brien: Numbers are numbers. As an individual, you always want to get your numbers up. I had a great season last year — I didn't expect to get 50 points last year. My really big goal was to bring all the guys together and have a good atmosphere in the locker room. Points will come. They will come if I play hard. Forty-five points (this year) compared to 50 ... I don't think it's any different. It doesn't really affect me as much as people think it would.
INCH: One of your semifinal opponents, Eric Ehn of Air Force, leads the nation in scoring. Do you respect him?
O'Brien: Obviously. The guy is a really good player. It's not any day or any guy that can put up the kind of points that he did this year. He had a really good season and I am glad for him.
INCH: Was there pressure of having to live up to expectations from teammates or fans?
O'Brien: There's always a little pressure but that is something you can put aside and live with obviously. This is college hockey. Just imagine those guys in The Show (the NHL) — it's unbelievable what they live with every day. You think about that and you say, "I am living the life." I am going to school and playing college hockey.
Fans will ask if you don't have points for three or four games, "What's going on?" but a lot of people don't know what's happening in the room or if guys are keying on you.
INCH: You will finish among the scoring leaders, if not at the top, in the Atlantic Hockey record book. How does that make you feel?
O'Brien: That's awesome. I never expected that when I signed with Sacred Heart. The first year I had a good year, nothing unbelievable. I got rookie of the year. That gave me a lot of confidence and I came back with a good attitude. I felt I could be a good player in the league and I did it.
INCH: You, Bear Trapp and Alex Parent are battling for the team scoring lead. Are you guys having fun with that?
O'Brien: No, there's nobody who talks about points in the room. That is different from two years ago when a couple guys talked. I have never heard Trapp or Parent or anybody in the room saying, "I am coming up on you,'' or "I will pass you.'' We work with each other. It's just, "I am going to make you a better player and you are going to make me a better player.'' We don't ever joke about it. All we want to do is beat the other team point-wise.
INCH: There's a late breakaway with you and Bear, or you and Alex, on an open net? Do you pass him the puck?
O'Brien: It depends — how many goals do I have in the game? (laughs) If I have two goals, then I am going for the hat trick.
INCH: How have you improved as a player since your freshman season?
O'Brien: I think I improved dramatically. I improved a lot as a player. Everybody improves and changes throughout the four year they are here. I improved a lot but I changed a lot too. I don't think I am done improving, and that's the beauty of it, too. Some guys peak when they are young. I am a late bloomer.
When I came in I was a winger, and coach put me at center about four or five games in. I was running around and buzzing around our own zone. I knew my role, but I didn't know it well. I worked on it and I am effective on both ends of the ice now.
INCH: What's your offensive theory?
O'Brien: Go with the flow ... that is what I have always thought about. You see it and do it. You don't keep the puck more than three seconds — I got that from a pro player. You watch the pros and they don't try to skate through everybody and score.
INCH: Are you a big-game player?
O'Brien: That is a hard question, dude. Every single player would want to be a big-game player. I know when there is a big game ahead I don't prepare any differently. ... I think now we will see if I am a big-game player. We have two big games ahead. Even if I am marked, just go through it and no excuses. I don't feel like I choke at all.
INCH: Is the playoff season your favorite time of the year?
O'Brien: Big time. I am disappointed that it's not best of three or best of five — they are doing that for next year. I don't think one game proves who the best team is. You hit a hot goalie, you hit a bounce, you hit a skate and, boom, you're done.
(Against UConn last year) we had 50-something shots and we hit a wall there. We did everything we planned on doing but it just didn't go in. It is the best time of the year, and our team is so pumped right now.
During a year you have ups and downs, you go to the rink sometimes and say, "Oh, I have so much homework and now I have practice.'' This last month we are showing up and making the plays. It's been a great atmosphere.
INCH: It's the morning of a playoff game. How do you feel?
O'Brien: I feel more excited than ever, especially this year because I am a senior. I feel really excited. I feel confident, and a bit desperate. I know it's my last chance, and I am going to grasp it.
INCH: Do you get used to traveling?
O'Brien: Here it's not too bad. When I played in (British Columbia), we had those 15-hour drives and four games in four days. I got used to it in juniors. We didn't have much traveling here besides going once in a while to Michigan and Air Force.
INCH: What is the secret to a good bus trip?
O'Brien: The rookies have to bring good movies, because if you don't it's going to be brutal. You have to bring a big blanket with a big pillow. The seniors and captains are in the back so they can lay down. The first lunch has to be good. With the movies, "Slap Shot" is always a killer. With our team, "Major League" is a huge movie and "Jackass" was awesome, too.
INCH: Do you think Sacred Heart has gained some attention in the college hockey world?
O'Brien: I really believe so. The first year here we lost over at Holy Cross in the finals, but over the last two years, I think we had two really good seasons. We beat some non-conference teams — we beat Brown and Cornell. Just the name Bear Trapp brings attention. It helps coach go out and recruit people. We are a growing program. We need good players to come in. We still need a rink on campus. It's nice to be recognized.
INCH: What's it like to not have a home rink on campus?
O'Brien: I don't want to comment on that. We have a good deal where we are. We've had this the four years I've been here. You look around (at other schools) and they have their rink on campus. Whatever. It would be really nice but it didn't happen. I don't know when it would happen or where it would go.
INCH: It appears you are about to embark on a pro career. What does your future hold?
O'Brien: To be honest, I have no idea. First of all, I am focusing on what's coming this weekend. Besides that, I haven't had any news. I haven't talked to anybody. I don't really know. If I have a chance at something. I hope I will get it.
If you have a chance you need to jump on it. A lot of people would kill to have this opportunity. This year, I've been thinking about it a bit. Growing up as a French-Canadian person, that's the sport you want to make a living out of. That's the best thing that could ever happen to me.
Ken McMillan can be reached at ken64@insidecollegehockey.com