September 28, 2006
2006-07 CCHA Preview
By James Jahnke

THE SKINNY
Imagine a land of goalies as far as the eye can see. Is it paradise?
Nay. It's just the CCHA.
The league is rich in talent and experience at hockey's most-scrutinized position entering the 2006-07 go-round. Jeff Lerg (Michigan State), Jeff Jakaitis (Lake Superior State), Bill Zaniboni (Northern Michigan), Mitch O'Keefe (Ferris State), David Brown (Notre Dame) and the tandems of Jeff Zatkoff and Charlie Effinger (Miami) and Wylie Rogers and Chad Johnson (Alaska) all shined last season. Billy Sauer (Michigan) and Jimmy Spratt (Bowling Green) are talented kids who figure to play much better as sophomores.
The book is still out on Western Michigan junior Daniel Bellissimo, who doesn't get enough defensive support, and it sounds like Nebraska-Omaha's Jerad Kaufmann is going to have to fend off challenges from Eric Aarnio and freshman Jeremie DuPont to keep the job he won by taking the Mavericks to the NCAA Tournament last year.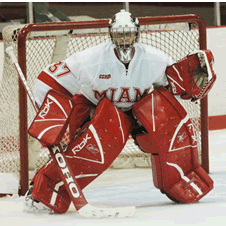 Jeff Zatkoff is just one of many excellent goaltenders in the CCHA, and will look to improve upon his outstanding rookie campaign as a sophomore this year.
But no matter what, those are 13 CCHA goalies who played significant, meaningful minutes last season. The only school without such experience behind the mask is Ohio State, which lost Dave Caruso and his backup, Ian Keserich, and now ventures into this season with a pair of rookies manning the crease.
It remains to be seen how the wealth of goaltending will impact the league race. Michigan, Michigan State and maybe Miami seem to have teams strong enough to make the Frozen Four, and not much separates Northern Michigan, Ohio State and Nebraska-Omaha from Notre Dame, Ferris State, Lake Superior State and Alaska. Except strong linesmen, of course.
Even Western Michigan and Bowling Green could jump up into the fray. As long as their goaltending pans out.
BREAKTHROUGH TEAM
In year 2 under coach Jeff Jackson, the Notre Dame Fighting Irish would love to take a jump up the standings similar to last year's 15-point improvement. That might be a bit much to ask, seeing as 41 points would put them in the league championship hunt, but spirits are high in South Bend after a tied-for-eighth-place finish in Jackson's first season on the job following the disastrous, last-place campaign of 2004-05. Notre Dame must replace a few gritty senior forwards, but most of the squad's honest-to-goodness talent is still on the roster. Forwards Erik Condra, Josh Sciba and former walk-on Mark Van Guilder are offensive threats, goalie David Brown is a confident senior, the freshman class carries some acclaim, and one of the deepest defensive corps in the league roams the blue line at the Joyce Center.
PRIMED FOR A FALL
The Lake Superior State Lakers might have been the most pleasant surprise in the league in 2005-06, finishing in a tie for sixth place and earning home ice for the first round of the playoffs in coach Jim Roque's maiden season. Roque has done an admirable job increasing the program's skill level and creativity through recruiting and loosening the reins on the older players, but we're worried about the loss of 12 seniors and a couple of underclassmen from last season. Yeah, talent remains in the Soo with goalie Jeff Jakaitis and others, but such massive turnover might hurt continuity at the start of the season (which is when the Lakers were so good last year). And the defense, at least on paper, has been decimated. A great onus will fall upon senior leaders such as captain Barnabas Birkeland, Dominic Osman, Jeffery Rainville and Trent Campbell to keep the USS Laker headed in the right direction.
PRESSURE TO PERFORM
The Wolverines are loaded with impact forwards and boast three of the top handful of defensemen in the league, so why did they get relatively lukewarm treatment in the preseason CCHA polls? Because voters were concerned about sophomore goalie Billy Sauer. As a 17-year-old freshman last season, Sauer posted a 3.04 goals-against average and .898 save percentage and eventually lost his job to senior backup Noah Ruden. Still only 18 until January, Big Blue supporters hope Sauer has matured and improved to the point where the team doesn't have to score five or six goals per night to win. If he's still having trouble, coach Red Berenson could turn to freshman Steve Jakiel.
TOUGHEST ACT TO FOLLOW
The right wing on the line with Scott Parse and Bryan Marshall at Nebraska-Omaha. Bill Thomas turned into a star in that role the last two seasons, but he left Omaha as a sophomore when the Great One told him to join the Coyotes in the spring. All he had done was score 95 points in two years at UNO, including a CCHA-high 27 goals last season. Mavericks coach Mike Kemp jokes that he's had no shortage of volunteers to play alongside the swift, playmaking Parse-Marshall duo, but he's not sure who will be the best fit. Sophomore Tomas Klempa and juniors Brandon Scero and Mick Lawrence are the top candidates. It very well could take until Christmastime for a final decision to be made.
BEST PLAYER
UNO's Scott Parse seems to get better every year, and is a legitimate Hobey Baker candidate.
Even though a third of Michigan's squad might have more pro potential than UNO senior forward Scott Parse, you can't argue with what he's done at the college level. As a Hobey Baker semifinalist last season, Parse amassed 61 points (20g, 41a) in 41 games and led the Mavericks to their first NCAA Tournament berth. Parse's point totals have jumped by double digits each season, from 35 as a freshman to 49 as a sophomore to 61 last year. A similar improvement this season could earn him some hardware on a Friday in St. Louis. And despite that remark about the Wolverines' pro potential, Parse has plenty in his own right. The Los Angeles Kings pondered signing him this offseason, but he stayed in school. He has the speed, size (6-0, 180) and hands to be an effective NHL forward come April.
BEST NEWCOMER
With no blue-chipper standing out above the rest, we went with the frosh who will have the greatest impact on his team's success. Ohio State goalie Joe Palmer, a fourth-round pick of the Chicago Blackhawks this summer, is earmarked as OSU's No. 1 goalie in a year that most CCHA teams have a proven commodity between the pipes. Palmer is big, athletic, and confident. A knock against him has been consistency, which had better get ironed out quickly with fellow freshman Nick Filion as the only other scholarship goalie on the roster. The good news for Palmer is that he generally played well in the U.S. under-18 team's myriad of college exhibitions last season.
UNSUNG PLAYER
One of the nicer stories in the league is that of Ferris State junior defenseman Adam Welch, who came to Big Rapids as a walk-on yet became team captain as a sophomore. Entering his second season wearing the "C," the 6-foot-3 rearguard doesn't score a bunch (he had two goals and 13 points in 40 games last season), but his impact on the FSU locker room is immeasurable. He, Chris Zarb and Jeremy Scherlinck lead a strong group of Bulldog defensemen.
THREE BURNING QUESTIONS
1. How will Michigan State deal with the loss of Drew Miller? Not only does his signing with the Ducks take the leading scorer (43 points) out of Rick Comley's lineup, Miller was the unquestioned leader in the locker room. Now the captaincy falls to fourth-liner Chris Lawrence. He has the respect of his teammates, but many coaches prefer to have their captain also be their best player.
2. Will Ohio State have a bounce-back year? The Buckeyes were the great disappointment in college hockey last season, going from runaway preseason favorites in the CCHA to 10th-place chumps. There was a nasty mix of injuries and sub-par individual performances for the Scarlet and Gray, but they might be helped this year by reduced expectations. Star forward Tom Fritsche won't be playing anytime soon, having lost 45 pounds because of an illness, but what we could see is a group of talented players finding themselves as underdogs and banding together to have a breakout year. Or not. Who knows with this program?
3. What will Miami do without Andy Greene on the blue line? Maybe cry a little. The All American defenseman was a rock for the RedHawks for the past four years, and his excellence afforded coach Enrico Blasi the luxury of playing conservatively and sitting on leads. Junior Mitch Ganzak gets some pub as a suitable replacement, but that's mostly because of what he does offensively. Without Greene, Blasi might be tempted to unleash his talented forwards a little bit more and try to win 4-3 instead of 2-1.
MARK IT DOWN
Five things you can take to the bank in the CCHA this season
1. Bowling Green's locker room will be a much happier place this year. At least one Falcon observer thinks the team got an addition by the subtraction of last year's senior class, which didn't always see eye-to-eye with coach Scott Paluch. If everybody can get on the same page, the Falcons might break out of their funk.
2. Notre Dame will take several more meaningful steps toward getting a much-needed new facility. Coach Jeff Jackson said the fund-raising effort for a new, hockey-only building on campus is halfway home after one year. Another year at that pace and, uh, they'd be around 100 percent, right?
3. Speaking of facilities, the new Goggin Ice Center at Miami will prove itself to be the jewel of the CCHA. Have you seen this baby? Nice.
4. Alaska will cause several people to wonder, "What the heck happened to the 'Fairbanks' part of their name?" Well, we'll tell you - and then you tell all those people. The university changed its athletics name as a marketing strategy to make the Nanooks a statewide brand. Take that, Seawolves!
5. At least three CCHA teams will make the NCAA Tournament. Michigan and Michigan State should be locks, Miami looks nice on paper, and Northern Michigan, Ohio State and Nebraska-Omaha could be right there if their chips fall right.
Predicted Finish

No.

School
Of Note

1.

Michigan
The Wolverines feature three of the six players on the preseason all-CCHA team, including a big lug named Johnson who told the Stanley Cup champions to shove off.

2.

MIchigan State
The Spartans have nice depth and ability up front, and a wonderful, tiny goalie. But losing Corey Potter on the back end could be problematic.

3.

Miami
The RedHawks also lost an All-American defenseman in Andy Greene, but Nathan Davis anchors a deep forward corps, and the Zatkoff-Effinger goalie combo is intact.

4.

Northern Michigan
The Wildcats are a veteran team for the second year in a row, although it didn't work out so well last season. Olver and Santorelli are sharp up front, but Oystrick and Waugh are gone on D.

5.

Ohio State
Tom Fritsche's is quite a sad story right now, and the Buckeyes sure will miss their best player while he recovers from severe ulcerative colitis. Get better, Tom.

6.

Nebraska-Omaha
Former walk-on Jerad Kaufmann returns as the starting goalie, but reading between Coach Kemp's words, he's going to have to re-prove himself.

7.

Notre Dame
In a down year for CCHA defensemen not living in Ann Arbor, the Irish must feel great with O'Neill, Babin, Sawatske, and Sheahan back there.

8.

Ferris State
Two big losses were forwards Greg Rallo and Matt Stefanishion. But other than that, the Bulldogs return almost en masse.

9.

Lake Superior State
Goalie Jeff Jakaitis fatigued a bit at the end of last season, but he'd better cowboy up. Coach Roque said he might rest him another game or two this year, but the senior still will play a ton of minutes.

10.

Alaska
The Nanooks have a lot of quality pieces, but we're giving them an ultimatum before they can escape the double digits: Prove you can score!
11.
Western Michigan
Star forward Brent Walton took 155 points with him when he left Kalamazoo, but there's some decent talent still lurking around Lawson Arena (which got a $2.5 million facelift to its locker rooms this summer).
12.
Bowling Green
Alex Foster jumping to the Maple Leafs was bad news. The Falcons have potential, but the defense looks worrisome again.