March 14, 2007
Noah's Career Arc
By James Jahnke
CCHA
CHAMPIONSHIP WEEKEND PREVIEW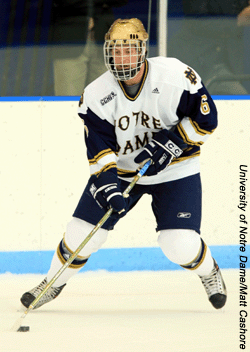 Notre Dame senior defenseman Noah Babin

Of all the players competing for the CCHA championship this weekend at Joe Louis Arena, Notre Dame senior defenseman Noah Babin might be the only one who would be just as comfortable dodging sharks in South America as pulling on a Sharks sweater.
The self-described surfer dude from Palm Beach Gardens, Fla., is as laid-back as they come in college hockey, which means he won't be feeling much pressure as the top-seeded Fighting Irish take on coach Jeff Jackson's old team, Lake Superior State, in Friday's early semifinal. (Archrivals Michigan and Michigan State collide in the nightcap.)
We chatted with Babin, who received all-CCHA honorable mention after registering two goals and 19 assists in 38 games, on Tuesday night. He had a lot to say — in his own hang-loose way — about birthdays, facial hair, shirtless fathers, and the Irish's improbably terrific season:
Inside College Hockey: How are you guys feeling heading into the Joe?
Noah Babin: Oh, pretty good. It's a big deal, but I think we're just approaching it as any other weekend. We've been playing pretty well all season, we just have to do it better now. We're pretty comfortable.
INCH: You say it's a big deal, but with your bid to the NCAA tournament already locked up, is it really?
NB: Well, that's true. But with Notre Dame never having won the CCHA tournament, I think we feel we have a responsibility to do it this year. I think we'd be a little upset as a team if we didn't get that done for the school.
INCH: OK, so what's been the difference in Notre Dame this season. How did you go from bad to good so quickly?
NB: It's just everything. It's nothing and it's everything at the same time. I think it starts with the coaching staff and just goes on down from there. Everybody's doing their part, nobody's selfish, everybody's doing what they can for the team. We're all pretty comfortable. We have great chemistry.
INCH: Before we move on, you had a birthday on Sunday, right?
NB: Yeah. 23. I'm freakin' old.
INCH: Do anything special?
NB: Nah, just the same old stuff. I'm not a big birthday guy. I even forgot about mine last year. My mom called to wish me a good one, and I was like, "What are you talking about?" She said, "It's your birthday," and I was like, "Oh, yeah." So now if I forget anyone's birthday, they can't feel bad because I forgot my own.
INCH: Your season was over by your birthday last year, right?
NB: Yeah, me and some of the guys were actually on Spring Break down in my house in Florida.
INCH: That's right. You're missing Spring Break this year, eh?
NB: Yeah, but I'm doing the best I can. Today, I was bored and looking out the window and noticed how nice of a day it was, so I called (defenseman) Wes O'Neill up and said, "We're going somewhere." We wound up driving to New Buffalo (Mich.) and went to a little surf shop up there. Just bought a few things and shot the (poop) with the people who work there. It was crazy because I had never been near a body of water with ice on it before.
INCH: You're talking about Lake Michigan?
NB: Yeah. I was trippin' out because I'm looking out at it, and there's pieces of ice floating by. Of course, I had to go in and check it out.
CCHA Semifinal Capsules
No. 1 Notre Dame
Record: 29-6-3 (21-4-3 CCHA)
Irish note: Notre Dame has not won a playoff game at the Joe since an 8-5 semifinal victory over Bowling Green in 1982.
How ND wins: Keep opposing shot totals down, especially against whichever team it would play in the final. (The good news is it's St. Patrick's Day.) The Irish are adequate offensively, but a track meet doesn't suit their strengths.
No. 2 Michigan
Record: 25-12-1 (18-9-1 CCHA)
Wolverine note: With T.J Hensick (62), Kevin Porter (53), Andrew Cogliano (47) and Chad Kolarik (44), U-M has four 40-point scorers for the first time since 1996-97.
How U-M wins: Against MSU, use speed and skill to dominate puck possession. Overall, protect goalie Billy Sauer with sound positional defense and attentive backchecking. No breakdowns.
No. 3 Michigan State
Record: 21-12-3 (15-10-3 CCHA)
Spartan note: MSU didn't have a single player make the all-CCHA teams (not even honorable mention) nor were any Spartans finalists for any of the CCHA's major year-end awards.
How MSU wins: Establish a low cycle to wear down the other team's defense. Goals are hard to come by for State, so make chances count and give goalie Jeff Lerg a fighting chance.
No. 8 Lake Superior State
Record: 21-17-3 (11-14-3 CCHA)
Laker note: Fans can send messages to the team at lssuhockeyteam@yahoo.com, and the good wishes will be delivered to the Lakers before Friday's game.
How LSSU wins: Make their own breaks through hard work. Jeff Jakaitis will keep them in any game as long as he's not left out to dry. The bigger issue is scoring. Be strong on the puck and bear down.
INCH: You went in the lake?
NB: I didn't get submerged or anything, but I got my feet wet. They were numb after about a minute.
INCH: So Wes will go along on these adventures with you, huh?
NB: Heck yeah. We're second-semester seniors. We've been around for a while, and we're getting the payoff now — which is a light, light class load.
INCH: You're just a straight-up surfer dude, huh?
NB: Yeah, I kind of just go with the flow. I think I'm getting a little more hockey player in me lately, though.
INCH: What does that mean?
NB: Meaner. You know, I've always been told that I don't hit enough, but I think I'm doing more of that now. Off the ice, I'm more surfer than hockey player, though.
INCH: You get to surf much?
NB: As much as I can, which isn't a lot. Depending on what happens with hockey, I'm planning a trip to Peru this summer, and the surfing is really good there. I've been to Costa Rica a couple of summers. I read somewhere that Joe Sakic and one of the other Avs like to go surfing in California. I'd like to take 'em on. If I can't beat them in hockey, I'll beat them in surfing, you know?
INCH: So how did you wind up going from Florida to Notre Dame?
NB: I guess the hockey bug just kind of bit our family. We had a rink like two miles from our house, and I was a rink rat. I was there every day. I got lucky enough to be pushed by some of the older guys to go up north and give hockey a shot. My family and I thought it would just be for a year and then I'd come back. But I played a couple of years in Michigan and then I got signed by the U.S. Under-18 program.
I had no idea what it was at the time, I just found myself on it. Then it kind of sunk in that it's the best players in the country and getting a college scholarship is almost automatic on that team. I was damn happy. I figured that if I could go to college for playing hockey, I would use it to go to the best college I could, and Notre Dame fit in there.
INCH: That means you were recruited by Dave Poulin. What are the differences between him and coach Jackson?
NB: Man, it's just two completely different styles of coaching. Coach Poulin is more of an NHL-style coach, from what I've heard, in that he's a little less hands-on, a little less coaching, more responsibility on the players. Coach Jackson is the total opposite. He's involved with everything in our lives. He's everywhere.
INCH: And that works for you?
NB: It's been an interesting year. We didn't get along to well at first because I can't stand being told what to do, but I've grown to love him as a coach. We both had to learn to trust each other, and now everything's great.
INCH: Do you ever worry, given the CCHA's lack of national success recently, that you guys aren't as good as you seem? That the East and the West are way better, you just don't know it?
NB: Yeah, that's a concern. I go back home to Florida and people ask how we do against the Minnesotas and New Hampshires and stuff, because that's who they know is good at hockey. And, you know, we haven't played them yet. But I know all of us really want to play teams like that, just to test ourselves and see how good we are. People here are pretty excited about that chance coming up.
INCH: You guys doing the playoff-beard thing?
NB: (Laughs.) Definitely. A few are trying, and there are some pretty ugly attempts.
INCH: From the freshmen?
NB: No, some older guys. (Senior) Mike Bartlett is battling as hard as he can, but he just doesn't have the facial hair to do it. Mine's looking good. I'm happy with it. A lot of the guys' girlfriends say they look good. I'm thinking mine could be a Bret Hedican soon.
INCH: Are you guys doing anything from an X's and O's standpoint that has led to your success this season?
NB: (Laughs.) X's and O's. I don't think I've ever seen anyone more intense than our coaches about X's and O's in my life. On a weekly basis, I die laughing in amazement at how much they put into it. Video reviews. Scouting the other team. It absolutely helps us out. They're crazy, man.
INCH: What do you think about your semifinal opponent, Lake Superior State?
NB: They're a tough team to play against. They're a lot like us, super patient, super smart with the puck.
INCH: What's the funniest thing that has happened this hockey season? (Babin called back after the initial interview because he forgot this anecdote initially.)
NB: The funniest thing that happened all year was that at one of our games, all of our dads took off their shirts in the middle of the game and stood right behind other team's goal and had I-R-I-S-H painted on their chests. That made it really difficult to play. If I didn't tell you that, somebody would kick my ass, so I did it. That's it. Sorry for calling you back.
INCH: OK, last question. Go a little psychoanalytical here. Sum up each of your four seasons at Notre Dame in one word, starting with your freshman year.
NB: Freshman year would have to be "confused." I was stupid as hell. Sophomore year: "Bummer."
INCH: A good surfer word.
NB: Yeah. Junior would definitely be "rebuilding." And this year, "fantastic." Everything's been great.
James Jahnke can be reached at jahnke@insidecollegehockey.com.