September 30, 2006
2006-07 College Hockey America Preview
By Warren Kozireski

THE SKINNY
Stop me if you've heard this before. Bemidji State, Niagara and Alabama-Huntsville finish 1-2-3 in the final CHA standings and either the Beavers or the Purple Eagles advance to the NCAA playoffs. It's happened the last three consecutive seasons and could be repeated again this March.
That's unless Robert Morris breaks through to the upper level of the conference. Or unless Niagara and/or Alabama-Huntsville can't find qualified replacements for longtime starting goaltenders.
No matter how the rest of the conference settles out, Bemidji State begins as the team with the fewest question marks and the most depth after losing just four seniors. The Beavers, however, will have to chew their way through to the finish though with only two of their last eight league games at home.
BREAKTHROUGH TEAM
Robert Morris, about to begin its third season at the Division I level, jumped from eight wins in its first year to 12 last season and has the mix of senior leadership, experience on the blueline and veteran goaltending to break up the Bemidji State-Niagara-Huntsville triumvirate.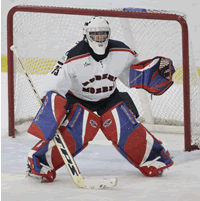 Stalwart Robert Morris goalie Christian Boucher faced an average of 33 shots per game last season.
The Colonials lost just two seniors and return two solid scoring lines led by CHA All-Rookie Team selection Chris Margott and Brett Hopfe. Goaltender Christian Boucher should face less than the average of 33 shots per game of last season playing behind a defensive unit that lost just one regular.
PRIMED FOR A FALL
With the departure of workhorse goaltenders Jeff Van Nynatten from Niagara and Scott Munroe from Alabama-Huntsville, it gives some thought to both teams being vulnerable should the next round of puckstoppers not work out as planned. Scott Mollison and Juliano Pagliaro will begin by splitting the duties for the Purps while Marc Narduzzi and Jordan Erickson do the same in Huntsville. Either tandem failing to perform would give Bemidji State even more of an edge and make for quite a jumble for spots two through five in the league standings.
PRESSURE TO PERFORM
Alabama-Huntsville's Brett McConnachie was one of just two Chargers to reach double digits in goals. With the other – first team All-CHA pick Bruce Mulherin – having moved on, he will be expected to pick up his offense. Of his 10 goals last season, five came on the power play, so McConnachie's five-on-five production will need to improve if the Chargers are to avoid a fall.
TOUGHEST ACT TO FOLLOW
Can Niagara's dynamic duo of Ted Cook and Les Reaney repeat their record-setting freshman campaigns? The two combined for 33 goals, 47 assists, 19 power play goals, seven game-winners and one shortie to lead the high-powered Niagara offense. Aside from the two, the Purple Eagles graduated four of their next seven top scorers, so the pair will be under the spotlight to repeat … and they won't catch anyone by surprise this year.
BEST PLAYER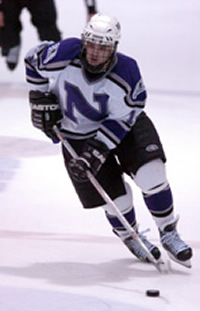 Pierre-Luc O'Brien led Sacred Heart in scoring last season with 19 goals, 31 assists and 50 points.
Sorry to waffle here, but it's virtually impossible to choose between first team All-CHA selections Luke Erickson from Bemidji State and Niagara's Sean Bentivoglio.
Erickson is lethal on the power play, with half of his goals coming with the man advantage. Bentivoglio had four game winners among his conference-leading 11 goals in CHA games. Bentivoglio finished with 28 points in 18 conference games while Erickson tallied 25 in 20 outings. Each had five goals and five assists in non-conference games.
BEST NEWCOMER
Injuries and other problems beset Niagara on the blueline last season, so the Purple Eagles will roll out the red carpet for defenseman Ryan Annesley via Pickering in the OPJHL. The 5-foot-10, 190 pound defenseman scored 52 points in 47 games, including 10 goals. We may not see five forwards on Niagara's first power play unit this season.
UNSUNG PLAYER
Bemidji State's Matt Pope finished eighth on his team in scoring last season, but the junior scored five of his seven goals on the power play and threw in two game-winners in addition to 14 helpers. One of the players who gave the Beavers the scoring depth that helped them take the CHA playoff championship for a second straight season, he's also durable – one of eight Beavers to play in all 37 games in 2005-06. He'll have to step up to fill the losses of graduated forwards Ryan Huddy and Jean-Guy Gervais, the 2006 CHA Tournament MVP.
THREE BURNING QUESTIONS
1. What can go wrong next for Wayne State? The Warriors lost a bundle of man-games to injury last season, four seniors (including goaltender Matt Kelly and second-leading scorer Steve Kovachik) to graduation and leading scorer Adam Krug to Division III Fredonia.
2. Can Niagara's Ted Cook and Les Reaney follow up on their freshman success? Their combined explosivenenss as freshmen was one of the league's biggest stories a year ago.
3. Is this the year Robert Morris becomes a legitimate contender in the CHA? Outside of Bemidji State, the Colonials appear to have the fewest question marks heading into the season. Coach Derek Schooley's squad went 8-9-2 after Jan. 1 and beat Air Force in the first round of the league playoffs. Things are looking good in Iron City.
MARK IT DOWN
Five things you can take to the bank in College Hockey America this season
1. Alabama-Huntsville defensemen Shaun Arvai and Mike Salekin will wear down by February because of too much ice time. The seniors are the only blueliners on the Charger roster with any appreciable experience now that Jeremy Schreiber and Jeff Winchester have graduated.
2. The conference will be pressed to win a total of two games in their first games of the season. Why? Well, let's run through the non-conference slate. Niagara opens at Clarkson and St. Lawrence. Bemidji State starts off with two in Orono against Maine. Wayne State kicks things off with a series at Minnesota. Alabama-Huntsville starts its season at Colorado College and Air Force, while Robert Morris opens with a single game against Canisius.
3. Speaking of the Colonials, Robert Morris will close strong to finish third in the conference. The difference? Six of their final eight conference games on home ice.
4. Alabama-Huntsville will not go 10-1-1 over a six-week period as they did last year in January and February.
5. Bemidji State's Blaine Jarvis will be a breakthrough player offensively for the Beavers. Jarvis, who had four goals over the last 15 games one year ago, will light the lamp 10+ times for the first time in his career this season.
Predicted Finish

No.

School
Of Note

1.

Bemidji State
League opponents can't match the goaltending pair of Matt Climie and Layne Sedevie.

2.

Niagara
The Purple Eagles lost a lot of offense, but with Bentoviglio, Cook, Reaney, Matt Carauna and Vince Rocco, there's still plenty left.

3.

Robert Morris
Can we expect anything other than a top-three league finish from the Colonials in year three. How about a second CHA playoff win.

4.

Alabama-Huntsville
Losing defensemen Jeremy Schreiber and Jeff Winchester – not to mention goaltender Scott Munroe – will be too much for the Chargers to bear.

5.

Wayne State
There are just too many questions surrounding the Warriors. Like who'll score goals, and who'll keep them from going in.