September 26, 2006
2006-07 ECACHL Preview
By Joe Gladziszewski

THE SKINNY
Three programs have clearly dominated the ECAC Hockey League over the last three years. Their consistency is as noteworthy as what they have achieved.
Looking at three significant goals for an ECACHL team — a top-four finish in the regular-season standings, advancing to the league's championship weekend in Albany, and qualifying for the NCAA Tournament — Harvard, Colgate, and Cornell have done those things most often. Over the last three seasons, a team could achieve those goals nine times. Harvard is 8-for-9 while Cornell and Colgate earned those distinctions seven times each.
While Ted Donato has only been the head coach at Harvard for the last two seasons, he's continued the program's impressive streak of qualifying for the NCAA Tournament and ECACHL championship weekend for five straight years.
"We feel that it is important to improve during the season. Whether you start out with the best team, or highly picked in the league, it's really not a factor and no help once the games start," Donato said. "For us, it's not how we start, it's how we finish and that's the mentality, that we want to improve during the year, and our guys have bought into it."
Colgate's consistency has been helped by the introduction of athletic scholarships that can help them get impact players, and the Raider coaches have been successful in rewarding them to the right types of recruits.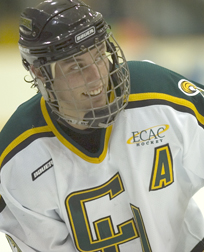 Junior captain Nick Dodge hopes to help lead Clarkson back to a permanent spot among the ECACHL's elite teams.
"It starts with the character and quality of the people that we're bringing in. We've got two great assistant coaches in Andrew (Dickson) and Brad (Dexter) that do a great job in that area," Vaughan said. "We've had great leadership and that's the other component of this. When you look back at guys like Adam Mitchell and Darryl McKinnon and Joey Mormina and Jon Smyth last year, they've all learned from a good group of seniors dating back three or four years. The legacy is that they leave that attitude and work ethic that's required and that's to be consistent over time."
In that same time frame, several other programs have risen up to challenge those three but none has been able to sustain that success. Clarkson, Dartmouth, and Brown have been to the ECACHL championship weekend in the last four years.
The challenge for Harvard, Colgate, and Cornell in the 2006-07 season is to maintain their status while other contenders emerge.
BREAKTHROUGH TEAM
One year ago the Quinnipiac Bobcats entered the ECAC Hockey League as a bit of an unknown. A team that was most commonly known as those guys from Connecticut with the high-scoring defenseman is now a known quantity, and it's not a one-name team anymore.
Sophomore Bryan Leitch was the ECACHL Rookie of the Year as a freshman last year, and three other players had 38 points or more. Freshman goalie Bud Fisher emerged for the team and the Bobcats have a talented freshman class ready to continue the recent tradition of young players leading the Quinnipac scoring chart. Reid Cashman continued his stellar did his part to propel the Bobcats, and earned All-American recognition for the second year in a row.
There's a lot to be excited about in Hamden, Conn. Maybe too much. One challenge that the Bobcats face is managing their emotions in the midst of increased expectations and a brand-new rink.
"There's always distractions of every level and it's something the players have to manage and the coaches have to manage. Whether it's a player like Reid Cashman getting a lot of press, or the freshmen getting a lot of press, it's normal business for us," Quinnipiac head coach Rand Pecknold said. "Certainly it's an exciting time at Quinnipiac University with the new facility coming but we've got to ground our kids and we open at North Dakota, so that will help to ground us pretty quickly."
PRIMED FOR A FALL
All-American goalie Dave McKee, top-notch goal-scorer Matt Moulson, and versatile defenseman Ryan O'Byrne won't be playing in the newly-remodeled Lynah Rink this season. Nor will defense prospect Sasha Pokulok who was a first-round NHL draft pick and signed with the Washington Capitals after two years of college hockey. Another defenseman, Jon Gleed, graduated which leaves Cornell particularly thin on the blue line.
What Cornell does have going for it is the consistent excellence of the program over the last three years. The upperclassmen have only known winning and won't want to let the Big Red's standing as a top team diminish on their watch. Also, goaltender Troy Davenport returns to Cornell after spending some time there in the 2004-05 season as McKee's backup. Davenport is more confident and experienced and will step into the crease.
PRESSURE TO PERFORM
The overall talent level has increased and some bad apples have been weeded out over the last couple of seasons. Continuity in the Clarkson program under head coach George Roll and assistants Greg Drechsel and Jean-Francois Houle has been established. Now the Golden Knights need to turn those developments into results.
Clarkson made a run to the league's championship game in 2004 and it seemed to indicate that the traditional league power was ready to reclaim its spot among the ECACHL's elite, but the Golden Knights followed that with a ninth-place finish in 2005 and an eighth-place finish in 2006.
There are high expectations for Clarkson this season. Five of 12 league coaches picked the Golden Knights first in the pre-season poll, and league media members projected Clarkson to finish fifth.
"There is pressure," Roll said. "We've been mediocre for three years but we felt that we made a lot of positive strides last year. Obviously there's some areas we've got to clean up but we really thought we turned the corner last year. This is the year for us to make that big jump and we feel pretty confident that we can do it."
TOUGHEST ACT TO FOLLOW
This story seems to be written every year. A seemingly irreplaceable piece of Dartmouth's team moves on and younger players are asked to step into more prominent roles. Senior forward Mike Ouellette emerged from the shadows cast by prior linemates Lee Stempniak and Hugh Jessiman to earn All-American honors last year. Ouellette is now graduated and star junior forwards David Jones and Nick Johnson will be asked to carry a bigger load. Senior forward and captain Tanner Glass is also primed for a big year.
More importantly, Dartmouth will need to find some players to step into the vacated spots at the center position. Jones, Johnson, nor Glass is a natural centerman and Ouellette and classmate Eric Przepiorka admirably filled the top two center positions for the last two years. Connor Shields centered an all-freshman line with Ryan Bellows and Kevin Swallow last year and is a likely candidate to step into one of those vacated center positions.
BEST PLAYER
Clarkson's Nick Dodge is not the best scorer in the league, nor the best defender, nor does he have the hardest shot, the best quickness, or most strength. While he may not be the best at any of those things, he is above average in most aspects of the game of hockey and the total package makes him the best player in the ECAC Hockey League.
What Dodge is the best at is controlling face-offs, as very few centerman in college hockey can outmaneuver him when the puck is dropped. Dodge is versatile and plays in all situations. But his greatest attributes are his demeanor and leadership qualities.
"His importance is not just measured in the points. He was a key to our playoffs last year, but he brings more than to the table," Roll said. "He's a phenomenal student and he works hard in every area. He's not a real vocal guy but he's a leader on our team."
He was named captain of Clarkson as a junior and was the most-closely defended player on the Golden Knights in a playoff series against Cornell last spring. Dodge has the respect of everyone in the league and was deservedly a preseason All-ECACHL selection by both the coaches and media.
BEST NEWCOMERS
Two new coaches bring unique backgrounds to the ECAC Hockey League and look to bring new ideas to programs with strong traditions. Seth Appert was a six-year assistant coach at Denver and is now the head coach at Rensselaer, replacing Dan Fridgen. Appert was a part of back-to-back national championships for the Pioneers in 2004 and 2005. Keith Allain follows in Tim Taylor's footsteps at Yale, where Allain was a goaltender from 1976-80. Allain was also a Yale assistant coach from 1982-85 before being involved in professional hockey as a scout and assistant coach for the Washington Capitals, Nashville Predators, and St. Louis Blues.
St. Lawrence defenseman Drew Bagnall had a great start to his collegiate career but was hampered by injuries one year ago.
UNSUNG PLAYER
He's not as much an unsung player as an unheralded player, but St. Lawrence senior defenseman Drew Bagnall will be called upon to anchor the Saint defense. He missed 16 games last year and will emerge as the leader of the blue line corps in Canton. Mike Madill graduated and will be missed, but Bagnall can step into that role quite comfortably and is one of the top defensemen in the league.
THREE BURNING QUESTIONS
1. Will Brown and Princeton improve? There's reason to believe that both teams could make a move up the standings. For Brown, it will take learning from last year's close losses. The Bears played in 13 overtime games and didn't win any of them. Turning those close losses and ties into points will move Brown out of last place.
Princeton has continued to build depth, but the loss of goaltender Eric Leroux is particularly noteworthy. There's a broader range of talent on the Princeton roster which should help them make it through the rigorous regular season in better health and make them stronger when the playoffs begin.
2. Will any ECACHL teams emerge as top-10 teams nationally and legitimate Frozen Four contenders? Heading into the season it doesn't seem likely that an ECACHL team will be skating in St. Louis in April. Co-regular-season champions Dartmouth and Colgate both missed the NCAA Tournament last year, but seem to be poised to take the next step and could make a run in a regional bracket if they were to make the playoffs.
3. How will the leagues officials perform under new direction from supervisor Luke Galvin? An official's job is thankless and most frequently criticized, but a new supervisor of officials will work to improve the overall quality and consistency of league officials. Galvin has experience officiating at the National Hockey League and American Hockey League levels.
MARK IT DOWN
Five things you can take to the bank in the ECACHL this season
1. Two teams that finish in the bottom four of the league standings will win first-round playoff series on the road. It happened last year as Quinnipiac and Yale pulled off the feat, and Brown took St. Lawrence to overtime in a deciding Game 3.
2. A freshman goalie will come out of nowhere to make an impact. Quinnipiac's Bud Fisher and Yale's Alec Richards were the surprise stories last year, and there's plenty of opportunity for newcomers to step in and play well in net, especially at Union, Brown, Clarkson, and Harvard.
3. ECACHL teams will make some noise against traditional national powers during holiday tournaments. League members will have the opportunity to knock off some big names in college hockey as Harvard competes at the Great Lakes Invitational, Clarkson goes to the Badger Showdown, Cornell matches up with Maine and possibly New Hampshire in the Florida College Classic, and Dartmouth and St. Lawrence will take on North Dakota and Boston University in the Ledyard Tournament.
4. Peter Bogdanich will be the next breakout player at Colgate, following in the footsteps of low-scoring players that blossomed into huge contributors such as Jon Smyth, Marc Fulton, and Jesse Winchester.
5. The ECAC Hockey League title won't be decided until the last few games of the regular season, which will be different from last season when Dartmouth and Colgate shared the league title after the final night of regular-season play.
Predicted Finish

No.

School
Of Note

1.

Dartmouth
The Big Green took big strides but still missed the NCAA Tournament. It won't happen this year.

2.

Colgate
Returning two first team All-ECACHL players in goalie Mark Dekanich and center Tyler Burton can only be a positive.

3.

Clarkson
The pressure's on and Clarkson's deep group of forwards will carry the load. Freshman goalie Matt Smith will push David Leggio for playing time, and one needs to win the job.

4.

Harvard
Captain Dylan Reese is a bit of a combination of the previous two captains — outspoken Noah Welch and the more reserved Peter Hafner.

5.

Quinnipiac
Tons of offensive firepower makes the Bobcats very dangerous, especially on the power play.

6.

Cornell
The Big Red lost its three best players and has question marks on the blue line, yet somehow they'll find a way to finish higher than this prediction.

7.

St. Lawrence
The Saints' Class of '06 took with them 208 career goals and 287 career assists.

8.

Union
Over the summer, coach Nate Leaman was rewarded with a contract extension through 2010.

9.

Rensselaer
New coach Seth Appert looks to build consistency through attention to detail, which has worked well for Cornell.

10.

Princeton
Ten freshmen will compete for playing time at Princeton.

11.

Yale
Remember how good Alec Richards was last year? Now he's got Mike Richter and Keith Allain coaching him.

12.

Brown
The Bears return their top-12 scorers from last year. The problem is that only two of them had more than 15 points.