September 27, 2006
2006-07 Hockey East Preview
By Jeff Howe

THE SKINNY
Last year's Hockey East season was like a fine bottle of wine, as it continued to get better with age. The league welcomed Vermont as its 10th team at the beginning of the season, Providence shocked the conference landscape and entered the second half tied for first with Boston College, and Boston University overcame an eight-point midseason deficit to steal the regular-season championship from BC during the final night of league play.
The rivalry between the Eagles and Terriers turned out to be as exciting as ever last year. On top of their three regular season meetings, the Commonwealth Ave. counterparts hooked up in the Beanpot final, Hockey East championship, and again in the Worcester Regional in the NCAA Tournament. Though BU took three trophies from the Chestnut Hill gang, BC laughed last when the Eagles gave the Terriers an old-fashioned 5-0 whooping to end their season in the big dance.
If that wasn't enough, the difference between regular season champ BU and fourth-place finisher UNH was just three points, the closest the top four teams have finished in league history.
So can Hockey East provide an appropriate encore this season? That will be tough. When both Brian Boyle and Cory Schneider decided to return to The Heights after briefly flirting with the opportunity to play for money, two things happened. First, Eagles coach Jerry York breathed one giant sigh of relief, and then BC became a decisive favorite to take back control of the conference.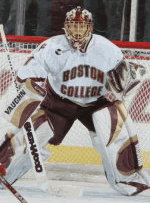 Cory Schneider and Boston College have their sights set on a national championship.
But there are a ton of questions to be answered this season as all eight playoff teams lost key scorers who were some of the marquee names in the league. BC (Chris Collins, Stephen Gionta), BU (its entire first line), Maine (Greg Moore), UNH (Daniel Winnik, Brian Yandle), Vermont (Brady Leisenring, Jaime Sifers), Providence (Torry Gajda), UMass Lowell (just about its entire team; more on that later) and UMass (Marvin Degon, Stephen Werner) will have some serious reshuffling to do.
So, like always, the first half will be about which team can make those adjustments the fastest before the annual mad dash to the championship once the calendar turns to 2007.
BREAKTHROUGH TEAMS
If any team has the ability to be last year's version of Providence, it might be the young and talented Massachusetts Minutemen. For that to happen, however, Jon Quick will need to stand on his head early in the season while the offense figures out how to consistently light the lamp.
To a lesser extent, this year's breakthrough team will be Merrimack – but because the Warriors will return to the playoffs for the first time in three years. Bench boss Mark Dennehy isn't shy to brag that his team was in 23 third periods last season when it was either up a goal, down a goal or tied, meaning – perhaps with a little more luck, experience or any collection of intangibles – the Warriors could have come away with a lot more wins than they ended up with. With a full year under the tutelage of Dennehy by the veterans and a full recruiting class hand-picked by the second-year coach, Merrimack should be able to grind out enough wins to surprise some teams.
PRIMED FOR A FALL
Simply put, the UMass Lowell River Hawks are in a tough spot right now. They lost 14 players from last year's team, including eight of their top-10 scoring forwards and two-year starting goalie Peter Vetri, who decided to transfer. It helps that UMass Lowell has Inside College Hockey's ninth-ranked recruiting class coming in, but asking a new crop of freshmen to fix this problem is a bit much. The top two returning scorers are seniors Jason Tejchma (10-17—27) and Jeremy Hall (12-13—25), and UML also returns J.R. Bria and Cleve Kinley on the blue line so the foundation has not completely collapsed. But since sophomore Vinny Monaco, who played just 110 minutes over a span of three games last year, is the lone returning netminder, things aren't exactly peachy along the Merrimack River.
PRESSURE TO PERFORM
Providence's fast start last season was overshadowed by its quiet finish, which was capped off by a two-game sweep at the hands of UNH in the Hockey East quarterfinals. Torry Gajda mustered only three goals in the second half last year, and Tyler Sims tired a bit between the pipes. Sims has put on an extra 10 pounds in the offseason and should be better conditioned to handle the heavy workload given by coach Tim Army. All eyes will be looking to see if Providence can – to use a favorite word of sports fans – validate its overachieving 2005-06 season. Including Gajda, the Friars only lost three players from last year's team that played significant minutes, and six returnees scored at least 19 points last year. They have a real chance to establish themselves among the elite of Hockey East this season.
TOUGHEST ACT TO FOLLOW
If Boston University is to improve upon last year's brilliant second half 19-1-2 run, which included an 11-game winning streak, the Terriers will be forced to do so without their entire top line. Coach Jack Parker admitted that is easily his club's biggest question mark this season. But the catalyst on that line, senior co-captain David Van der Gulik, is gone, and it was his return – along with that of fellow senior Jekabs Redlihs – from injury around the turn of the new year that sparked the magical BU run.
Without the Terriers' heart and soul last year, they stumbled out of the blocks to a 5-6-2 record and earned harsh criticism from Parker, who said his team thought it could win by simply showing up. In order to follow what they did last year, they'll have to first replace the production from Van der Gulik, Brad Zancanaro and John Laliberte, who combined for 36 goals and 54 assists.
BEST PLAYER
When BC goalie Cory Schneider is on his game, which is much more often than not, his opposition has less of a chance to score than the kid who didn't shower on prom night. He was 24-13-2 with a 2.11 goals against average and .929 save percentage last year. He also had that flashy 242:19 shutout streak in January, a BC record of eight shutouts and became the first goalie to register back-to-back shutouts in NCAA Regional action. And with the exception of a hiccup late against North Dakota in the Frozen Four when he allowed five goals (but still won), he never allowed more than two goals in any postseason contest last spring.
BEST NEWCOMER
BC freshman blueliner Carl Sneep was the first Hockey East player chosen in June's NHL Entry Draft (by the Penguins in the second round, 32nd overall pick). At 6-foot-3 and 210 pounds, he may stand a full foot taller than some of BC's forwards, and the former high school linebacker and tight end can also pack some scoring punch. Over his last two years at Brainerd Senior High School in Minnesota, he totaled 33 goals and 45 assists. The Eagles won't need Sneep to score to be successful, but it's a fair option to have. He was also one of 10 finalists for Minnesota's Mr. Hockey Award last year.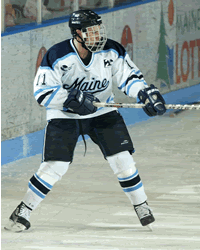 Maine's Michel Levéillé is one of the best set-up men in Hockey East and had 24 assists last year.
UNSUNG PLAYER
Greg Moore got a lot of the attention last season up in Orono when Maine scored the second-most goals in the conference, but Michel Léveillé was a big reason for that. Possibly one of the smoothest puck distributors in the league, he had 24 assists last season on top of 16 goals. With Josh Soares and Billy Ryan returning, Léveillé will have more proven scorers to help out. And if Ted Purcell winds up on Léveillé's line, the freshman could come along faster than expected.
THREE BURNING QUESTIONS
1. Can BU overcome the loss of its first line? Yes. Last year's line of Peter MacArthur – the team's leading scorer with 14 goals, 25 assists and 39 points – Bryan Ewing and Kenny Roche was a very formidable second unit. And the freshman line of Hockey East Rookie of the Year Brandon Yip, Chris Higgins and Jason Lawrence really came along as they gained experience. But while the Terriers return plenty of leadership like Ewing and captain Sean Sullivan, it will be the locker room presence of the top line that will be missed every bit as much as the on-ice production.
2. Can Lowell win with so much youth? Not this year. This will be Blaise MacDonald's toughest year on the UML bench. While the freshmen are talented and might be able to solidify themselves in the second half, the biggest loss was goalie and former Hockey East Rookie of the Year Peter Vetri.
3. Can UMass replace the scoring production of Marvin Degon and Stephen Werner? It doesn't matter. Just replacing those 23 goals and 33 assists isn't enough, as the Minutemen need to exceed that to make a jump in the standings. They scored 2.14 goals-per-game last year, only good enough for eighth in the league, and were just one of three teams to surrender more than they scored. The talent is there, but over the last two years, UMass may have been the most snake-bitten team around the net in the history of organized hockey.
MARK IT DOWN
Five things you can take to the bank in Hockey East this season
1. There won't be any swearing at BU's Agganis Arena. Seriously. We swear – if that's appropriate. Anyway, Boston University has decided to crack down on its fans, whom have been known for their heckling prowess for some time now and caused a bit of a stir with the TV crew during the Worcester Regional at the NCAA Tournament last spring. Hockey East commissioner Joe Bertagna has given BU his full support and will try to implement a similar policy at Hockey East events such as the conference tournament.
2. Even though he may be the best player, Cory Schneider won't win Hockey East Player of the Year. It doesn't make much sense, but that's how the league has worked. Entering the conference's 23rd season, only four goalies (Mike Ayers, Ty Conklin, Dwayne Roloson and Chris Terreri) have won player of the year. Guys like Brian Boyle and Pete MacArthur may have the early edge.
3. BC will win the league by more than one point. If last year was for rebuilding, does that mean it's possible for the Eagles to win two national championships this season? OK, so they need to win one first, but the freshmen and sophomores really grew up fast during their run to Milwaukee. As long as Brian Boyle and Cory Schneider stay healthy, this year's race shouldn't be as close as the last four, when the regular season champ didn't win the league by more than a point.
4. Northeastern will be improved. One of the best stories before last season was that first-year coach Greg Cronin took his Huskies to the gym for boxing sessions to toughen the Huntington Hounds up. That only translated to three wins on the ice, but as the season moved along, NU's toughness was very noticeable. They skated with true fire, most notably Joe Vitale, and that type of play really caused some headaches for opposing coaches. With the Huskies returning 21 players from last year including a very able goalie in Adam Geragosian, they should definitely improve on last year's win total of three.
5. Maine will miss Matt Lundin. Ben Bishop's backup goalie left the program to continue playing junior hockey. In limited action (15 games to Bishop's 31), Lundin actually had better numbers with a 1.72 goals against average and .934 save percentage in comparison to Bishop (2.28 and .907). It always seems to be about goalies in Orono, doesn't it?
Predicted Finish

No.

School
Of Note

1.

Boston College
Winning the conference would be nice, but the Eagles have their sights set on a national championship this year.

2.

Maine
This team has good enough defense and goaltending to get to St. Louis, but can it replace the goal-scoring production of Greg Moore?

3.

Boston University
After BC's dominant NCAA Tournament run, people are seeming to forget the Terriers won the Beanpot and both Hockey East championships last year.

4.

New Hampshire
Kevin Regan is Richard Umile's clear-cut No. 1 goalie right now, but if he struggles, freshman Brian Foster is champing at the bit for playing time.

5.

Providence
Torry Gajda is gone, but the Friars return five 20-point scorers and goalie Tyler Sims. They could surprise people … for the second year in a row.

6.

Vermont
There are some sophomores who can step up, but replacing Brady Leisenring, Jaime Sifers, and Jeff Corey is a tall task. Joe Fallon will need to be spectacular once again.

7.

Massachusetts
The Minutemen have enough talent to crack through into the Big Four – with an improving defense and solid goaltending tandem in Jon Quick and Dan Meyers – but it will be up to the forwards to find the back of the net.

8.

Merrimack
Mark Dennehy thinks he has one of the best – if not the best – three-headed goaltending tandems in the nation. Obviously he can't play them all at once, but it's worth noting.

9.

Northeastern
The Huskies are a scrappy bunch, which will make them a team no one really wants to play, but execution remains a question.

10.

UMass Lowell
The River Hawks lost eight of their top 10 scoring forwards from last year, and their goalie of two years transferred. To say that UML is rebuilding would be a bit of an understatement.