October 11, 2006
NATIONAL NOTEBOOK
Maine's Trip Down Memory Lane
INCH National Notebook
With a limited slate last weekend, Inside College Hockey offers a national notebook this week. Check back next week for our first conference notebooks of the regular season.
By Inside College Hockey Staff
As if to underscore the strangeness that can happen in the opening weekend of the college hockey season, the Maine Black Bears felt right at home playing before 15,000 opposing fans, on the rink that hosted one of the most gut-wrenching losses in the program's history. Inspired by a pre-game pep talk from the most renowned ex-Black Bear, the current club scored early and got great goaltending throughout its 3-1 upset of Minnesota at the Xcel Energy Center.
The day of the game, Minnesota Wild defenseman Keith Carney, who skated for Maine between 1988-91, stopped by with his triplet sons for the team's morning skate. And just before the Black Bears took to the ice, 1993 Hobey winner Paul Kariya (in town with his Nashville Predators teammates for a game versus the Wild the next night) addressed the team.
"Our players were able to see those guys who have been such a big part of our program and of the tradition at Maine," Black Bears coach Tim Whitehead said. "Carney and Kariya are a big part of what makes Maine hockey special, so for these players to meet them was a really great opportunity."
Kariya, who starred on the 1993 NCAA title team in his only full season of college hockey, told the players that they had a great opportunity in front of them.
"It brought back a lot of memories," Kariya told Minneapolis Star Tribune reporter Mike Russo. "I just told the guys that this was a great time in their lives, and to get the most out of being a student-athlete."
For the current team, it was an impressive way to start the season.
"The guy's a legend," said Black Bears captain Michel Leveille. "He only played a year and a half at Maine, but he holds pretty much all the records as far as points. He's a great guy to learn from."
Indeed, the 75 assists and 100 points Kariya recorded as a rookie still stand as the school's season records.
For Whitehead, the toughest part of the weekend was walking into the same dressing room where he had to address his club after their heartbreaking 4-3 overtime loss to Minnesota in the 2002 NCAA title game. He said the Black Bears' 2006 win was nice, but not nearly enough to provide emotional healing.
"When I went back in the locker room, it was a pretty tough moment," Whitehead said. "That was a very difficult loss for us. I won't lie and say it wasn't a big thing. But tonight's outcome, to me, doesn't have any significance toward that outcome. We could've beaten them 10-0 and it wouldn't have wiped away the heartache of that loss."
– Jess Myers
SEEN AND HEARD AROUND THE NATION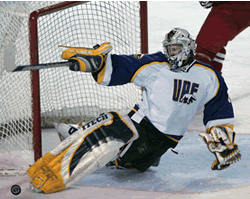 Rogers, in his pre-Reebok days.
Addressing errors in Alaska – Nanooks goalie Wylie Rogers played the team's two exhibition games without his new pads, blocker and glove because they were mistakenly shipped to Alaska Anchorage – twice.
UAF hockey equipment manager Randy Pommenville said he ordered the equipment in late June from Reebok, a new supplier to the program. Production was supposed to take four to five weeks, but the pads still hadn't arrived by September. Pommenville made some calls and figured out that the boxes had been sent to UAA, and the shipment was refused because the Seawolves (obviously) hadn't ordered them. So the pads were taken out of Alaska and wound up in Independence, Mo., where Pommenville tracked them down through UPS two weeks later. But once found, UPS sent them to Anchorage yet again.
Fortunately, a UAA staffer took them this time and called Pommenville. The pads were trucked from Anchorage to Fairbanks and finally found a home with Rogers this past Saturday. "He was the happiest goalie in the world that day," Pommenville wrote in an e-mail.
– James Jahnke
Vermont's strong start – Joe Fallon reminded everyone last weekend that he is one of the best goalies in all of college hockey, as the Vermont keeper swatted away 54 of the 55 shots he saw in two games at the Ice Breaker Invitational in Ohio. But the twice-victorious Catamounts banked home 10 goals in the tournament, which should provide some optimism in Burlington after UVM struggled at times to score last year.
"We got a lot of power play chances, and we were able to score on a few of those," said Vermont coach Kevin Sneddon, who won his 100th career game over the weekend.
Fallon really hit the scene last year when the Catamounts played their first season in Hockey East and the second-year goalie broke the school's career shutout record. Sneddon believes Fallon, now a junior, hasn't reached his ceiling yet.
"Joe has had a couple really good seasons for us," Sneddon said. "He has broken records and played well, but he has worked hard to really get better. I truly believe that he will get better, and we have yet to see the best of Joe Fallon."
Vermont knocked off No. 14 Colgate 6-0 in Friday's semifinal before disposing of host Miami 4-1 in the tourney final. Though the Catamounts would much rather be talking about tournament championships in the spring than the fall, the UVM bench boss is taking something out of last weekend.
"It's good to get the team together and traveling and playing on the road," he said. "It was good to get a couple big wins and play well as a team against ranked opponents."
– Jeff Howe
Great Weekend Getaways

Games We'd Pay to Watch in Person
Denver at St. Cloud State
(Fri.-Sat.)
What could be the WCHA's two most compelling teams in the preseason square off in the opening weekend of league play. Denver, a year removed from its back-to-back national titles, lost its three best players (Matt Carle, Gabe Gauthier and Paul Stastny), but still figures to challenge for a top-10 national finish. St. Cloud would like to climb to that level after a surprising run under new head coach Bob Motzko last year. Goaltender Bobby Gopefert and forward Andrew Gordon are back to lead the Huskies.

Games We'd Pay to Watch on Satellite
North Dakota at Wisconsin (Fri., CSTV, and Sat., FSN North)
Forgive us for sticking in the WCHA for both Getaways this weekend, but the home of the last five national champions also has the best early-season matchups. North Dakota's offense, led by the dynamic T.J. Oshie and Jonathan Toews, will test Brian Elliott early. It will be a good chance to see if the stingy Badger defense will be able to hold up this season despite the losses to graduation and the pros.

Stick Salute

Boston College head coach Jerry York collected his 750th career coaching victory Tuesday night against Northeastern, and afterwards collected the game puck as a keepsake.

Becoming just the second coach with 750 wins wasn't at the forefront of his mind, however. "I was reflecting a little bit when I was coming to the rink [Tuesday night], not necessarily on the victory total, but because this is my 35th year wearing my hat and whistle," York said after the game. "That's a lot of seasons, and I've been really fortunate to have coached some remarkable players over that stretch. I forgot about No. 750, to be honest. It was the 35 [years] that rings a bell more."
Tough love in Minneapolis – In their season opener, the Minnesota Golden Gophers had more healthy seniors in the press box, in suits, than they had on the ice in uniform. A quick glance at the line chart showed that coach Don Lucia dressed one senior and eight freshmen in the 3-1 loss to Maine, with seniors Tyler Hirsch and Kellen Briggs sitting out for disciplinary reasons.
Briggs was suspended for three games a few days before the meeting with Maine, for reasons that he and the coach would not reveal. Hirsch's suspension was shorter (one game) and more surprising. Lucia sat him out after Hirsch arrived a few minutes late to a team meeting on the day of the game.
But after last November, when a Minneapolis TV station's investigative report about Gopher players receiving free alcohol and drinking underage at a Dinkytown bar was a distraction for many, Lucia said the message about keeping your nose clean is going to be sent early and often.
"We talked this year about how important discipline was going to be, after what happened last year," Lucia said. "We wanted to set some examples early and I think that was done. I think they were warranted and I think they're great lessons for everybody."
– Jess Myers
FRIES AT THE BOTTOM OF THE BAG
• Two CCHA teams that can ill afford injuries have suffered major ones already this season.
Bowling Green will be without senior forward James Unger for 6-8 weeks after he underwent surgery on his right wrist last week. Among current Falcons, only Jonathan Matsumoto tallied more than Unger's 27 points last season. Throughout his career, Unger has averaged a goal every three games or so.
Farther north, Ferris State has lost its leading returning scorer, senior forward Mark Bomersback, for 10 weeks because of a broken lower leg. Bomersback scored 32 points on 16 goals and 16 assists last season, finishing second on the team in scoring. He broke his leg while trying to check a Union player during Friday's season-opening loss in Big Rapids, and he likely won't be back until after Christmas.
• Clarkson head coach George Roll and his recruiting-ace assistants in Greg Drechsel and Jean-Francois Houle have steadily been increasing the talent level in the Golden Knight lineup since taking over in 2002. Early returns in the 2006-07 season show that the work is paying off. Clarkson won twice on their opening weekend and scored 11 goals. Nine players accounted for the scores. The only players with two goals were junior winger David Cayer and former walk-on Dan Tuttle, who played in just five games as a freshman last year.
• One could argue that most of the CHA teams are gluttons for punishment. This week features non-conference games headlined by Bemidji State's trip for a pair of games at Maine. Wayne State travels to Minnesota, Alabama-Huntsville travels to Michigan and Bowling Green, while Niagara plays a neutral site game in Rochester, N.Y. against Colgate before hosting defending Atlantic Hockey champion Holy Cross. Robert Morris is on the road again as well, for a pair at Quinnipiac. Two to three wins against ranked opponents and you'll see some CHA teams receive recognition in the national rankings.
• Denver's George Gwozdecky became the first hockey coach to join Miami's 45-member Cradle of Coaches Association during Friday's dedication game of the new Goggin Ice Center in Oxford. Gwozdecky coached Miami from 1989-94. Among other luminaries in the Cradle of Coaches are Woody Hayes, Ara Parseghian and Bo Schembechler.
• Niagara overcame their 7-3 opening night loss to Clarkson with a 4-3 victory at St. Lawrence. Ted Cook netted a pair of goals while Vince Rocco scored once and Matt Caruana the game-winner with five minutes remaining. Sophomore goaltender Juliano Pagliero made 38 saves including 17 in the second period.
• RIT goaltender Jocelyn Guimond made a name for himself when he stopped 66 shots in a 3-2 victory over St. Lawrence last season. The Saints got his number this year but not before Guimond made 41 saves in RIT's 4-3 setback in Canton.
• Air Force won an exhibition over Calgary (4-2), lost to Colorado College (2-1) and beat former CHA foe Alabama-Huntsville (4-3). Give credit to the Falcons' defense, which held the three teams to an average of 19.7 shots. Making the job easier for talented netminder Peter Foster should give Air Force a shot at the top division of Atlantic Hockey.
• Army swept Ryerson University of Toronto in a pair of exhibitions, 5-0 and 3-1. In all, 15 players registered at least one point for the Black Knights. In the race to replace Brad Roberts as the Black Knights' starting goalie, Josh Kassell stopped all 16 shots and A.J. Drago came within 3:17 of a shutout, making 11 saves.
• Ottawa traveled south to face three Atlantic Hockey teams – Sacred Heart, Holy Cross and Connecticut – and skated away with three ties.
• If you are a big fan of the 8-9 NCAA tourney basketball matchups, then you'll probably like INCH's own 30-31 weekend matchup pitting Ferris State and visiting Mercyhurst. Ferris State is loaded with veterans and Mercyhurst is loaded with scorers.
• Army and American International have struggled to get out of the bottom half of MAAC/Atlantic Hockey but, barring a tie, one of them is going to be on top of Atlantic Hockey for at least 24 hours when the clubs open the league slate Friday night at West Point.