November 22, 2006
Second-Best Win for BC Veterans
It's as simple as this: Maine had Boston College on the ropes. The top team in the country was leading 3-1 in the third period at Alfond Arena, and the Black Bears were unbeaten in an incredible 115 consecutive games (109-0-6) over the last five years when heading into the final frame with the lead.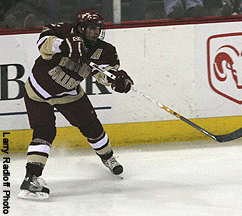 Joe Rooney scored two goals and an assist in the final 13 minutes and overtime of Boston College's 4-3 win at Maine Sunday.
The last few minutes were merely a formality, one would think.
Someone forgot to say something to Joe Rooney, who scored two goals and had an assist in the final 13 minutes of regulation and overtime, as the Eagles topped Maine 4-3 in a Sunday matinee thriller.
"I was talking about it with [Brian] Boyle the other day, and we thought that this was the second best win since we've been here," Rooney said. "The BU [2006 Northeast] Regional [Final] win was the best, but this one ranks up there pretty high. It was important for us."
Trailing 3-1 late in the third, Boyle and Rooney scored to tie the game. Their line was clicking, and in overtime Boston College coach Jerry York used the team's timeout to get them back out there one last time. It worked.
With under a minute to play in overtime, defenseman Mike Brennan rushed the puck to Boyle in the Maine zone. Boyle hit Rooney, who spread the puck to Benn Ferriero, who gave it back to Rooney in the slot. The precise puck work left Rooney with an open net and an easy score to end the game with 52 seconds left in overtime.
The dramatic win could prove to be huge for the Eagles, who have struggled to find their identity early this season and were on the heels of blowing a lead to Northeastern with 2.6 seconds left in regulation just two days earlier. And with a tough stretch coming up – BC's next five games are against teams with winning records, including two against archrival Boston University – Rooney thinks the comeback will do wonders for the Eagles' momentum.
"I think we did a pretty good job of keeping our composure," he said. "There were no letdowns on the bench. We weren't giving up. We saw an opportunity with there still being a half-period left to play so we knew we could still come back to win the game.
"I think it's going to help us big time. We stuck together right down to the very end and came back to win against a tough, tough team. I think that could definitely be a sparkplug for us going into the next five or six games."
— Jeff Howe
SEEN AND HEARD IN THE WCHA
Missing Hirsch, again: Not even when you're leading the national polls and defending your conference title are off-ice troubles fun to handle. But such is life for top-ranked Minnesota, which was unexpectedly without the services of leading scorer Tyler Hirsch last weekend for their series with Wisconsin. On Tuesday, the Minneapolis Star Tribune reported that Hirsch missed practice and may be out of the lineup again this weekend when the Golden Gophers host Michigan State and Michigan in the College Hockey Showcase.
The Wisconsin games were the second and third Hirsch has missed this season, after coach Don Lucia held him out of the season opener versus Maine (the Gophers' only loss) for showing up late to a team meeting on the day of the game. This time, there are classrooms troubles Hirsch is dealing with.
"Tyler needs to attend to things academically," Lucia told the Star Tribune after Saturday night's 2-1 win over the Badgers. "He's falling behind in his classes. The last thing we want to do is lose him for the rest of the year. Tyler feels bad, but he has to get caught up."
Not having Hirsch in the lineup has become a common refrain in Minneapolis since late in the 2004-05 season – one in which he led the team offensively with 11 goals and 33 assists. Those totals came despite missing three playoff games after a much-publicized and still-unexplained outburst he had before thousands at the Xcel Energy Center after Minnesota's 3-0 loss to Colorado College in the 2005 WCHA Final Five semifinals. He returned for the Gophers loss to North Dakota in the 2005 Frozen Four and was expected to play the following season, but played just two games before sitting out the remainder of the 2005-06 campaign, getting a medical redshirt for what was termed "personal reasons."
This season he appeared to be as solid as ever on-ice, putting up three goals (including a nifty overtime game-winner in Duluth a few weeks ago) and 14 assists in 10 games. It remains to be seen how long Hirsch's status will be a subplot to what's shaping up to be an outstanding season for the Gophers.
— Jess Myers
SEEN AND HEARD IN THE ECAC HOCKEY LEAGUE
Yale's six-win start: Let's take a look at Yale, inside the numbers. The most important is, of course, victories. At 6-1-1 on the year, Yale is off to its best eight-game start in 15 years, when the Bulldogs also started 6-1-1 on the year. Last year, Yale didn't get its sixth win until Jan. 20.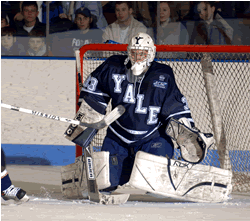 Yale goalie Alec Richards is a big reason why the Bulldogs are off to a great start.
New coach Keith Allain is a goaltending expert and sophomore goalie Alec Richards has seemed to benefit. His goals-against average is down by over half-a-goal per game in comparison to his freshman year. A closer look reveals that Richards is getting more defensive help from his teammates. Yale averaged 36.2 shots against per game in 2005-06, and has cut that number by 10 this year, as Yale opponents are only getting 26.8 shots on target in the eight games so far this season.
One final point regarding Yale's strong start is that a number of players are contributing. In the six victories, six different players have scored game-winning goals, and 14 players have scored at least once this year.
— Joe Gladziszewski
SEEN AND HEARD IN ATLANTIC HOCKEY
The Force is with you: There's lots of good news at the Air Force Academy after last weekend's sweep of American International College. Air Force senior Andrew Ramsey potted a career-high four goals in the Falcons' 6-1 win over AIC on Friday, becoming the first Air Force player to score four goals in a single game in almost nine years. Ramsey also scored the game-winner in Sunday's win over AIC, tying him for the national lead with three. He was named the Atlantic Hockey Player of the Week.
Freshman goalie Andrew Volkening posted the first league shutout by a freshman netminder in school history as the Falcons blanked American International College 3-0 on Sunday. Air Force is a first-year member of Atlantic Hockey and former member from College Hockey America.
The Falcons play at Denver on Friday, and then host former CHA rival Robert Morris on Sunday.
— Ken McMillan
FRIES AT THE BOTTOM OF THE BAG
• Boston College's rally over Maine wasn't the only third-period comeback of note last weekend. With less than one minute remaining in the third period and leading by two goals, Niagara thought they were going to pull three points out of a road trip to Bemidji State. The Beavers scored with the goaltender pulled at the 19:24 mark. Then, with a faceoff deep in their opponents end and six seconds remaining, things again appeared safe for Niagara, but Rob Siranni took a pass from Tyler Scofield and rang a shot in off the crossbar at the buzzer to tie the game 3-3. After the referees conferred, the goal was allowed and a scoreless overtime resulted in the third consecutive tie between the two teams.
• Miami goalie Charlie Effinger didn't play against Nebraska-Omaha last week because of mononucleosis, giving tandem partner Jeff Zatkoff a rare two-start weekend. Effinger's status going forward is unclear. Miami visits St. Lawrence and Clarkson this weekend.
• More CCHA injury news … Alaska hopes to have freshman phenom Dion Knelson (shoulder) back against Lake Superior State this weekend after three weeks off. Also, Nanook forward Ryan Muspratt is expected to make his return this weekend after having ACL surgery last winter.
• In just its second year of membership in the ECAC Hockey League, Quinnipiac finds itself in first place. The Bobcats' victory over Cornell on Saturday gave Quinnipiac wins over all 11 other ECACHL teams in just 28 total games played in the league.
• Mercyhurst might be snapping into shape. The Lakers have back-to-back ties against Canisius and ECACHL-leaders Yale after losing their previous four games. The Lakers' four-game losing skid was their longest since joining the Division I ranks in 1999. Mercyhurst has been out-shot in every contest this season.
• Northeastern's Mike Morris had himself a busy week. Last Tuesday, he scored his 100th career point with an assist against Providence, and on Friday, he scored the game-tying goal with 2.6 remaining in the third period to earn a draw with Boston College.
• Army rallied from two goals down in the third period to pull into a 3-3 draw with host Sacred Heart Tuesday night in Milford, Conn. The tie left both teams atop Atlantic Hockey with 14 points apiece. The teams played to a 2-2 draw at West Point on Oct. 14. Army has been in first place since posting a 2-0 win over American International College on Oct. 13. Until this season, Army had never held first place in Atlantic Hockey or its predecessor, the Metro Atlantic Athletic Conference Hockey League.
• Alabama-Huntsville head coach Doug Ross picked up his 500th career victory Saturday. The total includes his years as the coach of the club team. Brown coach Roger Grillo earned his 100th career win as head coach when the Bears defeated Harvard 2-1.
• The UMass line of Chris Capraro, Cory Quirk and Chris Davis combined for six goals and nine assists in the 8-1 win over Connecticut on Saturday.
• Notable CCHA numbers: Notre Dame has only trailed for 42:17 this season, and 36:21 of that came in Saturday's loss at Michigan State. ... Ohio State's 13 goals in last weekend's sweep of Bowling Green were the Buckeyes' most in a series since hanging 14 on Illinois-Chicago on Dec. 13-14, 1991. ... Lake Superior State senior goalie Jeff Jakaitis tied the school record with his ninth career shutout Friday against Wayne State.
• UNH is 5-0-0 on the road this season, the first time the Wildcats have won their first five visiting contests since 1996-97. UNH's line of Jerry Pollastrone, Trevor Smith and Matt Fornataro is the second-highest scoring line in the country with 19 goals and 29 assists.
A variety of sources were utilized in the compilation of this report