January 4, 2007
Army's Biggest Hockey Rivalry In Jeopardy
A conflict in schedules has brought about the end of the long-time rivalry between Army and Canada's Royal Military College of Kingston, Ont. The Army-RMC series is recognized as the oldest continuous international rivalry, having started in 1923 and played every year since 1949.

Army is trying to work out a compromise with Canada's Royal Military College in order to continue the long-standing hockey rivalry between the two institutions.
According to a long-term contract, this year's game was scheduled for February 10 in West Point. RMC has a weekend league series with Toronto and Ryerson on Feb. 9-10. "It's disappointing," Army coach Brian Riley said, "But who knows? We will get together to see if we can iron some things out."
Former RMC coach Danny McLeod (1960-71) is eager to see the series remain alive, and he is trying to organize a committee made up of members from both schools to see to it. He would like to see the teams play the contest at the end of this season, although both schools have league playoff responsibilities.
A conflict has arisen in recent years with RMC using players who were non-traditional students, such as member of the Canadian military. Army is bound by NCAA rules that require traditional students taking a proper load of classes. "It's just a difference in philosophy. In my eyes, it's not cadet versus cadet anymore," Riley said. "This, I think we had to fess up to, but the commandant did not know this was happening and he took steps to correct it as soon as it was drawn to his attention," McLeod said. RMC dismissed five-year coach Kelly Nobes after last season, and replaced him with Jim Hulton.
The first meeting took place in 1923, thanks to the efforts of West Point Superintendent Brig. Gen. Douglas MacArthur and RMC's commandant, Maj. Gen. Sir Archibald MacDonnell. The game has alternated between West Point and Kingston, Ont., every year with the exception of nine seasons when the game was not held: 1926, 1940-41 and 1943-48. "That was the game anyone ever talked about," said Jack Riley, a hockey Hall of Famer, Army's former long-time coach and the father of Brian Riley.
McLeod has urged Jack Riley to join a committee, but Riley says he will support whatever his son wants.
"I think there's too much respect for one another to have something separating the two institutions, and I believe that sensible people sitting down at a table with the ultimate goal to have this great tradition continue what we have to do to get it back on the rails," McLeod said. "We've been through tougher things than that before."
McLeod said it's important to foster an "esprit de corps" between the two academies. In terms of West Point athletics, the Army-RMC hockey game was on par with the Army-Navy football rivalry, though the addition of Air Force to Army's schedule in the late 1960s diluted the significance of the only two North American service academies facing one another. Brian Riley said his team could benefit from having an open weekend with two weekends remaining in the Atlantic Hockey schedule.
"I think it's disappointing for the traditional part of it because there is a lot of history to it," Riley said, "but time changes everything and maybe it's just hard for two hockey teams to get together like they once did."
— Ken McMillan
SEEN AND HEARD IN THE CCHA
Club 700: Michigan State coach Rick Comley is closing in on 700 career wins, and there's a chance he'll get there during the must-see CCHA series of the weekend. The Spartans, fresh off a Great Lakes Invitational championship that gave Comley victories No. 698 and No. 699, travel to Miami for a set on Friday and Saturday.
Comley (699-532-88) acknowledged that reaching the milestone will be special, but he was quick to set it off as a personal achievement rather than one for the MSU program. The third-winningest active coach behind Boston College's Jerry York and Boston University's Jack Parker did the lion's share of his damage during his 26 years at Northern Michigan before moving to East Lansing in 2002-03.
"Around here, the only number that matters is Ron's," Comley said of Ron Mason, his predecessor and college hockey's all-time winningest coach with 924. "But I'm proud of it; I'll be joining elite company. But I came here to win a national championship, not to get X number of wins."
As for the Miami series, Comley said that a sweep by the RedHawks in the teams' only meeting of the season would make it quite difficult for the Spartans to catch up later. The second-place RedHawks have a six-point lead over the fourth-place Spartans, although MSU does have a game in hand.
Both teams will be short one player because of their involvement in the World Junior Championship: Spartan forward Justin Abdelkader and RedHawk goalie Jeff Zatkoff.
— James Jahnke
SEEN AND HEARD IN THE WCHA
Former WCHA Commissioner Passes: Those who knew Otto Breitenbach as a life-long Madison resident and former University of Wisconsin football player long before he was commissioner of the WCHA may be comforted in the notion that some of his last conscious moments on Earth were spent watching his beloved Badgers win a bowl game.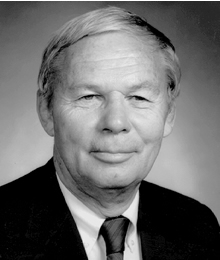 Otto Breitenbach
1924-2007
On Monday, Breitenbach suffered a massive heart attack at his Madison home. He passed away on Tuesday night at a Madison hospital at the age of 82.
He was an athletic administrator at Wisconsin for 10 years prior to 1983, when Breitenbach began another 10 years of serving as the WCHA's head man.
The good things he helped bring to college hockey during that span are nearly too numerous to mention. Along with helping start the league's wildly successful and lucrative postseason tournament, Breitenbach also helped give a big boost to the then-upstart Hockey East Association by fostering a joint agreement between the two leagues. For a few years in the late 1980s, Hockey East and WCHA teams would play each other every year, with the games counting in the league standings.
"The interlocking schedule was a big piece of the puzzle in launching the league and giving it such a good reputation right away," said current Hockey East commissioner Joe Bertagna. "Otto had a great deal to do with how well the east and west get along today. There's always been a rivalry, but there was an unhealthy edge at one time, and I point to Otto playing a huge role in positively changing the dynamic between east and west. Otto was a very special guy."
Breitenbach also played a role in helping the NCAA hockey playoffs move to a 12-team regional system in 1992, and was a friendly ambassador for the WCHA throughout his term with the league. His friends and colleagues from Madison and from the University were shocked at the news of his sudden passing.
"There are very few people that had the ability to build consensus and move organizations forward like Otto. Be it at the University of Wisconsin, the WCHA, or the Badger State Games, Otto led with class and integrity second to none," said former Badgers coach Jeff Sauer, who learned of Breitenbach's death while covering the World Junior Championship in Sweden. "On a personal note, he was like a second father to me. He will surely be missed."
"If there's one word that always comes to mind when you'd think of Otto, it's 'gentleman,'" said current WCHA commissioner Bruce McLeod. "It seems like I'd call him every couple weeks for some advice, not necessarily about what to do but about how to do it in the right way. He was always gracious and knew how to do things in a way that wouldn't create controversy, but would build consensus."
Breitenbach will be laid to rest on Friday at St. Mary of the Lake Catholic Church in Waunakee, Wis.
— Jess Myers
SEEN AND HEARD IN HOCKEY EAST
Unhappy Holidays: Jimmy Stewart wanted to find out what things would have been like if he never existed in "It's A Wonderful Life." Hockey East teams did pretty much the same thing in this year's holiday tournaments.
Of the conference's 10 teams, only two (Boston College and Merrimack) didn't participate in the festivities. Of the other eight competing in seven tourneys, only one came out a winner, two came in fourth place, and the rest were somewhere in between – including Vermont, which didn't even win its own tournament.
Maine stormed through the Florida College Classic, doubling up Western Michigan, 8-4, and then Cornell, 6-3, in the championship. New Hampshire, however, saw its nine-game winning streak come to an end in Estero, Fla., when it was upset by Cornell in the first round. The Wildcats found a bit of southern comfort by beating Western Michigan in the consolation round.
Then there were UMass and Providence, the two teams that represented the Hockey Least portion of the segment. The Minutemen and Friars failed to win a game in their respective brackets.
Vermont faced similar embarrassment, dropping a 4-2 decision in the championship game to St. Cloud State on its home ice to lose the tournament known as the Catamount Cup.
Of the rest, UMass Lowell earned a second-place finish in Denver while Boston University and Northeastern each came in third place in their tournaments.
The eight teams combined for a 7-9 record. They were 3-5 in opening-round contests, 1-2 in championship games and 3-2 in the consolation bracket.
— Jeff Howe
FRIES AT THE BOTTOM OF THE BAG
ECAC Hockey League: Clarkson won the Badger Hockey Showdown and claimed its first regular-season tournament title since 1995, when it won the RPI Invitational. Junior captain Nick Dodge had five points in two victories, and was named tournament MVP. ... Dartmouth lost twice in its own Ledyard Bank Tournament, scoring just one goal in the two games. The Big Green are averaging under 2.00 goals per game in their last seven contests, and have a 1-4-2 mark in that stretch. ... Cornell impressively defeated then second-ranked New Hampshire 5-2 at the Florida College Classic.
CCHA: Northern Michigan has lost seven straight games, by far the longest skid during coach Walt Kyle's five-year tenure. The Wildcats outshot their opponent during each of the first five losses, but were outshot by Notre Dame in both ends of last week's Tour de Indiana ... At 11-2-1 in the CCHA, Notre Dame leads the conference. It's the same record Miami had last season en route to the regular-season championship. This also marks the deepest into a season that Notre Dame has been in first place. ... Ohio State junior forward Tom Fritsche made his season debut at the Ohio Hockey Classic, after missing OSU's first 18 games with a severe intestinal ailment. The Buckeyes' two-time leading scorer registered an assist 1:40 into his return, and finished the weekend with two helpers.
WCHA: The much-publicized comments of Dartmouth's athletic director last month had many expecting a hostile (and abusive?) reception for the Fighting Sioux upon arrival in New Hampshire for their holiday tournament last week. TV stations and newspaper columnists from North Dakota even traveled to Dartmouth to cover the expected protests against the controversial Sioux nickname and logo. According to North Dakota radio man Tim Hennessey, instead of waves of protesters, the Sioux saw just one woman in the crowd with a hand-lettered sign reading "Indians Are People, Not Mascots!" Of course, with so much media there to cover the protest that never was, the one sign-bearing woman was world-famous in eastern North Dakota for about 15 minutes.
College Hockey America: Senior Shane Holman scored his second and third goals of the season and goaltender Matt Climie won his 10th consecutive start as Bemidji State beat a top-ten ranked team for the first time in their Division I era with a 3-2 win at Colorado College Friday. The Beavers are now 5-1-0 against the WCHA this season. ... Niagara has three players in the top-15 in the nation in scoring - Les Reaney, Ted Cook and Sean Bentivoglio. Michigan, Nebraska-Omaha and Maine are next with two players each.
Note: Our conference notebooks will return next week.
A variety of sources were utilized in the compilation of this report