October 1 , 2006
2006-07 WCHA Preview
By Jess Myers

THE SKINNY
To get the new season started off on the right skate, the folks who run the INCH Midwest Headquarters invited last season's top-10 scorers from the WCHA to a big shindig at Duke's Bowl in Abbotsford, Wis. Inside Duke's they drink Miller Lite, eat hot beef sandwiches and (we like to think) they have a continuous video loop playing Robbie Earl's get-upended-at-the-blue-line, limp-toward-the-bench, and abruptly-crash-the-net-to-score-the-tying-goal move from last season's NCAA title game.
The trouble was all 10 of the invitations we sent to WCHA campuses came back marked "address unknown." Since nobody worth noting misses an INCH party, we did a little research and learned that of last season's top-10 scorers (in order: Ryan Potulny, Joe Pavelski, Brett Sterling, Paul Stastny, Matt Carle, Phil Kessel, Earl, Marty Sertich, Drew Stafford and Travis Zajac), here's how many will be playing college hockey this season: zero.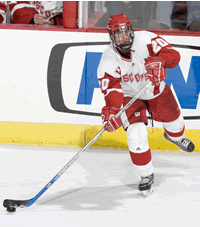 Kyle Klubertanz (pictured) and Jeff Likens form one of the best defense pairings in the WCHA, where the Badgers will need to defend well to offset question marks up front.
A glance down nearly every WCHA roster reveals plenty of talent in all areas, but the real depth and experience has shifted abruptly from forward to defense and goaltending. In Madison, where they're preparing to hang a banner and defend a NCAA title, there's no question in goal, where the nation's top netminder, Brian Elliott, is back for another go. But there are plenty of questions about offense with Earl and Pavelski gone.
The story is strangely similar in a place like Mankato, where the Mavericks will battle for respectability with an expected sure thing (Dan Tormey) in goal and plenty of question marks at forward. In Denver and Colorado Springs, ditto. The Pioneers' Peter Mannino has a NCAA title ring, and the Tigers' Matt Zaba is one of the more experienced goalies in the game, but with the likes of Carle, Stastny, Sterling and Sertich gone, offense is suddenly the question.
Interestingly, about the only places where we see the opposite situation (questions in goal and sure things on offense) are on the two teams we expect to battle for the league title -- North Dakota and Minnesota. Both had massive offensive losses via underclassmen bolting for the pros, but both are blessed with offensive depth. And both will need consistent goaltending from either an unknown source (like highly-touted Sioux freshman Anthony Grieco) or sources that are well-known and have something to prove about consistency (Gopher netminders Kellen Briggs and Jeff Frazee).
These are potentially strange and transitional times for the conference that is on a historic run of success (with five consecutive Hobey winners and five consecutive NCAA titles to its credit). But when you start getting no-shows at an INCH party, you know something strange is afoot.
BREAKTHROUGH TEAM
During his tenure as an assistant coach at Minnesota, Bob Motzko played a big role in recruiting a hulking Austrian named Thomas Vanek to play for the Gophers. And Motzko was a big part of the celebration when Vanek, as a freshman, led the Gophers to the NCAA title in 2003. Now entering his second season as the head coach at his alma mater, St. Cloud State, Motzko is apparently hoping to replicate what he did in Minneapolis and is bringing in a highly-touted Austrian freshman to provide offense for the Huskies this season. Andreas Nodl was second in the USHL in goals last season, and looks to light it up on the National Hockey Center's big ice sheet. His offense, added to the defense led by Casey Borer and the goaltending of Bobby Goepfert, and Huskies fans are suddenly thinking about the program making it's fifth NCAA trip since 2000.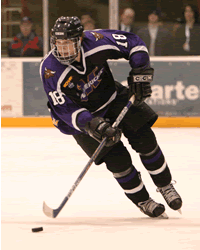 David Backes signed with the St. Louis Blues and had 12 points in 15 American Hockey League games last spring.
PRIMED FOR A FALL
Not even a house full of fans chanting, "One more year!" last February could keep Minnesota State Mankato star David Backes in school for his senior year, with the siren's song of NHL money calling his name. Then high-scoring Ryan Carter and top defenseman Kyle Peto followed Backes' lead, and suddenly there were gaping holes to fill in the Mavericks lineup. The good news comes in goal, where budding star Dan Tormey returns. But with one bona-fide scorer (Travis Morin, who led the team with 20-22—42 last season) next to many, many question marks on the Mavs' roster, Troy Jutting's seventh season in Mankato has the potential to be a long one.
PRESSURE TO PERFORM
The plummet has been fast and far for Minnesota Duluth, which has gone from a Frozen Four trip in 2004 to the lower half of the league in 2005 to one spot out of the WCHA cellar last year. Inconsistency in goal has the biggest problem, with some saying that four-year starter Issac Reichmuth never recovered from his team's third-period collapse versus Denver in Boston. Enter exciting freshman Alex Stalock, who was a first-team all star in the USHL last season. Stalock plays an aggressive high-risk game, often acting like a third defenseman as he handles the puck, comes way out of the net, and feeds passes up ice. He says he'll be more selective as he transitions to the faster college game, but his coach has no plans to rein in the rookie. "He'll cost us four or five goals by coming out of the net," says Bulldogs coach Scott Sandelin. "But he'll get us 12 or 13 by feeding the puck up ice and starting plays."
TOUGHEST ACT TO FOLLOW
WCHA fans are used to good things that come in pairs. That could mean back-to-back NCAA titles, like those seen recently at Minnesota and Denver, or top-notch pairs of forwards, like Pavelski and Earl at Wisconsin or Sterling and Sertich at Colorado College. In a normal year, budding star teammates like North Dakota's T.J. Oshie and Jonathan Toews would be looked upon as sophomores with promise and would be expected to learn under the tutelage of upperclassmen. Instead, just 18 months out of high school, Oshie is the WCHA's top returning scorer (with 24 goals and 45 points last season) and Toews is just one step away from an NHL career (after the Chicago Blackhawks made him the third overall pick in last summer's draft). Amid the speculation about their nickname's future and the preparation for an all-sports move to Division I, there are high expectations for the men's hockey team in Grand Forks. We see Oshie and Toews avoidance of sophomore slumps as they key to fulfilling those expectations.
BEST PLAYER
Between October and January of last season, Brian Elliott did all anyone could ask between the pipes for the Wisconsin hockey team, leading the Badgers to an 18-2-2 record and a seemingly insurmountable lead in the WCHA standings. A month later, when he returned from an injury suffered in practice, the Badgers' league title hopes were dashed and the team had hit what the players called "rock bottom." All Elliott did in the season's final six weeks was lead the Badgers to a 9-1-0 mark and an NCAA title, with five shutouts. His .938 saves percentage, and 1.55 goals-against average were almost enough to make him the third goalie to win the Hobey, but he got the trophy he really wanted after the title game, and danced around the ice in his goalie pads with a look of euphoria that we won't forget anytime soon. Many are surprised that Elliott's back for his senior year. But with the Badgers looking to become the league's third consecutive back-to-back NCAA title winners, the quest for a repeat starts in the Kohl Center's home goal.
BEST NEWCOMER
Minnesota rookie defenseman Erik Johnson's parents started bringing him to Mariucci Arena about the time he first learned to walk. Johnson would stare at the massive portrait of his great uncle, Ken Yackel, on one of the arena's murals, and marvel at the on-ice feats of star blueliners like Mike Crowley, Jordan Leopold, Paul Martin and Keith Ballard. Johnson (6-4, 222, with amazing skating skills) was contacted by several other schools inside and outside the WCHA looking to recruit him. He visited none of them, knowing that a recruiting trip to anywhere else would be a waste of time. When the St. Louis Blues made Johnson the first overall pick in last summer's NHL draft, many wondered whether Johnson would ever don a Minnesota jersey, but he says he's committed to his dream of being a Gopher for "this year and however long after." It goes without saying that Johnson hopes his first skate in the Blues' home rink comes in April at the Frozen Four.
UNSUNG PLAYER
Quick, name the three most interesting recent things about the Denver Pioneers. Most will mention Carle's Hobey, Stastny bolting for the pros, the playoff upset by Minnesota Duluth, their bizarre exclusion from the last NCAA tourney and the return of phenom Brock Trotter to the lineup this season. Lost amid all of that hype and hyperbole is the fact that the league's top returning goal-scorer will skate for the crimson and gold this season. Ryan Dingle, from that hockey hotbed of Steamboat Springs, Colo., had 27 goals last season and was an All-WCHA third-teamer, but was often overlooked among the bigger names and bigger happenings in and around Magness Arena. With a few promising freshmen forwards suddenly looking his way for guidance (and passes) Dingle has a chance to be the star of a high-scoring show in Denver.
THREE BURNING QUESTIONS
1. Do the Badgers need more offense to repeat? Wisconsin, aided by an army of red-clad fans, needed just one goal (in that three-overtime marathon with Cornell) to win the Midwest Regional in Green Bay and just two goals to beat BC for the title in Milwaukee. With the league's best player in goal, and a defense-first system that works, their off-season losses at forward might not be a huge problem.
2. Just liked we asked last year, will there be enough pucks to go around in Minneapolis? Recently, Don Lucia watched an NHL first-rounder walk out the door when Phil Kessel decided to make college hockey a nine-month gig, then watched three more NHL first-rounders (Johnson, Kyle Okposo, and David Fischer) walk in the door. There was a lot of talk about unrest (much of it attributed to Kessel) inside the Gopher dressing room last season. Peace, and goaltending, are the keys to success this year in Dinkytown.
3. Will they play Three Dog Night's 1969 hit "Eli's Coming" over the Michigan Tech p.a. system this season? Michael-Lee Teslak is the latest in a string of talented goalies that has thus far failed to be enough to get the Huskies into the league's upper half. Enter highly-touted rookie defenseman Eli Vlaisavljevich, who averaged nearly a point per game in the USHL last season. Along with senior Lars Helminen, coach Jamie Russell suddenly has impressive depth at a position where the Huskies have been young and vulnerable for the past few seasons.
MARK IT DOWN
Five things you can take to the bank in the WCHA this season
1. Fans will see the future of college hockey during the exhibition season. With heavyweights like Lethbridge, Windsor, Lakehead and the University of Calgary doing their annual early fall tour of the WCHA, the league is experimenting with a few rules changes designed to bring a more open, "new NHL" style to the game. They're using two refs and two linesmen, not allowing shorthanded teams to ice the puck, and not allowing substitutions after icing. With USA Hockey changing the rules to bring a more open, obstruction-free game to all levels of the sport, the days of the "Western Clutch and Hold Association" are numbered.
2. Five members of the Alaska Anchorage hockey team don't get spooked easily. Over the summer, Seawolves Chris Tarkir, Nathan Lawson, Luke Beaverson, Mark Smith and Blair Tassone found a great deal on a five-bedroom, two-bath home, in Anchorage's Midtown neighborhood less than two miles from the UAA campus and a five-minute drive from Sullivan Arena. It turns out the rent was so cheap because a woman had been stabbed to death by her husband there in April. Undaunted, the five moved in.
3. Chemistry students were very disappointed by an early departure at St. Cloud State. Before announcing that he was forgoing his final year of college eligibility, former Huskies goalie Tim Boron had considered having some fun with numbers this season. Boron was planning to wear number 53 as a senior (he'd worn number 1 previously). Those with a periodic chart can tell you that 5 is the number for the element Boron. The goalie planned the 3 as a backwards E for "element." Those of us who majored in journalism thought that "The Fifth Element" was just a bad Bruce Willis movie.
4. Plenty of Sioux fans will be displaying "purple pride" this season. In April, the president of Holy Cross spoke at a fund-raiser in Minneapolis, telling the crowd of alumni that since the Crusaders' historic upset of Minnesota in the NCAA tournament, the amount of Holy Cross Hockey merchandise being sold over the Internet had skyrocketed. Interestingly, school officials noted that a large portion of the hats, t-shirts and sweatshirts were being sent to addresses in North Dakota. Luckily for the Gophers, they have no trip to Grand Forks on their 2006-07 regular season schedule.
5. Hotels in Mankato will feel the financial loss from a few visiting teams who don't stay overnight this season. Home-and-home series used to be a bit of a novelty in the far-flung WCHA. At Minnesota State Mankato, they're becoming the rule, not the exception. The Mavericks will play two home-and-home series with Minnesota, two more with St. Cloud State, and one with Notre Dame this winter. We think it takes a true lover of bus travel to play the Irish in South Bend on a Thursday, then play them nine hours down the road on Saturday.
Predicted Finish

No.

School
Of Note

1.

North Dakota
Offensive depth gives the Sioux an edge as third-year coach Dave Hakstol looks to go three-for-three in Frozen Four trips.

2.

Minnesota
The defending conference champs need consistent goaltending to quickly erase the memory of their upset loss in the NCAA tourney.

3.

Wisconsin
The Badgers lost a lot of offense in the wake of their NCAA title. With a defense-first system and the nation's top goalie, will it matter?

4.

St. Cloud State
With a great goalie, veteran offense, size on defense, promising freshmen and a boost of confidence, the elements are in place for the Huskies.

5.

Denver
Ryan Dingle is the league's top returning goal scorer. The Pioneers will need all of his offense, and more, to right the wrong of their NCAA un-vitation.

6.

Minnesota Duluth
After two seasons of underachievement, Bulldog fans look for a risk-taking rookie goalie to make them more consistently competitive.

7.

Colorado College
With the most dynamic offensive pair in the league now in the famous alumni category, Matt Zaba's goaltending means more than ever.

8.

Michigan Tech
There's potentially great goaltending by Michael-Lee Teslak, but too many questions elsewhere to pick the Huskies higher.

9.

Minnesota State Mankato
The Secret Service doesn't follow Dubbya as closely as Travis Morin will be shadowed by opponents this season.

10.

Alaska Anchorage
Dave Shyiak's summertime housecleaning among his coaching staff shows he's serious about the future. The present is a challenge.