October 7, 2007
2007-08 Atlantic Hockey Preview
By Ken McMillan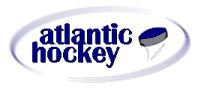 THE SKINNY
Atlantic Hockey saw a major transformation last season, with league newcomers Rochester Institute of Technology and Air Force ascending to the top and perennial contenders Holy Cross and Mercyhurst taking a hit. In fact, only one team – Sacred Heart – managed to finish in the top four in consecutive seasons.
It doesn't appear as though RIT nor Air Force will relent much this season, each sporting veteran lineups with very few holes to fill. RIT was ineligible for the conference title and NCAA tourney berth since the program was only in its second year of NCAA Division I status, so the Tigers did all that they could do by winning the regular-season title.
Air Force captured its first playoff title by beating Sacred Heart in the semifinals and Army in the finals, then turned in a memorable upset bid against Minnesota in the NCAA Tournament. The Falcons are still flying high with Hobey Baker finalist Eric Ehn back for another season, and an answer in goal as freshman Andrew Volkening won the job late last season.
BREAKTHROUGH TEAM
It seems ridiculous to label Mercyhurst, a perennial top-four team, as a team poised for a breakthrough, but the Lakers are coming off a very difficult season in which they won just nine games and got ousted in the first round of playoffs. Gone are high-scoring forwards Scott Champagne (141 points) and Kyle Gourgon (91), and every goalie with any experience in the Lakers' green-and-blue.
This would be cause enough for Mercyhurst fans to jump into Lake Erie, but not so fast. Goalie Matt Lundin returns to college hockey following a year of exile in the U.S. Hockey League. Lundin played parts of two seasons for the University of Maine, and if he returns to any bit of his past form, the Lakers will be transformed into a contender. Throw in three 30-goal scorers in the recruiting class and the return of Ben Cottreau – poised to become the league's all-time leading scorer – and suddenly the team's fortunes aren't looking so bad after all.
Maybe breakthrough isn't the word for it. It's best we call Mercyhurst the bounce-back team.
PRIMED FOR A FALL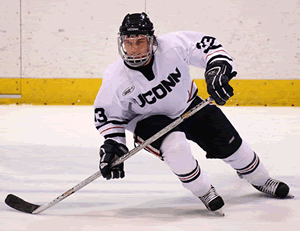 Connecticut's offensive losses are significant, and will put additional pressure on 20-goal scorer Chris Myhro.
There are not many teams that can take a large graduation hit and still contend for one of the league's elite spots. Connecticut's program was built for success last season with 10 seniors in the lineup, and the Huskies responded with a fourth-place finish and berth in the tourney semifinals.
The Huskies lose players who accounted for 275 games last season, with 57 goals and 91 assists. In their careers the graduates combined for 1,087 games, 193 goals and 262 assists.
The cupboard is hardly bare for Connecticut. Junior Chris Myhro is a 20-goal, 31-point player, junior Sean Erickson is back on defense, and sophomore Beau Erickson is back in nets after posting a 10-win season and 2.92 goals-against average.
PRESSURE TO PERFORM
Rochester Institute of Technology had a great rookie season in Atlantic Hockey, improving 15 wins over its lone season as a Division I independent. But the Tigers lost their top scorer, Steve Pinizzotto, and No. 1 goalie, Jocelyn Guimond, to the pros. Some teams would fold their tents, but RIT returns the top freshman netminder in Louis Menard and seven 20-point scorers, making the Tigers one of the more formidable offenses.
TOUGHEST ACT TO FOLLOW
Until last season Army had been nothing but a second-division club which played gritty hockey without the offensive firepower to support all-star goaltending. The Black Knights took a huge step forward in 2006-07, riding a previously unknown goalie in Josh Kassel and discovering an offense. Army had four players post double-digit goals and five account for 20-plus points.
The Black Knights lost their No. 2 scorer, defenseman Tim Manthey, to transfer and No. 5 scorer Casey Bickley to graduation. Manthey's departure could adversely affect the Army power play, which took major steps forward. Army scratched out five one-goal wins and posted a .500 record on the road, a tough act to duplicate in any year.
BEST PLAYER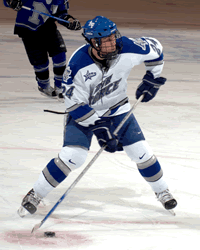 Once an unknown, Eric Ehn enters 2007-08 as a household name in college hockey.
This was not a hard choice. Eric Ehn, a senior at Air Force, was the league's player of the year and a finalist for the Hobey Baker Award last year. Ehn had a season for the ages, posting 24 goals and setting a league record with 64 points. Hockey fans voted Ehn the top candidate for the Hobey Baker but Ryan Duncan of North Dakota won the award. Ehn won 63 percent of his faceoffs, he is lethal on the power play and he stays out of the penalty box.
BEST NEWCOMER
Matt Lundin is no stranger to college hockey, having started his career at the University of Maine. But the Bears have had a tremendous run of solid goaltenders, and Lundin returned to the USHL with the goal of catching on elsewhere. Hello, Mercyhurst.
The Lakers were in serious need for goaltending, and not only does Mercyhurst receive a top-flight replacement but a goalie who didn't sit idle last season. Lundin posted a 2.55 goals-against average and was the USHL's playoff MVP. A step up in goaltending is exactly what Mercyhurst needs to return to prominence.
UNSUNG PLAYER
Dale Reinhardt has been one of the league's most consistent players since arriving on the Holy Cross campus three years ago. The forward found his niche in a high-powered Crusader offense – never the leading scorer but a person who always finished in the top five or six. He produced 11 goals as a freshman and sophomore and barely missed the top of the Crusader scoring list last season, when his 16 goals were one shy of Tyler McGregor's total. Reinhardt heads into his senior season eight points shy of 100, making him the second-leading active scorer in Atlantic Hockey, and if he can approach last season's 34 points, he will make a push to finish among the league's top 10 scorers of all-time.
MARK IT DOWN
Five things you can take to the bank in Atlantic Hockey this season
1. Ben Cottreau will set the all-time scoring mark. The Mercyhurst senior has 120 career points and needs just 39 to surpass Sacred Heart's Pierre-Luc O'Brien. Cottreau missed seven games last season and still managed 35 points. He posted 51 points as a sophomore. Cottreau needs 23 goals to surpass all-time goal scorer Tyler McGregor of Holy Cross (70), but that may be asking too much.
2. Signing a deal with the B2 Networks will have long-term benefits. Atlantic Hockey has been begging for exposure, and there's no better way than providing a video service for fans and recruits. In the movie Rink of Dreams who can forget the mystical voice: "Televise it, and they will come." (Okay, I made that up but if Hollywood wants a script, just drop me a line).
3. We'll see no first-round playoff upsets. The league has finally adopted a best-of-three format for the opening round, thus protecting the higher seeds.
4. Rochester won't be as lame a host of the post-season tournament as last year. The city had plenty of snow but the tourney had no enthusiasm, no fanfare and no fans. Rochester officials admit they didn't promote the event nearly as much as the NCAA regional which took place a week later. The league deserved better treatment.
5. Expansion is coming. Commissioner Bob DiGregorio says the topic has been tabled for now, but the apparent demise of College Hockey America is going to require a lifeboat to rescue the four survivors. Atlantic Hockey may be the only answer.
Predicted Finish

No.

School
Of Note

1.

RIT
The hometown Tigers have the firepower to win the league once again, and fill up the seats at Blue Cross Arena for the league tourney.

2.

Air Force
Hobey Baker finalist Eric Ehn will bring a lot of much-deserved attention to the Academy and Atlantic Hockey as a whole.

3.

Army
With Owen Meyer, Bryce Hollweg and Luke Flicek up front and Josh Kassel in goal, the Black Knights are out to prove last season was no fluke.

4.

Sacred Heart
Losing the league's all-time top scorer and a No. 1 netminder is tough, but the Pioneers have the pieces to stay in contention.

5.

Mercyhurst
If Matt Lundin lives up to reputation, the Lakers can reverse some closes losses and return to the winning ledger.

6.

Connecticut
The Huskies hope to carry momentum over but need to discover some new scorers.

7.

Holy Cross
The Crusaders went from an NCAA team to a struggling outfit. Once Holy Cross settles its novice goaltending, the Crusaders should surge again.

8.

Bentley
The Falcons lost just one senior and remain the youngest outfit in the league. Maturity alone should prevent a late seven-game swoon which felled the Falcons last year.

9.

Canisius
Coach Dave Smith heads into his third season with a sophomore-heavy lineup that started to put up some good numbers and a freshman class that boasts four 20-goal scorers in junior hockey.

10.

American International
The Yellow Jackets have some positives to build off, returning seven of their top eight scorers and two junior goalies from a team that posted a playoff win.