October 25, 2007
Volkening Turns Shock Into Spectacular
By Ken McMillan
Andrew Volkening was as shocked as anyone when Air Force coach Frank Serratore turned to the freshman netminder to start the biggest game in Falcon history.
Atlantic Hockey Notebook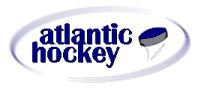 Air Force was set to play Army for the Atlantic Hockey championship last March, and Serratore decided to give Volkening his first start in four months.
"I was actually pretty surprised," he said, "but at the same time I was really excited for the opportunity."
It turns out Serratore knew what he was doing. Volkening kept Army off the scoreboard for nearly 53 minutes and stopped 23 shots as Air Force won 6-1 and advanced to its first NCAA tournament.
Volkening almost worked his magic a week later as he backstopped Air Force to a 3-1 lead midway through the third period before Minnesota rallied for a 4-3 triumph in the West Regional semifinals.
"It always helps out when your coach has confidence in you," Volkening said. "It just makes you want to work even harder."
That's why it's not unusual to see Volkening training by himself at the Cadet Ice Arena, working on his skating and mobility, and simulating game situations.
"Some guys were made to be ice hockey goalies, and Andrew Volkening is one of those guys," Serratore said. "He has a passion for the position."
Playing with more confidence than he even showed as a rookie, Volkening picked up where he left off last season and lifted Air Force to a pair of huge wins – some would say upsets, outside of Colorado Springs, of course – over No. 14 Quinnipiac. He made 26 saves in a 4-1 win on Friday and 21 stops in a 3-1 victory on Saturday.
"We haven't had that kind of goaltending this weekend for an awful long time," Serratore said. "He made some big and timely saves. That was the difference in winning two games."
Serratore said he's had a pretty good team for three years, only the goaltending didn't match up with the rest of the squad. The emergence of Volkening certainly makes the Falcons a formidable threat to repeat as Atlantic Hockey champion.
"We've been there (to the NCAAs) and I think we can do it again," he said. "You never know what is going to happen but I would love the opportunity to make it there again and see what we can do. Last year really felt like it slipped through our fingers."
Volkening made a slow adjustment to the college game. "I think a big thing that I am learning is just being out and aggressive and not finding myself back in the paint if I don't have to be," he said. "We're a good defensive team. We don't allow a lot of shots and I think the defense is doing a good job of keeping stuff to the outside where we can be successful."
Volkening is happy with his decision to attend Air Force and accept the military commitment that comes with it.
"Air Force, everything about it is first class, from the education to the program to the coaches," he said. "I just decided that I wanted to go in this direction with my career and with my life. It was too good an opportunity to pass up. It's putting myself through college – I don't have to pay anything."
As a behavioral science major, perhaps Volkening probably understand the dynamics of a locker room better than others. There's a lot of rap music played in the Falcons' quarters, but Volkening prefers quiet and solitude – kind of unusual for a guy who likes Nine Inch Nails, Death Cab for Cutie and the Matthew Good Band.
"I think everybody sees what's going on and respects my space and everything," he said.
SEEN AND HEARD IN ATLANTIC HOCKEY
Thanks for the effort: Air Force coach Frank Serratore was thrilled to take two games from No. 14 Quinnipiac and pleased with the effort.
"We're good at home," he said. "We played hard. We're a tough team to beat and a tough team to play against, especially tough if you don't match our work ethic. We were the harder-working team (against Quinnipiac)."
Serratore said those two wins will mean little if the Falcons drop their conference season-opening series at Bentley College this weekend. "Bentley is a tough place to play," Serratore said. "I don't want to get ahead of myself. Two games does not make a season."
Air Force is relying on an experienced lineup. The Falcons used just one freshman on their first three offensive lines. Serratore said once Josh Print returns from a high ankle sprain, he should regain his spot on one of the top units.
Serratore praised the play of defenseman Greg Flynn, who scored twice from the point and set up another goal against the Bobcats – Flynn was named the Atlantic Hockey player of the week for his efforts.
"He is without question our top guy on defense," Serratore said. "He plays in every situation. He has the ability to play 30-35 minutes a game if we need him to do that.
No advantage without Tim: Some spies I know watched Army battle RPI last weekend, and they say the Black Knights are certainly missing the quarterback efforts of Tim Manthey on the power play. Army has scored just once in 14 man-up opportunities (7.1 percent).
With Manthey running the point the past two seasons, Army improved from a woeful 8.8 percent without him in 2004-05, to 12.9 percent and then to 15.6 percent last season.
Manthey transferred to a Division III school in Wisconsin.
No homecoming for Lundin: Mercyhurst goalie Matt Lundin, a highly touted transfer from Maine, injured his shoulder in the season-opening loss to Ohio State, popping out his shoulder twice. He is expected to miss six to 12 weeks.
"There are no complete tears, but there might be a slight tear in the labrum, but I'm not sure," Lundin told the Erie News Times. "It's more loose than anything, just maybe some muscle tears and small things."
Talk about poor timing — Mercyhurst had a two-game set scheduled at Maine for the following weekend and Lundin had to sit out.
Coach Rick Gotkin now has to turn to freshman Ryan Zapolski. He made 33 saves in his first start against No. 11 Notre Dame. In the Maine series he made 45 stops on Friday and 34 stops on Saturday – the Lakers lost to the Bears, 4-2 and 4-1.
Coors versus Sam Adams: The NCAA prohibits gambling in all forms, but that probably doesn't cover the friendly wagers Air Force coach Frank Serratore has made with all of his New England counterparts on the World Series. Obviously, Serratore is rooting for the Colorado Rockies, while the hockey hub cheers on the Boston Red Sox.
"There is a lot of pride being bet on this series," Serratore said before the Rocks fell into a 2-0 hole.
Sounds like Serratore is going to have to order some Rocky Mountain refeshing Coors for his Sam Adams pals – that is, if the chowder heads consider that fair trade, afterall.
Great Weekend Getaway

Holy Cross at Mercyhurst
(Fri.-Sat.)

Two seasons ago, we would've been talking about a showdown between league leaders. Now it's a matchup between two proud programs trying to climb back among the league's elite. Holy Cross is coming off an outstanding victory over Providence. The jury is still out on Mercyhurst, which has lost all four games thus far to top-20 teams.

While you're there: OK, maybe attending the ballet is not quite in synch with ice hockey but there have been players who have taken ballet lessons in order to improve their balance and mobility. Anyway, the Mercyhurst Dancers will perform "Leaps and Bounds" at the Mary D'Angelo Performing Arts Center on Saturday afternoon.


Stick Salute

It's one thing to knock off a top-15 team once on a weekend, but Air Force performed the feat twice and surely dismissed ECAC Hockey's Quinnipiac from the ranks of the ranked.
FRIES AT THE BOTTOM OF THE BAG
• Huskies are No. 1 – Connecticut knocked off American International, 4-2, on Friday in the only Atlantic Hockey league contest played thus far. Freshman Andrew Olson scored twice in that contest and has four goals thus far, leading all rookies. Last season Olson scored 18 goals with the Des Moines Buccaneers of the U.S. Hockey League. Connecticut dropped a 4-3 loss to Massachusetts on Saturday.
• Connecticut hosts Army in a Saturday matchup in Storrs. The last time the clubs met Army disposed of the Huskies in the Atlantic Hockey semifinals.
• Big Red at Blue Cross – The Blue Cross Arena in Rochester will play host to a Saturday non-league affair between Rochester Institute of Technology and No. 18 Cornell. It is RIT's first game at cross-town Blue Cross Arena since 1986. RIT is ranked fourth in the nation on offense and on the power play.
• Pioneers to open against Griffs – Sacred Heart will host Canisius in a weekend series. Sacred Heart won three of four meetings last season, winning both home games.
• Matching ohs – Sacred Heart dropped a 1-0 overtime decision at RPI. The Pioneers were shut out just once in each of the last two seasons.
• Crusading through Hockey East – Holy Cross toppled Providence, 6-4, for the program's third win in four career contests against Hockey East schools. The Crusaders beat Merrimack in Oct. 2006 and topped Massachusetts-Amherst in Oct. 2005.
A variety of sources were utilized in the compilation of this report. Ken McMillan can be reached at ken64@insidecollegehockey.com.