November 1, 2007
Tigers Taking Rochester By The Tail
By Ken McMillan
Rochester Institute of Technology has a lot to be proud of in its short tenure as a Division I hockey program, including a regular-season championship in Atlantic Hockey last season. But the Tigers may have experienced an even better moment last weekend.
Atlantic Hockey Notebook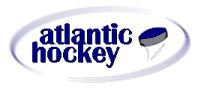 The school that wants to etch its name in the mindset of Western New York hockey fans may have done so with an impressive 4-1 victory over 18th-ranked Cornell from the ECAC Hockey League before an appreciative crowd of 5,142 fans at Blue Cross Arena.
"It exceeded all of our expectations with the fans and winning the game," said RIT head coach Wayne Wilson.
It was RIT's first appearance at the city's entertainment venue in over 20 years. The Arena will also host the Atlantic Hockey tournament, and RIT is expected to be a top seed.
"It was something our school wanted to try, bringing a game downtown," Wilson said. "We wanted as big a name opponent as we could get and Cornell certainly fit the bill."
The school was hopeful of attracting more than 5,000, and it aided the process by running shuttle buses between the school and the Arena. As RIT's popularity grows, the school has actually started to turn away fans from its home rink, Ritter Arena, which seats a bit over 2,000 with standing room – estimates between 300-500 fans were turned down for tickets for the Bowling Green visit.
"I think the fans really enjoyed it," Wilson said of the Cornell game. "It was a really good atmosphere. It was as good an atmosphere as we have ever played in. The fact we won certainly helped."
RIT shot out to a 2-0 first-period lead on power play goals from Matt Smith and Sean Murphy. Cornell halved the lead midway through the third when Joe Devin scored. The Tigers responded with tallies from Simon Lambert and an empty-netter from Tyler Mazzei. Louis Menard made 22 saves to preserve the win.
Menard is off to a rough start statistically with a 4.05 goals against and .872 save percentage.
"Louie has been very solid in net," Wilson said. "As crazy as it is, he has played well in all three games, and he's really had some poor bounces. … He has done very well."
RIT would like to make an annual visit to Blue Cross during the regular season.
"This is something we will continue to do," Wilson said. ECAC Hockey member Clarkson is scheduled to visit Rochester next season, and Wilson said plans may have to be made for three and four years out because the arena schedule is tight with the AHL's Rochester Americans and numerous shows and exhibits.
Wilson says once fans in the Rochester area get a taste of the passion that goes into Division I college hockey, they'll be back for more.
"Our community wasn't exposed to the Division I college game, with the pep bands going and the fans being as vocal as they can be, and where the players lay it on the line," Wilson said. "Our players play just twice a week so they get after it more than the grind of a professional hockey player."
SEEN AND HEARD IN ATLANTIC HOCKEY
Holy Cross Back On Top: Falling from the perch of league champion in 2006 to sixth place last season was a tough pill to swallow for Holy Cross but the Crusaders are feeling good with a cast of talented freshmen. Coach Paul Pearl's team is back on top of the league (albeit after just two weeks of play) after taking three of four points at Mercyhurst.
"We're doing OK," Pearl said. "We're pleased but we're far from a finished product. There is a little bit of work to do in every zone and in every system. We have some work to do ahead of us."
Holy Cross posted a 6-4 win at Providence on Oct. 20, and followed with a 4-1 win and 2-2 draw at Mercyhurst.
"We've done a really nice job of limiting opportunities from the scoring area," Pearl said. "We're trying to take care of the slot and defend well. We've spent a lot of time in our defensive zone and our breakout – we're pretty pleased with how that has gone. Five-on-five offensively, we would like to get more going but we've gotten good looks on the power play and that has spearheaded the offense."
Providence potted three power play goals but Mercyhurst was held to 1-for-11 on Saturday.
Senior Dale Reinhardt is centering two freshmen wingers, J.P. Martignetti and Joe Brock – that line accounted for six points on Friday. The second line has clicked well with two sophomores, center Rob Forshner and right winger Brodie Sheahan, and freshman Everett Sheen on the left side. Sophomore center Ryan Driscoll and junior left winger Dewey Thomson are the first penalty kill unit, and team with speedy newcomer Jamie Jelinek on the right side.
Holy Cross is averaging 3.5 goals per game, a nice step up from its 2.74 average last season.
Pearl is pleased with his goaltending play thus far. Sophomore Ian Dams (1-0-1, 2.88, .921) and freshman Adam Roy (1-1, 3.50, .917) have performed well and will continue to split action.
The Big Stage: Who cares about the Patriots and Colts? College hockey fans have Army and Holy Cross on ESPNU on Sunday afternoon.
"This is great for our league, certainly, as well as for our program," Army hockey coach Brian Riley said. "Any type of exposure is good for your program in regards to recruiting and gives you more visibility. We are excited to be on national television three times this season."
Let the football fans have Foxboro. The center of the Atlantic Hockey universe will be Worcester.
"People outside of our realm will be impressed with the quality of play, and also our building and campus," said Holy Cross coach Paul Pearl. "It's a huge thing for Holy Cross hockey and for our school."
Crusaders Lose a Warrior: Holy Cross senior defenseman Matt Burke separated a shoulder on the first shift of the Mercyhurst series. He was lost for the remainder of the weekend and is expected to be out for the next three weeks, coach Paul Pearl said.
"Fortunately, it's not a long-term thing," Pearl said. "The positive is we initially thought we lost him for the year."
Burke has played 111 career games for Holy Cross.
"We'll have to get some other defensemen to make up what Matt brings to us," Pearl added.
Great Weekend Getaway

Army at Holy Cross
(Sat.-Sun.)

This is not your typical Friday-Saturday fare. No, the folks from ESPNU decided to give Atlantic Hockey a look-see so both schools agreed to shift the series by one day in order for Sunday afternoon's tilt to be aired. What they will see are two teams which skate very well and have strong defenses. Holy Cross will look to continue its mastery over Army at the Hart Center.

While you're there: Bring a sign to Sunday's game. Make sure you write something witty with the letters ESPNU, and you're a lock to get on TV.


Stick Salute

Congrats go out to Rochester for pushing 5,142 fans through the turnstiles to watch RIT beat Cornell at the Blue Cross Arena. Hopefully some of these same people show up for the Atlantic Hockey tourney because it looked mighty sparse last year.

Bench Minor

RIT, Holy Cross and Sacred Heart are excelling on the power play but the rest of the league is struggling big time. In fact, Air Force, Army, Bentley and AIC have power play percentages of less than 10 percent. Ouch.
FRIES AT THE BOTTOM OF THE BAG
• Army has 'Hart' attack – Army has not fared well at Holy Cross' home rink, the Hart Center. The Black Knights have lost their last eight games at Hart, starting with a March 2003 playoff loss in the last days of the Metro Atlantic Athletic Conference Hockey League. Army's last win at Hart was a 3-1 decision on Feb. 1, 2003. Holy Cross has taken six of eight points from Army in each of the past two seasons.
• Army sends Huskies to kennel – Army extended its unbeaten string over Connecticut to seven games (5-0-2) with a 4-1 win in Storrs. The Black Knights have won their last three games at Freitas Ice Forum. Army's top line of Bryce Hollweg, Luke Flicek and Owen Mayer each posted a goal and accounted for eight points. This was the first meeting since Army downed U.Conn in the Atlantic Hockey semifinals in March.
• Home away from home – Connecticut plays a home-and-home with Sacred Heart this weekend, starting in Milford and finishing in Storrs. The Huskies won three of four games last season and have won nine of their last 12 meetings with the Pioneers. The Huskies have won three of the last five contests at SHU's home rink, the Milford Ice Pavilion.
• Revving up the Thruway series – Rochester Institute of Technology and Canisius play a home-and-home, opening in Rochester and moving on to Buffalo. The Tigers took three of four from the Golden Griffins last season, winning twice at Canisius' alternate home site, the Pepsi Center in Amherst. Canisius handed RIT one of its four home conference losses last season.
• Making an early exit onto Victory Lane? – American International College has got off to some nasty starts in recent seasons. The Yellow Jackets opened with losing streaks of eight, four, six and 12 games over the past four seasons. AIC is 0-2 this season, with a home-and-home series pending with Bentley, opening in Waltham and closing in West Springfield. The two teams held serve on home ice in four meetings last season. The last time AIC managed an early victory was a 4-3 win over Fairfield (in the Quinnipiac Cup tournament) in the 2002-03 opener.
• We won. No, we really did – Canisius has won twice and has nothing to show for it since both games were exhibitions against Canadian colleges (Royal Military College, Manitoba). Thus, the Griffs are winless in five official games (0-3-2). The Griffs were 0-4 in 2006-07, 0-3-2 to start 2003-04 and 0-6 to start 2002-03.
• Lake warning – Mercyhurst fell to 0-5 with the 4-1 loss to Holy Cross last Friday. The Lakers salvaged a point with a 2-2 tie on Saturday. The Lakers opened at 0-3 in 2001-02, 0-2 in 2002-03 and 0-3 in 2004-05 and 2006-07.
• Falcon v. Falcon — Bentley halted 0-4 slide to start season with a 4-0 win over Air Force on Friday. Air Force bounced back for a 3-1 win on Saturday. The 1-4 Bentley start equals the 2002-03 start, and a tick better than the 0-5 start in 2001-02.
A variety of sources were utilized in the compilation of this report. Ken McMillan can be reached at ken64@insidecollegehockey.com.