January 24, 2008
Special Feeling When Academies Meet
By Ken McMillan
There is a purity of sport and a patriotic sense of purpose whenever the nation's service academies meet on the athletic battlefield.
The players often are unheralded. The vast majority of Academy athletes realize the pro ranks are not a possibility, and their futures lie with protecting the nation's interests.
Atlantic Hockey Notebook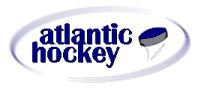 That is why the passion is intense when Air Force and Army meet in their annual hockey matchup.
"It's a classic college series," said Air Force coach Frank Serratore. "There is nothing like a service academy rivalry. ... There's always a lot of pride on the line."
The rivalry took on special meaning last season when both teams advanced to the Atlantic Hockey tournament finals in Rochester. Air Force smacked Army, 6-1, and earned the NCAA tourney berth – don't think the Black Knights have forgotten the pain of that setback.
Air Force will limp into the series after losing three starters to injury last weekend, notably all-star forward Eric Ehn, a Hobey Baker finalist last season. Ehn was hooked down from behind on a speed rush to the net in Saturday's 2-1 loss at Colorado College. Ehn crashed skates-first into the end boards and fractured his left fibia, in addition to possible ligament damage.
He should be out of the lineup for several weeks, and perhaps the rest of the season.
"We're not in the business of being devastated," Serratore said. "Hockey is a violent, collision sport. Players know (they can get hurt).
"Other guys have to pick up the slack, and as a team you have to carry on."
Serratore had to break up his potent unit of center Jeff Hajner and wingers Matt Fairchild and Brent Olson to spread the talent.
On the positive side, the Falcons held two of the nation's most-potent offensive teams (No. 4 Denver and Colorado College) to just four goals in two games. Air Force's 5-2 win was its first over Denver since 1980, ending a 19-game losing streak to the Pioneers, and its first over a WCHA team since beating Colorado College, 6-5 in overtime, in 1985. It was the Falcons' first win over a top-five foe since beating No. 4 Colorado College in 1975.
Army snapped an eight-game winless streak last Saturday. The Black Knights scratched out two goals in the final eight minutes, against the hottest goalie in the conference – Andrew Loewen of Canisius – to pull out a 2-1 win, and the relief was evident in the Army locker room.
"I know that was a big emotional burden to lift off our shoulders," said Army senior Biff McNally, who is hoping for a springboard effect into the Air Force series.
In good years and bad years, the rivalry is always spirited.
"It's a matter of pride to be playing for your school and in an important game," McNally said. "There is a certain level of respect and understanding that passes between the players on both teams, that flows from the experiences that we've had and what we're all getting ready to do once we graduate. That heightens the intensity of the game; it heightens the sweetness of victory."
SEEN AND HEARD IN ATLANTIC HOCKEY
The Wall: Pitching one shutout is tough enough but Canisius sophomore goalie Andrew Loewen found a way to make it back-to-back with a stellar effort.
Coming off a 26-save effort and 4-0 win over Connecticut, Loewen stopped 40 Army shots on Friday night as the Golden Griffins posted a hard-fought 3-0 victory at West Point.
He carried his hot play into the second series matchup, keeping Army off the board for 51 minutes, 28 seconds on Saturday – he gave up two goals in a 2-1 setback. He had 30 saves.
Loewen's scoreless streak reached a school-record 201 minutes, breaking Dan Giffin's old mark of 147:34 set in 2005-06, and he stopped 104 consecutive shots.
His save percentage in January is .969 and his goals against is 0.99. Loewen's backstopping has helped the Golden Griffins stop 53 of their last 54 man-down situations.
"When our forwards do their job, the defense does their job and I have a chance to see the pucks, it makes things easier," Loewen said. "I'm also in the zone right now and when you're on, you're on."
Back On Top: Defending regular-season champion Rochester Institute of Technology moved into first place with a pair of 4-2 wins over visiting Sacred Heart, extending its win streak to three games.
RIT (10-5-3, 23 points) moved ahead of Air Force (9-6-3, 21 points) and Sacred Heart (8-5-3, 19 points).
RIT's Matt Smith scored his 14th and 15th goals, both on the power play in the opening period, as the Tigers won the opener. Stevan Matic, Ricky Walton and Simon Lambert netted third-period goals in the second win. RIT's Louis Menard made 57 saves in two nights.
"We kept our composure throughout, did a good job to beat a very good team," said RIT coach Wayne Wilson, "but we still have a long way to go in conference play. Getting a sweep in this league is hard to do, and this was a big weekend for us."
The Tigers are getting it done late: RIT outscored Sacred Heart, 5-0, in the two third periods after being outscored 28-13 by opponents before the series.
It was the second time Sacred Heart was swept by one team on the road this season (Niagara was the other).
Backing Up The Talk: Army junior Josh Kassel recently lost his starting goalie job to youngsters Jay Clark and Joey Spracklen, although neither held on for good. Kassel lost the opener of the Canisius series, but still went to coach Brian Riley after the game and asked for the chance to start the Saturday game.
"Give me the opportunity and I will get it done," he told Riley, whose original plan was to keep his rotation alive until someone earned a win. Riley pondered the request for a night and gave his incumbent the nod.
Kassel responded well, stopping 22 of 23 shots in Army's 2-1 win. It was his first win since beating Sacred Heart on Nov. 30, and earned him the starting job in Friday's series opener with Air Force.
"Sometimes you have a gut feeling," Riley said. "He backed up what he said he would do. I have a lot of respect for him coming to me like that."
Great Weekend Getaway

Air Force at Army (Fri. and Sun.)
The Atlantic Hockey finalists from last year meet up for the first time since Air Force left Rochester with a 6-1 win and the NCAA tourney berth. Air Force sniper Eric Ehn has been grounded with a fractured fibia but the Falcons have plenty of offense in reserve. Brent Olson leads the team with 11 goals and is second with 24 points. Jeff Hajner has eight goals and 20 points. Andrew Volkening has ascended to the top of the league's goalie rankings with a 2.39 goals against. Army counters with leading scorer Owen Meyer and his 13 goals and 23 points. Luke Flicek has eight goals and 23 points. Bryce Hollweg has six goals and 19 points. Josh Kassel has earned his place back in net with his 2.67 goals against. The teams split at Colorado Springs last season and Army swept a home pair the season before.

Stick Salute

Pitching one shutout is tough enough, but Canisius netminder Andrew Loewen has three this season. He stopped 40 shots to beat Army, 3-0, and extended his streak to over 202 minutes before allowing a goal. He is the main reason why the Golden Griffins are fighting for a home playoff position.

Bench Minor

It's only January but Sacred Heart is probably kicking itself after dropping a pair of 4-2 games at RIT. These two teams could meet again in the playoffs, and RIT has taken four in a row.
FRIES AT THE BOTTOM OF THE BAG
• Holding fort – Connecticut took three of four points from visiting Mercyhurst, the first time the Huskies have done that in a weekend series this season. The Lakers overcame three one-goal deficits to forge a 3-3 tie in the opener. Beau Erickson stopped 41 of 43 shots in the nightcap, and Chris Myhro's goal with 7:06 remaining lifted U.Conn to the 3-2 victory. Mercyhurst forward Ben Cottreau did manage to extend his scoring streak to nine games with his eighth goal, and moved into 10th place on the Lakers' career list with 143 points, surpassing Scott Champagne's 141.