February 28, 2008
Air Force Prepared to Defend Its Title
By Ken McMillan
Air Force doesn't need a reminder that it won the 2007 Atlantic Hockey title to get ready for its defense.
The arrival of the playoff season should be enough motivation, says coach Frank Serratore.

Atlantic Hockey Notebook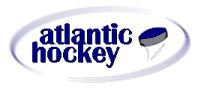 "We've never said, 'Let's defend the title,'" Serratore said. "What we talk about here is the opportunity. This is when all great teams come together and start to play well. It's playoff time.
"Last year is old news. It's about this year," he added.
With two games remaining against visiting American International, Air Force sits in fourth place and can finish anywhere from a three-way tie for first down to fifth, but at least the Falcons are guaranteed home-ice advantage in the quarterfinal playoff series.
Frankly, Serratore says, forget the permutations – all he wants is his team to move up at least one spot and take the Falcons out of a dreaded 4-5 matchup on the first day of the first Atlantic Hockey Final Five.
"We were in about the same position last year," Serratore said. Air Force, indeed, finished fifth and carried the momentum from a sweep of AIC into the playoffs. The Falcons ousted Holy Cross, Sacred Heart and Army to win its first league title and gain the NCAA tournament berth.
Since dropping three consecutive 2-1 decisions to Colorado College and Army (twice), Air Force took three of four points from Bentley, split with host Mercyhurst and swept Canisius on the road. Air Force has outscored its foes, 14-3, in the last three games, and has seemed to find its way since losing Hobey Baker finalist Eric Ehn to a leg injury on Jan. 19.
"Our culture changed when we lost Eric Ehn," Serratore said. "I think there was a little bit of an adjustment period when you lose a guy like that."
Serratore has been pleased with the play of sophomore center Jeff Hajner and freshman winger Derrick Burnett ("They have played very well together," he said) and said junior defenseman Greg Flynn is having an all-star season. As far as Andrew Volkening in goal, Serratore is supremely confident.
Volkening has 16 wins and a 2.22 goals against. Junior Brent Olson leads the team with 29 points (13 goals, 16 assists), Hajner has 28 points (13 goals) and Flynn has 24 points (19 assists).
Facing last-place AIC, Air Force has an opportunity to do something it has failed to do in league play: sweep a home series.
"It's extremely puzzling, especially when you consider the fact we have gained more points on the road (16 points) than at home (14)," Serratore said. "Had we played as well at home as we did on the road, we would have the regular-season championship wrapped up. You have to play well everywhere: home, away, neutral site, parking lot."
One thing is for sure: conjuring up past glory is not going to help the Falcons this time around.
"Billy Devoney is not going to come back and lead us to the title," Serratore said. "It's somebody else's job."
SEEN AND HEARD IN ATLANTIC HOCKEY
Skillful Knight: Army senior Luke Flicek is the lone player in Atlantic Hockey to be invited to the Frozen Four Skills Challenge, to be held April 11 in Denver, the off-day between the semifinals and championship.
There are eight male and eight female participants chosen for an East vs. West format. Competition will include puck control relay, fastest skater, hardest shot, rapid fire shooting, accuracy shooting and penalty shot.
"That's a great honor for him and for the program," said Army coach Brian Riley. "It couldn't happen for a better guy. He is so passionate about the game. He lives and dies and breathes hockey, and he's always the last guy on the ice, working on moves. I don't think they could have picked a better person."
Former Army goalie Brad Roberts played for the triumphant East squad two years ago. Flicek was supposed to be on hand to watch, but plane delays forced him and some Army teammates to catch up with Roberts after the competition. Flicek said he's been looking forward to the opportunity since that time.
"I am going to meet some players, fellow seniors across the country," Flicek said. "To be part of the festivities for the Frozen Four weekend should be pretty special."
The six male skaters on the East squad include Flicek; Michael Brennan, Boston College; Pete MacArthur, Boston University; Jesse Winchester, Colgate; Jon Rheault, Providence; and, Jake Morissette, RPI. The male goalies will be Kevin Regan of New Hampshire and David Leggio of Clarkson.
The female skaters on the East squad are Hayley Moore, Brown; Jaclyn Hawkins, Connecticut; Martine Garland, New Hampshire; Jennifer Hitchcock, New Hampshire; Marykate Oakley, Princeton; and, Sabrina Harbec, St. Lawrence. The goalies will be Sarah Perry, Sacred Heart, and Meghan Guckian, St. Lawrence.
The six male skaters on the West team are Kevin Porter, Michigan; Jimmy Kilpatrick, Colorado College; Andrew Thomas, Denver; Bryan Lerg, Michigan State; Tommy Goebel, Ohio State and Mike Forgie, Wayne State (Mich.). The West goaltenders will be St. Norbert's Kyle Jones, and Denver's Peter Mannino.
The six female skaters on the West roster are Ohio State's Tessa Bonhomme; Courtney DeHoey, Lake Forest; Karine Demeule, Minnesota Duluth; Bobbi Ross, Minnesota; Shannon Moulson, Niagara; and, Laura Fast, St. Cloud State. The two female goaltenders will be Laura Hosier, Mercyhurst and Britni Kehler, Minnesota State,Mankato.
The NCAA has chosen some alternates in case any of the skills participants reach the Frozen Four with their respective teams.
Oh So Close: It is said that much of the history taught at West Point was made by the people who taught there.
Well, the Army hockey team can make a little of its own history this weekend. With one win over Sacred Heart, the Black Knights will wrap up the Atlantic Hockey title, the first Division I league championship of its kind at the school.
The last time Army came this close to winning a regular-season title was 1963-64 when the Cadets (17-4) finished second to Providence (16-3) by mere percentage points in the ECAC race. Last season, Army finished a distant third in Atlantic Hockey and lost in the finals of the league tournament.
"From where we were my freshman year (one point out of last place) to where we are now, it's special to be part of that transition," said senior Luke Flicek. "My class (of 2008), we've been the biggest class numbers wise; we were kind of the catapult for the transition. It feels good to be part of a turnaround like that."
Reaching the title game last season only upped the ante this season.
"Last year we were surprised to be so far up by the top (of the standings) and even making it to the conference championship game," Flicek said. "We didn't have the mindset that we should be there. It was more like we were grateful to be there and happy to be there. This year we expected it. We started slow but came back strong."
Army coach Brian Riley said you couldn't ask for more than having the opportunity to clinch a title on the final weekend of the regular season.
"Sacred Heart is a great team, and we've had good games with them in the past," Riley said. "We certainly expect two great games this weekend."
The Friday series opener will be especially tough, playing on the smaller ice surface at the Milford Ice Pavilion. "It's a small rink and things happen quick," Riley said. "You have to make sure you are strong defensively and not turning the puck over.
"They are dangerous up front, they have big solid (defensemen) and their goaltending is always very good so they are a good team at every position. In order for us to beat them, we have to play well."
Final Five Is One Too Many: Don't count Air Force coach Frank Serrratore as a fan of bringing the top five teams to Rochester in two weeks time.
"I don't like the Final Five format because I don't think the fourth- and fifth-place teams have much of a chance," Serratore said.
The Final Five is a new concept to Atlantic Hockey. Essentially, 10 teams engage in a first-round playoff series, and five winners advance to Rochester. The fourth- and fifth-seeded teams among the survivors contest a play-in game, followed by two semifinals and a title game.
The WCHA has been using this format since 1993, the ECAC has used the format five times and the CCHA has employed it three times. Lake Superior State (1995 CCHA) and Princeton (1998 ECAC) are the only first-day winners to go on and win a playoff championship.
"I don't believe in sacrificing the realistic chances of the fourth-place team in a final four (needing just two wins) to enable the ninth- and tenth-place teams to play (for a) final five," Serratore said. "I think the top eight teams should make the playoffs and go into a final four."
"Last year we were the fourth seed and we won the championship. This year it would be a difficult for the No. 4 team to win the tournament (because it would have to win three games instead of two)," he added.
Naturally, Atlantic Hockey – only in its fifth season – is going to want to encourage the playoff aspirations of all 10 teams. If so, Serratore is in favor of a system which pits the 7-10 and 8-9 seeds in a first-round series, with the two winners joining the top six for a quarterfinal series. Using that system would involve an extra week of playoffs, which the league may shy away from in order to capitalize on the mid-March window for its championship weekend and potential national television audience, whereas it could lose that TV avail and be overshadowed the following week when the Big Four conferences hold their finals.
Serratore could be swayed if the Atlantic Hockey tournament became a huge financial success and generated revenue like the WCHA.
Great Weekend Getaway

Army at Sacred Heart (Fri.)
Sacred Heart at Army (Sat.)

Do you think the schedule makers had this scenario in mind? The regular season comes to an end with No. 1 facing No. 2. One win by Army will give the Black Knights their first-ever Division I league crown. It's probably going to take two wins by Sacred Heart for the Pioneers to win their elusive pennant – although co-No. 2 RIT owns a tie-break edge and could spoil that dream. One thing is for sure: it's going to be loud and boisterous at Tate Rink on Saturday night. It's an even matchup with each team securing 4-2 home wins as November turned into December. Army and goalie Josh Kassel have lost once in the last six weeks. Owen Meyer and Luke Flicek each have 32 points for the Knights of the Hudson. Bear Trapp and Alex Parent have 34 and 33 points to lead the Pioneers and Stefan Drew already has 14 wins in net.

Stick Salute

Say what you want about Atlantic Hockey, but this league headed into its final weekend of play with four teams still in contention for the title. Top-to-bottom, the league has been more competitive than ever.

Bench Minor

Canisius managed 24 shots on goal … for an entire weekend! Are you kidding? Hey Griffs, shoot the puck.
FRIES AT THE BOTTOM OF THE BAG