March 6, 2008
Playoffs Set To Being In Atlantic Hockey
By Ken McMillan
Roll out the cliches and the erasers – the playoffs have arrived.
It's a brand new season. Wipe the slates clean. Throw out the record books. Everyone starts out 0-0.
Atlantic Hockey Notebook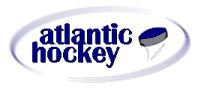 There is a sense of post-season optimism for most teams in Atlantic Hockey. The league had tremendous balance this season, which should put everyone on notice for playoff upsets.
The major difference this season, though, is the one-game playoff – used since the creation of the Metro Atlantic Athletic Conference Hockey League – has been scrapped in favor of a best-of-three quarterfinal series. Top seeds like it because the better team will generally survive a three-game series.
"I like it," said Canisius coach Dave Smith, whose team travels to Mercyhurst for the quarterfinals. "I think that it gives you an opportunity. We're the No. 6 team going in on the road. If we can be the better team, we have a chance to win a two-of-three series. It doesn't come down to a fluke bounce, a fluke goal or a team gets a hot goaltender. The best team of the weekend is going to come out on top."
"I have been on both sides of the one-game playoff, where we had success and came out on the other end," said Sacred Heart coach Shaun Hannah. "I just think it takes out the bad-bounce scenario, good and bad."
There has been a playoff upset in all four Atlantic Hockey tournaments. Last year the top four seeds triumphed in the quarterfinals, but not before American International upset Canisius in a play-in game. No. 6 Connecticut upended No. 3 Sacred Heart in 2006. No. 7 Bentley knocked off No. 2 Canisius in 2005. In 2004, AIC upset Army in the play-in, and No. 6 Canisius outlasted Quinnipiac.
"With the way our league was, I believe there is that possibility," Hannah said. "Just top-to-bottom, the teams are so tight. Maybe a few years ago you wouldn't see that as much, but now with the parity in the league, on a given night anybody can beat anybody. That opens the door up for the potential for an upset, even in a best-of-three series."
SEEN AND HEARD IN ATLANTIC HOCKEY
See You Next Week: Canisius got a heads up on its playoff foe, taking three of four points from Mercyhurst last weekend. Andrew Loewen made 36 saves in a 5-3 win in Buffalo on Friday but just 20 in a 5-5 draw on Saturday in Erie. Kyle Bushee of Canisius and Ben Cottreau of Mercyhurst each had two goals in the opener. Canisius' Chris Forsman and Ryan Klusendorf each had two goals in the nightcap.
"It feels good to be rewarded," said Canisius coach Dave Smith, "but none of us are looking past the strengths they have over there."
Smith was just glad to see his team respond well from a 3-0, 4-3 sweep at the hands of Air Force a week earlier.
"I think we woke some guys up," he said. "They realized the end is coming quick. Give them credit – they worked their tail off the last two weeks."
Canisius and Mercyhurst combined for 29 goals this season, and Smith figures 25 of them were the direct result of mistakes.
"If we can take care of our business, I think we like the matchup," said Smith, a former assistant under Rick Gotkin at Mercyhurst. "If we don't skate and play well on special teams, it doesn't matter."
Atlantic Hockey First Round Matchups
No. 10 AIC at No. 1 Army
AIC: 8-21-5 (8-17-3)
A: 17-13-4 (17-8-3)
Season Series: Army leads 4-0
Yellow Jacket Fact: AIC won playoff opener last season, and disposed of Army in 2004 play-in game.
Black Knight Fact: Army has lost once since Jan. 19 (11-1-1), which includes pair of 4-0 wins over AIC.
How AIC Wins: Yellow Jackets must re-discover their offense after stretch of six goals in six games – AIC scored 22 in previous six games.
How Army Wins: As long as Josh Kassel stays strong in net with the No. 3 defense in the nation, Army should find enough offense.
No. 9 Holy Cross at No. 2 RIT
HC: 10-17-7 (9-15-4)
RIT: 17-11-6 (15-8-5)
Season Series: RIT leads 2-0
Crusader Fact: Holy Cross posted at least one playoff win in four consecutive seasons (winning the 2004 and 2006 titles) before suffering first-round loss to Air Force in 2007.
Tiger Fact: This is RIT's first Division I playoff outing. Last Tiger playoff was 2005 and last playoff win was 2004.
How Holy Cross Wins: The Crusaders are the second-least penalized team in the nation and own the No. 3 power play; RIT is prone to taking penalties so Holy Cross must make the Tigers pay.
How RIT Wins: The Tigers are 3-0-2 in last five and playing well offensively, and league scoring leader Simon Lambert has a nine-game point streak.
No. 8 Bentley at No. 3 Air Force
B: 9-19-6 (9-13-6)
AF: 17-11-6 (14-9-5)
Season Series: Air Force leads 2-1-1
Bentley Fact: Bentley has a playoff win in three of the past five years, all as an underdog.
Air Force Fact: Air Force has hot hand, going 4-0-1 down stretch.
How Bentley Wins: Dain Prewitt has three goals and an assist in four career games at Air Force, and the Colorado native has played well in the post-season.
How Air Force Wins: The best way to test freshman goalie Joe Calvi is by firing lots of shots, and Air Force is best at that in Atlantic Hockey.

No. 7 UConn at No. 4 Sacred Heart
C: 12-19-3 (11-14-3)
SH: 14-17-3 (14-11-3)
Season Series: Sacred Heart leads 4-0
Husky Fact: Connecticut beat Sacred Heart in the 2006 quarterfinals.
Pioneer Fact: Sacred Heart has never won the league title, bowing out in the 2004 finals, the 2005 and 2006 quarterfinals and the 2007 semifinals.
How Connecticut Wins: The Huskies have rediscored their offense just in time, with 18 goals in the last five games. Beau Erickson is back in net and won his last two.
How Sacred Heart Wins: Just keep rolling the lines out because the Pioneers have six players with at least 10 goals.

No. 6 Canisius at No. 5 Mercyhurst
C: 11-18-6 (10-13-5)
M: 11-18-7 (11-10-7)
Season Series: Canisius leads 2-1-1
Golden Griffin Fact: Canisius has not won a playoff game since 2004 (0-3).
Laker Fact: Mercyhurst eliminated Canisius in the 2006 quarterfinals.
How Canisius Wins: The Golden Griffs' power play has picked up of late and needs to produce.
How Mercyhurst Wins: As long as the Lakers maintain their scoring, they need a stronger effort in goal.
Hail to the Champs: Sacred Heart coach Shaun Hannah was looking forward to facing Army in a clash of No. 2 vs. No. 1 on the final weekend of the regular season.
Be careful what you wish for: Army posted a 6-1 win in Milford and a 3-2 win at West Point, clinching the outright Atlantic Hockey regular-season title.
"We faced a team that was very hungry and really played a very strong team game and a determined hockey game both nights," Hannah said. "To face a team like that going into the playoffs makes you prepared for the next weekend."
Hannah praised Army coach Brian Riley for the job he has done over four seasons, taking the Black Knights from the bottom half of the league to its first-ever Division I league championship.
"It's an outstanding achievement," Hannah said. "They have to be proud of how they approached the season and proud with how they built that program over the last four years and worked to this point. It all came together for them this year."
Hannah wished it could have been his team on top, but a touch of patriotism heals all wounds, especially when service academy teams Army and Air Force succeed.
"When you think about what a lot of those kids will be facing when they leave the academy, it's a huge accomplishment for them," Hannah said. "It's great to see. They are going to serve us in a lot of ways. It's a good testament to their hard work and what they have to do."
FRIES AT THE BOTTOM OF THE BAG
• Cough, cough: Sacred Heart coach Shaun Hannah wishes just one thing for his team this week: health. Some sort of illness has been floating through the team, though Hannah doesn't expect anyone to miss this weekend's series with Connecticut.
• Firing blanks: Three of the five playoff matchups pit high seeds that have swept season series from the low seed. Army twice blanked American International in its four wins. Likewise, Sacred Heart has two shutout wins among its four over Connecticut. Rochester Institute of Technology won a pair over Holy Cross, but no shutouts.
Can the top seeds get complacent?
"I think that's always a concern if you let it be," said Sacred Heart coach Shaun Hannah. "We tried to approach it as just another hockey game and we have to prepare for it. It's a playoff game so you have on focus on the little things instead of focusing on how we've done against a team going into the playoffs."
• No. 10 seed hopes: Army's Josh Kassel pitched consecutive 4-0 shutouts against AIC on Feb. 15-16, something which steamed Yellow Jackets coach Gary Wright.
"That was disappointing on our part," Wright said. "One of the things we have to figure out a way to generate more offense. They (Army) have a strong team, but when they have strong goaltending that presents even more of a problem."
So how do you beat Army?
Like any game, Wright says. "Get to the net, transition, don't give up shots, get pucks to the net," he said. "We have to stage our offense from our defense, so we have to play well in the neutral zone. They generate a lot of speed coming through the neutral zone. We have to be as focused as we ever have been if we're going to have any success down there."
• Power push: Canisius is converting one in three power play chances over the past seven games. For the season, the Golden Griffins rank eighth in the league at 15 percent (27-for-180).
• Skating like an angel: Canisius freshman Vincent Scarsella has performed a near-impossible feat. Not only does he lead the Golden Griffins in scoring (8 goals, 20 assists), he has not taken a single penalty this season over 35 games.
• Buzz tops: Sacred Heart's players will shave their heads this month to raise awareness and funds for the St. Baldricks Foundation, which supports childhood cancer research. It is the third year in a row the Pioneers have participated in the worthwhile charity.
Coach Shaun Hannah said all college students should be involved with charitable events.
"It is part of the college experience," he said. "For a student-athlete, it's excelling in the classroom, excelling on the ice and doing your part to serve your community. Through all that, you end up with an experience when you graduate that's well-rounded. Community service is an important part of the education process, I believe, and an opportunity for us to really do some good for people."
A variety of sources were utilized in the compilation of this report. Ken McMillan can be reached at ken64@insidecollegehockey.com.