October 3, 2007
2007-08 CCHA Preview
By James V. Dowd
THE SKINNY

If the teams in the CCHA have proven one thing over the past few years it's that you can never quite know what to expect out of the league. From Michigan State's surprising national title, showing that the CCHA can indeed compete with Hockey East and the WCHA, to Lake Superior State's challenge to the Spartans in the league tournament's third place game last March, it's not unusual to see things go awry in the CCHA.
Over the past several years, coaches have talked about parity throughout the conference, and it has been shown with surprise runs by Alaska, Nebraska-Omaha in the regular season and playoffs, and on any given night with strange upsets like Michigan State's home loss to Bowling Green at the end of last regular season.
This season, however, as teams prepare to drop the puck, it appears that Miami and Michigan State are poised to run away from the pack with teams with a lot of experience, clutch goal scorers and strong net minders.
Last season's regular season and playoff champ Notre Dame returns several key cogs in the form of Erik Condra, Kevin Deeth and Ryan Thang, as well as members of its defensive corps, but the loss of David Brown in the goal crease is one that will be tough for coach Jeff Jackson and the Fighting Irish to overcome.
In addition, traditional powerhouse Michigan suffered heavy losses to its squad this past summer, with several defections to the NHL and many key seniors leaving as well. With an arsenal carefully restocked by coach Red Berenson and his assistants Billy Powers and Mel Pearson, perhaps the only thing keeping the Wolverines out of the race is time to mature as a team and a consistent goaltender.
Although these four teams appear to be the top threats for the league title, it has yet to be seen what a team like Ohio State which appears healthy and more mature, or Lake Superior State with a new goaltender and a strong returning class might be able to do as the race unfolds.
And, most certainly, never count out scrappy Northern Michigan and Ferris State teams which have both made runs to Joe Louis Arena in the past decade.
Despite these challenges from all programs in the conference, look for the talent and experience of verterans and the coaching savvy of Enrico Blasi and Rick Comley to help Miami and Michigan State steady the ship and create an exciting title race before once again giving the league greater notoriety with strong performances in the NCAA tournament.
BREAKTHROUGH TEAM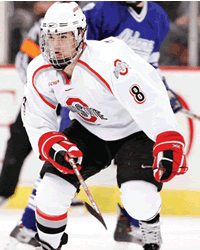 A healthy Tom Fritsche can help Ohio State get back near the top of the CCHA standings.
After failing to meet public and team expectations over the past two seasons, look for Ohio State as a potential spoiler team in the CCHA race to the top this season. The Buckeyes finished just 12-12-4 in the league last season, but looked strong later on, finishing the campaign with wins in four of their last six regular-season contests before being swept by Northern Michigan in the first round of the CCHA playoffs.
One major reason for the Buckeyes' struggles was the loss of Tom Fritsche for the majority of the season after he was hospitalized while suffering from ulcerative colitis. After returning, however, Fritsche looked strong, scoring 13 points in just 19 games. He is joined in the forward corps by Tom Goebel who notched 26 points last season.
At the other end of the ice, Ohio State is lead by senior blue liner Jason Desantis, who is also known for his offensive upside, and goaltender Joseph Palmer who allowed 2.96 goals per game — just tenth best in the CCHA — last season but has shown signs of improvement with an admirable performance at the United States Junior National Team evaluation camp this summer.
PRIMED FOR A FALL
Simply take a look at the players who graduated from Michigan or left the Wolverines early this past summer, and there is no doubt the Maize and Blue may be hard-pressed to stay in the race for the CCHA title with racehorses like Miami and Michigan State leading the way.
Jack Johnson left the team after its first-round loss in the NCAA tournament to join the Los Angeles Kings and has become an everyday player in their lineup and a cult hero among fans. North of the border, former Michigan speedster Andrew Cogliano was just named to the Edmonton Oilers' opening night lineup. On top of that pair of first round picks, T.J. Hensick and Matt Hunwick just narrowly missed making the Colorado Avalanche and Boston Bruins, respectively.
Hensick and Cogliano were the anchors of Michigan's first two lines, and Hunwick and Johnson often ate up as much as half of the game as the team's top defensive pair. And while first-round picks Chris Summers and Mark Mitera remain on the blue line and Max Pacioretty — one of the Montreal Canadiens' top picks — joins last year's league-leading scorer Kevin Porter in the lineup up front, it's hard to argue that, after losing this much talent, Michigan will not fall out of the top tier of CCHA teams ... at least temporarily.
PRESSURE TO PERFORM
While Bowling Green can't fall any lower than 12th place in the CCHA standings, the pressure is certainly on head coach Scott Paluch, now in his sixth season at the helm. Paluch is the first former Falcon player to serve as the head coach and must do his best not to disappoint the administration and fans he once delighted as a member of CCHA title-winning teams in the 1980s.
This year's Falcons team brings back 23 players from last season, including goaltender Jimmy Spratt and leading scorer Derek Whitmore. Paluch labeled Spratt as the most improved player during the course of last season, and he will likely continue to evolve as he matures in his role as a starting net minder.
Having seen the potential of the Falcons during a close first-round playoff series against Nebraska-Omaha and an upset of Michigan State at Munn in the regular season finale, Bowling Green supporters have to be getting anxious to see more consistency out of Paluch's squad.
TOUGHEST ACT TO FOLLOW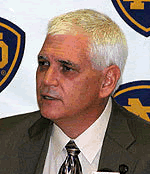 Notre Dame head coach Jeff Jackson said that last year's success won't affect his team's preparation this season.
If there is one thing that anyone learned last season, it was to take note of what Notre Dame coach Jeff Jackson says. And of all the words which have come from Jackson this preseason, perhaps the most notable were a simple few at CCHA Media Day: "Last year is behind us."
The Fighting Irish won their first-ever CCHA regular-season and playoff titles last year in a magical run where they controlled the league standings from the onset. And while returning forwards Erik Condra, Kevin Deeth and Ryan Thang played an integral role in the offense, and blue liners Kyle Lawson and Kevin Deeth were key cogs in holding the fort, the loss of seven regulars in the Irish lineup will make it tough to keep pace.
Perhaps the greatest pressure of all is on netminders Jordan Pearce and Brad Phillips. Of all the outstanding performances by any number of Irish skaters last season, the most important piece of Notre Dame's success was the play of the team's most valuable player, goaltender David Brown.
Pearce, a junior, will be counted on immediately and has performed admirably in limited action during his first two years. If Pearce were to falter, Phillips has shown flashes of brilliance with the United States National Team Development Program, with a particularly solid performance in Ann Arbor last year when he made 36 saves in a 3-2 loss against Michigan at Yost Ice Arena.
BEST PLAYER
Although Michigan State netminder Jeff Lerg is a close second in this race, all eyes are locked on Miami's Nathan Davis heading into this season. Davis has earned many accolades throughout his storied career, not the least of which was a Hobey Baker finalist nomination and an appearance on the United States' senior national team at the IIHF World Championships last summer.
Davis notched 50 points last season, placing him in the top ten nationally and the top five in the CCHA. Should he improve upon this number, which should be the case seeing the fact that he has 19 of his teammates returning, Miami should have no problem competing for the league title.
BEST NEWCOMER
While it was sad day for the CCHA to say goodbye to a coach who made a name for its northernmost squad — former Alaska coach Tavis MacMillan — the Nanooks were excited to announce that his replacement came from inside the conference family. After MacMillan headed to the Twin Cities to join his wife in her career ventures, Alaska athletic director Forest Karr named Nebraska-Omaha assistant Doc DelCastillo to the post.
Before working the bench with Mike Kemp for the Mavericks, DelCastillo served as an assistant at St. Cloud State, and gained head coaching experience in the USHL During his tenure at Nebraska-Omaha, he was known as a top recruiter, and, according to the Alaska website, helped to bring in major scoring threats like Scott Parse and Bill Thomas.
UNSUNG PLAYER
Perhaps the player most notably absent from the CCHA Preseason All-Conference first and second teams was Michigan State forward Bryan Lerg. During last year's run to the national championship, Lerg led the Spartans with 23 total goals and led the entire NCAA with eight game-winning goals.
If there is one thing more valuable than a pure point scorer, it is one who can play well in the clutch, and come up with the opportunistic play when his team needs it both. Over the past several years, you would be hard pressed to find a player who has taken advantage of more opportunities to take his squad upon his own shoulders than Lerg.
THREE BURNING QUESTIONS
1. Who is James V. Dowd?
I am the new CCHA beat writer for Inside College Hockey after spending the past two-plus seasons covering University of Michigan hockey while working at the University's student paper The Michigan Daily. While covering the Wolverines, I took road trips with fellow writers to arenas all over the Midwest and even made the trek to Fairbanks when Michigan visited the Nanooks in October 2005. In the coming season, I am looking forward to taking a more conference-wide perspective to my coverage, while also working in Options trading at the Chicago Board Options Exchange.
2.Can Rick Comley and the Michigan State Spartans carry over momentum from last season's NCAA playoff run and give themselves a chance to compete for the CCHA regular season and playoff titles?
The Spartans finished just fourth in the CCHA race last season and faltered greatly against Michigan at Joe Louis Arena during the league playoffs, leaving them on the bubble for the national tournament. Lucky for them, the selection committee found a spot and the rest is history. Comley's words after that loss to Michigan lit a fire under the Spartans for the national tournament, but can he do the same to ensure that his team gets a chance to defend its title in March and April?
3. Will Lake Superior State's new scheduling arrangement, which allows them to play Michigan, Michigan State and Northern Michigan in their own building rather than on the road or at a neutral site, give the Lakers a chance to make some noise in the league race?
According to head coach Jim Roque, season ticket sales have doubled this year at an already raucous Taffy Abel Arena quite a hostile atmosphere. Can the Lakers make their fans ring the Hoholik Victory Bell a few times too many, knocking their downstate rivals out of title contention?
MARK IT DOWN
Five things you can take to the bank in the CCHA this season
1. Jeff Lerg will be "that good" once again. He may be so small that opposing fans can't quite figure out how he takes up so much of the Michigan State net, but Lerg will continue to carry the Spartans on his back despite the loss of some key defensemen. Lerg has a good handle on his angles and knows how to play the position. His goals against average may rise, but only due to the presence of inexperienced defenders.
2. Michigan will continue to score goals, even without Hensick and Cogliano, but will struggle to keep goals against down. Although Michigan loses some top scorers, and many perceive Kevin Porter's numbers last season to be a product of Hensick's magic, the Wolverines will continue to score. Porter's game will change, but his talent allows him to become more of a focal point. Also, as veteran sniper Brandon Naurato matures, look for him to find the back of the net more often, and rookies Pacioretty and Carl Hagelin, who arrives in Ann Arbor all the way from Sweden, should help pave the way to a prolific offense. At the other end of the ice, Billy Sauer has yet to show the consistency necessary to keep goals out in a league chock-full of high scorers and rookies Bryan Hogan and Shawn Hunwick are unproven in net. The loss of four of the team's six defensemen will also hurt the team's goals against totals.
3. Miami will compete for the league title. Each and every year, the RedHawks get mentioned as one of the top teams in the conference, and last season they faltered and never really found themselves truly in the race as Notre Dame ran away from the pack. With names like Davis and Ryan Jones as preseason first team all-leaguers and Alec Martinez and Mitch Ganzak, first team and honorable mention, respectively, at the blue line, Miami will have plenty of fire to win before even getting to Jeff Zatkoff, who may compete with Lerg for honors as the league's top net minder.
4. There will be upsets and they will play a role in the championship race. Although Miami and Michigan State are the clear class of the league and Michigan and Notre Dame occupy a fairly solid second tier this year, look for upstart teams like Western Michigan, Lake Superior State and Alaska, who can play a more physical game to knock the top four off a few times throughout the year. Withstanding these bids for upsets will determine who ultimately ends up with the league crown.
5. Jeff Jackson will turn out to be Notre Dame's version of Scotty Bowman rather than hockey's version of Charlie Weis. Much like the Fighting Irish's struggling football coach, Jackson earned accolades quickly by turning around a struggling program. Like Weis, one of the keys to early success was getting his players to buy into his system, which in turn put out a golden (no pun intended) product for the Irish's desperate fans. Jackson will successfully continue to earn this respect from his players and build a juggernaut like Bowman did at any number of stops in the NHL, rather than end up a flash in the pan like Weis appears to be.
Predicted Finish

No.

School
Of Note

1.

Miami
The RedHawks own one of the league's best offenses, best defenses and best netminders. Is more explanation necessary?

2.

Michigan State
The Spartans enter the season as the defending national champion, but struggled to compete in the regular season. Look for the Spartans to compete for a playoff title, but the loss of a few heart and soul players from last year's squad will keep them a step behind Miami.

3.

Notre Dame
The Fighting Irish won their first ever league and playoff titles last season, and still have some of the league's top names in their lineup, but without David Brown at the back, look for the Irish to falter a few extra times where Brown would have kept them in last year.

4.

Michigan
Michigan's young talent might not add up to that which left after last season, but don't count the Wolverines out of the race. Perhaps the departure of players looking ahead to the NHL will give Michigan a chance to focus more on collegiate prizes. Until Sauer or his replacement in net show more consistency and young defenders prove themselves, the Wolverines will be fighting for a first round bye rather than a league championship.

5.

Ohio State
With Tom Fritsche and Goebel leading the way up front and net minder Joseph Palmer shoring up the back, look for the Buckeyes to give Michigan a run for the rights to sit back and relax during the opening round of the CCHA playoffs.

6.

Lake Superior State
The Lakers looked strong during the CCHA playoffs last year, due in large part to the play of departed senior goaltender Jeff Jakaitis. With a few solid prospects to take over in net and a few extra home games on their schedule, Lake State should add a few more games at Abel Arena when the host a first-round series in the league playoffs.

7.

Nebraska-Omaha
Although the Mavericks bring back a great deal of talent with Bryan Marshall, Brandon Scero, Ed Del Grosso and Jeremie Dupont, the loss of Scott Parse after last season and Bill Thomas the year before will keep Nebraska-Omaha from making a jump in the standings.

8.

Western Michigan
Western Michigan never seems to make the jump into the top half of the league standings, but the Broncos have been known to notch a few upsets in their day. The loss of Mark Letestu, Paul Szczechura, and Ryan Mahrle will hurt their chances of winning unexpectedly, a solid defensive core and goaltending will produce another solid season.

9.

Ferris State
Towards the end of last season, the Bulldogs were the class of the CCHA, winning six of eight in February. They have solid goaltending and defense, but will struggle to score goals at the other end of the ice.

10.

Northern Michigan
The upcoming season will be an interesting one for the Wildcats who are in complete flux with respect to everyday personnel. Even their older players haven't played as regularly as the veterans on other teams, and there are 17 freshman and sophomores on the roster. With coach Walt Kyle at the helm, the Wildcats seem to find a way to compete every night.

11.

Alaska
The Nanooks have the most unenviable position in the CCHA with their grueling travel schedule, and are adjusting to new coach Doc DelCastillo, who will undoubtedly shake things up, as he has already notched a few surprise recruits for next year. Three pairs of brothers will make for interesting chemistry and Chad Johnson and Wylie Rogers are solid in net, but this will be a year of growing pains for a program in transition.

12.

Bowling Green
Bowling Green has a high percentage of players returning from last season, when they struggled all year long, winning only seven games. Unless something drastic happens with their team chemistry and a few bounces go their way, the Falcons will occupy the league cellar once again.