September 30, 2007
2007-08 College Hockey America Preview
By Warren Kozireski

THE SKINNY
In 2006-07, Alabama-Huntsville rose from the ashes of their fifth-place regular-season conference record to win three straight playoff games — including two in overtime — for the program's first College Hockey America playoff title, which happened to coincide with Doug Ross's final season as the team's head coach.
The new man behind the Chargers' bench is ex-NHLer Danton Cole, whose last head coaching gig was with the American Hockey League's Grand Rapids Griffins — the former Michigan State standout was fired midway through the 2004-05 season. He takes control of the UAH team missing a dozen players from last year's roster, including the top six scorers.
The early lineup definitely had the look of starting over with only two seniors, five juniors, seven sophomores, and 12 freshmen. Among the newcomers are two goaltenders, one of whom is highly regarded (Cameron Talbot is rated seventh among incoming netminders in INCH's Recruiting Rankings) and one of whom is well connected (Wyatt Russell is the son of actors Kurt Russell and Goldie Hawn.) They've got nearly as much experience as returnee Blake MacNicol, who played all of eight games as a freshman. Sophomore Kevin Morrison is the leading returning goal-scorer. He had nine last season, an indication that offense may be at a premium for the Chargers.
Bemidji State had what, for its lofty standards, was a down year. Still, the Beavers finished just one point out of first place.
"We've been over .500 for five straight years and that's not dodging anybody, so we're proud of that," said head coach Tom Serratore. "But we did let down a bit in the second half and maybe overachieved a bit in the first half. We've created high expectations, but our guys are in the best shape we've ever been in so hopefully that will translate on the ice."
Bemidji State must replace the offense of Luke Erickson and Rob Sirianni, both of whom eclipsed the century mark in career points. The Beavers will look to Travis Winters, Tyler Scofield, and Joey Moggach among others to fill the hole.
Niagara appears to be the early favorite to win its third consecutive regular-season crown, having lost just two primary contributors — albeit large ones in CHA Player of the Year Sean Bentivoglio, now with the New York Islanders organization, and defenseman Pat Oliveto — from a year ago.
An early question for the Purple Eagles, who led the conference in scoring last season, is who will replace Bentivoglio on the top power play unit? "We hope people develop," said head coach Dave Burkholder. "We will lean on Vince Rocco for more, and Matt Caruana quietly had an unbelievable year for us. As of today, we will move Chris Moran from the point on the power play to forward and play two defensemen on the first unit."
Robert Morris, like Niagara, boasts a veteran lineup, having lost just four seniors from a team that was one goal from advancing to the NCAA Tournament in just the program's third season of existence. Ryan Cruthers, the Colonials' leading scorer from a year ago, is back along with goaltender Christian Boucher, whose numbers continued to drop from the career bests he posted as a freshman.
Wayne State learned last week that the 2007-08 campaign will be the program's last, the victim of budget cuts. It's difficult to gauge what effect the decision will have on a ridiculously young Warriors roster that features a whopping 16 freshmen. Brett Bothwell starts the season as the team's undisputed no. 1 goaltender; Jared Katz and Derek Bachynski the only returnees who eclipsed the 20-point mark last season.
"We have a relatively good supporting cast, but I don't know what I have right now with the new players," Wayne State head coach Bill Wilkinson said. "We're hoping, but we'll have to wait and see."
BREAKTHROUGH TEAM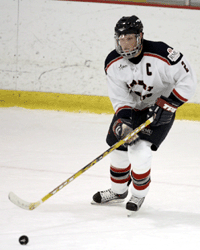 Robert Morris starts the season with a healthy Chris Kaufman.
With 15 seniors, Robert Morris is virtually the mirror-image of last season's Alabama-Huntsville team, but it's doubtful the Colonials will need to perform a similar last-to-first miracle in the playoffs in order to advance to the NCAA Tournament. RMU got on a roll in the second half of last season, winning eight of 12 games before losing defenseman Chris Kaufman to a serious hand/wrist injury. The Colonials won once in its final eight games, allowing and average of about five goals per game during the span.
Now beginning their fourth season at the Division I level, the Colonials have progressed from eight wins to 12 to 14 over the last three seasons. They've got the mix of senior leadership, experience on the blueline, and veteran goaltending to challenge Niagara for the regular-season title. Adding sophomore goaltender Wes Russell, a transfer from Quinnipiac, to push veteran starter Christian Boucher could also be a key. Boucher seemed to find his game last season when challenged by graduated senior Joe Tuset.
PRIMED FOR A FALL
Can a team that finished last in the regular-season standings a year ago fall? You can if you pulled a rabbit out of your hat in the postseason to win the conference championship and take top-seed Notre Dame to double overtime in the NCAA Tournament as Alabama-Huntsville did last spring.
Twelve players depart, 12 freshmen — and a new coach with a new system — arrive. Add in a trio of goaltenders with less than six games worth of college hockey experience (351:43 to be exact, all belonging to Blake MacNicol), and the odds of whipping together a formula for winning consistently at the Division-I level appear slim at best.
PRESSURE TO PERFORM
After failing to put together a fourth straight 20-win season and falling short in its quest for a third consecutive NCAA Tournament bids, Bemidji State earns this distinction. But their 14 wins in 2006-07 were a bit misleading, considering the Beavers played the CHA's most challenging schedule including dates with non-conference foes Maine, North Dakota and Colorado College. Still, the Beavers entered January with a 10-5-3 mark, but faltered down the stretch, including a 1-3-2 record in their last six conference road games.
BSU's schedule this season favors a late run, with six of the team's final eight regular-season conference games under the wood banners at the Glas. That stretch includes a pair of series with a veteran Robert Morris team, and a pair of two-game sets against a Wayne State squad whose underclassmen will be auditioning for spots on the rosters of other teams.
TOUGHEST ACT TO FOLLOW
For the second year in a row, Ted Cook's name appears in this space. The Niagara wing jumped from 20 goals his freshman season to 32 last year, including a Division I-best 21 power play goals. Last season, we questioned if he and perpetual linemate Les Reaney would repeat their early success after the Purps lost four of their top six scorers. This time around, they lost familliar usual power-play partner Sean Bentivolgio, so the question returns.
BEST PLAYER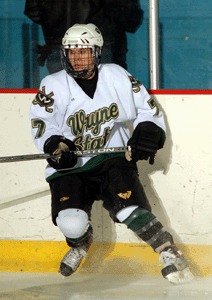 For sophomore forward Jared Katz and his Wayne State teammates, the 2007-08 season will be the last in which they'll don a Warriors sweater.
Cook — see above, and add the 1.30 points he scores per game. That figure put him 11th in the nation in that category. The CHA's next best non-Niagara player was Robert Morris forward Ryan Cruthers, who finished in a tie for 39th in that category.
The Niagara brain trust continues to seach for ways to spread the firepower of Cook and Reaney, but keeps finding reasons to keep the duo together. Could have something to do with being part of the top scoring line in Division I.
BEST NEWCOMER
Pick a Charger, any Charger. With 12 freshmen, there will be ample ice time — and power-play time, most likely — for some of the Alabama-Huntsville rookies. That said, we like UAH goaltender Cameron Talbot, the 2007 Ontario Provincial Junior Hockey League Player of the Year for the Hamilton Red Wings.
Another goaltender, Bemidji State's Matt Dalton, also merits consideration for this honor. The 2006 North American Hockey League MVP was the top-rated goalie in this year's INCH Recruiting Rankings, but the Clinton, Ontario native will likely share netminding duties with seniors Orlando Alamano and Matt Climie in the fold.
UNSUNG PLAYER
Robert Morris forward Sean Berkstresser would have been a candidate for this honor, but he turned in an amazing performance in early February en route to earning INCH National Player of the Week honors, thereby disqualifying him as unsung forever.
Instead, we turn to Bemidji State defenseman Dave Deterding. All the senior from Alexandria, Minn., does is play every game; he's missed just three contests in his career, all were in his freshman season. Deterding scored his first collegiate goal last season, and saved three of his four assists for conference games. More important was his steadying influence on the Beavers' blue line — he was primarily paired with freshman rearguards last season, giving him the added responsibilities of shepherding raw talents without having his level of play drop off.
THREE BURNING QUESTIONS
1. Can Wayne State perform all season like players showcasing their talents for other teams? And what happens if the Warriors struggle out of the gate or find themselves lingering around the CHA basement most of the year? Do the players put aside a focus on the team's systems in order to market their individual skills?
2. How are the remaining four teams going to recruit with the dark cloud of 2008-09 hanging over their heads? All need a quick answer, especially with Bemidji State facing its demise without an invitation to join the WCHA.
3. Can a team with the track record of Bemidji State play the sleeper role when it finished one point out of first last season? The Beavers may have underachieved by its standards last season, but they, along with Niagara, are the gold standard in the CHA.
MARK IT DOWN
Five things you can take to the bank in College Hockey America this season
1. Niagara will again have the league's top five scorers, but the Purple Eagles' home unbeaten streak, currently the best in Division I, will be stopped by Western Michigan. The Purps, 15-0-2 on campus since falling to Air Force on Feb. 10, 2006, host the Broncos Oct. 26-27.
2. Robert Morris goaltender Christian Boucher reverts back to his old self and the Colonials challenge for the regular season title. Boucher's goals against average and save percentage numbers over the last three seasons (freshman season listed first): 2.86 GAA, .916 sv%; 3.21 GAA, .903 sv%; 3.58 GAA, .899 sv%.
3. No DQs will be handed out when Alabama-Huntsville and Robert Morris square off Dec. 17-18, renewing acquaintances for the first time in the regular season since last January's brawl. And by DQs, we don't mean Dairy Queens. Of course, if both sides decide to play nice, maybe everyone can have a Dilly Bar after the game.
4. Wayne State will draw just 200 fans for their final home game March 8 against Niagara. It'll be a somber night at the Fairgrounds for the Warriors' few loyal fans.
5. Bemidji State will get positive news about funding for its proposed new arena. But will the Beavers have a team to occupy the facility?
Predicted Finish

No.

School
Of Note

1.

Niagara
The Purple Eagles and Robert Morris are virtually similar in terms of veteran presence, but Niagara has Cook and Reaney.

2.

Robert Morris
Colonials need to improve on their 6-12-1 road record if they expect to challenge for the conference title.

3.

Bemidji State
Replacing the graduated Luke Erickson, who scored 13 goals in 18 games last season, will be mighty difficult. Junior Travis Winter might be the guy to do it.

4.

Wayne State
Before falling to UAH in the first round of the 2007 CHA playoffs, the Warriors went 5-0-2 in its last seven regular-season games.

5.

Alabama-Huntsville
Based on last year's experience, maybe this is a case of the Chargers having everyone right where they want 'em.