October 2, 2007
2007-08 ECAC Hockey Preview
By Joe Gladziszewski
THE SKINNY

Goal-setting and aspiration are big points of discussion at this time of the year. Players, coaches, and programs talk about what they want to accomplish and how they plan to do so. A scan of the membership of ECAC Hockey reveals a common theme: Taking Steps Forward.
For Clarkson and St. Lawrence, the teams that won ECAC Hockey hardware and qualified for the NCAA Tournament, the next step is to win a game in the national tournament.
For Dartmouth and Quinnipiac, who narrowly missed the NCAAs, they're looking to find a way to win that extra game or extra series during the season and earn a place among the last 16 teams in the nation.
For Cornell, Harvard, and Colgate those steps lead toward a return to the top of the conference standings and a place among the nation's elite programs.
For others, those steps are for a first-round playoff series at home and a chance to play in Albany at the ECAC Hockey Championship Weekend.
All of these things can be accomplished by making steps forward in more specific areas, such as improving consistency, playing better team defense, getting balanced scoring, and having a stronger work ethic. The remainder of this preview will give you an overview on what teams will need to do take steps forward this season.
BREAKTHROUGH TEAM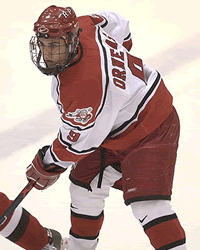 Senior forward Jonathan Ornelas is one of the veteran players that coach Seth Appert lauded for his conditioning work in the offseason.
Following a year of transition that saw some lofty successes and disappointing failures, Rensselaer has a better idea of what it will take to sustain success this year. A surprising 4-1-3 start included a win at Denver and against Colgate and ties against Boston University and Quinnipiac. The first eight games were followed by a 1-9-3 stretch that lasted until mid-January and put the Engineers in last place in the ECAC Hockey standings.
With another year of experience, a boost in talent from a strong recruiting class (including forward Tyler Helfrich and defenseman Bryan Brutlag), and a greater understanding of the work ethic that the coaching staff demands, Rensselaer could move into the top half of the standings and contend for a first-round bye in the conference playoffs.
"Last year we had a good start and when things got hard our players didn't react well. We wanted to make changes in the program, we wanted to be at a higher level last year, but I don't know that we were quite ready to be," coach Seth Appert said. "When things were good at the start of the year I think our players thought, 'This is going to be easy. The three coaches come from winning programs and here we go.'
"It's never easy. It's very difficult to win, and to win at a high level. We struggled in December and early-January and it took us too long to pull out of it. You're going to have struggles, but it can't be a month. I think our players are prepared for the challenges that they're going to face."
Appert praised the offseason work that his team did and said that they have a much better foundation to build on relative to this time last year.
PRIMED FOR A FALL
Last year's biggest surprise, St. Lawrence, won a slew (pun intended) of close games and rode the leadership and outstanding play from senior co-captains Drew Bagnall and Kyle Rank and senior forward Max Taylor. Bagnall was an All-American defenseman who logged tons of ice time and finished tied for fourth in team scoring with 25 points. Rank was voted as ECAC Hockey's Best Defensive Forward and led the Saints in scoring with 33 points. Taylor had 31 points. Those key losses will be felt, especially early in the season.
"We only lost four guys, but we lost three real, real good ones in Bagnall and Taylor and Rank. Those are intangibles as well as tangible qualities too because they comprised a great deal of the leadership, both vocal and non-vocal in the room," St. Lawrence coach Joe Marsh said.
PRESSURE TO PERFORM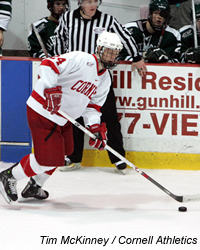 Cornell sophomore defenseman Brendon Nash, a preseason all-league selection, won't play until after Christmas while he recovers from an injury.
Cornell's returning defensemen — senior Doug Krantz, sophomore Justin Krueger, and junior Jared Seminoff — bring experience after enjoying breakout seasons last year. They'll be under pressure to have strong seasons this year, especially in the first half of the season, as standout sophomore Brendon Nash will miss the first three months of the season due to injury. Nash was named to the preseason all-league team by ECAC Hockey coaches and will be missed in the Big Red defense corps.
"It's going to hurt us, obviously, not having him around for a while and that will put more emphasis again on younger players to step up," Cornell coach Mike Schafer said.
TOUGHEST ACT TO FOLLOW
The questions surrounding Clarkson at this time last year involved goaltending. Would one of the returning players, David Leggio or Kyle McNulty, take over the duties? Or would freshman Matt Smith emerge as the answer between the pipes?
David Leggio won the job and turned in one of the great goaltending campaigns in Clarkson history, with 24 wins, a .930 save percentage and 2.16 goals-against average. He was named as the best goaltender in ECAC Hockey last year, receiving the Ken Dryden Award and was also named as his team's most valuable player after setting school records for total saves and save percentage.
That standout season will be difficult to duplicate. If he even comes close to posting those numbers this year, Clarkson will have an excellent chance of winning ECAC Hockey titles and making it to the Frozen Four.
BEST PLAYER
Clarkson captain Nick Dodge was saluted in this spot last year and went on to be a major part of the Golden Knights' success. He didn't finish as his team's leading scorer, but held that distinction for much of the year even though he was often asked to match up against and shut down the opposing team's top line. His overall work ethic, determination, hockey sense, and skill are not measurable. Appropriately, Dodge is a Carolina Hurricanes property, because he is college hockey's answer to Rod Brind'Amour.
"Nick has been a key reason why Clarkson is back in the national spotlight," Clarkson head coach George Roll said in the team's prospectus. "I can't say enough good things about him and what he has meant to the program. Nick's importance is not measured by the number of points he gets. He is a complete leader and a difference-maker who is used in every critical situation. He excels at both ends of the ice, wins key draws, and is great on specialty teams. The more you watch Nick play, the more you appreciate the impact he has on the game."
BEST NEWCOMER
Dartmouth freshman defenseman Joe Stejskal doesn't enter his collegiate career with the lofty junior-hockey credentials or early-round draft status of other players such as forwards Riley Nash (Cornell), Scott Freeman (Clarkson), or Tyler Helfrich (Rensselaer), but Stejskal gets the nod in this category because of what he'll be asked to do right away for the Big Green.
Stejskal brings size, tenacity, and skill to the blue line. He's drawn comparisons to former Dartmouth defenseman Grant Lewis, but has a more physical presence. He'll play in all situations for Dartmouth and will have a steep learning curve. The graduation of Ben Lovejoy, Grant Lewis, and Mike Hartwick meant that 338 combined games of experience are gone.
He gained some experience playing against top-level competition at the Montreal Canadiens' summer rookie camp, after the Habs drafted him in the fifth round of the NHL Entry Draft in June in Columbus, Ohio
"It's going to be interesting to see how he adjusts. Minnesota does a great job in terms of development, but he's coming from high-school hockey. You can't forget that," Dartmouth head coach Bob Gaudet said. "He's 18 years old, so much like Grant Lewis who came from midget hockey, you have to live with some mistakes. My hope is that Joe will be a veteran player after Christmas time. That's been kind of our goal with some of those good, young defensemen."
UNSUNG PLAYER
Based on his team's overall record in recent seasons, Brown senior forward Jeff Prough hasn't received as much attention as he's deserved. He's putting together one of the great careers in Brown hockey history and will very likely surpass the 50-goal and 100-point plateaus before the calendar turns to 2008. When he reaches those milestone numbers, he'll be the first Brown player to achieve those statistics in 10 years.
THREE BURNING QUESTIONS
1. Which Quinnipiac defensemen will improve to help account for the voids left when Reid Cashman graduated?
Four freshmen defensemen join Quinnipiac's roster and coach Rand Pecknold is looking for them to step up and make an immediate impact. The favorable part of Quinnipiac's schedule is that the Bobcats begin the season with an exhibition game and four non-league contests. That will give the coaching staff time to try new personnel in assorted places, especially on special-teams units.
"It's an interesting year when you lose a player like Reid Cashman. So many things change, and he did so much for us. He was our catalyst and he was more than just our captain, he really did a lot on and off the ice," Pecknold said.
2. Can Mike Devine sustain Dartmouth while new faces on the blue line adjust to college hockey?
We mentioned the losses of Lewis, Lovejoy, and Hartwick earlier in this preview and one of the ways that Dartmouth can relieve pressure on those young players is for senior goalie Mike Devine to get off to a good start.
"He's going to be really important to us, but I don't want to put the onus on him. I don't want him out there having to stop 50 shots a night," Gaudet said.
3. Will Yale's upperclassmen forwards contribute enough scoring to complement sophomores Sean Backman and Marc Arcobello?
"We had that great freshman class last year and a couple of guys that led our team in scoring, so it's easy to say those guys are going to be better, and I think they will," Yale head coach Keith Allain said. "We have some seniors on our team this year that didn't have the type of years that I thought they could have, guys like J-F Boucher, Will Engasser, Blair Yaworski, and I think they have the talent to really raise the level of the whole hockey team. If we can get those guys to play up to their level, we'll be a better hockey team."
MARK IT DOWN
Five things you can take to the bank in ECAC Hockey this season
1. The eyes of college hockey fans from across the country will be on Cheel Arena on Jan. 5. Boston College visits Clarkson for a high-profile non-league contest that could feature two of the top-five teams in the country.
2. The appointment of Paul Stewart as ECAC Hockey Director of Officiating will give all of the league's zebras better credibility. Stewart, who played college hockey in the ECAC while at Penn, officiated for 17 years in the NHL and was a supervisor/coach in the NHL Officials Development Program.
3. Harvard's overall success will be based on how it starts the season. The Crimson made mistakes last year that led to losses and a sub.-500 record for the first time in seven years. If they get off to a good start and build confidence with some early-season wins, they've got enough talent to make a run at an exciting postseason.
4. Teams will continue to find creative solutions to scheduling problems. Princeton and Quinnipiac and St. Lawrence and Clarkson are playing non-league games against one another this season, and the Citizens Bank Governor's Cup pits St. Lawrence, Colgate, Union and Rensselaer in an early-season tournament.
5. Colgate will be better. The Raiders had a disappointing season in 2006-07, which started with them being picked to finish first in the league standings. Colgate finished the season with a 15-21-4 overall record and a 7-12-3 league mark. With at least four potential all-league players and eight seniors, they'll be back in the top half of the league standings this year.
Predicted Finish

No.

School
Of Note

1.

Clarkson
Clarkson's depth at forward makes them one of the most difficult opponents on any opponent's schedule.

2.

Quinnipiac
Over the summer, head coach Rand Pecknold signed a contract extension that lasts through the 2011-12 season.

3.

Cornell
The Big Red will play Boston University at Madison Square Garden in New York City on Nov. 24.

4.

Colgate
Nick St. Pierre is one of the underrated players in the league, but folks around Starr Rink know how important he is to their defense.

5.

Harvard
The Crimson found ways to lose games last year. Those lessons should help them find ways to win games this year.

6.

Dartmouth
Eyes will be on Nick Johnson. Can he continue to pile up points without long-time linemate David Jones on the ice?

7.

St. Lawrence
The Saints' best players and leaders are juniors. It might take another year before they get back into the top four.

8.

Princeton
Guy Gadowsky is seeing improvement in his team and is getting players to play an up-tempo style.

9.

Rensselaer
We'll see if Mathias Lange or Jordan Alford can develop enough consistency to claim the starting job in the crease for the Engineers.

10.

Brown
Junior defenseman Mike Stuart is back on the Bears' blue line after missing most of last season with a knee injury.

11.

Yale
The Bulldogs won six of their first seven games last year. They would like to get off to a similarly strong start this year, but maintain that momentum into the last three quarters of the season.

12.

Union
Josh Coyle, Matt Cook, Jason Walters, and Mario Valery-Trabucco will be asked to pick up some of the scoring after T.J. Fox signed a professional contact and left college hockey after his sophomore year.