October 4, 2007
2007-08 Hockey East Preview
By Jeff Howe
THE SKINNY

One coach offers a history book. The other opens his checkbook. Who wins? When the options entail leaving practice in an Escalade rather than with a Gatorade, collegiate athletes often find it hard to say no to NHL execs. And that was certainly true in the offseason for a number of Hockey East squads. Cory Schneider (Boston College), Teddy Purcell (Maine), Jon Quick (Massachusetts), Torrey Mitchell (Vermont) and Trevor Smith (New Hampshire) all bolted for a payday over the summer, and the league suffered as a result.
And, despite the Eagles' surprising loss to Michigan State in the national championship last April, Hockey East was riding high. Five teams qualified for the NCAA tournament (two advanced to the Frozen Four), and the schools combined to win six games. All appeared to be good for New England's coeds.
Until the pros came a callin'.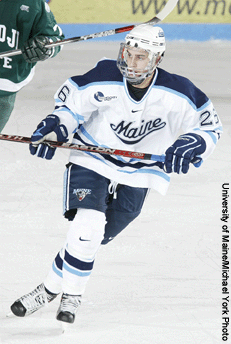 Maine's Teddy Purcell had a breakout year last season. Then he broke out of Orono and signed a contract with the Los Angeles Kings.
Now, everything is wide open in Hockey East, and the unfaithful departed left a litter of questions to be answered over the next six months as well as a bunch of what-ifs that could make for some interesting barstool discussion. Could Schneider have led BC to a third straight title tilt? Would Purcell have grown into the next legend in Orono? Could Smith have put UNH over the top in his junior season? With Quick in Amherst for two more years, would the Minutemen have become a mainstay in the national tournament? And could Mitchell have finally helped Vermont break the ice with a trip to the Garden?
The question everyone wants answered nowadays, though: Can any of these guys help my fantasy team?
BREAKTHROUGH TEAM
There's a theme running through this Hockey East seson preview, and it's a call for consistency. With so much of last year's talent gone for the pro ranks, the league is wide open this year. The teams that bring it every night will reap the rewards, and Northeastern is a squad that has been doing that under the watch of Greg Cronin.
Northeastern won't overwhelm its opposition with blue-chip talent (the Huskies have two NHL draftees, tied for seventh in HEA), and the scoring will be the biggest concern. But, Northeastern is tough in the corners, grinds with teams and isn't afraid to get dirty. Goalie Brad Thiessen (2.48 GAA, .921 save percentage) is coming off a fantastic freshman season, and he'll do his part to keep the team in games. If the Huskies continue with their gritty style, expect good things on Huntington Ave.
PRIMED FOR A FALL
Maine's departures are absolutely astounding. The Black Bears lost forwards Josh Soares (20-25—45), Michel Leveille (19-26—45), Teddy Purcell (13-20—33), Keith Johnson (10-14—24), Mike Hamilton (9-13—22) and Brent Shepheard (8-8—16), and defenseman Mike Lundin (6-14—20).
The team lost seven of its last 11 games last year (including six of eight before the NCAA tourney), and goalie Ben Bishop struggled to stay healthy after injuring his groin in the second half. And Maine's first two regular-season contests this year are at Denver, although the rest of the out-of-conference schedule is cake.
When asked about this year's freshman class, Tim Whitehead gave a vote of confidence. When asked if he had any more Teddy Purcells in the mix, that confidence shied away. Sounds like a rebuilding season in Orono.
PRESSURE TO PERFORM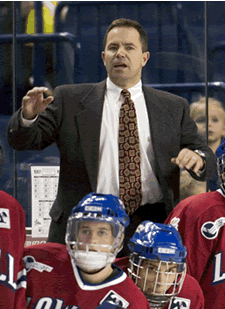 Blaise MacDonald and the River Hawks saw their program survive amid some offseason turmoil. They're hoping to make an impact on the ice this year.
The River Hawks suffered through a 20-game winless streak (0-17-3) through a three-month span. Then, they learned their program's Division I status was up in the air. In the offseason, Blaise MacDonald was arrested for drunk driving and suspended by the school as a result. Whether or not there's a D-I program in Lowell's future, local boy MacDonald would probably like to find out first-hand. Amid all of the recent controversy, the bench boss needs to rally his ridiculously young roster (one senior, two juniors, 16 sophomores, seven freshmen) to keep him out of the unemployment line.
TOUGHEST ACT TO FOLLOW
Maybe it's a good sign that John Muse looks like a cross between Chris Collins and Cory Schneider (and that he shares his last name with a pretty solid band). But we digress. Muse, BC's freshman netminder who Jerry York has already tabbed his No. 1 guy this season, has the daunting task of replacing Schneider.
This is similar to what then-freshman Ben Bishop went through two years ago when he took the lead role after Jimmy Howard left after his junior campaign, and that seemed to work out. Muse enters Boston College as a highly regarded prospect, ranking 10th among goalies, according to Inside College Hockey.
Scouts around the league believe Muse has the talent to take the job, but time will tell on whether or not he can lead the Eagles to a national championship — the only bar in which BC uses to measure a successful season. Schneider led his squad to the title game each of the last two years, but they've come away empty handed. The forwards have the talent. The defense should be sound. The rest is up to the kid.
BEST PLAYER
No one was more fun to watch in the second half last year than BC forward Nathan Gerbe. The kid's a lightning bolt, who flies around the ice with more electricity than anyone in Hockey East. It's necessary, though, since he's only 5-foot-6 and 165 pounds. The junior isn't afraid to take a hit, either. As we commonly reported last year, Gerbe's battles with 6-foot-3, 215-pound BU defenseman Eric Gryba were classic.
Gerbe, who draws comparisons from Jerry York to former Eagle Brian Gionta, led the league with 25 goals and was second to teammate Brian Boyle with 47 points. The speedster is part of a dynamic trio of BC junior forwards, along with snipers Benn Ferriero (23-23—46) and Brock Bradford (19-26—45), who return as the three highest scorers in Hockey East from a season ago. Look for Gerbe to capture Player of the Year honors.

BEST NEWCOMER
Coaches around the league weren't reserved with their praises of UNH forward James van Riemsdyk, who the Flyers selected with the second overall pick in June's NHL Draft. They all thought the 6-foot-3 power forward (listed anywhere between 190 and 200 pounds) could make an immediate impact for the Wildcats, the way Teddy Purcell did in Maine last year.
UNH coach Richard Umile loves van Riemsdyk's attitude, work ethic and humility despite being the highest draft selection in program history. van Riemsdyk played for the U.S. Under-18 Team each of the last two seasons, and he led the squad with 63 points (33 goals, 30 assists) this past season.
UNSUNG PLAYER
Much has been made about 6-foot-7 Simon Danis-Pepin on Maine's blue line, and Travis Ramsey has flown under the radar as a result. If the Black Bears are to have any success this year, it has to start on the back end, especially while the forwards take the time to mesh early in the season.
Now a senior, Ramsey has made serious strides each year, which Tim Whitehead could only hope to expect. Ramsey grew up in California, didn't start playing hockey until he was in middle school and wasn't even on full scholarship when he entered Maine. He hasn't scored since his sophomore year, but the blue liner was a team-best plus-nine last year and is plus-20 the last two seasons. And he's only been called for 22 penalties while playing in all of Maine's 82 games over the last two years.
THREE BURNING QUESTIONS
1. Can UMass provide an encore?
Kinda sorta. U2 can't close a show, walk off stage and then return for "Sunday Bloody Sunday" without Bono. Hyperbole aside, the Minutemen aren't the same act this season without Jon Quick. And they'll definitely miss the scoring and leadership provided by Chris Capraro, Matt Anderson, Mark Matheson, and Kevin Jarman. There's some optimism around heir-to-the-throne Dan Meyers, and he'll be protected by a very solid defensive unit, which returns everyone. There's enough there to ensure UMass wasn't a one-hit wonder.
2. Can UNH survive the loss of its forwards?
Yes. The Wildcats aren't getting hit in this area nearly as badly as rival Maine, but the losses are painful, nonetheless. Leading scorer Trevor Smith (21-22—43), Jacob Micflikier (11-27—38), Brett Hemingway (13-19—32) and Josh Ciocco (6-9—15) accounted for 128 points last season. But, they still return Matt Fornataro, Mike Radja and Jerry Pollastrone, who combined to score 108 points last year. James van Riemsdyk should make an impact, and the Wildcats are also high on freshman forward Phil DeSimone. Plus, there's plenty of depth with Bobby Butler, Thomas Fortney, Greg Collins and Peter LeBlanc to give UNH a troika of very good lines and a fourth line that most teams would take as their third.
3. Will Boston University figure out a way to score?
Another yes. At times last season, the back of the net seemed to be as much of a myth for the Terriers as the Bermuda Triangle and second-place finishes in the Beanpot. You could tell them such things existed, but they probably wouldn't believe you. The numbers weren't actually as bad as they may have seemed, at least compared to the rest of the league. Boston University scored 69 goals in 27 Hockey East games (2.56 per contest), fifth in the league. The Terriers scored four or more goals just 10 times in 39 games, and three of those instances came in the first three games of the season. They had two scoreless ties. And they averaged two goals per game in five postseason contests. Kenny Roche is their only major loss up front, a healthy Brandon Yip should help, and the incoming freshmen are expected to make an impact.
MARK IT DOWN
Five things you can take to the bank in Hockey East this season
1. Joe Fallon will finally get the credit he deserves. Cory Schneider and John Curry stole the headlines for two reasons: First, they deserved it; second, they played in the league's biggest media market. With those two (and Jon Quick) gone, it's Fallon's turn. The UVM senior led Hockey East with a 1.85 goals-against average last year, and his .920 save percentage (seventh) wasn't shabby, either.
2. John Muse will get thrown into the fire right away. The freshman could turn into the biggest thing at the Heights since Steve Aponavicius with a strong start in the season's first week. BC opens at the IceBreaker Invitational with a first-round date against Michigan Oct. 12, and could potentially see Minnesota the next day. The Eagles then return home to play North Dakota Oct. 19.
3. The middle of the standings are a crapshoot. UNH and BC will reign up top, while Merrimack and Providence will remain at the bottom. But everyone else is pretty even. There are so many question marks (Can BU, Maine, UMass or Vermont score? Can Northeastern make the jump? Is Lowell due for one of its completely random runs?). Simply put, the teams that play the most consistently from October to March will see that pay off in the standings.
4. There will be plenty of opportunities to watch your team on TV. But not as many as in recent seasons. At first glance, things were looking up when the league announced there would be 68 games involving Hockey East teams on television this season. Sounds good, right? Thinking that was a step up from last year, we researched the 2006-07 release, which announced 76 games were televised. There were 70 according to the 2005-06 release, as well as the 2004-05 release. It turns out, the 68 televised games are the fewest since the league announced 50 would be on TV in 2003-04.
5. BU and BC will again square off at the Garden on a Monday in February. We're not going all Miss Cleo on you here. The Terriers and Eagles are scheduled to duke it out in the first round of the Beanpot on Feb. 4 at 8 p.m.
Predicted Finish

No.

School
Of Note

1.

New Hampshire
What separates the Wildcats from Boston College is the experience in goal. UNH improved defensively in front of Kevin Regan last year, and he had a career season as a result. More of the same in Durham this year.

2.

Boston College
There's enough talent on BC's front line to offset the inexperience in net, but the Eagles need to prove they can show up night after night, which they didn't do in front of Cory Schneider last year.

3.

Boston University
Those within the BU circles argue Karson Gillespie and Brett Bennett are more talented than John Curry, and the Terriers will be fine without the Hockey East Player of the Year. You can debate talent all you want, but no one can dismiss Curry's results.

4.

Massachusetts
Dan Meyers is an obvious question mark, but the Minutemen return three 20-point scorers this year — only BC (five), BU (four) and UNH (four) return more. And Chris Davis, who scored 19 points while battling injuries last season, should improve.

5.

Northeastern
Here's the wild card. Greg Cronin has had his plan in place for two full seasons now, and assistant coach Sean McEachern (who the players really responded to when he started last midseason) is beginning his first full year.

6.

Vermont
The loss of Torrey Mitchell hurts a lot, especially for a team that finished eighth in scoring in league play last year. But, three of their most important forwards — Dean Strong, Peter Lenes and Corey Carlson — are entering their junior seasons, when players often make their big jump.

7.

Maine
Tim Whitehead is really fond of his 10 freshmen, which is a good thing since he'll need most of them to contribute. The Black Bears lost seven of their top-10 scorers from last season, a group that combined to tally 205 points.

8.

UMass-Lowell
The River Hawks suffered an 0-14-1 stretch against Hockey East competition last season and finished three points out of the playoffs. We're going to go out on a limb and say that won't happen again.

9.

Providence
The Friars finished a disappointing eighth last season after surprising the league with a fifth-place spot two years ago.

10.

Merrimack
If three's a crowd, then someone's got to break up the party in the Hockey East basement, where Merrimack has resided for the past three seasons. Get ready for a fourth.