February 21, 2008
Gerbe '08: The Hobey Dilemma
By Jeff Howe
Blink, and he'll disappear. Dog it for a shift, and you'll be in the outhouse. Underestimate him, and he'll play you for a fool.
Boston College junior forward Nathan Gerbe attacks the game with a chip on his shoulder that is more visible than the nation's economic downfall. And over the last year and a half, he has emerged as the most dynamic and exciting player to watch in Hockey East, if not the country.
Hockey East Notebook
Boston College junior Nathan Gerbe is one of the most polarizing figures in college hockey. Love him or hate him, he gets people talking.

The 5-foot-5, 165-pounder is a buzz saw on the ice, cutting up defenses, battling in the corners and causing mayhem in the slot. It's that type of in-your-face intensity that draws the respect of his opponents.
"He's a real energetic player," New Hampshire senior forward Mike Radja said. "He's pretty fun to watch, actually. He does a lot of things you don't really expect from him. As small as he is, he still hits pretty hard. He's one of those players you can never really overlook because he'll bury you."
"It's just hard if you can even catch him," Northeastern junior forward Dennis McCauley said. "He's just so damn fast. You've always got to be aware when he is on the ice because if you leave him alone for a second, he's gone. You can't single one guy out because one guy isn't going to do it. But he is one of the players in the league that you have to worry about when he is on the ice."
And everyone certainly does. Gerbe was held in check earlier this month during the Beanpot championship by Harvard, which keyed on him all night. But even with Gerbe out of the picture, the Eagles managed to score six goals in an overtime win.
Still, teams are forced to pick their poison, and Gerbe is flat-out toxic when he starts to take over a game. Even when he is having an off night, he never stops moving, and his hustle and competitiveness can translate into goals. Boston College trailed Boston University by a goal entering the third period of the Beanpot semifinal on Feb. 4, but Gerbe fought through a crowd to tie the game before winning it in overtime by finding himself in the right place at the right time.
"He's a good player," BU senior forward Pete MacArthur said. "He's electrifying. He's dangerous when he gets the puck. He's an agitator, as everyone knows. He's a good goal scorer. He's definitely someone you love to have on your team and you hate to play against."
But Gerbe's teammates share a similarity with their opponents because they know they can't afford to fall asleep during a shift, either.
Sophomore forward Ben Smith has been the chief beneficiary of playing with Gerbe. When Brian Boyle switched to defense last postseason, Smith jumped to Gerbe's line and recorded four goals and six assists through the Hockey East and NCAA tournaments, more than doubling his production from the regular season.
While primarily playing alongside Gerbe this year, Smith is second on the Eagles with 17 goals and third with 35 points.
"Nathan definitely has helped that a lot, especially this year and the end of last year," Smith said. "He's just so dynamic out there. He's helped me and is feeding me a lot of open nets, especially on two-on-ones. He's definitely been a big part of my play production.
"He is probably the most exciting guy to watch in college hockey. Playing with him, you just never know what to expect really. He's buzzing around, doing his thing, flying around and you always have to be ready for a pass, and you always have to be ready for a rebound because he's always ready to dish it. He's always moving. He's so quick. He's so fast, has such good hands and you never know what is going to happen. That's why he's so valuable."
But what makes Gerbe tick? How can someone bring it like he does on a nightly basis?
He credits his familial upbringing. Gerbe is the youngest of six children, who all grew up in Michigan playing sports. But whether he was on the ice or going head to head with his sisters playing backyard volleyball, Gerbe always wanted to win. Now, he's the fiercest competitor in the game.
"You just have to have the mental attitude like you don't want to lose any battle," said Gerbe, who has a league-high 22 goals and 44 points this season. "You don't care how big the opponent is. A lot of times, size doesn't matter. It's a battle of will — if you want that puck, or you're going to let him take it. I definitely have to be physical out there, especially at my size. It's something I put in my head every game and try to prepare for battle."
CAMPAIGN '08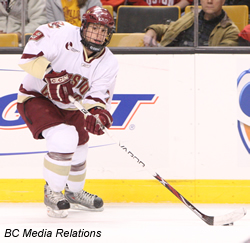 Opponents say that Gerbe plays with an edge, but they respect him for playing that way.
Gerbe's intensity, however, comes with a price. It's the trademark of his game, and without that fire, he wouldn't be on the short list of candidates for this year's Hobey Baker Award.
But with that spotlight comes the closer scrutiny. The line between trying to get an edge and playing dirty becomes even finer, and the voices grow louder.
"He can get dirty at sometimes," said Providence junior defenseman Matt Taormina, who also grew up in Michigan and played against Gerbe before college. "He likes to over exaggerate on penalties or some things. In that game [when the Friars played at BC on Feb. 1], he was coming to the net, and I just kind of pushed him. He grabbed onto my arm and tried falling back. I think he's got a little bit of a temper to him, but that's his style and it's working well for him. I think sometimes if you can rattle his cage a little bit, he'll get off his game. That's what we'll try to do to players. Him, it's not as easy, but you have to do something to contain him."
MacArthur comes to Gerbe's defense.
"He's a smaller guy," MacArthur said. "He plays with intensity. You can't fault him for that. Some people say he's dirty. Everyone's dirty. Sometimes, he just seems to get caught. He's a good player."
"The thing is there is a spotlight on him because he's such a high-caliber player," Smith echoed. "Everyone's dirty. Everyone is competitive. Everyone wants to get the edge, but there is a spotlight on him and that's why you see him getting caught."
Gerbe, though, did get caught earlier this season. Hockey East Commissioner Joe Bertagna suspended him for a butt-ended incident that occurred against Merrimack on Nov. 9. He was forced to sit out one game, a 5-2 loss at UNH on Nov. 10.
Such incidents hardly fail to catch the attention of Hobey voters. And one person on the selection committee feels there could be a similarity between Gerbe's situation and ex-Michigan forward T.J. Hensick's from a year ago based on part of the criteria that states "candidates must exhibit strength of character both on and off the ice" and "contribute to the integrity of the team."
"Based on last season, there's reason to believe that on-ice conduct and behavior is strongly considered by Hobey Baker voters when it comes to judging viable Hobey candidates," said the Hobey Baker voter. "Air Force forward Eric Ehn was among the Hobey Hat Trick finalists, while the nation's leading scorer, T.J. Hensick, was not. I think that says it all."
While Hensick only took 15 penalties last year, about half of them were on matching minors and unsportsmanlike conduct infractions, and he earned a reputation among CCHA officials for having a lot to say about their performance.
At the time of Gerbe's suspension, Bertagna's only comment came in a league-issued statement, which cited that Gerbe "had already been put on notice" by Hockey East for a past violation.
Earlier this week, however, Bertagna made it very clear that Gerbe should not be labeled as a dirty player or have his past transgressions held against him in the postseason award voting.
"I think that would be a shame," Bertagna said. "Believe me, I believe whether it's players or coaches I've always been a stickler for people doing what's expected of them. I think it would be a shame if someone took it that far [to punish Gerbe in the Hobey Baker voting]. I really don't believe there's a body of evidence to make that a factor in the voting, just a couple incidents that happened. It seems like a long time ago to me, and he paid the price for it. To me, he's been a great player since, and I haven't had an incident, or anything anybody has asked me to look at or anything."
Gerbe acknowledges the knock on his game, and he admits it's something he is trying to improve upon.
"Everyone is trying to compete hard," he said. "Sometimes I get caught up in the aftermath, but sometimes I try to stay out of it. I thought I've done a lot better than I have before. Every player out there just wants to compete hard, win battles, and sometimes things get in the way."
But that's who Gerbe is. He couldn't be successful if he worried about getting dirty, whether it's during or after the play. Instead of playing scared, he is the one who puts fear into his opponents. They know if they don't keep their heads up with Gerbe on the ice, they'll be staring up at the arena lights.
And Gerbe seems to take as much satisfaction out of scoring a goal as he does bulldozing a player twice his size in the corners. While he has registered 91 points in his last 70 games, Gerbe has earned the same reputation for his prolific scoring as his Rocky-like attitude.
No one yet knows how that will translate in his Hobey candidacy, but Gerbe is sure of one thing. He's not going to change a bit.
"It's tough to say," Gerbe said. "It might affect the voting. It might not. If it does, I'm not going to be upset about it because I'm still going to play my game. I'm not going to change. I have to be a competitive kid. I'm 5-5, so that's one advantage I can't let other people have is being more competitive than me. That's one thing I'll never let go."
Great Weekend Getaway

UNH at BC (Fri.)
We could send you to Durham on Saturday night, but you were already there last weekend for the UNH-Providence game. Plus, there's more to do in Boston. Anyway, the Wildcats need three points this weekend to clinch the top seed in the Hockey East playoffs. They would be the outright winners of the regular-season crown with a sweep of the Eagles. Boston College, on the other hand, has four teams within three points of it in the league standings.

While You're There: Go to the Museum of Science, the New England Aquarium, ride the T, tour Fenway, have some chowder, scream a profanity-laced tirade about New York, check out Saturday's Northeastern-BU game at Agganis or find a bar (because that's so tough to do in Boston).


Stick Salute

Northeastern sophomore forward Kyle Kraemer scored his first goal of the season on Feb. 15, his 23rd birthday.

Bench Minor

It was bad enough when the Black Bears lost a slue of players to graduation and one Teddy Purcell to the pro ranks, but to add injury to insult, Maine's players have missed 74 games due to injury this season.
FRIES AT THE BOTTOM OF THE BAG
• The NHL is setting up a committee that will look into the signings of college players, the timing of the signings and other things that fit under that umbrella, according to Hockey East Commissioner Joe Bertagna, who was at the NHL's General Managers' meetings in Florida on Tuesday morning. "It's not a simple, black and white sort of issue," Bertagna said of college players' early departures and how they relate to the NHL clubs.
• Boston College, Northeastern and Providence all joined New Hampshire by clinching a spot in the Hockey East playoffs last weekend. Boston University and Vermont will each join the party with a point of their own this weekend, and UMass Lowell can secure a berth by sweeping Vermont.
• Boston University goalie Brett Bennett has a 0.99 goals-against average and .951 save percentage in his last four games.
• BU is the only sub-.500 team in the nation with a positive scoring margin.
• Maine goalie Ben Bishop is second in program history with 2,235 career saves. He needs 229 to pass all-time school leader Scott King (1986-90).
• UMass beat Northeastern, 3-1, on Saturday. The Minutemen have not lost to the Huskies at the Mullins Center since Jan. 15, 2000.
• UMass Lowell defensemen combined for seven points (one goal, six assists) last weekend.
• Merrimack has not scored a five-on-five goal in three games.
• Providence outshot New Hampshire, 53-29, at Schneider Arena last Saturday, but Kevin Regan made a career-high 52 saves to preserve the 1-1 tie.
• UNH needs one win to earn its 12th straight 20-win season.
• Northeastern defenseman Louis Liotti missed his first career game last Monday in the Beanpot consolation contest, snapping his streak of 95 consecutive games played.
• Providence goalie Tyler Sims played in his 109th career game last Saturday, tying him with Dan Dennis (1993-97) for the program's all-time mark for netminders.
• Vermont goalie Joe Fallon is 5-1-1 with a 1.81 goals-against average in his last seven starts, allowing just five even-strength goals in that span.
• The Catamounts are 35-7-11 in their last 53 games when scoring first.
A variety of sources were utilized in the compilation of this report. Jeff Howe can be reached at jeff@insidecollegehockey.com.