October 17, 2007
NATIONAL NOTEBOOK
IceBreaker Injuries Affect Minnesota and BC
INCH National Notebook
Also: Boston College defensemen Brett Motherwell and Brian O'Hanley are serving an indefinite suspension for violating team rules. BC hosts North Dakota on Friday and visits Vermont on Sunday. | Update Desk
By Inside College Hockey Staff
ST. PAUL, Minn. — Perhaps injuries should be expected when you travel to a tournament with the word "break" in the title.
NCAA title contenders Minnesota and Boston College each got their first win of the season last weekend at the Ice Breaker Invitational at the Xcel Energy Center. But each team also suffered a loss that will be felt in the coming weeks and months.
In the second period of the tournament's opening game – the Eagles' 4-3 overtime loss to Michigan – top-line right wing Brock Bradford was reaching up with his stick when he was checked by a Wolverine. Bradford, who had 45 points for the Eagles last season, suffered a broken humerus in his left arm on the play, and will be out, according to Eagles' coach Jerry York's estimate, for two months or more.
"He's certainly one of our top guys," said York after the Eagles' 4-1 win over RPI last Saturday. "He'll have surgery and we're hoping for somewhere between two and three months if everything goes right. He broke his (arm). They're going to put a plate in there. He had his stick caught up top and was reaching trying to get his stick out. The guy just brushed his arm, and it snapped."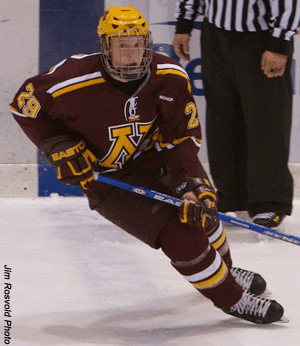 Gopher forward Ryan Stoa suffered a knee injury that required surgery and is out for the season.
On Saturday night, Minnesota won the tournament by beating Michigan for the sixth consecutive time, 4-3. But in the first period, in a play near the Minnesota bench, Gophers top-line left wing Ryan Stoa was hit low by a Wolverine and limped to the door in obvious trouble. On Monday, the school announced that Stoa would have knee surgery and was done for the season due to what they expect is damage to one or two knee ligaments, including the medial collateral. Stoa scored a power play goal in Minnesota's Friday win.
"I don't think he hit Ryan with intent to injure, but he went low and Ryan's a big guy," said Minnesota assistant coach John Hill of the play. "It's part of the game, but I definitely feel bad for Ryan. He looked good and was in great shape."
Much like last year when offensive star Tyler Hirsch was dismissed from the squad at midseason, the one of the rare teams in the nation that may have the offensive depth to weather the loss of a player like Stoa. Hill said the injury brought back memories of an injury the coach suffered early in his first season of professional hockey. While skating in a preseason game for Muskegon of the old IHL, Hill had his season ended on a similar play.
"I tore an MCL 23 years ago, so I know what Ryan's about to go through," said Hill, noting that the key losses of Stoa and Bradford overshadowed things for both BC and the Gophers last weekend. "These are not six-week injuries. They're both going to be really costly. But it's the nature of the game."
– Jess Myers
SEEN AND HEARD AROUND THE NATION
You Again?: St. Lawrence visits Clarkson on Saturday night in what will be the first ECAC Hockey conference game of the season. Both teams know it's a big game because they went through a similar experience to start the season on Oct. 7 at St. Lawrence's Appleton Arena. Clarkson and St. Lawrence faced-off the season in an afternoon non-league tilt on ESPNU.
The longtime rivals played a spirited contest to start the season, with the Saints scoring twice in the third period and holding on for a 3-2 win over the Golden Knights. Both teams proved last season that they're back among the nation's elite as St. Lawrence won the ECAC Hockey regular-season title and the Golden Knights won the league tournament. Each received a berth in the NCAA Tournament.
For the Saints, it was a great start to the season and they earned an important win to start their season, even though league standings points weren't at stake. "These kids are good hockey players and they're an outstanding team. I give our kids a lot of credit because we haven't had a lot of practice and neither have they," Saints coach Joe Marsh said. "You look at the leadership on both teams and what they were able to do without the coaches. Those guys are going to put us out of a job."
The Knights reviewed past lessons learned in the opening-game loss. Clarkson's coaches admitted their team was outworked over the course of 60 minutes by the Saints. The Golden Knights responded one week later with wins over Massachusetts and Providence.
— Joe Gladziszewski
Buckeyes Start Strong: After letdowns in each of the last two seasons, this year's Ohio State Buckeyes are out to prove that they're a force to be reckoned with. And it's hard to conceive a better way to showcase your legitimacy as a contender than winning the season-opening Lefty McFadden Invitational in Dayton by knocking off a strong Wisconsin team which annihilated defending CCHA winner Notre Dame one night earlier.
It took the Buckeyes just 3:46 to jump out to a two-goal lead, with a pair of markers which highlight the age spectrum which makes this year's squad unique. Senior captain Matt McIlvane opened the scoring at the 2:12 mark before freshman Sergio Somma extended the lead shortly after.
After the opening frame ended with Ohio State leading 3-2, Wisconsin tied the game early in the second period on a goal by freshman phenom Kyle Turris. Having veteran leadership from McIlvane, alternate captain Tommy Goebel and a healthy Tom Fritsched, this year's Buckeyes finished the game strong, with two additional goals en route to a 5-3 win.
According to Goebel, the apparent difference between his current squad and last year's is the influx of youth.
"Last year was disappointing, but we're excited to have a new group of guys and to see what we can do," Goebel said. "We have a lot of fresh faces and young energy, so we expect to do well."
This weekend will provide an even tougher test for just how much help this youth will provide, as the Buckeyes open their conference schedule with a home and home against league-favorite Miami.
— James V. Dowd
RMU Gets Another Big Win: Ho-hum…another nationally-ranked team and another win for Robert Morris. Only this time it was perennial powerhouse Boston University and, after a second round win versus Wayne State, the net result was the first tournament championship of any kind in the Colonials' three-plus year history.
Robert Morris overcame a 2-0 deficit by scoring three, third period goals over a four-minute span to defeat the Terriers in the first round of the Nye Frontier Classic. They then followed with a relatively easy 4-1 victory over Wayne State.
Combined with BU's tie against Alaska-Anchorage in the second round and the tourney title went to the Colonials. The tournament win came nine months after Robert Morris defeated nationally-ranked Notre Dame on the road and could signal the start of a special season in Moon Township.
"We played hard all game and capitalized on our power play opportunities," said Robert Morris head coach Derek Schooley. "We played excellent team defense and kept most shots from out on the perimeter, plus (Christian) Boucher was excellent in net and on his game. We played as sound a weekend as I've seen in a long time.
"With the history of winning that Boston University brings and with the Notre Dame win last season, this was a big win for us."
The Colonials feature 14 seniors in this, their fourth as a Division I program. The Nye Frontier Classic was just the second tourney the team had ever participated in with the RPI Thanksgiving Tournament the only other appearance back in their first season.
As to pulling Boucher with a shutout going in the third period of their second round victory, Schooley said, "I had planned on playing (goaltender) Wes (Russell) because we need to find out if these young guys can play. Boucher came to the bench and asked if I wanted him to give up a goal."
Robert Morris is now 2-0 all-time in Alaska and will look to increase that win total when they visit Alaska-Fairbanks during the 2009-10 campaign.
The good news if you believe in trends and odds: 11 of the last 16 Classic tournaments has had at least one participant later become an NCAA Tournament qualifier.
This season doesn't get any easier for the Colonials with their first-ever trip to Wisconsin this weekend.
— Warren Kozireski
Atlantic Hockey Quick Hits: Atlantic Hockey got off to a brutal 0-9-1 start in non-conference play, but a 4-0 start in exhibition contests. Canisius produced the only tie against NCAA opposition, rallying from a 3-0 deficit to tie St. Cloud State, 3-3. David Kasch and David Cianfrini scored early in the third period to tie the contest. Canisius netminder Bryce Luker made four of his 43 saves in overtime to preserve the tie. ... Mercyhurst goalie Matt Lundin, a former netminder for the Maine Black Bears, held Ohio State scoreless through two periods before allowing two third-period power-play goals to the Buckeyes as Mercyhurst dropped a 2-1 decision in the first round of the Lefty McFadden Tournament. Lundin was injured in the loss, and freshman Ryan Zapolski started Saturday's 4-0 Laker loss to Notre Dame. ... Army may have found another solid freshman netminder. Jay Clark started the second game of a series at Bemidji State and allowed just one goal. Bemidji produced two empty netters in the final minute for a 3-0 win. Junior Josh Kassel, Army's savior in net last season, started the opener and made 22 saves in a 2-1 setback.
— Ken McMillan
Great Weekend Getaways

Games We'd Pay to Watch in Person:
North Dakota at Boston College
(Fri.)
The Sioux made an emphatic start to the season with a 6-0 win over Michigan State last weekend. Now they get to head east and face Boston College in a rematch of last season's Frozen Four semifinal game won by the Eagles.

Games We'd Pay to Watch on TV:
Ohio State vs. Miami
(Fri./Sun. Home-and-Home)
The Buckeyes and RedHawks both earned a pair of non-league wins to start their seasons off on the right skate. Which team will carry that momentum into the weekend, and make a statement in the first weekend of CCHA play?
FRIES AT THE BOTTOM OF THE BAG
• Brock Trotter's goal six seconds into Denver's 3-1 win against Maine Saturday is the fastest goal to start a game in school history. The goal came two seconds faster than the previous mark of eight seconds, set by Marty Howe in a 3-2 loss at Michigan Tech on Dec. 16, 1960.
• RPI surrendered eight goals in its pair of losses at the IceBreaker last weekend – none of them 5-on-5. Minnesota's come-from-behind 4-3 win over the Engineers happened via three power-play goals (including two in that ridiculous third period, in which the penalty minutes were 23 for RPI and 2 for the Gophers) and one 4-on-4 goal. Boston College beat the Engineers 4-1 with three power-play goals and a shorty. On the flip side, Minnesota Duluth held Lake Superior State and Northern Michigan without a power-play goal last weekend. The Bulldogs have allowed one power-play goal in their opponents' last 62 man-advantages.
• Perhaps the most ominous question mark surrounding the CCHA's Michigan Wolverines heading into this season was how far incumbent goaltender Billy Sauer would carry the team or whether he would need to be replaced. Sauer showed signs of growth in a weekend split which included a 4-3 overtime upset of Boston College last Friday night and a narrow 4-3 defeat by Minnesota one night later at the Icebreaker Tournament in the Twin Cities.
The junior had defeated Boston College once before, at home during his freshman season, but had been absolutely shelled by Minnesota in two previous meetings. By keeping Michigan in the game, Sauer showed that perhaps he has taken steps to mature in the off-season. Keep in mind that he started strong each of the last two seasons, albeit against inferior opponents, but Sauer's consistency will be a barometer of Michigan's success.
• Union is 2-0-0 after sweeping a weekend series against Ferris State. The Dutchmen have six players who recorded at least two points in the series, including junior Matt Cook who had a goal and three assists. Senior goalie Justin Mrazek allowed just one goal on 44 shots in the two games.
• While many people gaped in awe as North Dakota crushed defending national champion Michigan State 6-0 in the season opener last Saturday, look for goaltender Jeff Lerg and his team to bounce back from early adversity and return to last year's playoff form.
The Spartans have showed their resilience in the past, particularly after getting knocked off by rival Michigan in last season's CCHA Playoff semifinal. After the 5-2 defeat, coach Rick Comley demanded that his players stay in the locker room until he was through with them. Whatever was said, it clearly turned Michigan State around and inspired them when the NCAA Tournament commenced.
• Colgate travels to Michigan State this weekend after an opening-weekend scoring bonanza that saw the Raiders post six goals each night in wins over Sacred Heart and RIT. Coach Don Vaughan promised a bigger emphasis on creating scoring chances and it seems to have paid off in the early going. Senior forward Tyler Burton leads the way with five points, and freshmen Francois Brisebois (0-4—4) and Brian Day (3-0—3) have made an immediate impact.
• While Michigan Tech's current crop of Huskies was splitting a pair of home games to open the season, two former Huskies had interesting returns to WCHA action as well. Four-year Tech letter winner Matt Ulwelling stepped back onto a college rink last Saturday, working the Michigan State-North Dakota game as an assistant referee. He worked a handful of games last season, but will see increased time in the stripes this year. And former Huskies goalie Bryce Luker, who left school at Tech after playing 31 games in two seasons, found his way back to a WCHA rink on Saturday. Luker had 43 saves (four of them in overtime) as Canisius rallied for a 3-3 tie at St. Cloud State.
• The WCHA welcomed a new on-ice official to the fold this season, and is prepared if fans start taunting him with jokes about his old friend Screech. Max Battimo, who worked last Friday's 2-2 tie between Minnesota Duluth and Lake Superior State at the DECC, spent a significant part of his childhood (OK, 13 episodes) playing Mikey Gonzalez on "Saved By The Bell: The Junior High Years" in the late 1980s. Battimo has worked ECHL games in California for the past few years. And, since we know you were wondering, there are three degrees of separation between Battimo and Kevin Bacon.
• Bemidji State junior goaltender Orlando Alamano registered his first career shutout 3-0 over Army Saturday in just his fourth career start.
• Wayne State forward Derek Punches broke a 17-game goalless streak with a tally Friday against Alaska-Anchorage. He now has two goals in his last 42 games.
A variety of sources were used in the compilation of this notebook.