November 22, 2007
NATIONAL NOTEBOOK
Okposo's Back; And The Best Trio You Don't Know
By Inside College Hockey Staff
Play Pick 'Em
INCH Pick 'Em is in its second week this season. Make sure to get your picks in before Friday's 4 p.m. ET deadline. | INCH Pick 'Em
If the four goals he's scored in the last three games weren't enough of an indication, Minnesota forward Kyle Okposo put into words what a lot of Gopher fans have been thinking, and hoping recently.
"I'm back," Okposo said after last Saturday's 4-2 Gopher loss to Alaska Anchorage. Okposo's face displayed a shy smile that betrayed his dislike for talking about individual accomplishments after a team loss. "I think I'm starting to play well. I feel like I've got a pep in my step and I'm starting to play like the player of old."
While it may seem strange for a sophomore to want to be a "player of old," consider that Okposo's rookie season started with him recording a point in 16 of his first 18 games, and leading the Gophers in nearly every offensive category heading into the holiday break last season with 15 goals and 23 points. One of those goals was a highlight-reel move from a game at Minnesota State last December when he scored the game-winner by pulling the puck back between his skates, then flipping an under-the-leg shot past the Mavericks' goalie.
Roughly three weeks later, Okposo hit a wall that – as many pointed out – coincided with linemate Tyler Hirsch's dismissal from the team. Okposo had just four goals in the Gophers final 22 games last season, and after flirting with signing a New York Islanders offer sheet over the summer, started slowly in the first month of the 2007-08 season.
The sophomore's resurgence began two weeks ago in a home game with Minnesota State, when Gophers coach Don Lucia put Okposo and his booming slap shot on the point for a few Minnesota power plays, and Okposo responded with his first multi-goal game in nearly a year. He scored in both of the Gophers' games last weekend versus Alaska Anchorage, which drew a mixture of praise and questions about the rest of the offense from his coach.
"He's come alive," Lucia said. "Kyle played very well this weekend, but some of the supporting cast's play dropped off."
Okposo said the Gophers recent troubles (they're a pedestrian 2-3-0 at home in WCHA play) stem from brief lapses that give opportunities to their opponents – like the four-minute stretch of the third period last Saturday which saw a 2-1 Minnesota lead become a 4-2 deficit.
"We've got to start bumping guys, being more physical and just getting a little jam to our game," Okposo said. "We've got to be making plays, making short passes, making the right plays at the right times. We do that a lot. We do that at many points in the game, but there are some points where we don't do those things, and it comes back to haunt us."
– Jess Myers
SEEN AND HEARD AROUND THE NATION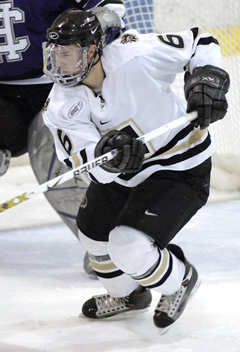 Owen Meyer is a part of Army's high-scoring top-line.
The Knight Stuff: Army's top line of seniors Bryce Hollweg, Luke Flicek and sophomore Owen Meyer can certainly make the claim to be the best offensive unit in Atlantic Hockey, and perhaps nationally – at least statistically.
A huge two week performance has vaulted the Army trio to the top of the league scoring charts. Meyer leads in goals scored (8) and is tied with Flicek for most points (15). Flicek is the leading helper (10) to go with his five goals. Hollweg is tied for third in points (5-8-13).
Flicek and Meyer are tied for fourth nationally with 1.5 points per game and Hollweg is tied for 16th at 1.3.
"It's as good an offensive line that I can recall since I've been here," said Army head coach Brian Riley, whose tenure as a team assistant dates back to 1989. "The are certainly a threat every time they are on the ice."
The unit combined for six points and seven points in a sweep of American International on Nov. 9-10, and then piled on 13 points in a 7-2 win over Bentley on Nov. 16.
Meyer posted his first collegiate hat trick in the 7-1 win over AIC on Nov. 10. Hollweg trumped that with his three-goal, two-assist effort in the Bentley series opener, and Meyer contributed five assists – that's the most helpers for an Army player since Ian Winer helped on five goals in a Jan. 27, 1995, win over Bentley.
Hat tricks are not common at Army. The last time the team posted back-to-back hat tricks was Jan. 1998 when future AHL player Andy Lundbohm performed the task. The last time Army had successive hat tricks by different players was Nov. 1994.
"We just click and know where each other is going to be," said Hollweg, whose brother, Ryan, plays for the New York Rangers. "We all bring something different to the table, too."
Flicek has great vision and puck-handling ability at right wing. The center Hollweg is hard working and able to retrieve pucks in the corners. Right winger Meyer may be the most skilled of the three, and uses his long reach and physical 6-foot-2 frame to dominate on shifts.
Flicek and Hollweg were partnered with Chase Podsiad, who decided to move back to defense early last season. Both linemates agreed that Meyer – then a freshmen – would be a good asset to their unit. Together, the line helped propel to a third-place finish in league play and a berth in the Atlantic Hockey title game.
"The time we spent together last year, developing that chemistry, has really carried over," said Meyer, who has 46 points in his first 46 collegiate games.
— Ken McMillan
Struggling CCHA Teams Meet: With just one win in 11 total league games between them, things are looking a little different than preseason expectations dictated for the Ohio State Buckeyes and the Western Michigan Broncos heading into their meeting this weekend.
Both teams were thought to be contenders for a spot in the top half of the CCHA, and looked to meet that standard when the Buckeyes started with a pair of wins, including a 5-3 win over Wisconsin, at the Lefty McFadden Invitational. The Broncos also appeared strong, opening their campaign by sweeping Bentley at home in Kalamazoo.
The two teams' struggles have stemmed from offensive shortcomings, as both have experienced troubles finding the back of the net.
"We just have to get back to our old selves," Western Michigan goaltender Riley Gill said to the Western Herald. "We played well the first few weekends but then we shut it down after that. We have to get our confidence back and pop in a few goals early."
But while the Broncos numbers appear paltry against the upper echelon of the CCHA, the Buckeyes' haven't even been able to muster half as much offense. Western Michigan has notched 15 goals in 6 league games, while Ohio State has only been able to find the back of the net 8 times in their six CCHA contests.
— James V. Dowd
Mercyhurst Skeptical About Potential CHA Switch: With Wayne State's departure at the end of the current campaign, there has been much talk about the future of, or if there even will be a College Hockey America conference in 2008-09.
One of the rumors had two teams from Atlantic Hockey joining CHA bringing it back to a six-team league. One of the rumored teams was Mercyhurst, but head coach Rick Gotkin said Saturday that it looks to be dead at this point.
:There is absolutely no way we will join CHA unless there is a guarantee. We've been told that, while the Atlantic wants us to stay, we could go if we wanted, but with no guarantee of being allowed back should something else happen with CHA. We had no problem with the travel and being one of the ones to help out, but we don't want to be left without a chair if the music stops. Without the guarantee, it won't happen."
— Warren Kozireski
Great Weekend Getaways

Games We'd Pay to Watch in Person:
Colorado College vs. Denver
(Fri./Sat. Home-and-Home)
These Rocky Mountain rivals begin a big four-point weekend in WCHA play on Friday in Colorado Springs and play in Denver on Saturday. Both teams come into the weekend series in good form. The Tigers have won five straight and DU has rattled off four consecutive victories.

Games We'd Pay to Watch on TV:
St. Cloud State at Clarkson
(Fri.-Sat.)
It's the ultimate which-team-is-for-real series this weekend in Potsdam, N.Y. and we may find out that the answer is St. Cloud State, Clarkson, both, or neither. Both teams boast talented groups of forwards. Expect lots of scoring chances.
FRIES AT THE BOTTOM OF THE BAG
• Rensselaer hosts the oldest continuous holiday college hockey tournament this weekend at Houston Field House in Troy, N.Y. and Friday's early semifinal features an intriguing rematch from last year's NCAA Tournament.
Alabama-Huntsville will try to make it two CHA titles in a row (Niagara won last year) at the RPI tournament. They face Notre Dame in the first round, who the Chargers took to double-overtime in the NCAA Midwest Regional in Grand Rapids last March. Rensselaer and American International round out the field.
• Joe Marciano, a 17-year-old blueliner from Alta Loma, Cailf. (a Los Angeles suburb) committed to Colorado College this week. He told Kate Crandall of the Colorado Springs Gazette that geography was a factor in his decision. "Being from California, it's a good fit for me and Colorado is close to home," Marciano told the paper.
While CC is among the closest D-I hockey schools for Southern California kids, to say it's "close to home" may be a bit of a stretch. According to Google Maps, it's more than 1,100 miles from Alta Loma to Colorado Springs. That's roughly the same distance between Madison and Boston – not exactly "drive home on the weekend and have mom do my laundry" proximity.
• Sacred Heart was swept at Niagara, 4-2 and 3-1 last week, giving up late goals in each game. Niagara's Les Reaney and Kyle Rogers scored in the final two minutes in the opener. Egor Mironov and Vince Rocco scored in the final 11 minutes in the Purple Eagles' second win. The Pioneers have dropped three in a row for the first time since Jan. 12-20, 2007, when they lost to RIT twice and at Dartmouth. The weekend sweep was the first since dropping a home-and-home with U.Conn on Feb. 2-3, 2007.
• Reports earlier this week declared Saturday's game between Cornell and Boston University at Madison Square Garden a sellout, which means that more than 18,000 people will be watching college hockey in Manhattan. These schools have a storied rivalry dating back to the pre-Hockey East days when BU was a member of the ECAC.
• The Michigan Wolverines have jumped out to their best CCHA start in program history, notching 8 consecutive wins to begin their campaign. While the Wolverines have a week off from league play this week, they face off with Ohio State and Bowling Green in the two following weekends as they try to head into the break 12-0-0 in the CCHA.
• While the Miami RedHawks are known best for the offense led by Nathan Davis and Ryan Jones, defense has been a key part of their success thus far, opening the CCHA campaign 9-1-0. The RedHawks have allowed just 18 goals in 12 total games this year, led by goaltender Jeff Zatkoff's league-leading 1.40 goals against average and .942 save percentage.
• Mercyhurst snapped a three-game losing streak with a 6-3 win at Rochester Institute of Technology on Friday. Maine transfer Matt Lundin was back in nets after hurting himself in the season opener, stopping 39 shots for his first Laker win. The Lakers trailed 3-2 before scoring four goals in the final period, two from Brandon Coccimiglio and single tallies 25 seconds apart from Neil Graham and Bobby Phillips. Lundin stopped 51 shots the next night but dropped a 3-2 overtime decision as Simon Lambert scored at the 3:11 mark.
• From the "what were you thinking" department, we have a funny slip-up by DECC public address announcer Howie Leathers. During last Friday's 1-1 tie between Minnesota Duluth and Michigan Tech, a third-period penalty on Tech's Mark Malekoff was announced by Leathers, as "two minutes for cross dressing."
Long-time DECC ticket holders were likely reminded of the Bulldogs' former public address man Bill Oswald's occasional gaffes, including the 1989 game versus the University of Alberta when Oswald referred to Alberta defenseman (and future Edmonton Oiler) Ian Herbers as "Ian Herpes."
A variety of sources were used in the compilation of this notebook.