January 3, 2008
NATIONAL NOTEBOOK
Holiday Tournaments and the Weekend Ahead
By Inside College Hockey Staff
INCH Podcast
For additional coverage of the happenings around the world of college hockey, listen to the latest INCH Podcast, recorded Thursday night. INCH writers and editors discuss suspensions at three prominent programs, Minnesota's woes, and Hockey East's excellence at holiday tournaments. | INCH Podcast (.mp3, 19 MB)
Subscribe on iTunes, by searching Inside College Hockey.
The recently completed holiday tournaments shed some positive light on winning programs and gave several teams momentum heading into the 2008 portion of the schedule. Inside College Hockey salutes our All-Holiday Tournament Team:
F – Nathan Gerbe, Boston College: The most valuable player at Dodge Holiday Classic in Minneapolis led the resurgent Eagles to wins over Air Force and RIT. In two games, Gerbe had 2-5—7 and posted a plus-minus rating of +6.
F – Jonathan Maniff, UMass Lowell: Maniff set up the first of the River Hawks' two third-period goals in the team's 3-2 win over Cornell in the first round of the Florida College Classic, then scored twice and added an assists in UML's 6-0 romp over Maine for the tourney title.
F – Brock Trotter, Denver: The Pioneers' leading scorer was named MVP of the Wells Fargo Denver Cup after scoring a goal and two assists in each of DU's two wins – a first-round rout of Sacred Heart and a championship game decision over Dartmouth.
D – Nick Canzanello, Minnesota State: OK, so the Mavericks didn't play in a holiday tournament. Still, Canzanello's four assists and plus-minus rating of +6 in his team's non-conference wins against Princeton and Yale were impressive enough to merit a mention.
D – John Swanson, St. Cloud State: The Huskies split at the Ohio Hockey Classic in Columbus, falling in overtime to Miami before beating Harvard in the third-place game. With a goal and two assists in the tournament, Swanson figured into three of SCSU's five goals on the weekend.
G – Billy Sauer, Michigan: The junior made 50 saves in a 6-0 shutout of Providence in the first round of the Great Lakes Invitational in Detroit. For an encore, Sauer stopped all 37 shots he faced in the Wolverines' 1-0, double-overtime win against Michigan Tech, giving Michigan its first GLI title since 1996.
SEEN AND HEARD AROUND THE NATION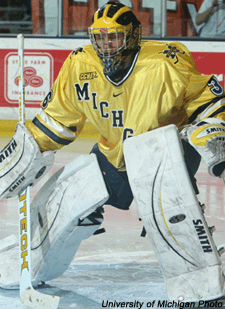 Billy Sauer posted back-to-back shutouts for the Wolverines at the Great Lakes Invitational.
Form Holds in CCHA: In a not-so-shocking development, the CCHA's two frontrunners certainly had happy holidays. In a pair of tournament victories in their respective home states, league leading Michigan and second place Miami continued to prove that they're among the nation's top teams.
While the RedHawks did indeed notch a victory in the Ohio Hockey Classic, they certainly took their time in doing so.
After trading goals with Ohio State in the opening two periods, Miami was buoyed by a strong goaltending performance on the part of Jeff Zatkoff and stayed calm as frustrated Buckeye fans began smelling a victory at Columbus' Nationwide Arena.
Finally, with less than two minutes remaining, sophomore forward Gary Steffes put Miami ahead for good with a game-winner that hit an Ohio State stick and found its way into the back of the net. One night earlier, the RedHawks were force to fight late into a game, before downing St. Cloud State in overtime.
Comparatively, Michigan made quite quick work of Providence in the Great Lakes Invitational opener, thrashing the Friars in a 6-0 rout. But if it seemed like Miami took its time in its two victories, Michigan's enormous freshman class was skating long enough to become seniors (at least figuratively if not actually) in an 82 minute, 32 second, 1-0 thriller at Joe Louis Arena against Michigan Tech.
After 4 periods of spectacular goaltending by Michigan's Billy Sauer and the Huskies' Rob Nolan, Wolverines' junior Travis Turnbull redirected a shot from freshman Scooter Vaughan an into the net, giving Michigan it's first win in the tournament since 1996.
While the fatigue from such games won't have a chance to wear on the teams as they continue their midseason break for at least a few days following the tournaments, it perhaps helped to mature the league leaders as they head into a tough second half.
"Obviously, it was important to come back (from the break) and play well," Sauer said. "Especially after having a few weeks off. I think we have to keep going in the direction we're going. After the College Hockey Showcase, we lost to Ohio State. I think we got too comfortable and were satisfied with our play. I think we have to learn from that situation."
— James V. Dowd
Great Weekend Getaways

Game We'd Pay to Watch in Person:
Boston College at Clarkson (Sat.)
The on-ice product shouldn't disappoint, even though the Eagles come into the game with much better recent form than the host Golden Knights. Clarkson alum Jocko McLennan and legendary Clarkson and Boston College coach Len Ceglarski will take part in a pre-game ceremony recognizing the creation of a coaching endowment at Clarkson. More coaching ties include ... BC coach Jerry York was George Roll's coach when he played at Bowling Green.

Games We'd Pay to Watch on TV:
IIHF World U-20 Championships
(Fri.-Sat.)
College hockey's impact on the World Juniors is great, as all collegians involved in the tournament will play in semifinal games on Friday including Sweden's Carl Hagelin (Michigan) in the early semifinal and Canada's Kyle Turris (Wisconsin) takes on a U.S. team featuring 17 collegiate players. The medal games are slated for Saturday.
FRIES AT THE BOTTOM OF THE BAG
• RIT hasn't been a Division I member long – the Tigers are in just their second season of full-fledged D-I status – but they're the only program in the country able to boast about an undefeated record against the WCHA. Last weekend's game at Minnesota in the first round of the Dodge Holiday Classic, a 4-3 RIT win, was the Tigers' first contest against a WCHA foe.
• Two of the top freshman scorers in Hockey East are also among the scoring leaders at the IIHF World Junior Hockey Championship. New Hampshire's James vanRiemsdyk, who was taken by Philadelphia with the second overall pick in last year's NHL Entry Draft, leads the tournament (and the U.S. team) with 10 points heading into Friday's semifinal match against Canada. vanRiemsdyk's U.S. teammate, Colin Wilson of Boston University, is the tourney's leading goal-scorer with six. Wilson is expected to be a first-round pick in this year's NHL Draft.
• Denver senior goalie Peter Mannino stopped all 26 shots he faced in a 5-0 win over Sacred Heart at the Wells Fargo Denver Cup. The shutout was the 13th of his career, and tied him for the program's all-time lead with Gerry Powers.
• Detroit Red Wings brass may want to extend a free-agent offer to Michigan Tech's Tyler Shelast once his college career ends. The senior forward scored a pair of goals as the Huskies finished second at the Great Lakes Invitational at Joe Louis Arena last weekend. In eight GLI games at the Joe, Shelast has nine goals.
• Notre Dame's nine-game winning streak finally came to an end at the Lighting College Hockey Classic in Tampa, Fla. The Fighting Irish traded goals with Massachusetts for the first two periods before surrendering a power play goal after an Evan Rankin tripping penalty in a 4-3 loss. While the loss was disappointing, coach Jeff Jackson can take solace in the resilience of his team, after the came back and knocked of RPI 3-1 the following night.
• The Bad Timing Award goes to Wayne State. The Warriors last traveled to Minnesota to start the 2006-07 season—the first games after the Golden Gophers were upset by Holy Cross in the first round of the NCAA Tournament—and were beaten handily 7-1 and 5-1. This weekend, the maroon and gold are coming off an upset loss to RIT and tie against Air Force at their own holiday tournament.
• Like mentor, like student. Michigan goaltender Billy Sauer's two consecutive shutouts -- which netted him Great Lakes Invitational Most Valuable Player and CCHA Player of the Month honors -- were the first by a Michigan net minder in 6 seasons. The last goaltender to do it: first year Michigan goaltender coach Josh Blackburn, to whom Sauer gives a great deal of credit for his renewed success this season.
• Detroit Red Wings brass may want to extend a free-agent offer to Michigan Tech's Tyler Shelast once his college career ends. The senior forward scored a pair of goals as the Huskies finished second at the Great Lakes Invitational at Joe Louis Arena last weekend. In eight GLI games at the Joe, Shelast has nine goals.
• If nothing else, one could say North Dakota has been consistent as of late – consistently average. The Fighting Sioux split with New Hampshire in Grand Forks last weekend, marking the seventh straight series in which UND exited with one win and one loss. During that stretch, the Sioux are 4-3 in series openers and 3-2 in the back end of two-game sets.
• Canisius has yet to lose a game at home this season. Now they just need to play more games at home. The Golden Griffins upset Buffalo-area rival Niagara, 4-3, last weekend, running its home mark on the year to 3-0. Canisius's road record is 1-10-4. Mercifully, the Griffs play 12 of their last 17 at home.
• Three is a magic number: Massachusetts is 9-0-2 this season in games when it scores three or more goals, and 0-3-3 when scoring two or fewer goals.
• Niagara junior Viince Rocco netted his first career hat trick accounting for all three Purple Eagles goals in a 4-3 loss at cross-town rival Canisius, but the Purple Eagles might wish their two games this weekend with Cornell were in Syracuse. They have never beaten the Big Red at Lynah Rink, but did win twice at the old Syracuse Invitational. The two teams have never played in Niagara.
A variety of sources were used in the compilation of this notebook.