October 4, 2007
2007-08 WCHA Preview
By Jess Myers
THE SKINNY

In an early summer conversation with North Dakota coach Dave Hakstol, the man who has had the Fighting Sioux playing in April in all three of his seasons behind their bench joked just a little about a unique and impressive recruiting tool in his arsenal.
The Grand Forks school boasts a beautiful tree-lined campus, fine academic programs and the most opulent hockey arena in the world. But Hakstol was reminded that he had something that no other hockey coach could offer a potential recruit: the chance to play on a line with defending Hobey winner Ryan Duncan and potential Hobey favorite T.J. Oshie.
"We have many exciting opportunities for the young man that's interested in the University of North Dakota," Hakstol deadpanned, and you could almost hear the sly smile through the phone.
Despite the streak of consecutive NCAA titles won by teams from this league ending last April, there are plenty of smiles to be found between Houghton and Anchorage. Coaches and players widely acknowledge that North Dakota is the clear favorite, not just in the WCHA but in the nation if you believe in the credibility of the polls. But there's also a sense than unlike in previous years, where you could easily pencil four or five WCHA teams into the NCAA field before Halloween, there aren't clear-cut obstacles that are insurmountable for plucky teams looking to make a run.
"Last year our league had a lot of good teams, but not a lot of great teams," said Minnesota Duluth coach Scott Sandelin. "I think that showed at the end of the year with our streak being broken. I think the league is going to be even tighter this year, from top to bottom, by the end of the season."
Between now and March, we're likely to see a near photo-negative of last season, when the league was filled with teams strong in goal but uncertain of who would score. The 2007-08 version of the WCHA is stacked with offensive talent (some old, some young) but defense and goaltending questions abound, especially on anticipated NCAA contenders like Wisconsin, Minnesota, Colorado College and St. Cloud State.
"The top five is up for grabs," said Alaska Anchorage coach Dave Shyiak. "North Dakota has got a great hockey team, but there are plenty of chances for other teams to surprise people."
The "big games" start early, with defending NCAA champ Michigan State visiting North Dakota, Colorado College visiting New Hampshire, Denver visiting Notre Dame, Wisconsin facing Notre Dame and Minnesota facing either Boston College or Michigan within the season's first few weeks. In other words, the picture of who's for real and who's got issues should be much clearer well before anyone is thawing a Thanksgiving turkey.
But for teams looking to make unexpected noise, or looking to return to late March hockey for a crack at the Frozen Four, there are exciting opportunities, and not just on the top line for that talented team from the Peace Garden State.
"There's room at the top there," said St. Cloud State coach Bob Motzko when asked about the overall WCHA picture. "It's just a matter of who's ready and willing to take it."
BREAKTHROUGH TEAM
Even if it was only for one cold Thursday night last March, Michigan Tech players and fans got a taste of the good life, and they liked it.
"The players have very high expectations, and there are even higher expectations within the community," said Huskies coach Jamie Russell, who shared the WCHA's coach of the year award last season after his team upset Colorado College in the playoffs and made its first trip to the Xcel Energy Center. "We would certainly like to earn home ice in the playoffs and make it back to the Final Five."
Alas, the Final Five appearance was brief, as Brian Elliott shut out the Huskies in St. Paul. But the return of top-shelf defense, one of the nation's best penalty-kill units and an experienced goaltending tandem means that at least some of the necessary elements are in place for the Huskies. Russell says that if players like Peter Rouleau, Tyler Shelast (who led the team with 15 goals last season) and Alex Gagne can take the next step and increase their offensive production, he likes their chances for a top-five finish.
PRIMED FOR A FALL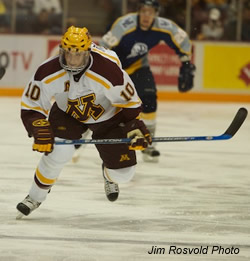 Alex Golgoski skated off to the professional ranks. He signed a contract with the Pittsburgh Penguins organization.
Talk to the coach and the players at Minnesota and they mention defying expectations and rising to the challenge of being the league's two-time defending regular season champs. But all of that aside, the fact remains that the Golden Gophers lost a huge quantity of blue line talent in the off-season when Mike Vannelli graduated and Alex Goligoski and Erik Johnson left early for pro contracts. There will be three freshmen in the Minnesota defensive corps at the start of the year.
"Obviously we're going to have to have some of the freshmen come in and contribute right away, and that's going to take time," said Gopher coach Don Lucia, who admitted that he's considering occasionally moving a forward to the point during power plays. The defense will be backed up by junior goalie Jeff Frazee, who led the league in winning percentage last season, but struggled to crack the WCHA's top 10 in saves percentage and goals against average. In other words, there may be opportunities to see lots of goals on both sides of the Mariucci Arena scoreboard.
PRESSURE TO PERFORM
There are plenty of untested goalies in the WCHA this season, but likely none with as much on their shoulders in terms of their team having everything else in place for a run than the junior and the rookie wearing the big pads at Colorado College. The Tigers are sound defensively and return almost all if their scoring from a year ago, but the play of Drew O'Connell and Richard Bachman will likely determine if CC will have a chance to play in their home rink during the NCAA West Regional in March.
"This is the first time since I've been here that we don't have a tested, proven goalie," said Tigers coach Scott Owens – himself a former CC netminder. "We rode (Matt) Zaba pretty hard last year, and that's something we'll have to deal with this year." O'Connell was 3-3-0 last season, while Bachman struggled at the start of the season in the USHL but was one of that league's most feared goalies by the spring.
TOUGHEST ACT TO FOLLOW
In a league where questions about goaltending abound, goalies who wear red may be in the harshest glow of the spotlight right away. Sophomore Jase Weslosky at St. Cloud State and junior Shane Connelly at Wisconsin both look to replace big names in their respective creases, for teams where fan expectations are high.
Connelly was thrust into action as a rookie when Brian Elliott missed time due to an injury, and played well in spot duty last season while learning from goalie coach Bill Howard. "Shane knows it's his time now, and he'll face the same questions we had with Brian two years ago about whether he can go in back-to-back games and how good he can be," Badgers coach Mike Eaves said.
Weslosky backed up two-time WCHA first-team selection Bobby Goepfert last season, going 5-1-0, and will be the number one guy right away as the Huskies seek a return trip to the NCAAs and another crack at the program's first national tourney win.
BEST PLAYER
With a well-deserved nod to that "other guy" on North Dakota's top line, who happens to have a Hobey on his mantle already, it's the junior from Seattle by way of northern Minnesota who has Fighting Sioux fans buzzing. T.J. Oshie lit up the ice in St. Louis last April and again over the summer when he attended the Blues rookie camp. As late as September, the Blues were trying to convince Oshie to leave early and join the pro ranks, but that move would be in clear violation of the pact the forward made with a few teammates early in the summer.
"I knew I still needed to grow as a player, and I thought, what better place to do it than North Dakota, with our facilities and whatnot," Oshie said. "I talked to (Ryan) Duncan and (Taylor) Chorney and (Joe) Finley a little bit. We got together and decided that if we all stayed we could do something pretty special. We didn't sign anything, but we shook hands and got pretty excited."
If Oshie can repeat or improve on his 52-point sophomore year and get the Sioux back into the Frozen Four, many are thinking that North Dakota will join Maine and Minnesota Duluth as the only schools with back-to-back Hobey winners.
BEST NEWCOMER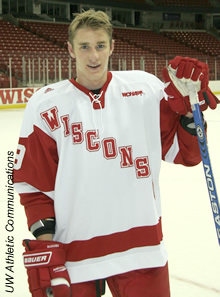 Kyle Turris has impressed coaches, scouts, and opponents in a variety of showcase events over the last three seasons. This year he takes the ice in the WCHA.
Anyone looking for a second opinion about whether or not Wisconsin freshman forward Kyle Turris is as good as is warranted by the Coyotes picking him third overall in last summer's NHL draft can get gushing reviews in both English and Russian now. Skating for Team Canada in late August and early September, Turris had seven goals and an assist in an eight-game series featuring the best young players from Canada and Russia. That was part of a well-traveled summer for the rookie, who also braved the intense heat of the Arizona desert to attend the Coyotes rookie camp.
"He's a dynamic player and he's lightning fast," said Minnesota forward Blake Wheeler, who skated alongside Turris in Phoenix over the summer. "He's definitely got all the tools. He's a little raw going in, but he's very talented so he'll be a match-up problem for anybody who faces him." Turris' mother was a track and field star in his home county, and his father is a member of Canada's lacrosse hall of fame, so that pairing producing an athletic son isn't a huge shock.
UNSUNG PLAYER
Perhaps "unsung" isn't the perfect description for St. Cloud State sophomore forward Ryan Lasch. After all, the diminutive Californian was named to the league's all-rookie team last year alongside much more heralded folks like teammate Andreas Nodl and Minnesota scoring wonder Kyle Okposo. Those names were expected, but Lasch and the 39 points he recorded in his first season were not.
Huskies coach Bob Motzko says that Lasch has an almost psychotic obsession with finding the back of the net. "And if for whatever reason he doesn't score on Friday night, look out on Saturday," Motzko said.
Lasch has been in central Minnesota long enough to know that the big game is a visit by the Gophers, and the Gophers have seen enough of Lasch to know they'll have their hands full when he comes over the boards. "He's shifty and crafty, and he works hard," said Minnesota captain Derek Peltier. "He's a great skater and he's not easy to win a battle against the way he fights for the puck."
THREE BURNING QUESTIONS
1. Will the WCHA start a new streak of titles when the Frozen Four in Denver comes to a close?
The last time they played for the NCAA title on a rink in Colorado, in 1976, it was Herb Brooks and the Minnesota Golden Gophers beating another WCHA team (John MacInnes and his Michigan Tech Huskies) for the crown. More than one WCHA coach, fan and league official was stung just a little bit on that Thursday night last April when North Dakota's semifinal loss to Boston College spelled the end of the league's run of five straight national championships. With North Dakota ranked atop the national polls, regionals being played in Wisconsin's and Colorado College's home rinks and the Frozen being played a few minutes from Denver's campus, opportunities abound.
2. Will 2008 finally be the year that the new rink in Duluth becomes a reality?
Two years ago, Scott Sandelin was talking about this possibly being his team's final season in the WCHA's oldest arena (which turned 40 last winter). Instead, they're still waiting to break ground on the proposed waterfront rink, while political wrangling in St. Paul keeps the construction crews quiet. Last spring the necessary funding to get the project started was passed by the state legislature but vetoed by Minnesota's governor. In the mean time, the DECC is getting older, fans are getting more impatient, and thanks to rapid inflation in the cost of building materials, the projected cost of the new doghouse keeps rising. And pessimists fear that in the wake of the Interstate-35W bridge collapse in Minneapolis, state funding for sports facilities may be delayed yet another year as Minnesota taxpayers pick up the tab for a new span over the Mississippi instead.
3. Can the Mavericks make noise before Halloween?
Last October's upset of Notre Dame aside, Minnesota State has a reputation for starting slowly. Not content to go with what we've been told, we had the crack staff of statisticians at the INCH World Headquarters crunch the numbers and learned that the Mavs are 3-21-3 in October over the previous five seasons. In a tight league, that's a tough hole to dig out of right away, and with nine of their first 10 games on the road this season, the biggest challenge in Mankato is to win some games early.
MARK IT DOWN
Five things you can take to the bank in the WCHA this season
1. In addition to recruiting their future stars, many WCHA coaches will be recruiting their current stars. A hot topic of conversation among league coaches and administrators recently has been increased efforts by the Canadian major junior leagues to keep top players in-country, and recruit top American talent away from the college ranks. That means that college coaches are seeing the need for stepped-up efforts of their own.
"We've got to do a better job on both sides of the border as far as showcasing what we have and what we can offer in the college game," said Michigan Tech coach Jamie Russell. Those efforts need to include work to ensure that dissatisfied, but promising players don't make a run for the border in the middle of the season. "Recruiting, in terms of keeping players committed, never ends," said Wisconsin coach Mike Eaves.
2. Alaska Anchorage coach Dave Shyiak will have his players focusing on the good news after a rollercoaster campaign. By the middle of January last season, things were looking up at Sullivan Arena. The Seawolves had a .500 record, had won their early-season tournament and had captured the Governor's Cup (the trophy they battle in-state rival Alaska for each year) for the first time. Then came a 1-8-0 run to finish the regular season, before the Seawolves won a game at Mariucci Arena in the WCHA playoffs. Shyiak said he's disappointed to see the league coaches pick his club for the basement once again, but says that they move forward by building on the positives, determined to prove that last season's first half, and their above-.500 finish at home, we the start of something good.
3. They'd be wise to run "previews of coming attractions" before early-season games in Colorado Springs and Houghton. Fans of the Tigers and Huskies start the season excited about the players they have, and even more excited about the players they will see later in the season. Colorado College's top returning scorer, Jimmy Kilpatrick, is hoping to be back on the ice by Nov. 1 after having surgery to repair a hip muscle in August. And Tech fans may have extra incentive to make the 10-hour drive to Detroit for the Great Lakes Invitational after Christmas, as highly-touted forward Casey Pierro-Zabotel will make his debut for the Huskies then.
4. Denver goaltender Peter Mannino will not be intimidated by many surroundings his final season. While nearly every WCHA team will have to deal with an inexperienced goalie who'll be forced to sink or swim in intimidating opposing rinks, the Pioneers have a senior who has started, and won, a NCAA title game in goal. "Like anybody else, we look to our goalie first," Pioneers coach George Gwozdecky said. "Peter Mannino has the capability to backstop us to a lot of success. He and Glenn Fisher were great friends and great teammates, but I know Peter is excited about being our number one guy."
5. There's no need for anti-xenophobia protesters to picket outside Mariucci Arena. The Golden Gopher roster is 100 percent Minnesotans this season for the first time since North Dakota native Grant Potulny arrived on campus in the fall of 2000. But Lucia insists there's not going to be a return to the Minnesotans-only policy that existed under previous coach Doug Woog, it's just a one-season anomaly. As proud as Minnesotans are about the talent in the State of Hockey, when one looks at the list of recent "imports" to skate for the Gophers, it would be hard to argue that bringing in Grant Potulny, Ryan Potulny, Danny Irmen, Thomas Vanek, Phil Kessel, and Kellen Briggs was a mistake.
Predicted Finish

No.

School
Of Note

1.

North Dakota
They're erecting guard posts at Red River border crossings to ensure the injury bug doesn't come to visit. If healthy, the Sioux have everything they need for a run at an eighth NCAA title.

2.

Denver
Barring an appearance of the sophomore jinx, that talented Trotter, Rakhshani, Ruegsegger trio should have the Pioneers back in the NCAA playoffs.

3.

Colorado College
Much of the Tigers' offense returns, which puts the pressure on the young goalies to prove they're ready to shoulder a big load.

4.

Minnesota
There's another exciting freshman class in Dinkytown, but youth and inexperience on defense have some Gopher fans concerned.

5.

St. Cloud State
These Huskies don't play outside of Minnesota until Nov. 9, giving home-staters plenty of chances to see if the holes on defense and in goal will be properly filled.

6.

Michigan Tech
The Huskies made noise without much offense last season. More power in the power play this year could bring the long-awaited return of home playoff games to Houghton.

7.

Wisconsin
The defense is top-notch, but rookies will have to bear plenty of the scoring load if the Badgers are to follow their red-hot finish from a year ago.

8.

Minnesota Duluth
With last season's top three scorers gone, there's even more pressure on goalie Alex Stalock to live up to Bulldog fans' sky-high expectations.

9.

Minnesota State
John Kalinski's potential for offense, and two veteran goalies, have the Mavericks hoping they can take a step forward. But Travis Morin's departure hurts.

10.

Alaska Anchorage
The sophomore trio of Paul Crowder, Josh Lunden and Kevin Clark has plenty of scoring to do if the Seawolves are to make a northerly move.