November 1, 2007
St. Cloud State Singing Praises of Rookie Roe
By Jess Myers
If you overhear St. Cloud State coach Bob Motzko ask for the Vienna boys, it doesn't necessarily mean he wants to hear a high-pitched choir. If there's a power play beginning, and Motzko asks for the Vienna beef, it might mean he's hungry for a sausage, or it might mean something completely different.
WCHA Notebook

Any confusion over those nicknames is balanced by a great deal of offense, since Motzko has started putting sophomore Andreas Nodl (of Vienna, Austria) and rookie Garrett Roe (of Vienna, Va.) on the same line.
Heading into the season, Nodl was a known quantity, having put up 46 points last season to lead the team en route to winning the WCHA's rookie of the year award. Despite logging three seasons of solid offensive work for Indiana of the USHL, less was known about Roe, the kid from the suburbs of our nation's capital.
"Garrett had a track record of being a tenacious worker with great feet," Motzko said. "He's a guy that we thought could do it offensively, but you never know until you start to watch it happen."
Anyone in the National Hockey Center for last weekend's Husky sweep of Bemidji State could watch it happen before their eyes, as Roe continued to boldly introduce himself to the college hockey world. In two games against the Beavers, Roe had three goals and a pair of assists to earn WCHA rookie of the week honors.
Roe jokes that he was leaning toward "V-squared" as a nickname for his line and said he wants nothing to do with references to the Vienna Boys Choir. It's clear that barely a month into his college hockey career, the rookie from northern Virginia is having fun with his new team.
"We've gotten results. My linemates and I are finishing the plays that we start," said Roe, who leads the Huskies with five goals and five assists. "Nodl and I are starting to be able to find each other and develop some real chemistry. Everyone thinks of him as a sniper, but he's a really pure passer. He likes to be on the wing, and he can find me from there."
Roe's father Larry is one of the more active coaches and hockey boosters in suburban Washington, so Garrett was around the game throughout his childhood. He played prep hockey at Shattuck-St. Mary's in southern Minnesota before heading to the USHL and then the WCHA. Motzko says that his immediate contributions have allowed the coach to put other scorers — such as Nate Dey and Ryan Lasch — on a different line, giving the Huskies more immediate offensive balance. Both Roe and Motzko say that the game is already slowing down, and the adjustment to the college pace has been fast.
While it may be early to think about goals you want to reach 18 months from now, Roe says that since the day the 2009 Frozen Four was awarded to the Verizon Center in Washington, his father has been talking about the possibility of watching his son play close to home at the end of his sophomore season.
"I was just talking to my dad a few days ago, and he said I hope you do well this year, but I really hope you do well next year," Roe said with a laugh.
Those Frozen Four thoughts are in the far future. In the foreground, there are passes to be made, goals to be scored, and a snappy nickname to develop.
SEEN AND HEARD IN THE WCHA
North Dakota Mourns Loss: It's been said that bad things come in threes, and the North Dakota hockey family certainly got their own rough trifecta in the past week. It started with the settlement of the school's lawsuit with the NCAA over the Fighting Sioux nickname. The agreement gives the school three years to either get approval from area tribal leaders to continue use of the name and logo, or retire it permanently.
That news was followed by Michigan Tech's aforementioned upset of the previously unbeaten Sioux, which knocked them from the top of the national rankings. And less than 24 hours after than first on-ice setback, the program suffered a tragic off-ice loss, when former North Dakota forward Marty Schriner was killed in a boating accident.
On Saturday, Schriner, 35, was fishing with a friend on Eagle Lake, near the western Minnesota hometown of Schriner's wife, Julie. Schriner and his friend were thrown from the boat, and Schriner went under the waves before help could arrive. His body was recovered later that day.
Originally from the Detroit area, Schriner played for the Sioux from 1990-94 and left Grand Forks as the second-leading collector of penalty minutes in school history. That penchant for visiting the penalty box came despite Schriner not possessing overwhelming size (5-11, 185) and despite his natural knack for scoring goals.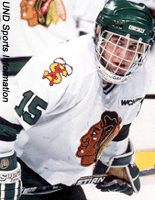 Marty Schriner
"In college, he was the grittiest player we had," said former Sioux defenseman Jon Larson, who played with Schriner for three seasons at North Dakota and for one season with Roanoke of the ECHL. "He was very strong for his size and was always in there banging. In Roanoke, he wasn't afraid to drop the gloves with anyone."
According to friends and teammates, that tough-guy on-ice persona disappeared as soon as the final horn sounded.
"Marty was calm, cool and collected away from the rink," Larson said. "For him it was all about having fun off the ice, but he was a totally different guy with skates on."
After a few seasons of minor pro hockey, Schriner retired to a life of teaching social studies in the Minneapolis suburbs. He was an assistant hockey coach for Wayzata High School, and helped guide the Trojans to a state tournament appearance in 2005. Even with a whistle around his neck, that "all business on the ice" persona reappeared.
"He always brought a smile to the rink, and when we got in the locker room we'd mess around, but on the ice he was in your face, trying to make you a better player," said Minnesota forward Tony Lucia, who played for Schriner at Wayzata. "He was always trying to teach offensive creativity. I learned a lit of little things that I still use today from him."
Great Weekend Getaway

Michigan Tech at Wisconsin (Fri.-Sat.)
Michigan Tech is atop the WCHA standings after winning three of four games, but Badger hockey fans will note that their team hasn't played a conference contest yet. Wisconsin will finally get its shot at in-league competition on Friday when the Huskies visit the Kohl Center for a pair of games. With Tech's defense looking formidable again and Badger rookie Kyle Turris looking all but unstoppable when he has the puck, something's got to give.

While You're There: Want to learn all about the varieties of huskies, bulldogs and terriers that don't wear skates, while seeing a little bit of Badger hockey history? Head over to the Alliant Energy Center (formerly the Dane County Coliseum, and home of Wisconsin hockey for five of their six NCAA titles) on Sunday for the annual Wisconsin Dog Fair. Put on by the Badger Kennel Club, the event features demonstrations, vendors, educational seminars and rescue info for more than 150 breeds of man's best friend.

Stick Salute

Hockey games around Halloween often bring out the creativity and spirit in many students, and not just in Madison. You have the love those willing to put in the effort to come to the game disguised as Elvis, the Hanson brothers, the Cat in the Hat, Waldo or even Smurfette. Special kudos to Goldy Gopher, who showed up at last Friday's game clad like Captain Morgan. Or maybe it was supposed to be Captain Jack Sparrow, if Goldy happens to be under 21.

Bench Minor

A parking lot across the street from Mariucci Arena asking $20 per car to park at hockey games. The Gophers already have some of the priciest tickets in college hockey ($30 per game), so apparently the parking guys want to get in on the gouging too. Sorry, but if I'm going to burn an Andrew Jackson to leave my car with somebody for a few hours, it had better have an oil change and some detailing done by the time I pick it back up.
FRIES AT THE BOTTOM OF THE BAG
• While Alex Stalock's 43 saves in a shutout at Denver last weekend were impressive, they didn't come close to earning him a spot in the Minnesota Duluth record books. Jerome Mrazek holds the Bulldog record with 52 saves in an 8-0 blanking of Minnesota in 1973, and future NHL standout Glenn "Chico" Resch made 46 saves in shutting out North Dakota 3-0 in 1969.
• The kids are all right in Denver once again, as freshmen have accounted for nine of the 16 goals the Pioneers have scored this season. Leading the rookie brigade are Kyle Ostrow and Anthony Maiani, who have three goals each after six games.
• Alaska Anchorage coach Dave Shyiak might want to start stressing defense on the Seawolves' first few shifts of the game. In three of the Seawolves' six contests this season, they've allowed a goal within the first 90 seconds of play.
• Mike Zacharias has emerged as the clear no. 1 goaltender in Mankato after he stopped 52 of 54 shots last weekend as Minnesota State earned a tie and win at Alaska Anchorage. The 2-0 win on Saturday was Zacharias' second career shutout, but his first career shutout win. His first blanking came in a 0-0 tie with St. Cloud State last winter. The Mavs have opened the season with trips to Michigan Tech, Alaska Anchorage and Alabama-Huntsville, meaning they'll have logged more than 9,000 miles on the road before their first home game next weekend against Minnesota.
• One reason for Colorado College's struggles at New Hampshire last was clearly special teams. After holding Minnesota 0-for-11 on the power play when they swept the Gophers a week earlier, the Tigers surrendered three man-advantage goals and a shortie in Durham.
• Minnesota forward Ryan Stoa stood and watched the Gophers' game versus Ohio State last Friday from the top of Mariucci Arena's section 11. After closer examination, doctors learned that his right knee does indeed have two torn ligaments, suffered in Minnesota's 4-3 win over Michigan on Oct. 13. Stoa said he's going to have surgery in the coming weeks and hopes to be back in the Gopher lineup next season. As for watching games from the Mariucci concourse, Stoa said he's not a fan of the view. "I hate it," he said of not being on the ice. "You can see the play develop a lot better, but I'd much rather be down there."
A variety of sources were utilized in the compilation of this report. Jess Myers can be reached at jess@insidecollegehockey.com.