September 30, 2003
2003-04 Atlantic Hockey Preview
By James Jahnke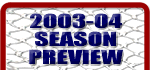 THE SKINNY
Think of Atlantic Hockey as a streamlined version of the MAAC. Not only is the renamed league short a pair of teams because Fairfield and Iona dropped their programs after last season, but AH is finally free to make its own decisions as a hockey conference. No longer do the eight hockey-only members have to lobby the full-time MAAC schools (which were Fairfield, Iona and Canisius) to represent their opinions and feelings to the league decision-makers. Under the new governance, every school is on equal footing and everyone – except the hockey people at Fairfield and Iona, at least – seems to be happy.
What will all these changes mean on the ice? It's anybody's guess. Most AH coaches say everything seems the same as it did in the MAAC, just under a different name. So, most likely, the immediate impact will be minimal. But, over the course of a few years, new commissioner Bob DeGregorio, Jr., could take steps to bring Atlantic Hockey up to speed with the stronger conferences. The No. 1 way to do that would be upping the per-team scholarship limit from 11 to the NCAA limit of 18.
With so much doubt surrounding the specifics of the league's future, let's instead focus on what we know right now. We know the "new" league will get under way with a bang when Mercyhurst travels to Michigan on Oct. 4. We know the first conference game is Holy Cross at Canisius seven days later. We know Mercyhurst and Quinnipiac should be the top two contenders for the league crown, as they have been since the Lakers joined the MAAC in 1999-2000. But Mercyhurst coach Rick Gotkin warns against overlooking other veteran-laden teams, such as Holy Cross and Sacred Heart.
"Every team seems to get better every year," Gotkin said. "It's a competitive league. All of our games are so close. There's some separation in history, but I don't know how much separation there is in the teams."
BREAKTHROUGH TEAM
All right, we know Connecticut didn't quite finish last in 2002-03. Fairfield took that honor. But UConn wasn't good, placing 10th in the MAAC with a 8-23-3 overall, and 7-16-3 conference record. And with Fairfield gone, the Huskies should fall into the basement this year, right? Not so fast, my friend. There probably won't be an almost-worst-to-first turnaround in Storrs, but there definitely should be a shift from almost-worst-to-decent. The Huskies have infused their roster with a bevy of young talent. Their freshman class is 15-strong, including 10 forwards. In many cases, such a young squad would spell imminent doom. But not in Atlantic Hockey, says Quinnipiac coach Rand Pecknold. "This is a league that, for whatever reason, having a lot of freshmen doesn't hurt you." Well then, UConn should be in great shape.
PRIMED FOR A FALL
Quinnipiac has advanced to the MAAC finals the last three years, but even Pecknold doesn't know what to expect from his Bobcats this season. They'll be without star forward Brian Herbert, who had 56 goals and 110 assists in his four-year Quinnipiac career and was Pecknold's top faceoff-winner and power-play quarterback. To make matters worse, three of the Bobcats' top defensemen (Matt Erhart, Dan Ennis and Wade Winkler) are also gone. Who will replace them? That's what Pecknold is wondering. "I don't know how we're going to be, because of our defense," he says. "We can be a top four team in this league – if we get our six defensemen set." Top four? Sounds like expectations have been tempered a bit in Hamden.
PRESSURE TO PERFORM
Yes, Canisius coach Brian Cavanaugh got a contract extension through 2006-07 this summer. But sooner or later, the Golden Griffins are going to have to start winning again. From 1999-2002, Cavanaugh's squad fell from third to fourth to fifth in the MAAC before finishing seventh with a 12-21-4 record last season. This year's edition is tough to read in the preseason. On one hand, Cavanaugh has 21 letterwinners returning. But the talent level in Buffalo doesn't appear quite as strong as it has been in the past. Another subpar season for the Griffins won't go over well at a school that's used to high conference finishes.
TOUGHEST ACT TO FOLLOW
It's not the biggest shadow in the world, but Atlantic Hockey is going to have to make a name for itself as an independent conference. It retains the MAAC's auto-bid to the NCAA Tournament, and the league needs to make use of the national exposure it entails. Without a doubt, Mercyhurst can pull off some upsets this year, but the rest of the league needs to make some noise in high-profile games if Atlantic Hockey plans to establish itself as a suitable counterpart of the four older conferences. The MAAC took the first steps in that direction, and AH needs to keep it rolling.
BEST PLAYER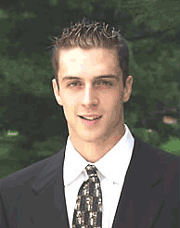 Mercyhurst forward David Wrigley might have cemented this honor when he scored against Minnesota in last year's NCAA West Regional. The 6-foot, 200-pound junior is the top offensive threat on a loaded Lakers front line. He led the team with 17 goals, 24 assists and 41 points last season, while also recording three game-winners. At 23 years old, the Washago, Ontario, native is mature on the ice, and he has a knack for making his playing partners better. Mercyhurst's balanced scoring attack makes it hard for opposing teams to key on Wrigley, which should open things up for him to further inflate his numbers this season.
BEST NEWCOMER
Sacred Heart goaltender Jason Smith, a sixth-round draft pick of the New Jersey Devils this summer, will get plenty of time between the pipes for the Pioneers in his rookie season. The 6-foot-1, 180-pounder from St. Lambert, Quebec, was named the Quebec Junior AAA Hockey League's most promising player, best goaltender, and defensive rookie of the year last season. In leading the Lennoxville Cougars to the national semifinals, Smith went 22-4-1 with a 2.29 goals-against average and set the league's single-season save percentage record (.920). Sacred Heart coach Shaun Hannah said Smith will initially share time with junior Kevin LaPointe, but the freshman could win the job if he out-performs the veteran. "He's gonna need some time to adjust, but he's a great goaltender," Hannah says.
UNSUNG PLAYER
Holy Cross' Greg Kealey might be the best two-way forward in Atlantic Hockey, but aside from opposing players and coaches, not many people outside of Worcester know his name. The senior from Nepean, Ont., is the Crusaders' leading returning scorer (11-22—33) and has posted 30 or more points in each of his first three seasons at Holy Cross. But it's what he does away from the net that impresses the rest of the league. He's a dynamo in the faceoff circle, an excellent penalty-killer and a solid back-checker. The 5-foot-10, 180-pound economics major isn't afraid to play physically, either, as evidenced by his 60 penalty minutes – good for second on the team. Kealey's the No. 1 reason why the Crusaders look like a threat to Mercyhurst's and Quinnipiac's stranglehold on the top two slots in the league standings.
THREE BURNING QUESTIONS
1. Captain Obvious wonders: Are any other league teams in danger of going the way of Fairfield and Iona?

2. American International beat one team (Quinnipiac) with a winning record last year. Will longtime head coach Gary Wright's squad put up a better fight against good competition this year?
3. Will Bentley be able to keep it close, or even pull off an upset, against Union or UMass Lowell – the first ECAC and Hockey East foes, respectively, the Falcons have ever played?
MARK IT DOWN
Four things you can take to the bank in Atlantic Hockey this season
1. One of Gotkin's Lakers will win the league scoring title and another will finish in the top three.
2. Quinnipiac's Matt Froehlich will lead the conference in goals again. But unlike last season, he'll make the all-league first team this time.

3. Talented Army forward Chris Casey will do his best to pick the brains of Jeremy Roenick, John LeClair, Mark Recchi, Simon Gagne and the rest of the Philadelphia Flyers when the NHL team visits Tate Rink in West Point for workouts Oct. 4-7.
4. Call it a hunch, but Mercyhurst and Quinnipiac won't meet in the conference tourney's title game for the fourth-consecutive year. Someone from the lower division will upset the Bobcats in the postseason.
Predicted Finish

No.

School
Of Note

1.

The Lakers have won three-straight regular-season titles, and there's no reason to think the streak will stop this year. David Wrigley and Adam Tackaberry grab the headlines, but play-making junior Rich Hansen's superior ice vision sets everything up.

2.

Quinnipiac
The Bobcats lost several stars to graduation, but quite a few standouts still dot the roster. Forward Matt Craig is the conference's preseason player of the year and Iona transfer Mark Hallam (11-18-29) is eligible this season because the Gaels dropped their program. Also, watch Bobcat freshman Dustin Hughes, who led the BCHL in assists last season, and steady goalie Jamie Holden.

3.

Holy Cross
The most important moment of the Crusaders' offseason came when coach Paul Pearl recommitted to HC after flirting with a preps job. Now, they are poised to challenge for a championship.

4.

Sacred Heart
"There are a lot of teams in our league, like us, that are very hungry because they've never been to the top before," coach Shaun Hannah said. Rest assured, the Pioneers are getting closer.

5.

Army
Though only a sophomore, goalie Brad Roberts is the best netminder in the league. He went 15-16-0 with a 2.74 GAA and .913 save percentage last season and can steal several games for the Black Knights.

6.

Connecticut
Captain Eric Nelson, one of just four seniors on the uber-young Huskies roster, will have to keep the team together during eight-straight road games to start the season.

7.

Bentley
The youngest coach in Division I college hockey, Ryan Soderquist, 25, will rely on three-year starter Simon St. Pierre in goal as the Falcons try to follow up on just their second ever appearance in the conference tournament.

8.

Canisius
The Golden Griffins' plentiful experience will be needed during a brutal opening month that includes games against New Hampshire, UMass-Lowell, Lake Superior State, Mercyhurst and Holy Cross.

9.

American International
Leading scorer, 5-foot-8 Guillaume Caron, returns, but AIC is porous defensively.

Send this to a friend
About Us | Advertiser Info | Site Map | Privacy Policy
© 2003 Inside College Hockey, Inc., All Rights Reserved