March 11, 2004
New Power Generation?
By James Jahnke, Nate Ewell and Mike Eidelbes
Atlantic Hockey
REGULAR-SEASON RECAP
TOURNAMENT PREVIEW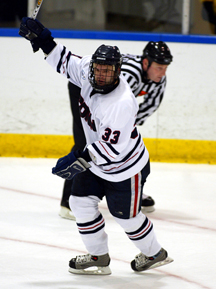 Connecticut junior forward Tim Olsen leads Atlantic Hockey with 41 points, including 30 in the last 11 games.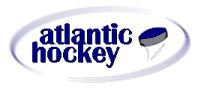 Atlantic Hockey Tourney Brackets
This week's schedule
National TV Schedule

CCHA Tournament Preview
CHA Tournament Preview
Hockey East Tournament Preview
WCHA Tournament Preview
Quarterfinal Matchups
No. 8 Army or No. 9 American International vs. No. 1 Holy Cross
ARMY: 8-17-3 (6-15-3)
AIC: 4-24-4 (3-17-4)
HC: 19-9-4 (17-4-3)
Season Series: HC leads both Army and AIC, 3-0-0. Army and AIC split 1-1-1.
Black Knight Fact: Army followed a promising January – the Black Knights were 4-3-1 during the month – by losing seven of its last eight games.
Yellowjacket Fact: American International has the fewest wins in Division I this season, and three of the team's four victories occurred during a four-week stretch between Nov. 23-Dec.13.
Crusader Fact: By losing to Quinnipiac and Bentley on the last weekend of the regular season, Holy Cross doubled its conference loss total for the season. Don't blame the defense, however – the Crusaders managed just one goal last weekend and lost 2-1 and 1-0.
How Army Wins: Defense, defense, defense. The Black Knights are 6-1-3 when they hold their opponents to two goals or less. Of course, coming up with more than two goals has been a bit of a problem for Army, who've failed to do so in nearly half (13 of 28) of its regular season games.
How AIC Wins: Hope for some divine intervention – the Yellowjackets rank 56th nationally in scoring offense (2.09 goals per game) and 54th in scoring defense (4.06 goals per game). Maybe junior goalie Frank Novello is related to Don Novello, the actor better known as Father Guido Sarducci.
How Holy Cross Wins: With two quick goals. Both Army and American International own offensive attacks that are among the country's most stagnant. Putting crooked numbers on the board against either team amounts to a virtually insurmountable lead.
No. 7 Bentley vs. No. 2 Mercyhurst
BC: 9-18-4 (7-13-4)
MCY: 19-13-2 (16-7-1)
Season Series: Mercyhurst leads, 3-0-0
Falcon Fact: Bentley is a respectable 7-9-0 over the second half of the season. The Falcons opened the year 2-9-4.
Laker Fact: Mercyhurst posted a 3-6-1 record in non-conference play, but two of those three victories came on the road against teams with 21 wins (Ohio State and Rensselaer). The Lakers also beat Western Michigan in Kalamazoo and tied Cornell at Lynah Rink.
How Bentley Wins: Score an early goal or two to take the pressure off goalie Simon St. Pierre. The Montreal native is one of the league's better goalies – he's got a 2.98 goals against average and a .908 save percentage – but his teammates have scored one goal in four of his last five starts.
How Mercyhurst Wins: The goal-starved Falcons are the perfect opening round opponent for the Lakers, who scored a whopping 105 goals in 24 league games but also allowed 71 goals to conference foes and 115 goals overall. Three is their magic number – Mercyhurst generally wins when it scores three or more, and usually loses when it scores three or less.
No. 6 Canisius at No. 3 Quinnipiac
CAN: 9-15-8 (9-11-4)
QC: 15-13-6 (12-6-6)
Season Series: Canisius leads, 2-1-0
Griffin Fact: Tight games are nothing new to Canisius. The Griffins played a whopping 11 overtime contests during the regular season, and were involved in eight games decided by one goal. Canisius is 2-1-8 in OT and 2-6 in one-goal affairs.
Bobcat Fact: Quinnipiac is 4-0-2 in its last six games. The only team in the nation entering the playoffs with a longer unbeaten streak is Denver (7-0-2).
How Canisius Wins: Adopt a defense-first philosophy – both the Griffins and the Bobcats scored 67 goals in conference play, but Canisius allowed 20 more than Quinnipiac. Canisius would be wise to stay out of the penalty box, a tall order for a team that has more PIMs than all but two teams in the league. The Bobcats boast Atlantic Hockey's second-best power play while the Griffs have the worst penalty kill.
How Quinnipiac Wins: They'll go as far as the Justin and Jamie Show will take them. Goalies Jamie Holden and Justin Eddy rank 1-2 in the conference in save percentage and are first and third, respectively, in goals against average. Their play makes up for the Bobcats' middling offense (sixth among AHA teams at 2.56 goals per game).

No. 5 Connecticut vs. No. 4 Sacred Heart
UCONN: 12-15-7 (9-10-5)
SHU: 12-16-5 (12-8-4)
Season Series: Sacred Heart leads, 2-0-1
Huskie Fact: Talk about a reversal of fortune. UConn followed an 0-6-1 January by posting a 7-1-2 mark in its final 10 games. All seven wins came against conference opponents; the Huskies had two Atlantic Hockey wins during the first four months of the regular season.
Pioneer Fact: Another team that was red-hot down the stretch, Sacred Heart was 8-2-2 over the season's last 12 games. That streak started the last weekend in January with a series sweep of Connecticut.
How UConn Wins: Follow the lead of junior forward Tim Olsen, Atlantic Hockey's leading scorer. The Vadnais Heights, Minn., native has 41 points on the year, and an astounding 16 goals and 14 assists in the Huskies' last 11 games.
How Sacred Heart Wins: Easy – score goals. During its impressive 12-game run to close the regular season, Sacred Heart was 8-0-2 when scoring three or more goals and 0-2-0 in games in which they scored less than three goals. Only one of the Pioneers' 12 regular season wins came in a contest in which they scored less than three goals.
In what could be best described as a new conference – sort of – Atlantic Hockey found a new power this season – sort of.
Holy Cross broke the recent stranglehold that Mercyhurst and Quinnipiac had on the erstwhile Metro Atlantic Athletic Conference, as the Crusaders clinched the regular-season title with a week to play. Long-time MAAC followers know that Holy Cross had won the league's first playoff title in 1999, of course, but the Worcester school was a new name to many national fans accustomed to seeing the Lakers and Bobcats atop the standings.
That led to speculation, naturally, that the surging Crusaders would jump to the ECAC to fill Vermont's absence when it moves to Hockey East in 2005-06. Meanwhile, others in the conference – led by Mercyhurst and Quinnipiac – continued to measure up quite well to the big four. The Lakers won at Ohio State and Western Michigan; Quinnipiac lost close games at Michigan, Wisconsin and Ohio State; Canisius tied UMass Lowell; and UConn tied Rensselaer and Brown.
Now each team gathers at West Point for one more chance to play the big boys. On the biggest stage.
THE FAVORITE
Holy Cross' best attribute is also what makes the Crusaders most imposing in a one-game playoff format: their balance. Shut down Greg Kealey? Jeff Dams will pick up some slack. Or Andrew McKay. Or Pierre Napert-Frenette.
"I don't think we have any one kid who has to produce or we'll lose," head coach Paul Pearl said. "We need to wear you down."
The Crusaders do that with six players who have double-digits in goals, five of whom have 25-plus points. Defensively, R.J. Irving and J.R. Walker lead the way, while Tony Quesada has been solid in goal. And Pearl doesn't shy away from favorite status.

"We worked really hard and are proud to have come out on top over 24 games," he said. "If that makes us the favorites, we'll take it."
THE GATE CRASHERS
Pearl also knows that a host of hungry pursuers are have chased the Crusaders all year, led by the two familiar names – Mercyhurst and Quinnipiac. The two had combined to win all five regular-season MAAC titles and all three of the conference's NCAA Tournament berths.

They'll be poised to keep the latter streak going in Atlantic Hockey. Both come to West Point playing well: Quinnipiac is unbeaten in six (4-0-2), while Mercyhurst has won three in a row by a 15-3 total score. If they meet in a rematch of the last three MAAC championship games, it's likely to happen in the semifinals this Sunday, unless Holy Cross is upset in the quarterfinals.
INCH's ALL-CONFERENCE TEAM
F – Tim Olsen, Connecticut
They could have renamed the Player of the Week honor after Olsen, who captured it four times since the start of February.
F – David Wrigley, Mercyhurst
Wrigley and centerman Rich Hansen could be the conference's best offensive duo.
F – Guillaume Caron, American International
Caron didn't have the gaudiest offensive numbers, but he didn't have as much help, either.
D – T.J. Kemp, Mercyhurst
The conference's top-scoring blueliner (along with teammate Jamie Hunt), Kemp quarterbacks the Laker power play.
D – Reid Cashman, Quinnipiac
He arrived on campus this fall with a name that just sounds like a hockey player, doesn't it? He plays like one, too.
G – Tony Quesada, Holy Cross
No sophomore slump here, as Quesada turned in the conference's finest record, along with a .924 save percentage and a 2.15 GAA.
COACH OF THE YEAR
To Paul Pearl, his senior class at Holy Cross was poised for a big year. That's one reason he stayed with the school after briefly accepting a prep school coaching job last summer.

Few were projecting a conference title for the Crusaders, and when it comes to their performance, Pearl deserves credit for more than his foresight. He guides a team that lacks superstars and doesn't overpower anyone, but does a lot of things well – they won the league, but didn't have its best offense or its best defense. Pearl also showed a steady hand in guiding his team throughout the year, as his club didn't lose back-to-back Atlantic Hockey games until the title was clinched.
PLAYER OF THE YEAR
With 15 new faces in the Connecticut lineup, head coach Bruce Marshall knew he'd need some strong contributions from his upperclassmen this season. Junior Tim Olsen has delivered, and he's playing his best hockey down the stretch.

The one-time Division III player at Augsburg College won the Atlantic Hockey scoring title by nine points (19-18—37 in 23 games), with a remarkable 16-12—28 in the last 11 games. The Huskies were 7-2-2 in that span, all conference games, to surge into a fifth-place finish. The freshmen have certainly matured, but it's been Olsen who has led them.
FRESHMAN OF THE YEAR
Pierre Luc-O'Brien established high standards for himself when the rookie scored two goals in his very first game – Sacred Heart's only two goals in its 4-2 loss to Merrimack back in October.

His production continued throughout the season, as he stands third on the team with 12-13—25, but he has been at his best in the second half. He posted 6-6—12 in a six-game stretch beginning Jan. 31, a run that coincided with the Pioneers' seven-game winning streak. That helped them surge over .500 in the league and into the fourth seed for the tournament, where they will face another red-hot team, Connecticut, in Saturday's most appealing matchup.
BREAKTHROUGH PLAYER
Bentley's Brendan McCartin is enrolled in his third college, so you can't say he's appearing out of nowhere – it's closer to the truth that he's appearing from everywhere.

After skating in 11 games as a Miami RedHawk in 2001-02, he transferred to Fairfield, which dropped its program at the end of last year. Continuing East to Bentley, he's being rewarded for his perseverance. McCartin shares the team lead on the Falcons in scoring with 11-11—22 and is skating on the top line. The Falcons ride back-to-back wins into the postseason, including a 1-0 overtime win over Holy Cross.