October 29, 2003
Who Owns the Wildcats?
By James Jahnke
Atlantic Hockey/CHA Notebook

Pardon the Niagara Purple Eagles if they're not all that intimidated by big, bad New Hampshire. A 2-0 series record will breed such confidence.

Niagara pulled off the biggest shocker of the young college hockey season Saturday, upending the top-ranked Wildcats 5-2 on day two of the Xerox Punch Imlach College Hockey Showcase at HSBC Arena in Buffalo.

The victory validated Niagara's upset of New Hampshire in the 2000 NCAA West Regional. This one might have been even sweeter.

"It was the first time in our short, eight-year history as a program that we got the chance to test ourselves against the No. 1 team in the country," Niagara coach Dave Burkholder said, while reminded of the Purple Eagles' upset of second-ranked Michigan in 1998. "And beating them is something our kids will carry with them for a lifetime. We'll hang our hat on that for awhile. We're still riding high."

Just about everybody in attendance Saturday agreed that Niagara truly out-played New Hampshire. No flukes. No luck. The better team simply won.

"It was the first time in about four years that everything came together in one game for us," Burkholder said. "We got good goaltending (from sophomore Jeff VanNynatten), every line of ours made an impact on the game. A lot of little details, winning loose pucks, getting the puck deep at the end of shifts, all went right."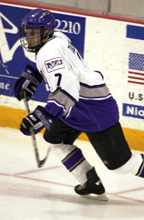 Joe Tallari has yet to score a goal for Niagara this season. Still, the Purple Eagles downed top-ranked New Hampshire last week.
Offensively, the Purple Eagles were spurred by junior captain Barret Ehgoetz's hat trick. The reigning CHA Offensive Player of the Week has now scored 12 goals in his last six games, dating to last season. His production (4-0—4) has made it easier to look past star Joe Tallari's inability to find the net thus far (0-3—3).

"Our first two games (this season) were horrible," Ehgoetz said to the Buffalo News, referring to a 4-2 loss to Union on Oct. 11 and a 6-1 defeat at the hands of UMass-Lowell on Friday. "We didn't look good at all. I think we knew we were a better team than that, and hopefully, we can build off this."

Niagara's spirits weren't even dampened by the fact that New Hampshire was playing with much less than a full roster Saturday. Eight Wildcats were suspended after a baseball-related riot on campus two weekends ago and captain Patrick Foley missed the game with a shoulder injury. Burkholder had a tough time feeling sorry for them.

"Not only are they used to playing in big buildings, but we've never had an NHL draft pick in the history of our program," Burkholder said. "They had eight dressed Saturday. So it's still a big win for us."

In other Niagara news, Burkholder plans to rotate three goalies for the foreseeable future. VanNynatten, senior Rob Bonk and freshman Allen Barton all merit playing time, Burkholder said. Sophomore forward Jason Williamson (separated shoulder) might make his season debut this weekend.
SEEN AND HEARD IN THE LEAGUES

Lord have Mercyhurst: Lost in the afterglow of Niagara's win over New Hampshire was another major upset of a Big Four school by one of the Little Two.

Mercyhurst went into nationally ranked Ohio State and beat the Buckeyes 3-2 on Friday night. The victory snapped the Lakers' 10-game nonconference losing streak, marked their first ever win over a ranked team and provided for a happy homecoming for Mercyhurst assistant Dave Smith.

Smith played for OSU from 1988-92, amassing 140 career points. Now in his second year in Erie, Smith is Rick Gotkin's recruiting coordinator. He gave a first-intermission pep talk to the Lakers on Friday, chiding them for not giving their all during the first 20 minutes.

"We weren't playing the right way," Smith said. "We were very tentative and seemed to be saying, 'Maybe we're not supposed to beat these guys, so let's not ruffle any feathers.' We weren't skating. We were waiting for Andy Franck to make 75 saves and keep us in it. But it was the players who turned it around in the last two periods. Even if we had lost, we would have been happy with the effort."

Smith thinks the Lakers might have been intimidated by the 17,500-seat Value City Arena at first.

"When we went into Denver and Minnesota last year, you could tell our kids were kind of in awe of the buildings," Smith said. "But the kids want to play the best teams in the country, so we jump right into the fire in scheduling. More and more, with each game we play, our jaws are starting to come up off our chests a little bit."

As for his return to Columbus, Smith had no complaints.

"They tell you when you go to college that it's going to be the best four years of your life, but you really don't realize it until you're gone. It's a special place for me. Ohio State is a great program and I watch them very closely from afar."
Great Weekend Getaways

UConn at Quinnipiac (Fri.):
Not only will this intrastate battle be the Atlantic Hockey opener for
both schools, but it should give each team a pretty good barometer of where it's at in the league. Quinnipiac must guard against a
letdown after playing at Michigan and Wisconsin the last two weekends. UConn, on the other hand, is trying to establish itself
as a dangerous team in the AHA. After a season-opening loss to Massachusetts, the Huskies have tied Rensselaer and split at
Huntsville.

While you're there: New Haven's Wooster Street section (Little
Italy) is famous for its pizza, especially at Pepe's and Sally's.
Be prepared to wait, though. Lines are typically well out the door. But several U.S. presidents, including Bill Clinton, will tell you it's worth the wait. If you're more thirsty than hungry, go to a student Halloween party dressed as Rebecca Lobo. You'll be the hippest cat there.

Stick Salute

Niagara takes this honor again - and it's not for the win over New
Hampshire. The Purple Eagles' women's hockey team raised nearly $710 at its alumni exhibition game Saturday to help out with the medical costs of former player Jennifer Goulet, who has throat cancer. Goulet, who scored 47 points in 104 games for Niagara
from 2000-03, played in Saturday's exhibition, registering two goals and an assist. Donations for Jennifer can be still made at the women's hockey office in Dwyer Arena during business hours.

Bench Minor

It's hard to deride Quinnipiac when it has played Michigan and
Wisconsin so tough on the road the last two weekends. But the
Bobcats might have been able to pull off an upset if its power play
units had converted even once during eight consecutive minutes of
advantage time in the second period of their 2-1 overtime loss to the Badgers on Friday. The eight-minute stretch included two separate 5-on-3 intervals. In all, the Bobcats put only 17 shots on net during the game.
Q School: Quinnipiac has lost four straight after winning the season-opening Q-Cup. Obviously, that's not what coach Rand Pecknold wants, but the losses were a little easier to take because they came on the road at Michigan and Wisconsin.

The Bobcats' goaltending has been solid, but scoring has been hard to come by. Senior goalie Justin Eddy has been fantastic, posting a 2.30 goals-against average and .939 save percentage in his three games. He sparkled Friday, making 46 saves in a 2-1 overtime loss at Wisconsin – a week after stopping 51 at Michigan.

Junior Jamie Holden has a 3.95 GAA and a respectable .906 save percentage in his three starts. But neither goalie has been helped by the Bobcats' lack of puck control. They were outshot 97-37 by Bucky this weekend. Which backs up the observation made by one of my Madison-based spies at the Kohl Center: "If Quinnipiac wants to beat good teams (or even UW), they need more than a couple of good goaltenders." Harsh. And noted.
One and done: The only two-game series in either league this weekend is Air Force's set at Alabama-Huntsville on Friday and Saturday. Otherwise, AH and CHA teams will be involved in 10 different one-night stands, both in-league and out.

The most interesting of the solitary tilts will test the mettle of the color purple. The Purple Eagles play at Michigan – Big Blue – on Saturday, while purple-clad Holy Cross has a date with the Big Green of Dartmouth in Hanover the same night.
FRIES AT THE BOTTOM OF THE BAG
• Despite having a 6-0 lead Saturday, Alabama-Huntsville switched goalies with 2:07 to play. Why? Because starter Adam MacLean had to serve a 10-minute penalty for asking the assistant referee if he was trying to give UConn a goal. No. 1 goalie Scott Munroe came in and made two saves to preserve the shutout. MacLean must have forgotten how to watch his mouth during the 364 days that had elapsed since his last start for the Chargers.
• Saturday's win was the 450th in the career of Alabama-Huntsville coach Doug Ross, good for 16th on the all-time list.
• The two service academies – Air Force (4-2) and Army (2-1) – are only teams in either Atlantic Hockey or the CHA with a record above .500. Five schools in the leagues are right at the mark.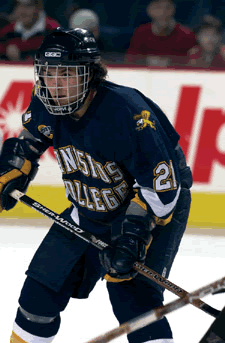 Fred Coccimiglio had one assist in four games for Canisius this season.
• Canisius junior co-captain Fred Coccimiglio (right) is likely done for the season because of two ruptured discs in his back. He had surgery Monday. Coccimiglio was the Golden Griffins co-leading scorer (12-11—23) last season.
• Wayne State and Findlay combined for nine goals in the Oilers' 6-3 win Friday night. The strange part? The teams only totaled five assists.
• In the same game, the Warriors broke their eight-day-old school record for quickest two goals. After netting markers 10 seconds apart on Oct. 16, Derek MacKay's and Chris Vail's tallies were separated by just nine seconds Friday.
• Bemidji State unveiled new third jerseys against Minnesota State, Mankato last weekend. The slightly Bruins-esque threads didn't help very much, however, as the host Beavers lost 3-1 on Friday and tied 2-2 on Saturday. Bemidji is 0-2-2 on the year and is 0-for-22 on the power play.
• Maybe No. 26 is unlucky. Bemidji forward Ryan Huddy switched to the jersey numeral – which, incidentally, is 13 times two – after the school retired his previous number, 24, last weekend. Huddy then fanned on pass in front of a wide-open net Friday night and had a goal disallowed because of a teammate's interference penalty Saturday.
• This is completely irrelevant, but Niagara will play Wayne State in Plymouth, Mich., on Friday. Plymouth borders and shares a school district with the city of Canton, the hometown of Kirk Jones, who survived a plunge over Niagara Falls without any protective apparatus on Oct. 20. No word yet on whether Jones plans any similar stunts to celebrate Niagara's visit this weekend. (Playing chicken with the Zamboni, perhaps?)
• College Hockey America is 2-1-0 against ranked teams this year
(Findlay over Michigan State and Niagara over New Hampshire). The loss was Findlay's to Boston College. The CHA's non-league winning percentage (.474) is higher than the CCHA's (.417) and ECAC's (.444).