November 13, 2003
Goals in Green
By James Jahnke
Atlantic Hockey/CHA Notebook

David Wrigley had a pretty good feeling he'd be wearing green and white in college, but he didn't anticipate having a funky hockey stick emanating from a "Y" on the front of his jersey.
Nor did he think he'd be going to school in Erie, Pa., or playing in front of just a few hundred fans at home games.
Wrigley, a Mercyhurst junior forward and runner-up for the latest INCH National Player of the Week award, had big plans coming out of the Ontario Provincial Junior Hockey League in 2001. Massachusetts, Ferris State, UMass Lowell, Bowling Green and St. Lawrence were all after him. So was Michigan State, the only school he visited and the program to which he might have committed if a paperwork snafu hadn't messed everything up.
"I got a late start on a lot of things like getting my stuff to the NCAA Clearinghouse because my junior team was in the playoffs at the time," Wrigley recalled. "It was pretty intense playing games every other night – and we went five rounds that year. So I didn't really have time to do anything else."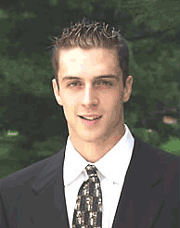 Mercyhurst's David Wrigley
As a result, Wrigley wasn't assured of being eligible to play his freshman season in 2001-02. Fearing that possibility, most schools – including MSU – backed off and decided to sign other players.
"I don't know all the inside information, but I understand why they did what they did," said Wrigley, 23. "There's no bad blood there."
Mercyhurst coach Rick Gotkin does know the inside information – or at least some of it. He said he got a call from his buddy Dave Smith, who was a Bowling Green assistant at the time, after Wrigley had to cancel his official visit to BG because of conflicting schedules. Smith has since become an assistant at Mercyhurst.
"He asked me if I needed another forward, and I said, 'Yes, I do,'" Gotkin said. "He said there was this kid named Wrigley out there and he didn't know what he was going to do, but I should take a look at him. There's no question we try to find the kids that are good enough to play at major programs but slip through the cracks for whatever reason. And now, here he is."
Wrigley didn't know much about the Lakers or any other team in the old MAAC at the time. But when his other options dried up, he learned about them in a hurry.
One of the reasons Mercyhurst stood out was its highly competitive 4-3 loss to Michigan in the 2001 NCAA West Regional. Wrigley figured that if he couldn't play for an established team, he wanted a chance to beat them.
"When I first came here, I was still kind of bitter about not going to a big school," Wrigley said. "Those programs get the best of everything. Their budgets are bigger, the fan support is greater, they get more NHL scouts to come see you play. Everything's just better.
"But everything happens for a reason and I don't think I'd want to be anywhere else right now. The campus is unbelievable. It's kind of cool helping a new program get seen and gain a little respect. Even in just my three years here, it has hands-down become a better program."
He's certainly doing his part. He scored four goals in Friday's 7-2 rout of Army and then added two assists in Saturday's win over UConn. He would have had another goal, but he missed a penalty shot 12 seconds into overtime against the Huskies. He responded by setting up the game-winner.
"My linemates (Dave Borrelli and Scott Champagne) were feeding me the puck better than ever before," Wrigley said. "I had two empty-net goals just because the passes were so good. It just seemed like everything I shot was going in."

SEEN AND HEARD IN THE LEAGUES
Was it Alfalfa? Or was it ...? – Wanna know why Air Force (6-4-0) is right there with St. Cloud State when you think about surprise teams (in a good way, Gopher-haters) this young season? It's because of senior forward Spanky Leonard.
Leonard (6-7—13) has paced the Falcons offensively and provided invaluable leadership in the locker room. The 6-foot, 195-pounder from Elk River, Minn., whose given name is Jed, is in a six-way tie for 10th on the national scoring list.
He added two assists to his total Friday against Bentley before exploding for three goals on Saturday. All three tallies came on the power play, including two within 45 seconds of each other to break a 2-2 tie with four minutes to play. It was Leonard's first career hat trick.
"We have been struggling on the power play, but out power play clicked late in the game," Falcons coach Frank Serratore said. "We just kept working hard on the power play and we started executing better. We weathered the storm early and then rallied late in the game. Our seniors came through tonight. Shane Saum drew the penalty that led to the power play and Spanky Leonard scored our goals."
A Look Back – Alabama-Huntsville had a chance to upend Miami on Friday, leading 2-1 heading into the third period. But the RedHawks tallied thrice in the final 20 minutes to squelch the upset bid.
Late goals were the story elsewhere, too. Canisius scored with two seconds left in regulation to send its Friday game against UConn into overtime. The Huskies won, however. The next night, UConn was victimized by a last-minute goal again, as Mercyhurst netted the game-winner with 56 seconds left in overtime. Finally, Niagara got its winning goal with 4:31 to play at Wayne State on Saturday. That, of course, was after the Purple Eagles allowed the Warriors to erase a 3-0 lead.
My best bet for craziness this weekend? The home-and-home series between Bemidji State and Minnesota-Duluth, starting Friday in Bemidji.
Great Weekend Getaways

Western Michigan at Niagara (Fri.-Sat.)
By the time this series is over, the Purple Eagles will have played twice as many games against CCHA teams (four) as against CHA teams (two). Western is the only CCHA team Niagara gets at home, though. The Broncos haven't been able to spend much time in scenic Kalamazoo lately. They have criss-crossed the country from Ithaca to Fairbanks and now to Buffalo in the last three weeks.

While you're there: Stick around an extra day and head to Orchard Park for the Bills vs. Texans game Sunday. I know Houston's defense isn't all that good, but Buffalo's offense is so poor they might not match the offensive production of the hockey games.

Stick Salute

The Holy Cross Crusaders honored their late friend and former teammate John Bombard with a ceremony before Friday's game against American International. Bombard, 24, died on July 2 after a battle with spinal cancer. The Port Jefferson, N.Y., native amassed 4-8—12 in 89 games at Holy Cross from 1999-2002. He also played varsity baseball for the Crusaders and was involved in the Army ROTC program.


Bench Minor

Three of the nation's six winless teams dwell in Atlantic Hockey. Sacred Heart (0-6-0), Canisius (0 6-3) and AIC (0-8-0) have all had chances to get in the W column, but have fallen short each time. The dreadful start is especially surprising at Sacred Heart, which seemed to have the pieces in place for a run at the conference title. Instead, the Pioneers have scored more than two goals just once this season. Fortunately, at least one of these squads should pick up its first win by the end of Dec. 5 – the date on which Canisius plays at AIC. The 0-8 start is the worst in Yellow Jackets history. But, on the bright side, they will play their first home game this weekend.
FRIES AT THE BOTTOM OF THE BAG
• Air Force sophomore forward Matt Bader had his five-game goal-scoring streak stopped by Bentley on Saturday. It was the longest such streak by a Falcon since Justin Kieffer tallied in 10 straight contests in 1996-97. Perhaps Bader's assault on the net concluded because he started helping his teammates. His first assist of the season finally came Saturday.

• By taking two from Bentley in the "Battle of the Falcons" this weekend, Air Force earned its first road sweep since December 2001 (Army). AFA has played just two home games this year, largely because Cadet Ice Arena and surrounding campus areas were under construction all summer.

• Mercyhurst coach Rick Gotkin celebrated his 44th birthday in style, leading his Lakers to a 7-2 win over Army on Friday.
• Whoever said college hockey is losing players to major juniors because universities don't play enough games should look at Bentley. The Falcons are in the middle of an NHL-like run of five contests in nine days. After two games against Air Force last weekend, Bentley lost 5-2 to UMass-Lowell (its first ever Hockey East opponent) on Tuesday and now has a pair scheduled at home against Canisius this weekend.
• Holy Cross alumnus Pat Rissmiller was recalled by the San Jose Sharks on Tuesday (they sent ex-Maine Black Bear Niko Dimitrakos back to Cleveland). Rissmiller could make his NHL debut for the Sharks Thursday night.
• Canisius put 34 shots on goal against Army on Saturday. The Black Knights responded with 12. Guess who won? Yep. Army. 3-2. Golden Griffins goalie Max Buetow stopped just one of four shots in the Black Knights' three-goal second period. But look on the bright side, young Max. That .250 percentage would be good enough to be the Detroit Tigers' All-Star representative.
• The win over Canisius gave head coach Rob Riley his 250th career victory at West Point. He also stands at 299 wins overall, meaning he'll have a shot at No. 300 during a home-and-home series with Sacred Heart this weekend.
• Bemidji finally notched its first power-play goal on its 29th chance this season. The Beavers got their second, too, going 1-for-7 on Friday and 1-for-2 Saturday at Findlay. Friday's man-advantage tally, scored by John Haider, jump-started a five-goal first period for Bemidji. They held on for a 5-3 win over the Oilers.
• Findlay, or at least its sports information department, felt the Oilers got robbed in Saturday's 3-1 loss, though. Quoting from the school's athletic web site, "The Bemidji State University Beavers were lucky to leave Clauss Ice Arena with a victory on Saturday night as The University of Findlay had the tying goal disallowed with just over 11 minutes remaining in the game to preserve the Beavers' lead. Freshman Kurtis Peterson was skating in all alone on Bemidji goaltender Grady Hunt when referee Mark Wilkins blew the play dead due to an injured Bemidji State player lying on the ice. A fraction of a second later, Peterson let loose a thunderous slapshot to beat Hunt. Findlay fans and players alike all thought the Oilers had tied the game but when the dust settled, the score remained 2-1 in favor of the Beavers."
• Sacred Heart junior forward Garrett Larson (1-1—2) and Quinnipiac freshman defenseman Troy Maleyko (0-0—0) both earned game disqualifications for fighting Saturday. Thus, they will sit out their team's next game, which is a little way off for Maleyko because the Bobcats don't play this weekend. He'll miss the Nov. 21 contest at Army.
• CSTV announced that it will air the CHA championship game live on March 14.
• Many experts pointed to Huntsville sophomore Scott Munroe as one of two elite goaltenders (along with Bemidji's Hunt) in the CHA before the season. But, so far, Munroe has split time with senior Adam MacLean, and MacLean (2-1-0, 1.35, .954) has posted better numbers than Munroe (1-2-0, 4.28, .866).